LSH's survey of office occupiers highlights the profound change to demand stemming from the experience of the pandemic. Landlords and investors take note.
Conducted in June 2022, the survey was responded to by 51 occupier clients of LSH's Office Advisory and Property Management teams. LSH is currently managing over one million sq ft of live requirements across the UK.
The survey responses came from clients spanning the whole of the UK, although the focus was overwhelmingly based on occupiers with a strong presence in the South East and core regional cities. Respondent staff headcounts ranged from relatively small (circa 30 staff) to global corporate occupiers with thousands of UK employees spread across multiple sites. 52% of the respondents employ over 200 staff.
A wide range of sectors are represented in the survey, including the public sector, construction, pharma and professional services. There was a leaning towards the TMT and finance & banking sectors, which collectively made up 44% of the responses.
LSH undertook a survey of its occupier client base to ascertain how their policies and space requirements are set to change in the wake of the pandemic. The survey garnered 51 responses from key decision makers across a variety of organisations, spanning a wide range of sizes and sectors.
Reduced occupancy
Our survey response lays bare the substantial reduction in rates of office occupancy compared with prior to the pandemic in early 2020. Despite all COVID-19 restrictions having been lifted several months ago, only 15% of respondents stated that their staff are now in the office for a minimum of four days per week. This compares with 90% prior to the pandemic.
Moreover, the largest cohort of responses stated that staff typically attend the office for only two days per week (43%), with the next most common rate of attendance being three days per week (29%). In addition, though true of 14% of survey responses, it is striking that a proportion of organisations in the survey continue to see attendance levels at below two days per week, despite the absence of restrictions.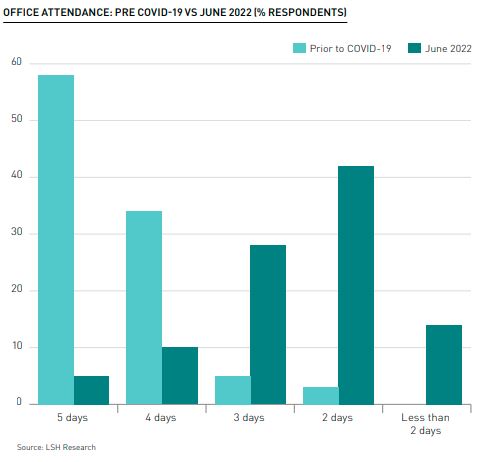 Must do better!
Judging by the respondents, current low levels of attendance are in many cases deemed to be unsatisfactory as a new, settled norm of working in the post pandemic environment. Close to half of respondents (48%) stated that some sort of action does need to be taken to increase office attendance from their prevailing levels.
Moreover, and perhaps unsurprisingly, these responses tended to come from organisations where current levels of attendance are among the lowest in our survey. For those organisations reporting that current staff attendance is typically two or fewer days per week, 68% cited a need for action to be taken to improve upon current attendance levels.
Attending to attendance
Given an apparent unwillingness to accept permanently low rates of attendance, many businesses are now taking action.
Close to two thirds of respondents (62%) either have developed, or plan to develop over the coming months, a policy aimed at guiding staff attendance levels in the office. Notably, policy setting on attendance was relatively uncorrelated with headcount, with businesses both large and small demonstrating a similar pattern to the overall result.
Property implications
According to the survey results, the considerable change to working patterns engendered by the experience of enforced homeworking is likely to play a key role in stimulating near term office demand.
Close to half (48%) of respondents stated that the experience of the pandemic made it more likely that they would seek to relocate upon a lease event. While negotiation and decisions to regear leases on more favourable terms may lessen what is implied by the response, it is nonetheless striking just how much of an effect the pandemic will have in driving property decisions over the coming years.
Cutting back on space
On the assumption that headcounts remain static, the survey asked respondents to estimate how much space they would look to acquire if and when they choose to relocate. A substantial 72% of respondents stated that they would take less space compared with their current position, leaving only 28% of respondents aiming to take either the same amount (20%) or more space (8%) when relocating.
Moreover, the extent of the desired reduction in office space is even more remarkable. Reducing space down by 20% to 39% was the most common response, with 38% of respondents feeling this was an appropriate revision of space needs upon relocation. This was followed by the most drastic of the options, with 26% of respondents prepared to reduce their occupation of space by over 40% from current levels.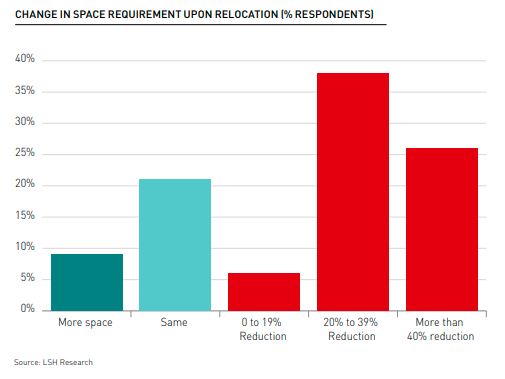 Demanding more
With evidence of a growing flight to quality in occupier demand, the survey also sought to gauge how the importance of six key office attributes have changed in the wake of the pandemic (see chart above).
Attributes associated most directly with the office space itself have brought the most emphatic shift in opinion. With the wide-scale adoption of hybrid working, respondents to the survey understandably showed a clear shift in emphasis away from desk space (i.e. workstations) in favour of an increased need for break-out / collaboration space. The shift highlights changing perceptions around the role of the office, away from being mostly a place of work per se to a place of working interactions.
While the other four attributes saw a less extreme shift in opinion than those above, in each case, the balance of the survey attached greater importance to them compared with the pre pandemic situation. For example, circa 30% of respondents attach greater importance to the provision of outdoor space and onsite amenities, such as gyms, cafes etc. These results ultimately demonstrate the increased consideration that employers will need to take to attract staff into the office.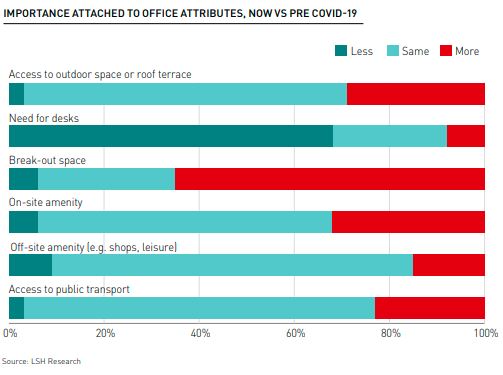 The importance of ESG considerations
For a variety of reasons, the experience of the pandemic appears to have indirectly prompted a profound and positive shift in attitudes towards environmental protection across the whole corporate landscape. As a result, various ESG (Environmental, Social and Governance) targets and credentials are increasingly being sought to demonstrate organisational awareness of environmental and societal issues to customers, clients and the public alike.
According to our survey, these growing demands are likely to be increasingly reflected in property decision making over the coming years. 62% of respondents to the survey stated that ESG would play a role in influencing the choice of office space, with around half of these stating that such considerations would be absolutely integral moving forward. Notably, as above, there was no clear relationship between the propensity to embrace ESG and the size of the organisation represented by the respondents.
Transport to and from the office is one other area of action that occupiers can take to lessen their environmental impact. According to our survey, 46% of respondents stated that any decision to relocate would be influenced by aspirations to reduce staff reliance on car-based commuting in favour of greater use of public transport. If this sentiment is to be reflected in actual demand, it would imply a greater premium being attached to in town locations compared with out-of-town / business park settings.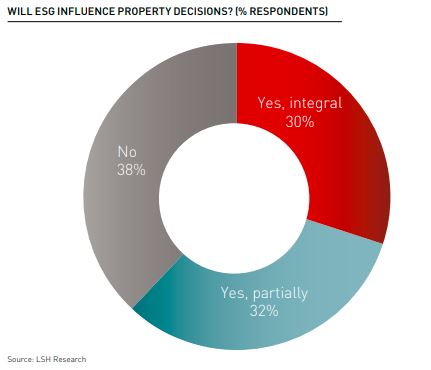 A perspective for landlords
If the survey results are both representative and ultimately realised at scale, they imply that a substantial proportion of existing office stock will become surplus to requirements over the coming decade.
To put this into perspective, albeit crudely, a 20% drop in the overall space requirement across the 25 key markets of the South East region amounts to circa 26m sq ft, equivalent to the entire office stock of the Reading market, twice over.
Startling as this may appear, it is worth bearing in mind that a significant quantum of office stock has already left the South East market and been successfully 'redeployed' in the recent past. Based on several different sources, over the past decade, we estimate that as much as 10m sq ft of offices has been lost to residential alone across the 25 key office markets.
Continued strong demand for alternative uses continues in the South East, including industrial, life science and data centres alongside residential, indicating that fears of a substantial and persistent level of void are arguably overblown. Admittedly, since 2021, the ability to change use has been hampered somewhat following a tightening of the criteria in the office to residential Permitted Development right, although this may well be relaxed again if it becomes necessary to do so.
Given strong evidence that occupiers are exchanging quantity for quality in their post pandemic relocation decisions, the impact of this implied downward shift in space needs will fall overwhelmingly onto space that is compromised in certain respects, such as quality, location, accessibility and environmental performance. Meanwhile, a limited choice of best in class in space, which 'ticks all the boxes' in terms of meeting post pandemic demand, will perform well in terms of demand and pricing.
Furthermore, according to our survey, demand for ESG in property is seemingly very strong, with the biggest challenge to positive change over the medium term likely to be the sheer lack of options to choose from in the open market. This current scarcity presents landlords and investors with a raft of opportunities to repurpose existing built stock to be better aligned with occupiers' ESG aspirations.
Download the Thames Valley & South East Office Report 2022 report in full here.
REGISTER FOR UPDATES
Get the latest insight, event invites and commercial properties by email