The meteoric rise of demand from serviced office operators has attracted much attention over the past 18 months. While the trend reflects deep structural changes in how occupiers will increasingly use workspace, this is just the beginning.
Rippling out
Having taken hold in Central London, the emphatic growth in demand from serviced office providers has rippled into the South East and other core cities across the UK.
Across the South East's 25 key surveyed markets, take-up from serviced office providers amounted to over half a million sq ft in 2018, a fourfold increase on 2017's level: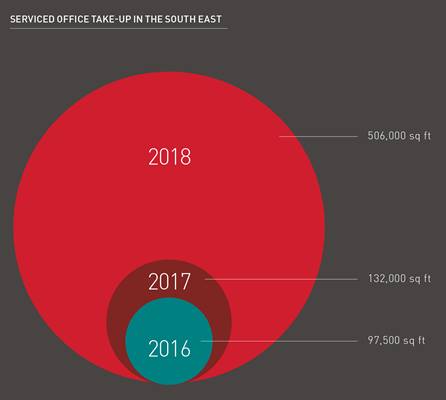 If considered as a sector, serviced office providers were the second most acquisitive sector in the South East behind TMT, something that would have been hard to imagine only five years ago.
The theory bit
Much is made of the increasing impact of the millennial workforce in driving change, but technology is ultimately the great enabler of this shift in demand towards 'flex space', a term encompassing conventional serviced offices, co-working environments and managed space.
While technology's role in facilitating more agile working practices is important, the main driver of change is the role the internet plays in doing business. The internet has substantially reduced the cost of undertaking business, in the process fostering the explosive growth of smaller, more specialised companies and eroding the traditional benefits of scale. All this is highly conducive to the use of more flexible, open workspace environments and the human desire to interact with others.
But why now?
On a more practical level, serviced offices also stand to gain from larger occupiers seeking to avoid the administrative burden of newly effective accounting standards, namely IFRS 16, which requires leases over 12 months to be treated as a liability on businesses' balance sheets. This, alongside other obligations such as dilapidations and longer lease requirements goes some way to offsetting the higher costs associated with flexible space over the conventional route.
All the above factors do not, however, properly account for the substantial impact made by serviced office operators on the South East office market during 2018. What we are witnessing is more akin to a 'space race', a rush for market share from operators and their respective investors who have bought into expectations of massive growth in occupiers' use of flex space in years to come. IWG, through their Regus and Spaces brands, led the way in 2018, with 298,000 sq ft of take-up in nine separate markets.
The current state of play
Despite the rush in 2018, there is arguably limited evidence of a clear undersupply within the existing stock of flexible office operations. Our analysis across the key markets of the South East reveals that flexible offices account for around 4% of total office stock and currently show an overall occupancy rate at a relatively modest 74%, leaving close to 17,000 desks currently available. Inevitably, however, this will include flexible offerings which vary significantly in type, quality and cost.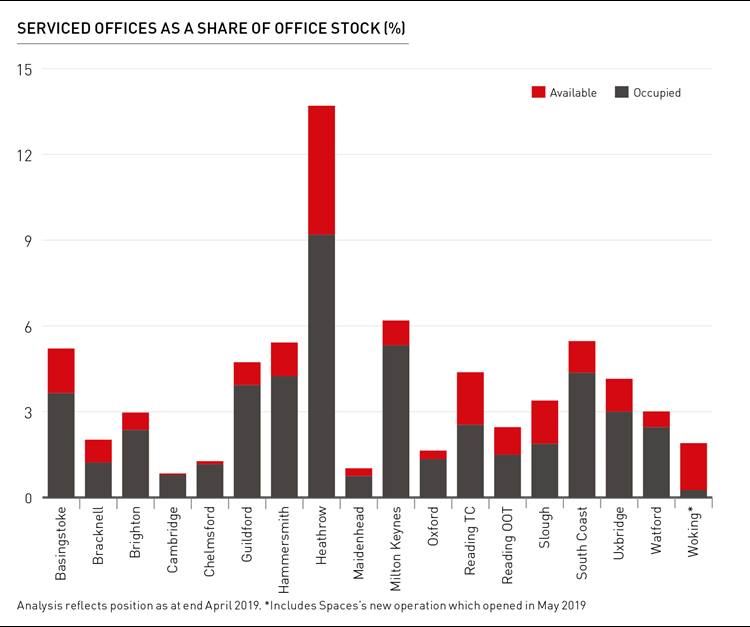 Delving deeper
While no two markets are the same, the amount of flexible offices as a proportion of prevailing office stock varies enormously between locations. This variation should be an important factor to both landlords considering more flexible leasing offers and serviced office operators seeking to exploit gaps in the market.
To illustrate, flexible offices make up less than 2% of stock in the relatively tight markets of Oxford and Cambridge, while both also boast a high overall occupancy rate, indicating that a flexible office foothold in these markets is more than justifiable. At the other end of the scale, Heathrow's stock of flexible offices represents a substantial 13% share of stock. Given the occupancy rate here is below 70%, it raises questions over whether there is a ceiling of flexible offices provision beyond which occupancy rates start to suffer.
Just the beginning
The analysis marks the start of a regular assessment of trends and performance in the flexible market across the South East, and firmer conclusions will be drawn out over time. However, with more flexible office requirements active in the market, 2018 was no flash in the pan. The tides of structural change will see more and more occupiers, particularly at the smaller end of the market, turn to flexible offerings.
Landlords with more conventional offerings cannot afford to stand and watch. As the quality of flexible offerings increases, in terms of design, appeal and amenity offer, landlords will have to adapt both the quality and flexibility of their own offer if they are to compete with the very best occupiers at the smaller end of the market. This has already started – watch this space.
* Source for all data unless stated: LSH Research
REGISTER FOR UPDATES
Get the latest insight, event invites and commercial properties by email