What is TOCS?
The Total Office Cost Survey (TOCS) is the most definitive independent survey of its type, providing detailed information on office costs for over 50 UK locations.
TOCS leaves no stone unturned, providing figures on a per sq ft and per employee basis across 22 separate cost metrics, ranging from business rates to landscaping to waste management, across both new and 20-year-old office buildings.
This allows office occupiers to:
Easily view and compare costs between locations

Check office costs are in line with market rates

Benchmark their own costs in specific UK locations

Inform location strategies
Insights
For articles about UK office occupation, click on the links below.
Key findings 2023: Falling energy prices take sting out of office cost rises
Urban Planters: Growing healthy workplaces
Space Matters: Survey on attitudes to the office
What's the right lease for your business?
Embracing net zero
Future-proofing the workplace
A test of strength
Key findings 2023:
Falling energy prices take sting out of office cost rises
Despite ongoing high inflation, greater stability in the energy market helped to soften the pace of office cost growth across the UK.
Across the 54 surveyed locations, the average cost of occupying a new-build office increased by 3.4% over the over the 12 months to September 2023, decelerating sharply from the record 12.4% year-on-year increase recorded in last year's survey. Amid much sharper rises across other cost metrics, a near halving in energy prices was key to the relatively modest annual increase.
The effect of falling energy prices was felt even more keenly for typically less energy efficient 20-year old office buildings, with average total office costs across the 54 locations remaining stable over the past 12 months, following an eyewatering 18% annual increase in last year's survey.
Despite the strong increase in total office costs observed over the past two years, costs remain lower in real terms compared with the position on the eve of the Global Financial Crisis in 2008. Adjusted for inflation, total costs for new build offices stand 9% below the position 15 years ago.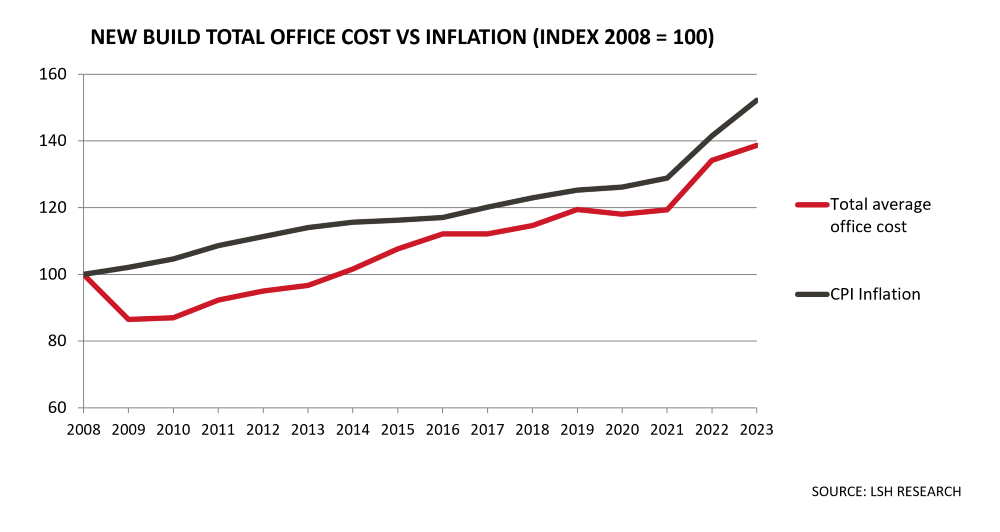 Relief over falling energy bills
Usually, of the 22 office cost metrics, changes in rents are the main determinant of overall total office cost movements from one year to the next. However, given high inflation and volatility in the energy markets, other costs associated with office use have had a stronger impact on overall costs over the past two years.
According to energy services provider ZTP, a key contributor to TOCS, energy prices have fallen by 46% from their peak at the time of last year's survey in summer 2022. Despite the fall, current energy costs remain relatively elevated, accounting for 4.1% of total office costs for a new-build office in the 2023 survey and comparing with an average of 2.8% over the five years prior to last year's energy crisis.
Business rates revaluation drive cost increases
While a sharp fall in energy prices helped to quell the rise in total office costs in 2023, significant upward cost pressure came from increased business rates liabilities. For new-build offices, rate liabilities increased by an average of 19% since last year's survey to account for 15% of total office costs.
The sharp increase in rates liabilities stems from the government's latest Rating Revaluation, which came into effect in April 2023, and largely reflects changes in rental values across the 54 surveyed locations since the previous revaluation in 2017. However, significant variation was evident between the 54 surveyed locations. Nine locations saw rate liabilities for new build offices increase by less than 10% year-on-year, while seven locations saw growth of more than 40%.
Strong inflation associated with other office costs
Reflecting the ongoing inflationary environment seen across the UK economy, several smaller office cost metrics recorded considerable growth over the year. For example, strong inflationary pressures around food and labour costs were reflected in a substantial 24% annual rise in catering costs, while cleaning and furniture costs also saw double digit increases from the previous survey.

Flight to quality fuels strong rental growth
The latest survey also provided continued evidence of a clear flight to quality in occupier demand in the wake of the pandemic. Over the 12-month period, rents for new-build offices increased by an average of 6.8% across the 54 locations, accelerating from 6.0% growth in the preceding year and the strongest annual rise on the survey since 2015.
Meanwhile, rents for notional 20-year old buildings increased by a more modest 3.9% on average since the last survey. While this is the strongest rate of growth since 2018, it was the fifth successive year that 20-year old buildings saw slower rental growth than new buildings.
However, the overall cost premium associated with new office buildings due to higher rents continues to be partly offset by the higher energy costs associated with less efficient 20-year old office buildings. Despite the sharp fall in energy prices since the peak in 2022, the new-build office cost premium over 20-year old buildings stands at only 11%, significantly below the long-term average premium of 16%.
Oxford sees the strongest annual cost increase
Differing rates of rental growth and revised rate liabilities over the past year drove notable contrasts in overall office cost movements across the 54 locations. With regard to new buildings, Oxford saw the sharpest annual increase, with occupier costs rising by 14% on the back of a substantial 26% growth in prime rents and a 43% rise in rates liabilities. Notably, Oxford (£113 per sq ft) and Cambridge (£114 per sq ft) are the only two locations outside of Central London to see total costs for new buildings move to above £100 per sq ft.
As ever, London's core West End remains by far the UK's most expensive office location, with the annual cost for a new office in Mayfair standing at £21,765 per workstation, 135% above the UK average and 47% ahead of the next most expensive location, the City of London. Both of these locations saw total costs for new build offices rise by over 10% from last year's survey fuelled by strong rental growth.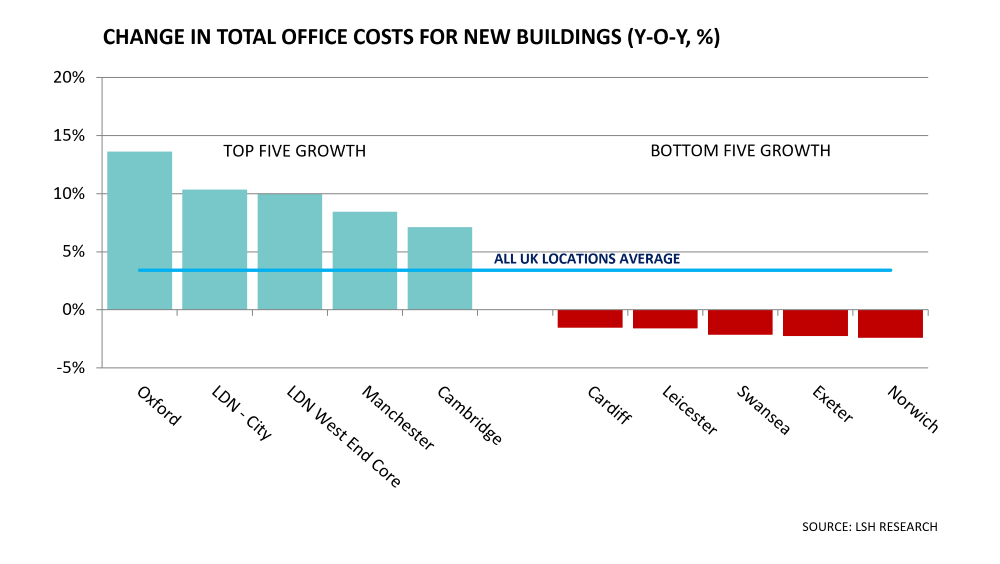 Implications for office occupiers
Ongoing high inflation and volatility in energy markets have added to an already challenging environment for office occupiers, many of whom continue to grapple with persistently low rates of staff attendance in the wake of the pandemic.
In a bid to drive greater efficiencies, logic dictates that increasing costs will prompt an ever greater number of businesses to rethink their office space requirements, with a view to exchanging quantity for quality. With regard to office space, quality spans a range of attributes, including location, on-site amenity, internal character and environmental credentials.
The higher energy costs observed for older, less environmentally efficient buildings alongside growing business demand to demonstrate ESG commitments only strengthens the case for seeking out better quality space.
If your business is reconsidering its office space requirements and is seeking advice on any of the issues raised in this article, please get in touch with our team of office experts at ProjectDriven@lsh.co.uk
Urban Planters:
Growing healthy workplaces
The pandemic has underlined the importance of providing happy, healthy workspaces. Jane Leese from TOCS contributor Urban Planters explains the crucial role plants can play in enticing workers to the office in the new working world.
The future of healthy, happy and productive workspaces
In the wake of the pandemic, there has been a significant shift in how we perceive work and the workplace.
While working from home has become more popular, people are also starting to appreciate the many benefits of working in an office. Recent studies of employees found that the office is the preferred place for a range of working activities, including collaborative working, support from co-workers and line managers and for professional development opportunities.
We need to take a more holistic understanding of what makes the office an essential part of our work lives when designing a workplace that will continue to attract workers.
As a result, more and more businesses are focussing on creating workspaces with features that encourage productive activity in their workforce, and plants play a key part in.
Recent research on employees have found one of the most popular features in workplaces are spaces connected with nature, such as outdoor spaces, gardens and office plants.
Plants help create productive workplaces in two ways: they improve the air we breathe and provide a therapeutic connection to nature.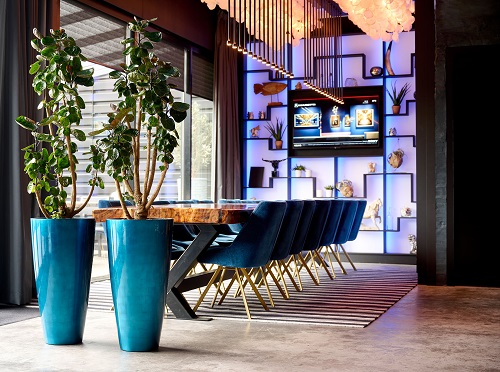 Contemporary office planting design can pack a visual punch
Take a breath
Plants play a crucial role in maintaining healthy indoor air quality. They replace carbon dioxide (CO2) with oxygen, improve humidity levels, and remove harmful toxins, dust, mould, and bacteria. Plants also improve humidity levels – hugely beneficial to counteract the effects of air conditioning and central heating.
Cleaner and more humid indoor air works wonders for our sense of wellbeing. We can concentrate and focus better, and studies have found that common ailments such as tickly coughs, sore throats and headaches decrease in buildings with a good amount of live plants.
The quality of our indoor air is more important now than ever: we are all indoors a great deal more than our ancestors (by some measures, we are inside for an average of 90% of the time), so finding ways to improve that air quality means we can all breathe easy.
Back to nature
Biophilia: a big word for a simple concept. In short, it means we humans have an intuitive connection to nature.
The word 'biophilia' was coined by social psychologist Eric Fromm in 1964, but in recent years it has become a veritable buzzword in our industry. This is because more and more people are realising the importance of reconnecting with our natural roots to counteract the stresses of our busy lives.
The lift we experience from seeing any view of nature runs deep. We may not be aware of it, but seeing natural features such as trees, water and plants speaks to our ancestral roots when we lived outdoors and had a more direct link to nature.
As a result, seeing or being among natural elements has been proven to improve our mental health and general sense of wellbeing. We are also more productive, creative and better at concentrating when we have a dose of nature in our daily lives.
Studies have even found that, on average, patients with a view of nature from their hospital bed recover quicker.
All of which explains why many employees cite plants when describing their ideal workplace. Indoor plants provide us with an instant visual link to nature (the biophilic aspect), which in itself has very real effects on our health and wellbeing.
At a simpler level, having plants about the place make our workplaces feel more welcoming and relaxing. Even artificial plants can achieve that, good news if your workplace has low light levels.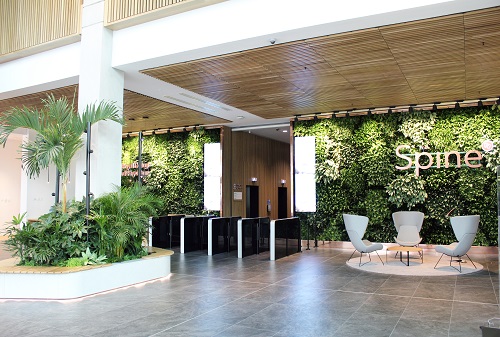 Integrated planting is a popular design feature in larger spaces
Changing demands
Urban Planters, has been bringing homes and workplaces to life with plants since 1965 and we have seen the industry evolve dramatically over that time.
When we first started out, plants were mostly an after-thought for businesses wanting to add a few extra décor features around the office. Specimens on offer were limited, pots too.
Fast forward to now, and plants are considered an important, sometimes even essential, element of modern workplace design.
Now, clients want plants first and foremost for their health and wellbeing benefits. Having plants around the workplace demonstrates that an employer wants to provide their workforce with a healthier, happier environment.
As such, we are often brought in at the early stages of planning for new office buildings, to ensure the planting is worked into the design for a more integrated feel.
Of course, the visual appeal of office planting is still a major part of the decision, and the huge range of specimens is matched only by the variety of containers – from natural stoneware pots to glossy contemporary troughs, as well as bespoke planters integrated into benches and cabinets, we can provide planting and containers to suit any setting.
Another growing trend in planting is the green wall. Again, the variety of options here is vast. Sweeping living walls that cover entire buildings, moss walls laid out in logos or other signage, planting wrapped around columns and mobile divider green walls on castors to reconfigure large spaces, this is a design feature which offers numerous possibilities, all with big visual impact. What's more, they take up little to no floorspace, so businesses in smaller premises can maximise the health benefits of plants while still having plenty of room to manoeuvre.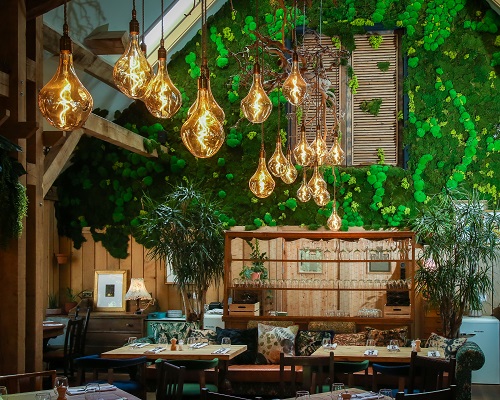 Moss walls are versatile and great for places with low light
Professional planters
Deciding what's right for your office and staff requires specialist expertise. At Urban Planters, we offer a wide range of plant-centric services, from live and replica office plant displays, green walls, live flowering displays (longer lasting than floral arrangements), exterior landscaping and maintenance and Christmas decorations.
We work with trusted plant and plant product suppliers to ensure all our clients receive a high-quality product, and we offer maintenance contracts to ensure your office plants continue to thrive.
We are industry leaders in the UK and were among the earliest promoters of the health benefits of plants in the workplace.
Our clients range from multinationals to family-run restaurants and we have local teams throughout the UK who design, install and maintain our plants with professionalism and expertise. We regularly work with architects and office designers to ensure planting schemes are thoughtfully integrated into workplace design to maximise biophilic impact.
Green in more ways than one
Bringing workspaces to life with plants is our passion, but we are also committed to growing our business in a more sustainable way.
Climate change is complicated, and we are all still working out the best way to be truly sustainable. What we do know is that businesses must do something now, to start to offset the impact we all make on our planet.
Our overall goal is to become a positive impact company, supplying high-quality products and services without causing unnecessary harm to the planet. This is of course far more complicated than it sounds, but we are integrating more and more sustainable practices into our business, be it using sustainable planters, planting for greater biodiversity or offsetting our carbon emissions.
Over the many decades we have been in business, we have grown alongside the many changes in the landscaping industry, building up a wealth of expertise along the way.
As our industry evolves, so does the look and feel of the contemporary workplace, and we are confident that planting will play a key role in creating healthy, happy and productive indoor spaces.
Thank you to Jane Leese from TOCS contributor Urban Planters for providing this article.
What's the right lease for your business?
For many occupiers, the pandemic has propelled workspace considerations to the top of the boardroom agenda. Landlords are responding, offering flexibility and a range of solutions like never before.
Rethinking the workplace
The experience of the pandemic is pushing a wave of office occupiers to rethink their workplace strategies. The shift to more agile working practices that was already in train will be propelled forward in the wake of the pandemic, translating into shifting space requirements.
Yet, while business confidence is rapidly improving, many occupiers are understandably less certain over what exactly their post-COVID workspace ultimately looks like. How much remote working is expected and how much space will be needed as a consequence? How should space be configured for optimal productivity, staff wellbeing and economic efficiency?
While there is no one-size fits all solution, early indications from prevailing active demand reveal that many occupiers are seeking to exchange quantity for quality. The size of the requirement is typically 10% to 15% smaller than previously to allow for greater agility, traded off against a better and more varied working environment.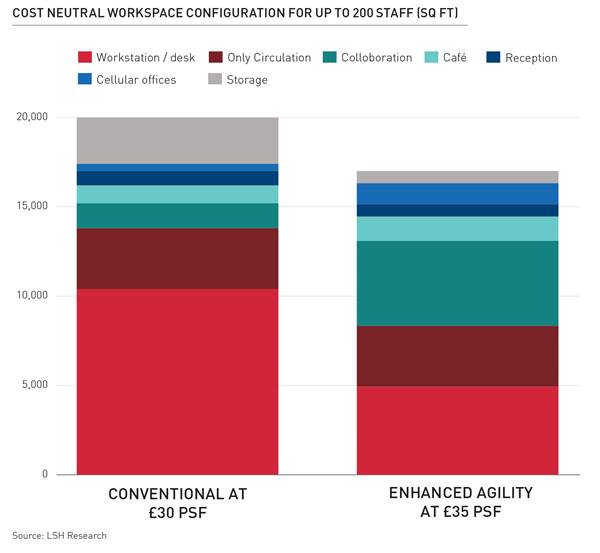 A great time to strike
Alongside changing demand for workspace, a reluctance towards long-term commitment is fostering a wave of demand away from conventional offers towards more flexible, 'ready-made' solutions. Until recently, serviced offices provided the only real option for occupiers seeking flexible solutions. But this is changing, with fitted and managed space set to provide an increasingly attractive alternative to conventional solutions.
The next 24 months arguably provide occupiers with a huge opportunity to strike a deal. While headline rental levels for quality space are unlikely to appeal to bargain-hunters as previous downturns may have done, expect landlords to go 'the extra mile' to secure tenants, through a combination of generous incentive packages, flexible terms and better provision of on-site amenity.

Hello Hybrid
It is early days, but landlords are responding rapidly to the changing dynamics in the market wrought by the pandemic. The meteoric rise of serviced office solutions over the past five years, alongside fears of increasing grey space (surplus tenant space) entering the market is pushing landlords to adapt from convention and be more instantly accommodating of prospective occupiers.
Fitted and managed space are two rapidly emerging forms of workspace solution that represent a hybrid between serviced offices and the dominant form of landlord offer, conventional leased space. The characteristics of the four different workspace solutions are depicted in the table below.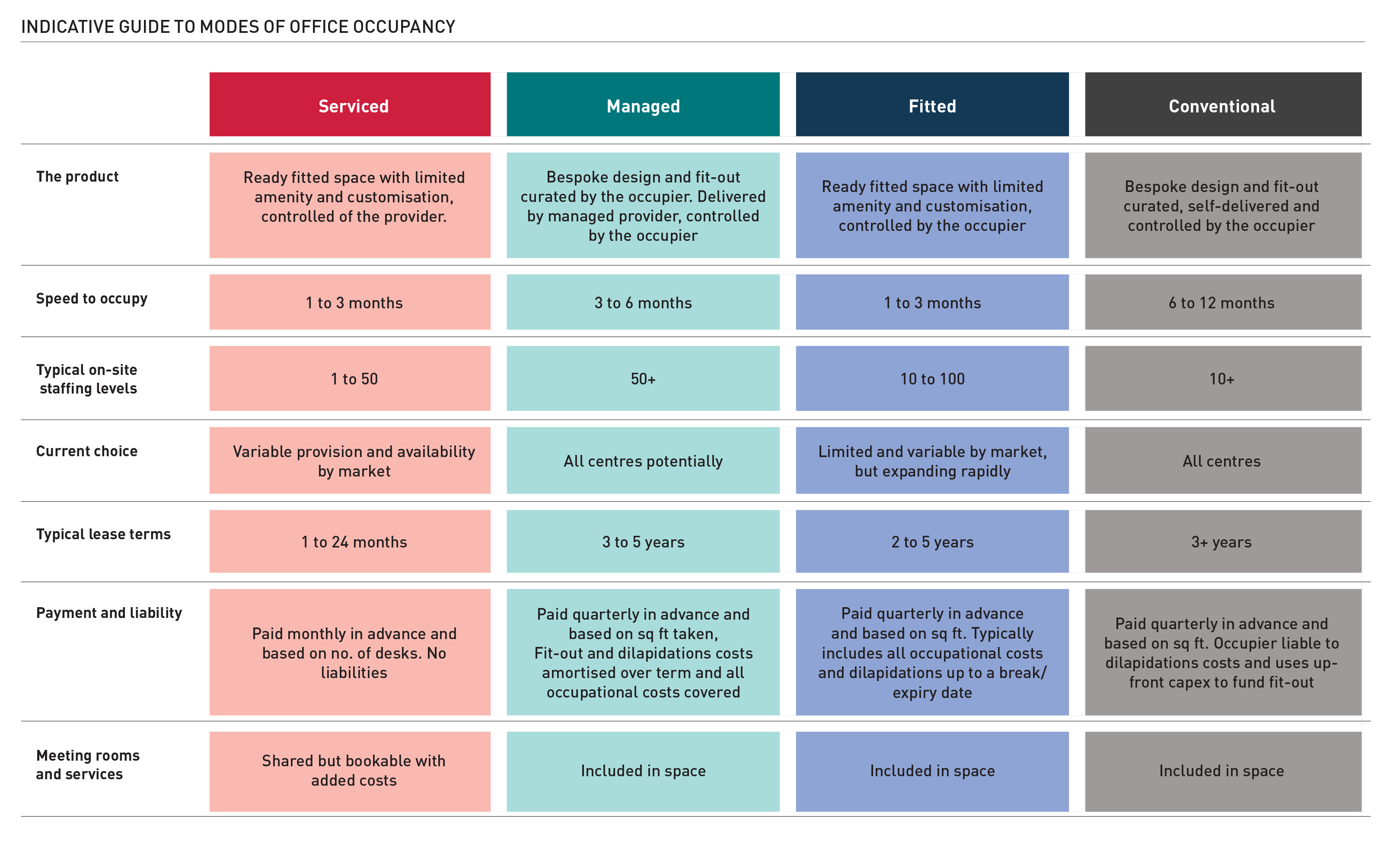 In the South East, choice of serviced offices varies widely between locations, with regard to quantum, prevailing vacancy and quality. Heathrow currently has the most extensive serviced office provision of any South East market, equivalent to 14% of existing stock, while for the vast majority of markets elsewhere it equates to below 5% of stock.
Fitted for purpose
Fitted space shares several of the attributes associated with serviced offices, in particular the relative speed to occupy, the ability to 'plug and play' through the provision of furniture and equipment etc. and, crucially, the avoidance of up front cap-ex costs for fitting-out in exchange for additional operational expenditure.
Nonetheless, the two solutions are fundamentally different. Unlike serviced offices and much like conventional leases, fitted solutions allow the occupier to retain full control over the space and command sole access of the leased space within the building, such as kitchens, break-out areas and meeting rooms.
Despite the obvious attractions, the availability of fitted options is, evidently, currently at the early stages of growth. Our analysis of current availability across the South East reveals that quality fitted space (either Cat B or Cat A+) typically accounts for under 5% of supply in the majority of the key markets, while only Reading really stands out for the quantum and range of fitted options in the region, with 226,000 sq ft available across 11 buildings.
Yet, given current demand, it stands to reason that flexible solutions will expand rapidly over the coming years. Notably, 70% of the deals in Reading town centre during Q1 saw occupiers opt for fitted space, providing clear indications that occupiers desire this product where it is made available.
Moreover, our analysis of active demand reveals that almost a quarter of current agent-led requirements in the region are actively seeking out fitted solutions, rising from only 2% at the end of 2019. It stands to reason that, moving forward, a large proportion of refurbishments will be undertaken with a view to providing some of the space as a fitted solution.
Managing just fine
While the fully managed workspace solution is not a new phenomenon, the increasing demand for plug and play space amongst larger occupiers is helping it to gain an increasing traction in the market. This hybrid model offers the best of both worlds, whereby a third party provider takes the lease and assumes full responsibility for it, while the occupier still has the power to curate the fit-out to its own exact requirements and enjoy sole use of the space.
More often than not, the managed space operator will be an established player in the serviced office market, notable examples being Instant, WeWork, Regus and Portal. While transactions of this nature are currently limited, increasing examples are taking place in the wake of the pandemic. In the South Coast market,for example, 2021's largest deal to date saw Instant Office agree to a 27,000 sq ft managed lease with a confidential occupier at Frobisher House.
Paying for the privilege
The two emerging hybrid models outlined above understandably come at an additional cost within the rental payments compared with conventional leases. While the rental premium associated with fitted space largely offsets the cost burden of fit-out and dilapidations into the rental payment, managed space providers more clearly demand a premium to reflect their need for profit. However, just as drivers are increasingly opting to lease rather than buy their cars, the additional cost can be justified for the simplicity that comes with a managed solution.
As businesses emerge from the trauma of the pandemic, this is an exciting time for occupiers to demand more from landlords. The South East market is in the early stages of profound change, and occupiers seeking greater flexibility and reduced obligations will, in time, have a plethora of options to meet their post-pandemic demands.

Download the full Thames Valley and South East Office Market Report 2021
Embracing net zero
As the property industry comes to embrace the UK's net zero carbon commitments, John French, Director of Sustainability at Cambridge Innovation Parks Ltd (CIPL) talks to LSH's Head of Sustainability, Frankie Bryon, about his work to drive innovation and challenge convention in commercial construction.
The pandemic seems to have galvanised the property industry with regard to the sustainability agenda. Why do you think this is?
Yes, that certainly seems so. I think with any traumatic experience, it is an opportunity to recover in a better way. The motto of 'build back better' could not be more apt for the property sector; there appears to have been tangible shift in the mindset of investors and corporate occupiers to divest themselves of high- carbon assets and embrace the sustainability agenda in the wake of the pandemic. The key now is to channel this more positive mindset into action and ultimately, value.
With the built-environment accounting for 40% of UK carbon emissions, how much of a challenge is the property industry facing to meet government's net zero target by 2050?
From a purely operational perspective, I have every confidence that moves towards decarbonising the UK energy grid will drive zero carbon, and well in advance of 2050. The growth of renewable power supply, both on and off site, alongside upgrades to the UK's nuclear energy infrastructure should see to that, while the increased deployment of smart tech within office buildings will drive greater efficiency.
The central challenge is driving down carbon emissions across the building's entire life-cycle. We are not going to get to zero-carbon by 2050 without a step change in low-carbon construction by the private sector - up to half of a building's emissions derive from its construction and eventual demolition. Carbon offsetting is too easily seen as the get around to this problem, but this is not scalable to the extent that's required.
It is in this area of low carbon construction and design that we are taking great strides in driving innovation and seeking to engender change in the industry.
You're said to be behind the UK's greenest ever building, reflected in over 30 awards and accolades including from the likes of RIBA, RICS and the BCO. What key attributes elevated the project to achieve this recognition?
Yes, in 2015, after seven years of careful planning, the University of East Anglia (UEA) opened the Enterprise Centre at Norwich Research Park. As well as being an attractive space for its occupants, it is an exemplar in low-carbon development and the UK's first building to receive both BREEAM Outstanding accreditation at the master-planning, design and fit-out phases and Passivhaus certification for its use of zero-carbon architecture.
This building has a whole host of attributes that contribute to its low carbon footprint, although chief among these is that 70% of the materials comprise bio-based materials. Its frame is made largely of wood sourced from the nearby Thetford Forest and its walls include hanging strips of thatch, massively driving down its embodied carbon when compared with conventional commercial buildings involving steel and concrete.
Developers may be raising an eyebrow at talk of timber-framed offices. What do you say to the doubters?
If we are going to get serious about net zero, the use of timber has a massive role to play. Contrary to popular belief, timber-framed buildings can be built to scale using modern methods of construction and can be built to stand the test of time. All of our thinking around net zero assumes a minimum life-span of 100 years, and this is perfectly achievable if the wood is appropriately sourced and treated.
Challenging convention is admittedly a huge challenge, and this is what we are striving for. It is imperative that the bio-based supply chain is stimulated to respond in a way that is affordable, traceable and sustainable. The UK is actually blessed with potentially huge sources of timber, not only by luck in Thetford but in the other parts of the UK, particularly so Scotland. We recently launched a Timber Challenge with the BRE and 3PM, challenging construction companies and contractors to innovate in the production and provision of off-site timber construction.
What about your current projects? Can you tell us a little bit about what's in the pipeline at the Waterbeach site?
In my current role at Cambridge Innovation Parks, we've been working on two low carbon buildings to the North of the Waterbeach site, planned for delivery in 2021 and 2022 respectively. The first, of 9,000 sq ft, will have a hybrid steel-and-timber structure, while the second building, of 40,000 sq ft, will involve modularised sawn-timber. Crucially, important lessons have been learned from the UEA project. Significant innovation has been necessary to deliver the wide spans and airtight outer layer, while complexity of energy flow is pushing engineers to their creative best.
There is more to come as well. At the West of the Cambridge site, we have prepared a masterplan which will make use of sustainable energy and infrastructure solutions. We are looking to include autonomous off-grid facilities too, involving PV and battery storage.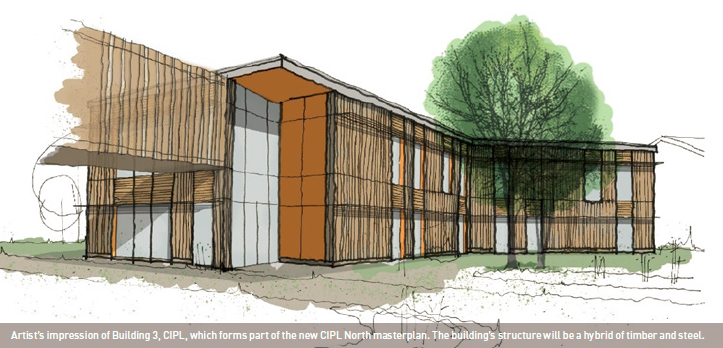 While these new-build projects are at the cutting edge of sustainability aspirations, what are your thoughts around about the renovation of existing buildings?
Eighty percent of UK buildings that will exist in 2050 have already been built. Therefore, sustainable retrofitting of existing stock will be absolutely crucial to meet climate change targets, and ensure buildings are fit for purpose in the future. While building new may be easier, we have to do better with what we have already got.
One Regent Street, Cambridge is one such project which endeavours to maximise sustainability gains within an existing structure. This is the world's first sustainable office retrofit and entails the conversion of a 1930s built telephone exchange into the new headquarters for The University of Cambridge Institute for Sustainability Leadership (CISL).
What sort of measures are being taken with this project, and how does it differ from a new build?
We describe One Regent Street as a 'deep green retrofit'. It is projected to result in an 80 per cent saving in whole life carbon emissions compared with a standard office refurbishment. As a world first, The Entopia Building aims to achieve multiple certifications, including BREEAM (Outstanding), the Passivhaus 'Enerphit' standard (designed specifically at refurbishments) and Well (Gold) certification.
One Regent Street embraces the Circular Economy approach and has incorporated a range of re-used items including steel girders for the roof terrace frame that supports the solar panels, reused galvanised raised floor throughout the building and the central core of the electrical supply is being tested and reused rather than being replaced. Light fittings were sourced by ISG from another building which were unused and destined for landfill.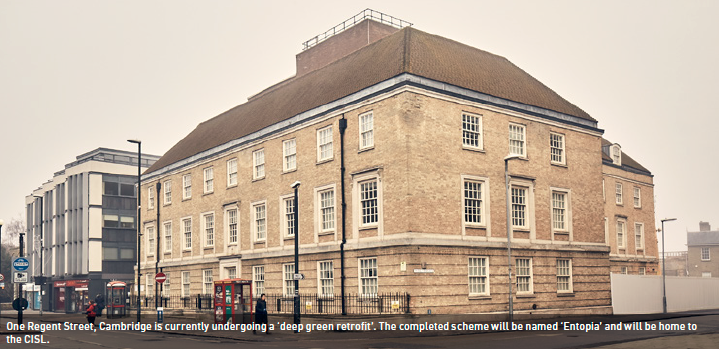 Viability is often cited as the ultimate barrier to progress. What is your perspective through your wealth of experience?
Build costs for highly sustainable office buildings are deemed to be higher than conventional, but it's a complex issue that our work is helping to address. Higher costs partly reflect the need for progress in the low carbon supply chain and, over time, we can expect greater efficiencies and economies of scale to bear down on costs.
Another key factor is a lack of familiarity with highly sustainable projects. Often, a contractors' high cost estimate better reflects the 'unknown' or perceived risk in such projects, rather than the actual input costs themselves.
But, if you can get the right team in place, costs can be managed into commercially viable projects. At the Waterbeach site, for example, the build cost equates to a pretty reasonable £240 per sq ft, only a 10-15% or so premium over the conventional steel and concrete approach. Remember too that these are great spaces in their own right. These are inspirational working environments and they convey messages about commitment to sustainability, so we might reasonably expect occupiers to pay a higher rent for the privilege and benefit from lower running costs in the long run.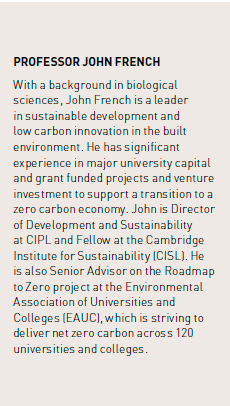 Download the full Thames Valley and South East Office Market Report 2021
Future-proofing the workplace
Significant reform to Atkins' workspace strategy over the past decade has been key to its operational resilience amid the COVID-19 pandemic. While Atkins has coped with the recent challenges, what could the experience mean for the future of the office?
Significant reform to Atkins' workspace strategy over the past decade has been key to its operational resilience amid the COVID-19 pandemic. While Atkins has coped with the recent challenges, what could the experience mean for the future of the office?
In this special guest written article, Denise Burgess, Corporate Real Estate & Workplace Services (CREWS) Director for UK and Europe at Atkins and SNC Lavalin, discusses the implementation of its workspace strategy and offers her unique perspective on what the future may hold.
Building a high quality workplace
As with so much of the services sector, the global financial crisis of 2008 was an extremely challenging period for us. However, the events set in motion a new direction in our strategic use of office space around the UK. Now, over a decade on, we face a new set of challenges, as we seek to navigate the disruption from the COVID-19 pandemic. Thankfully, as the crisis unfolded, the advances in our working practices over past decade put the business in a resilient position.
Rising to the challenge
Back in 2008, at the height of the financial crisis, Atkins' UK network of office space was not representative of one of the world's most respected design, engineering and project management consultancies. The challenge was, in essence, to propel Atkins' UK workspace into the 21st Century. The push for change was threefold; to improve the quality of our workspace, empower our employees to work more flexibly and to meet our targets on sustainability.
The journey has not always been easy, but we are proud of the progress we have made in delivering on these goals, while maintaining cost effectiveness at all times. In the space of the last 12 years, Atkins has delivered the following headline improvements in its operational estate:
48% of UK workspace classed as 'very good or good' quality in 2019, up from 20% in 2008.

We're improving but still have a long way to go!
38% reduction in total UK-wide floorspace since 2008, amid a 5% expansion of UK headcount.
£45m of capex invested into workspace improvements over this period.
12% real terms reduction in property costs including capex spend since 2008.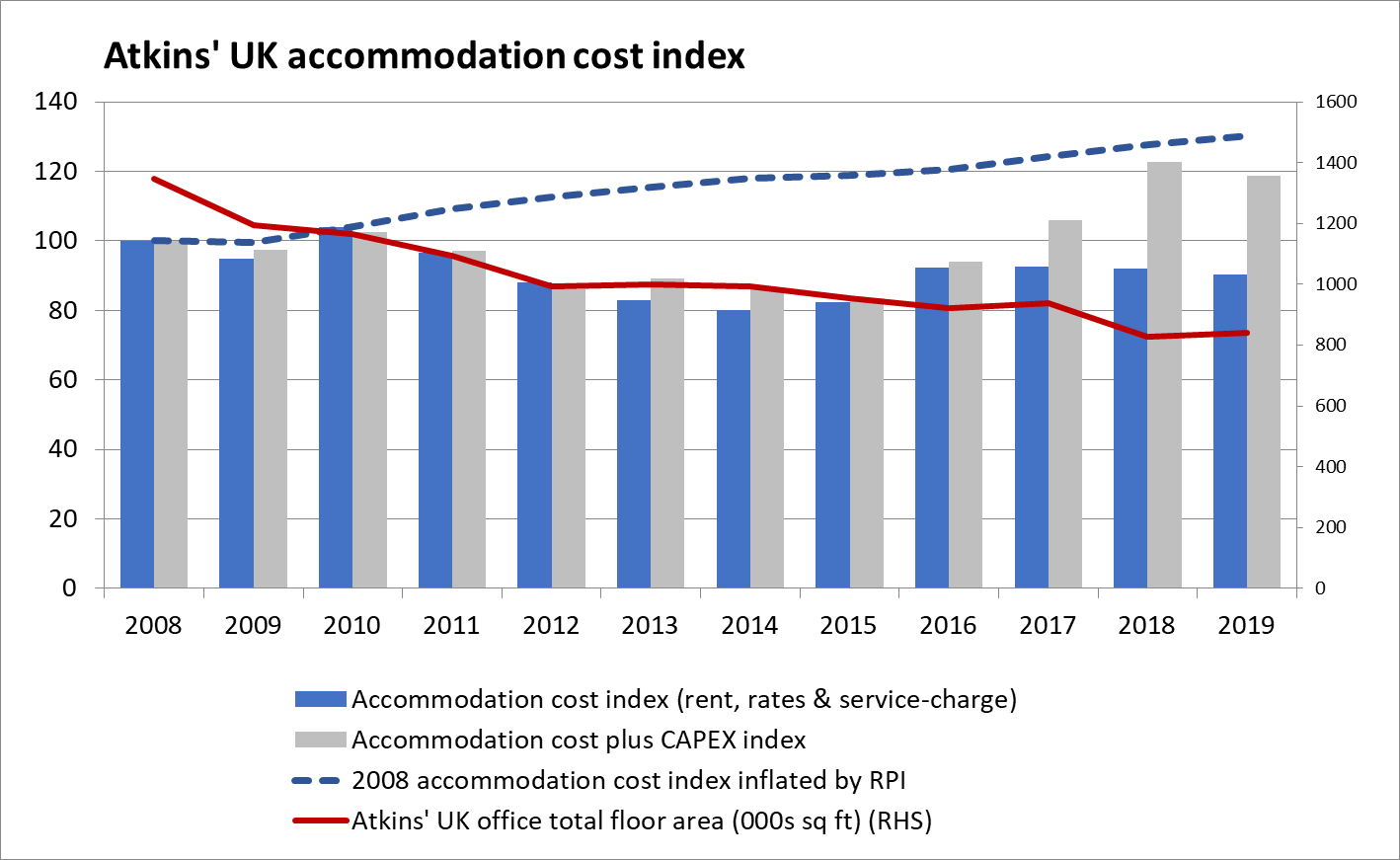 Instilling flexibility. Empowering staff choice
Instilling flexibility into our working practices has been pivotal to this journey. Analysis from the research we undertook back in 2008 revealed huge scope for driving greater efficiency in our use of space. Then, individual desks were allocated to staff with under 50% typically UTILISED at any given time, whereas pre-COVID this increased to over 90% in our more agile offices. Our AGILITY has significantly shifted from a 1:1 desk to head count ratio down to an average of 80%, and less than 60% in our flagship offices.
These greater efficiencies have been achieved through the adoption of a more agile working policy. Our staff have more flexibility in determining where they want to work, as their own needs dictate. Our office environments are set up to enhance the most valuable aspects of social interaction, alongside the provision of a range of work settings. Spaces designed for collaboration, including formal and informal meeting environments, now make up 30% of our total UK footprint, with 'solo space' (desks and quiet pods, etc.) making up only 40-50% (historically desking would have been nearer to 75%).
Delivering a 21st century office
The adoption of our agile working policy involved a number of significant changes to the physical layout and indeed the feel of our office space. These changes have been implemented and governed with reference to our Workplace Guide, an evolving document which sets the required standards across our UK office network.
A key enabler of change in our Workplace Guide has been the complete removal of nominated fixed desks. Prior to COVID-19, our staff no longer had their own desks and, as such, would instead spend their desk time within designated 'office neighbourhoods'. To give greater support to this approach, we are currently installing an in-house developed global desk booking app.
This more communal approach had implications for other, once standard, features of a typical official environment. The new policy saw the removal of pedestals and desk phones, in exchange for new facilities, such as staff lockers and neighbourhood boards, where staff can share their aspects of their personal lives, such as club memberships and family photos, if they choose. Other key changes include the provision of gender neutral washrooms and showers and the introduction of welfare rooms; essentially 'work free' spaces to cater for personal needs.
Location, location, location
Our policy has also brought about changes to the locational characteristics of our UK office footprint. Over the past decade we have increased the focus of our UK workspace into urban centres, allowing our staff to make better use of public transport infrastructure. Our larger UK offices are now all situated in central locations and serve as 'hubs' for visiting staff and clients from across the country.
Positively, our greater focus on urban centres has promoted lower reliance on car-based commuting; a key aspect of our sustainability goals. Our offices have their own Travel Plan which is used to determine the allocation of a limited number of parking spaces. Blue badge holders are automatically entitled to a space, while a points-based system is used to allocate the remaining spaces to promote green travel, critical business/caring requirements and shared/pooled car commuting.
Winning hearts and minds
As with any form of large-scale change, thorough engagement and consultation with our staff has been absolutely crucial to achieving our goals. Understandably, for a proportion of our staff, certain key changes such as the removal of nominated desks and pedestals took time to get used to. Throughout the implementation of our policy, we have always sought to promote the wider benefits that such changes help to bring about, whether that be the greater work-life balance from more remote-working, the more choice in working environments and the synergy benefits stemming from wider interaction among staff.
Atkins' senior leadership team was absolutely crucial to achieving our goals. Having our workplace policies announced and implemented from the very top of the business has played a pivotal role in gaining cross-staff support for the changes we have sought to make. The old mantra of 'to practice what you preach' is key to the success we have had in driving change and is a vital ingredient to any business embarking on a similar journey.
Coping with coronavirus
March 2020 saw the world turned upside down by measures to contain the coronavirus pandemic. While the period since has been challenging, the implementation of our agile working policy over recent years meant we were well prepared to have our staff work from home, en masse. Thanks to the technologies we have invested in and the mobile IT equipment our staff have at their disposal as part of our flexible work policy, the sudden transition to mass remote-working was largely trouble free.
As with so many businesses up and down the country, Atkins is now gradually managing the safe return of its staff back into the workplace. At Atkins, our approach to bringing the office back into active use involves a simple rota system. At the time of writing, our staff are allocated into three groups, whereby those in groups 'A' and 'B' are welcome to come to the office in a weekly rota system, and those in the C group are requested to continue working remotely until conditions change.
Accelerating change in the workplace
It is still early days, but it seems inevitable that the impact of COVID-19 will accelerate the changes towards more flexible working practices across the services sector. In one key respect, Atkins has been ahead of the curve. Greater emphasis on the quality of workspace over simply quantity, while enabling more agile working, is likely to rise up the agenda of many CEOs over the next two years.
That said, Atkins is not resting on its laurels. During lockdown, we conducted a wide-ranging staff survey to ascertain the views of our UK employees around continuous home-working. The results were striking. Armed with all the tools for productive home-working, our staff were remarkably positive about the experience, with the majority in favour of working even more of their normal working week from home in the future. Pre COVID-19, our employees were in the office four to five days a week and post COVID-19 the survey found they would prefer to be in the office two to three days a week.
Future gazing and the office of the 'new normal'
Despite the survey results, one thing is absolutely certain. The office is not a dying concept. Our staff would welcome more home-working, but the office still has an absolutely crucial role to play in forging relationships, building career experience, generating ideas and winning business.
Our staff survey revealed the reasons for accessing the office were; scope for social interaction, collaborating with / learning from colleagues and access to better desk/chair/monitor, printing/scanning. But, our staff liked being at home for more of their typical week due to the lowering of commuting hours, reduced personal costs, better productivity and better work-life balance. Coronavirus certainly doesn't spell the death of the office, but rather an acceleration of an evolution that was already in train.
The results from our survey imply a more marked transition to the quality over quantity mantra in our office workspace. If our staff wish to work more from home, it suggests an even greater emphasis on collaboration space can be designed into our offices. In some instances, our offices could be 'deskless' and consist entirely of collaboration space. These would be places to meet colleagues and clients or undertake structured learning, leaving 'focus time' to be undertaken remotely.
One key area of consideration moving forward surrounds workplace densities. Could it be that the era of increasing workplace densities begins to reverse on the back of increased home-working and social distancing measures? Time will tell, but evidence suggests the removal of fixed desks and provision of more collaborative spaces is associated with lower densities.
As we adjust to the new normal, Atkins will continue to engage with staff and adjust our workplace for the benefit of our employees and the business.
About Atkins
Atkins is one of the world's leading design, engineering and project management consultancies. With over 18,000 employees operating from 150 locations worldwide, it has a significant corporate real estate portfolio.
Key Contact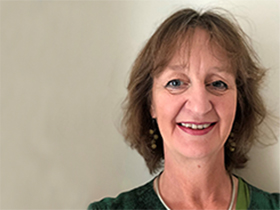 Denise Burgess
Regional Director for UK & Europe - Atkins
A test of strength
The pandemic could trigger significant shifts in demand for office and residential space across the South East. With this in mind, we have assessed key locations in the region for their resilience to change and, ultimately, their potential to benefit from new spatial dynamics.
Download the full Thames Valley and South East Office Market Report 2021
Using a mixture of economic and market-based statistics, four separate assessments have been produced to evaluate the prospects of 35 key locations. These assessments comprise; Office Market Dynamics, Residential Growth Prospects, Connectivity and LSH's well-established Vitality Index.

Notably, while some locations feature highly across several rankings, no single town or city is ranked in the top ten of all four measures. This demonstrates that each location has its own particular strengths and weaknesses that will affect its prospects and direction of travel in the post-COVID era.

Office Market Dynamics
The Office Market Dynamics ranking assesses the current balance of supply and demand within each market, based on rental growth rates and availability. The size of the office stock is also considered, to gauge whether it provides the critical mass needed to support future growth in demand.
Cambridge and Oxford are the top two locations in this ranking, reflecting the current strength of demand from science and technology occupiers in both markets. The presence of world-class universities, clusters of knowledge-based industries and successful science and business parks puts both cities in a prime position to benefit from the acceleration in life sciences funding and investment that has been triggered by the pandemic.

Other highly-ranked locations include Croydon, which has seen strong occupier demand and rental growth in recent years. As Greater London's largest suburban office market, Croydon is well placed to benefit if centrally-based occupiers adopt more decentralised office models.

Milton Keynes and Brighton are also ranked highly, with both being among the most dynamic South East office markets in recent years. Demand in both locations is boosted by growing clusters of high value technology occupiers.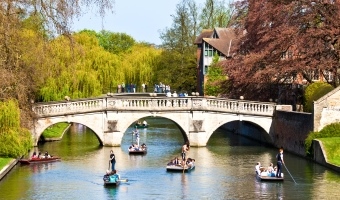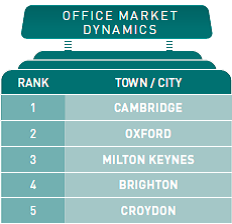 Pictured: Cambridge
Residential Growth Prospects

The Residential Growth Prospects ranking incorporates indicators of population size and growth, housing completion rates and the size of the current residential development pipeline. Large, growing towns are ranked highest, as they will have the greatest capacity to support workforces that may increasingly seek to work at home or live close to their workplaces.
With a fast-growing population and one of the largest residential pipelines in the South East, Milton Keynes is the top-ranked location on this measure. Sitting at the heart of 'Oxford-Cambridge Arc' growth corridor, the town is set to see continued rapid expansion. In its recently published 'Strategy for 2050', the local council said that it expects half a million people to live in Greater Milton Keynes by the middle of the century.
Maidstone comes in second place, with one of the region's largest residential pipelines relative to its current population size. The top five is completed by Croydon, Welwyn Garden City and Watford, which are all expected to see strong population growth in the next decade.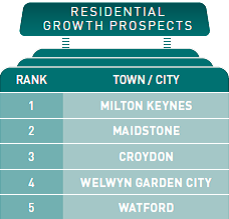 Connectivity
Connectivity is likely to be a key factor if the pandemic pushes firms to adopt flexible office models where employees' working lives are split between their homes, central office hubs and local satellite or serviced offices. Towns and cities with busy train stations, short commuting times to London and relatively inexpensive office rents, may be the most viable locations for satellite and serviced offices.

Croydon is ranked top for connectivity, with a short 15-minute train journey to Central London. Prime rents are less than half the level of the City, making Croydon an attractive location for firms looking to spread their London office footprint.

With a commuting time to London of close to 20 minutes, Watford also scores highly for connectivity. The rest of the top five are Chelmsford, Milton Keynes and Welwyn Garden City, each of which is a relatively low-cost office location within a 40-minute train journey from the capital.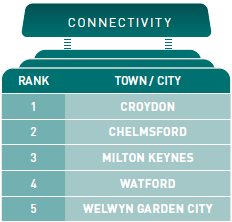 Vitality Index
The final component of the ranking is LSH's proprietorial Vitality Index, our annual health check on UK locations which spans economic, business, lifestyle, health and environment indicators.

Woking came top of the 2021 index nationally, scoring particularly highly across health and environment indicators. The Surrey town was also one of the highest-ranked locations for a number of economic and business measures, including wage growth and commercial property investment.

Other South East locations ranked highly by this year's Vitality Index include St Albans and Staines, which both scored highest across health and environment indicators; Guildford, whose strengths were primarily in lifestyle factors; and Watford, whose economic and business environment was highly rated.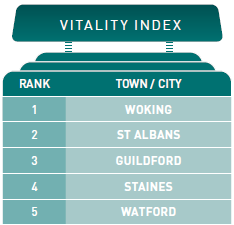 Locating future growth
While each of the rankings is designed to assess a different aspect of the markets, if they are looked at in the round, Milton Keynes and Watford are the best-ranked locations, as the only towns to boast top five positions in three of the four rankings. Croydon, Brighton and Welwyn Garden City also stand out, with relatively high places in multiple rankings. However, all of these locations have at least one ranking in which they are relatively weak, bringing down their overall performance.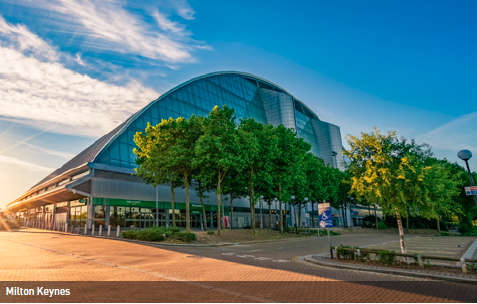 Several locations achieve a high overall ranking, despite not featuring in the top five of any of the individual rankings. Reading, at 7th overall, is the best of these 'all rounders', but Southampton and Uxbridge also display a well-balanced performance across the rankings.

Broadly speaking, the most highly ranked locations overall are either population centres in and around Greater London, which are well placed to benefit from any rippling out of office and residential demand from the city centre; and large town and cities located further out, with the necessary size and infrastructure to function as coherent economic entities in their own right. Both types of location have the potential to gain from shifts in spatial demand accelerated by the pandemic.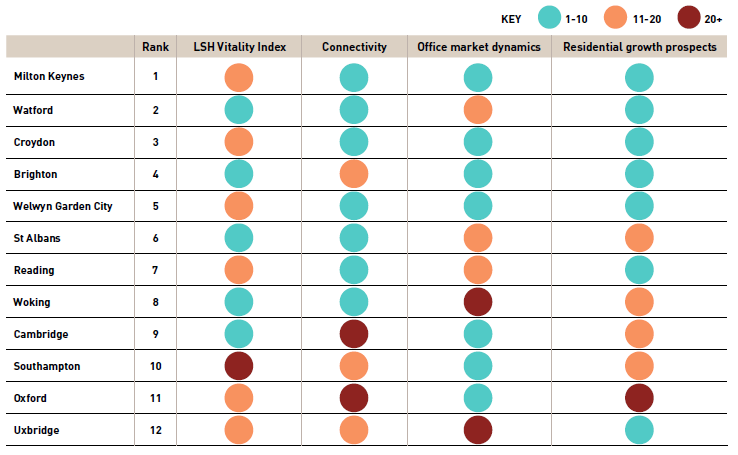 Source: LSH Research
Download the full Thames Valley and South East Office Market Report 2021
TOCS 2023
Explore costs in your area
View full office occupancy costs across the UK and assess how these differ by location and sector across new and 20-year-old buildings on a per sq ft and employee basis.
Explore costs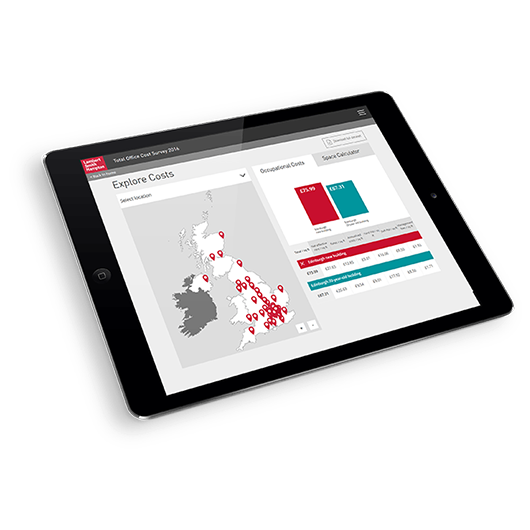 MARKET Insight
Industrial and Logistics Market
Explore industrial market take-up, availability, rents, prime land values and key deals across the UK.
Launch app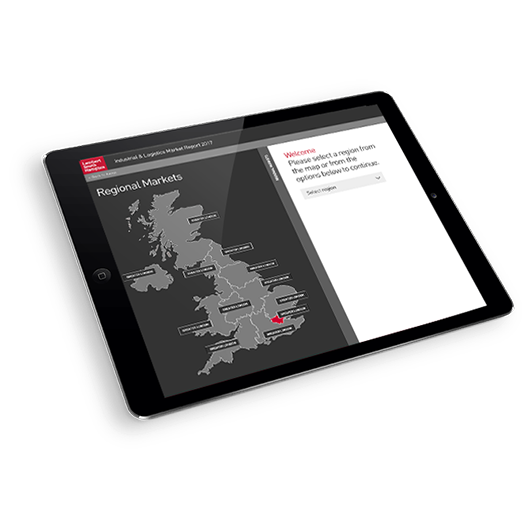 Get in touch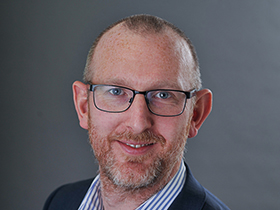 Oliver du Sautoy
Head of Research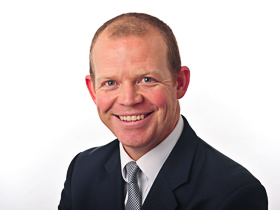 Ryan Dean
Executive Director - Head of Transactional Services