Office-to-lab conversions are an increasingly popular response to the rising demands of the life sciences sector. While there is much to consider throughout the planning and construction stages, well-conceived conversions will open up new locations to science occupiers.
Download the Thames Valley and South East report in full here →
MEETING LAB DEMAND
The growth of the UK life sciences sector continues to drive surging demand for high quality lab space, particularly in the 'Golden Triangle' formed by Oxford, Cambridge and London. Although purpose-built facilities are often the preferred solution, landlords and occupiers are increasingly pursuing opportunities to convert existing office buildings to labs.
Conversions may provide timelier and more ESG-friendly solutions than going down the new-build route. For landlords, there are opportunities to achieve significant rental premiums over standard offices, with life sciences businesses prepared to pay for high-spec space that supports their growth.
Many firms in this sector have very specific occupational requirements, and conversions undertaken on behalf of individual occupiers will need to provide lab space that is uniquely tailored to their needs. However, landlords also have the option of delivering more generic 'lab-enabled' products providing a base level fit-out which occupiers can adapt to suit their requirements.
Key features of lab-enabled buildings include movable power units, enhanced floor to ceiling heights and air handling systems capable of providing six air changes per hour. If landlords are able to convert offices to labs with this level of specification, it opens up the possibility of speculative conversions, and schemes targeted at growing spin-outs and start-ups requiring space for immediate occupation.
The trend towards conversions is evident in the Oxford market, where nearly all of the lab space to come through in the last three years has been via conversions and refurbishments. Key hotspots for this type of activity include ARC Oxford (formerly Oxford Business Park) where OMass Therapeutics recently took 16,000 sq ft of newly fitted labs and offices at a rent of £63.50 per sq ft.
PLANNING AHEAD
While office conversions can offer excellent solutions, there are many key parameters that determine a potential building's suitability. When considering a conversion for a specific occupier, a detailed understanding of their needs is essential at a very early stage so that a building can be assessed against these requirements. Many firms will seek to embrace the latest technologies when relocating, particularly around lab automation, and understanding the demands associated with these can be a significant challenge.
The ease of office-to-lab conversions is aided by both property types now falling under the same Use Class E, but early consideration needs to be given to any requirements for alterations beyond permitted development. Planning permission may be needed for additional plant and facilities such as risers, chimneys and storage for gases.
Other planning considerations include acceptable decibel levels, which can impact plant choices and may require significant attenuation. In addition, many labs will have a significantly higher volume of deliveries than typical offices, and this may impact the size of loading bays and neighbourly matters. These factors may be particularly important when seeking to convert offices in urban areas, rather than on out-of-town parks where labs are more traditionally located.
LAB REQUIREMENTS
Labs typically have significantly higher power requirements than offices. There are often lengthy timescales to secure an increased power supply, and this should be considered as part of the building programme. The capacity of the building infrastructure to distribute the uprated supply and extent of any network upgrades required to deliver the power should also be investigated.
It is also common for power and data to be distributed from the ceiling in labs, rather than floor voids as is typical in offices, thus limiting the reuse of existing services distribution. Vertical services distribution also requires consideration of the increased riser requirements often needed to facilitate medical gas distribution and more frequent air changes. Assessing the suitability of a building's structure and layout to facilitate such additional risers, either internally or externally, is an essential part of the due diligence process.
Labs' greater air extraction requirements may result in a need for increased exterior plant space for both the extract and additional make up air, and potentially additional plant space within the floor plate. Many labs will also require increased drainage provision, so it is important to understand if this can be accommodated.
BUILDING ALTERATIONS
Floor to ceiling heights are a key consideration when judging a building's suitability for conversion, as these are generally greater in lab buildings than in offices. However, requirements can vary significantly depending on the nature of the specialist instruments being installed. Local adjustments to suspended ceilings and/or raised access floors may be needed, and potential buildings will need to be assessed to see if the required floor to ceiling heights can be achieved.
Floor loading considerations are also important, as some of the specialist instruments and equipment used in labs can far exceed the typical floor loads that offices are designed to take. In some instances, this can be resolved by simply enhancing the raised access floors, while in others spreader plates or additional steelwork will be required. The necessity and feasibility of these options should be considered as part of the due diligence process.
While some of the same resilience principles apply to offices and labs, for example with server/communications rooms being UPS (uninterruptible power supply) and generator backed up, the work done in labs may require that instruments and equipment remain functioning until their sequences are complete and a safe shut down can be instigated. This could require a significant increase in the typical UPS and generator provisions.
Where possible, occupiers leading conversions should seek landlord permission for the key alterations as part of lease negotiations to avoid any discrepancies between what can technically be achieved and what is permitted. It is also important that contractors with specialist knowledge and experience of the life sciences sector are appointed to ensure the smooth delivery of bespoke lab space.
OPERATIONAL FACTORS
In addition to the construction considerations, key operational factors should also be appraised. While the actual lab space may be the primary focus, early thought should also be given to additional areas such as storage and write up space, as these can be key to satisfying the needs of occupiers.
It is vital that the existing building fabric and services perform to a high standard. A leaking roof or failing air handling unit will let down even the highest quality conversion. Equally, the use of durable finishes is essential to ensure the building can withstand lab operations and maintenance. Design features desired in offices such as exposed services can result in additional operational costs for labs due to the higher standards of cleaning often required.
APPLYING THE SCIENCE
Office conversions provide the potential for life science businesses to be situated in a wider range of locations than has traditionally been the case, including in city centres. While such locations may bring their own challenges, this could be a key differentiator when attracting staff.
Thorough due diligence is essential at the earliest possible stage when selecting buildings for office-to-lab conversions. There are no one-size-fits-all solutions in the life sciences sector and much will depend on the specific requirements of the occupier. Unlike new builds and fit-outs in the office sector, there are no accepted norms to follow, and the characteristics of lab conversions will vary greatly on a project-by-project basis. Flexible, responsive and pragmatic approaches will thus be key to successful conversions.
Life sciences remains a sector driving innovation and requiring high quality accommodation. Lambert Smith Hampton's Major Projects and Cost Consultancy department is proud to be delivering solutions in such an exciting sector.
Download the Thames Valley and South East report in full here →
CASE STUDIES
Synnovis – Friars Bridge Court, London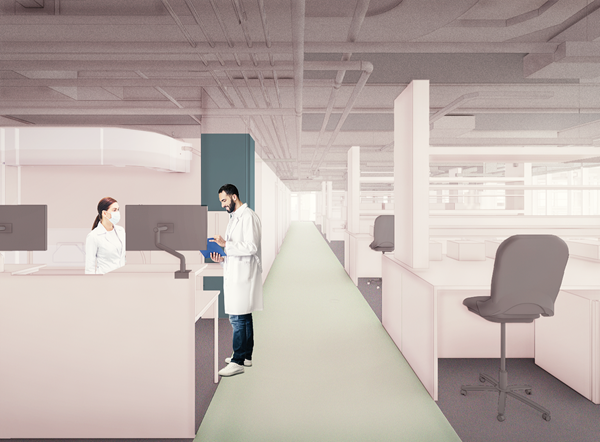 After identifying a suitable building and providing agency services, LSH is currently acting as Project Manager, Contract Administrator, Cost Consultant and Planning Consultant for the refurbishment of a 140,000 sq ft office building on Blackfriars Road, south London, into a state-of-the-art pathology laboratory for our client Synnovis.
Synnovis is a partnership formed by laboratory diagnostics company SYNLAB, Guy's and St Thomas' NHS Foundation Trust and King's College Hospital NHS Foundation Trust, to deliver NHS pathology services across south east London.
Once complete, this will be one of the largest pathology laboratories in the UK, at the centre of a hub and spoke model that will free up vital space in central London hospitals and dramatically improve testing turnaround times. The project is currently on site with Mace Interiors and due to achieve practical completion in late 2023.
PsiOxus Therapeutics – Abingdon Science Park, Oxfordshire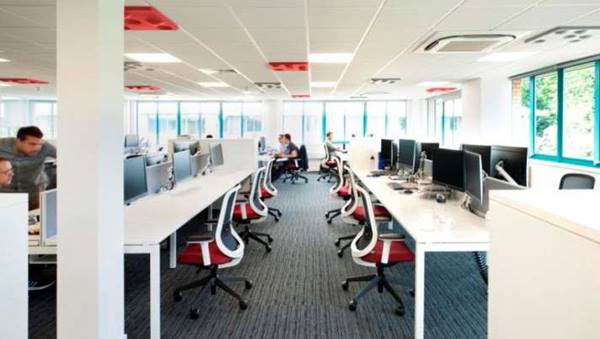 Due to its rapid expansion, our client PsiOxus Therapeutics (now Akamis Bio) required premises for a new head office and Cat 2 R&D laboratory facility. LSH's agency team selected an existing office building at 4-10 The Quadrant, Abingdon Science Park; while we also provided due diligence, feasibility study, project management, principal designer (CDM) and dilapidations services. This ensured that a 21,000 sq ft start-of-the-art facility was delivered to the time, cost and quality required by the client.
Orchard Therapeutics – 245 Hammersmith Road, Hammersmith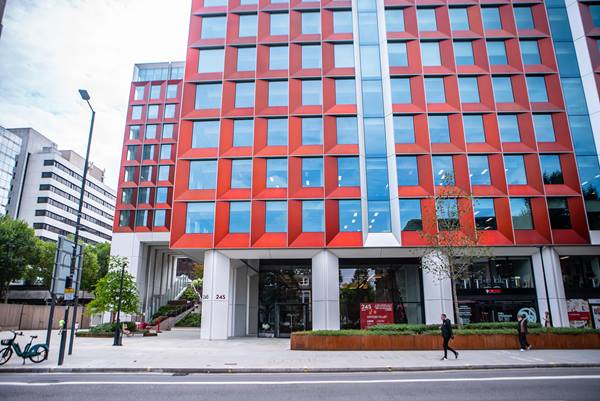 LSH provided agency and consultancy services to gene and cell therapies developer Orchard Therapeutics for its move to a new HQ and R&D facility at 245 Hammersmith Road. Orchard now occupies 17,382 sq ft on the building's third floor, which is split between labs and offices in a ratio of approximately 60:40.
245 Hammersmith Road is a best-in-class office building whose technical specifications enable it to accommodate occupiers with lab requirements. Nonetheless, there were still challenges to overcome around ventilation, waste distribution and power, partly due to the distance to plant located towards the top of the building.
However, none of these issues proved insurmountable and LSH helped to deliver a bright, open and collaborative workspace. A key feature is plenty of glazing, which allows lab spaces to be observed from office areas, thus breaking down barriers between the science operations and backroom staff. The space has been very well received and Orchard has consolidated its UK operations at the new facility.
Download the Thames Valley and South East report in full here →
REGISTER FOR UPDATES
Get the latest insight, event invites and commercial properties by email