LSH's second annual office occupier survey has found that UK businesses are witnessing improving levels of staff attendance, while a trend towards the occupation of less, but higher quality space is most prevalent among larger firms.
Download the Thames Valley and South East report in full here
OCCUPANCY ON THE UP
The survey results show a tangible increase in office attendance over the past year. When asked to estimate the average number of days per week that staff in their organisations spent in the office, the most common response was three days a week (39%), reflecting an improvement on our 2022 survey, when two days a week (42%) was the most popular answer.
Most respondents in this year's survey (73%) also said that current attendance levels were up on 12 months ago, albeit a large majority of these described the improvement as 'slight'. Just 4% of all respondents reported seeing a return to pre-pandemic attendance.
While the general direction of office attendance is upwards, hybrid working patterns appear to be entrenched. Two or three office days a week is the norm for more than two-thirds of survey respondents; and even if attendance does improve further in the future, a full return to pre-pandemic levels appears highly unlikely.
73%

SAID ATTENDANCE LEVELS HAVE IMPROVED SINCE 2022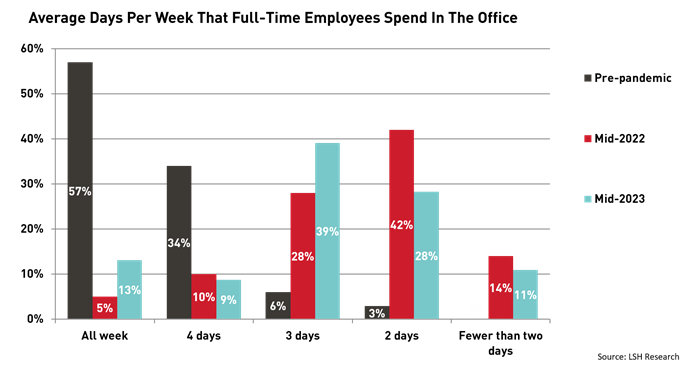 SIZE MATTERS
One of the clearest trends found by the survey is a divergence between attendance levels in firms of differing size, with smaller companies' employees spending significantly more time in the office than those working for large organisations. Among companies with fewer than 50 employees, 47% reported office attendance of at least four days a week; and the only firms with full attendance were all in this size category.
In contrast, two days a week remains the most common level of office attendance in firms with more than 1,000 staff, with this reported by 50% of respondents working for these businesses. Attendance levels of four days a week or more are still a rarity across all of the larger size bands in the survey.
This reflects fundamental differences between the needs of smaller and larger firms, with offices seen as essential to the day-to-day operations of many small businesses. Larger companies are more likely to have office space and infrastructure that supports hybrid working, while also employing staff who live across wider geographic areas and benefit from not having to commute daily.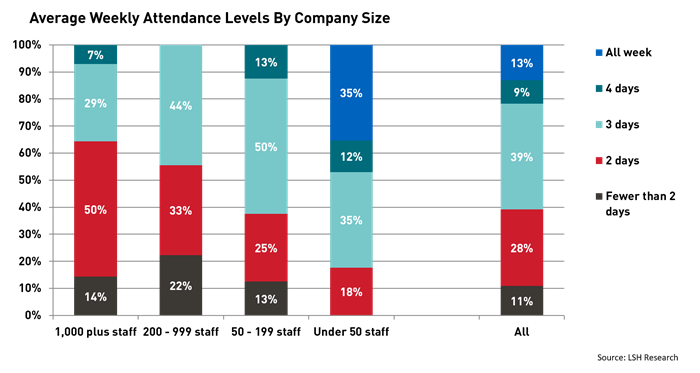 THE MONDAY AND FRIDAY BLUES
A well-publicised feature of current hybrid working patterns is lower levels of office attendance on Mondays and Fridays. Positively, most survey respondents appear relatively relaxed about this, with 65% saying that it is not deemed to be a 'problem' that needs to be addressed in their businesses.
However, respondents were again split depending on the size of their organisations, with 61% of those working for firms with over 200 staff saying that this is a problem; compared with just 9% of those with fewer than 200 staff.
Among those deeming this to be an issue, there was a 50/50 split between those whose companies had initiatives in place to drive attendance on these days and those who remained unsure how to address this. While lower levels of attendance on certain days appear to be accepted by a significant number of businesses, deciding whether and how to tackle this remains a 'work in progress' for plenty of others.
CARROTS AND STICKS
Broader policies stipulating or guiding office attendance levels are becoming more commonplace, with 50% of survey respondents saying that these were in place in their businesses. Another 11% said they had plans to introduce such policies in the next 12 months, which suggests that a further rise in overall attendance levels is likely.
In addition, just over half of the respondents (52%) said their businesses had taken positive actions to encourage staff into the office via enhancements to working conditions and amenities. Among businesses where such actions have been taken, the most common initiatives were perks such as free breakfasts, soft drinks and snacks; and the creation of more diverse office environments by adding features such as informal seating areas and meeting areas.
Larger firms were significantly more likely to have taken these types of actions; 71% of those working for firms with more than 50 staff said this was the case, but this dropped to just 18% among those with fewer than 50 staff. The ability to offer a greater range of office amenities could be a key advantage that larger firms have when competing for staff. Meanwhile, amenity-rich multi-tenant buildings will be in a strong position to attract occupiers seeking space that meets employees' increased expectations for high quality facilities.
61%

HAVE POLICIES GUIDING ATTENDANCE LEVELS, OR WILL INTRODUCE THEM IN THE NEXT 12 MONTHS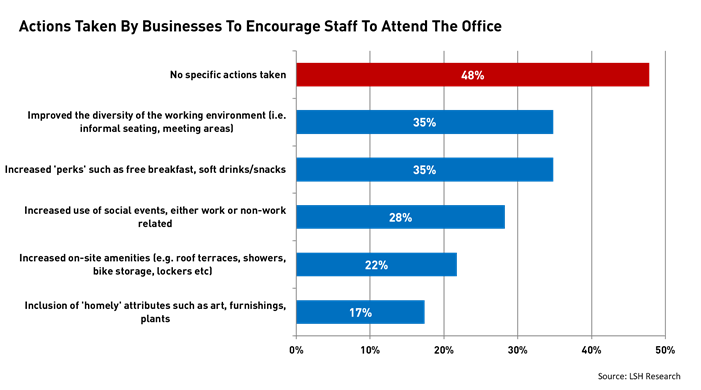 FUTURE SPACE REQUIREMENTS
Hybrid working is continuing to impact both the quantity and quality of companies' space requirements, while sharp rises in energy costs and ESG considerations have also added to some firms' motivations to move. Among survey respondents, 35% said that they had already relocated or consolidated space since the pandemic, while a further 20% indicated that such a decision was now more likely to be made upon a lease event.
Notably, however, close to half (46%) of respondents said that they were no more likely to move premises now than had previously been the case, with this rising to an outright majority among firms with fewer than 200 staff. Evidently, there is a substantial cohort of occupiers, particularly at the smaller end, for whom the pandemic has actually had little impact on their thinking around office space.
Among those indicating that they had either moved or were more likely to, a large majority said they required less space than they previously occupied. The most common reduction in space requirements was c. 30%, cited by just under a fifth of all respondents.
Taken together, the answers provided imply an overall reduction in space requirements of 15-20% among our survey respondents. If this were repeated nationwide, it would necessitate a contraction in the size of UK office markets, but on a scale that could be achieved relatively organically via the gradual loss of poorer quality buildings from the office stock.
AN OVERALL REDUCTION IN SPACE REQUIREMENTS OF

15-20%

IS EXPECTED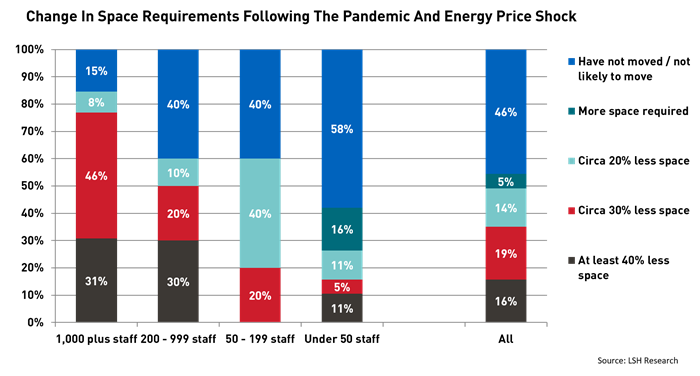 WEIGHING UP THE COSTS
While the need to find space suited to hybrid working is a major motivating factor behind occupiers' current space decisions, potential cost savings are not being ignored. A total of 78% of survey respondents said that they expected to benefit from cost efficiencies when relocating, albeit 48% said that cost was a secondary consideration to space and location.
Just over half of survey respondents (52%) said that their businesses had also taken specific actions to manage efficiencies and operating costs associated with lower office attendance. Most commonly, this involved collecting occupancy data for per capita metrics; or optimising plant and building management settings for low occupancy days or areas. However, with 48% saying that no specific actions had been taken, there would appear to be significant room for further actions and improvements in many companies.
Finding an optimal balance between the cost, quality and size of offices will be an ongoing challenge for occupiers as hybrid working practices continue to evolve. The exchange of quantity for quality is likely to continue, allowing many to upgrade to better space at a lower cost, or at least a cost neutral position, compared with their current workspace.
Download the Thames Valley and South East report in full here
ABOUT THE SURVEY
Conducted in May 2023, LSH's office occupier survey provides a snapshot of attendance levels, attitudes to hybrid working and the ongoing impact of shifting work patterns on companies' space requirements.
This year's survey builds on a similar exercise performed last year to assess how much has changed, now that more than a year has passed since the final removal of COVID restrictions.

The survey received responses from key occupier clients of LSH representing businesses with a total of more than 100,000 UK staff. Organisations included in the survey range from small companies with fewer than 50 staff to global corporate occupiers with thousands of employees spread across multiple sites nationwide.

A wide range of sectors are represented in the survey, including professional services, TMT, banking & insurance and the public sector. The biggest single occupier group was professional services, which accounted for 37% of the responses.
REGISTER FOR UPDATES
Get the latest insight, event invites and commercial properties by email