The increasing trend towards urbanisation is a major cause of biodiversity loss across the globe, with
a recent report by wildlife charity WWF
highlighting that the population sizes of mammals, birds, fish, amphibians and reptiles have declined by an average of 68% since 1970.
Such large-scale biodiversity loss can have a significant impact on our physical and mental health and wellbeing, from access to fresh water, fuel sources and nutrition, to the issue currently front and centre of everyone's minds, the spread of infectious disease.
A chance to reflect
While extremely disruptive, the restrictions on movement placed on us earlier this year in attempt to limit the spread of COVID-19 gave us an opportunity to reflect on our impact on biodiversity, at the same time reinforcing the need for a greater connection with nature within our daily lives.
The result is a much greater awareness and appreciation of the role we all have to play in protecting and enhancing the habitats upon which all living things survive and thrive.
Earlier this year the Government reintroduced the Environment Bill, which is currently making its way through Parliament. A key factor of the legislation concerns biodiversity net gain, and places a requirement on developers to deliver at least a 10 per cent improvement in biodiversity value as part of any new development. While we obviously welcome this move, we cannot simply ignore the 7.35 billion sq ft of commercial floorspace that already exists across the UK.
Here we set out a number of simple steps that can be implemented across the built environment which can really make a difference. The added benefit being that it can make buildings more attractive and welcoming to occupiers which, in turn drives asset value – win:win.
Tips for improving biodiversity
Living Walls are greening systems whereby vegetation is encouraged to grow on or against vertical surfaces and can either be erected inside or outside a building. They provide habitats for many plants and animals including beetles, spiders, ants, bees and wasps and are perfect in dense urban areas with little or no access to green space. They also have the added benefit of reducing noise by reflecting, refracting and absorbing acoustic energy, as well as improving air quality by acting as natural filters.
Green Roofs are horizontal greening systems whereby a layer of vegetation is planted over a waterproofing system that is installed on top of a flat or slightly–sloped roof. They can be slightly more complex to install due to the fact that they sometimes require drainage and irrigation systems but, once installed, they involve little or no maintenance. In addition to the benefits provided by Living Walls, Green Roofs can also support rainwater harvesting for use in flushing toilets, irrigation or other non-potable purposes. They also act as a thermal conductor, helping to regulate heating and cooling requirement, and reducing energy consumption. More importantly, however, they can help to reduce urban heat islands which occur when cities replace natural land cover with dense concentrations of pavement, buildings, and other surfaces that absorb and retain heat.
Living things are better suited to their natural habitat so careful consideration should be given to the type of Flora and Fauna introduced as part of any re-wilding project. Where possible native species should be favoured over exotic as this can have a damaging effect on the local ecosystem – think red squirrel and white-clawed crayfish.
Business parks are a great example of how an artificial environment can be used to create new Habitats for wild species, such as beehives, bat boxes and bug hotels in a relatively cost effective manner. Last year we introduced 50,000 bees to four hives at Westcott Venture Park

in Aylesbury, which we manage on behalf of PATRIZIA. We have also introduced bee hives on railway verges on behalf of Network Rail. As well as helping to maintain a declining species which so many plants rely on for cross pollination, the installations have the added benefit of creating a sustainable source of honey.

Wildlife Corridors are connections across the built environment that link up areas of habitat and prevent the creation of stranded eco-systems within individual cities. A fantastic example of this in practice is the 'Wild West End' initiative, a unique collaboration by London property owners, including Church Commissioners for England, The Crown Estate, Great Portland Estates, Grosvenor Britain & Ireland, The Portman Estate, The Howard de Walden Estate and Shaftesbury, to encourage wildlife back into the heart of London, and create greater connections with nature for residents, visitors and workers to enjoy.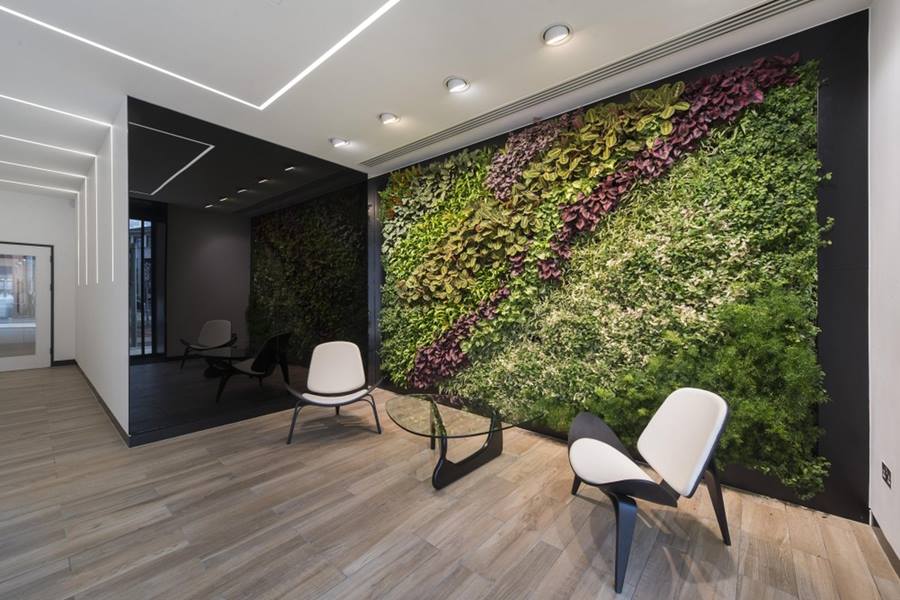 Image: A living wall recently installed at one of our buildings we manage on behalf of Nuveen.
Restoring balance
The world's most revered ecologist, Sir David Attenborough has warned that nature must not be viewed as an optional extra that's "nice to have" and that we must act now if we are to "restore balance to our world".
While there is no denying that seismic shifts in how we produce food, create energy, manage our oceans and use materials are required if we are to reverse the global decline of biodiversity, we are helping both landlords and occupiers devise and implement simple yet effective strategies to protect and enhance biodiversity across their assets or workplaces.
For more information about implementing biodiversity strategies across your property assets, please get in touch. Alternatively, visit our Sustainability web page.
REGISTER FOR UPDATES
Get the latest insight, event invites and commercial properties by email