The South East office market is both resilient and adaptable to accelerated change in demand, according to LSH's 2020 South East Office Report.
Download full report here

Just as momentum was building in the wake of last December's decisive election result, drastic measures to contain a global pandemic understandably delivered a hammer blow to office market activity in the South East, as elsewhere.

Q2 2020 could come to be remembered as the 'lost quarter', as the majority of live requirements were suspended and new requirements were virtually non-existent amid the lockdown. Provisionally, take-up for Q2 is circa 335,000 sq ft, the lowest on record and 68% below the 10 year quarterly average.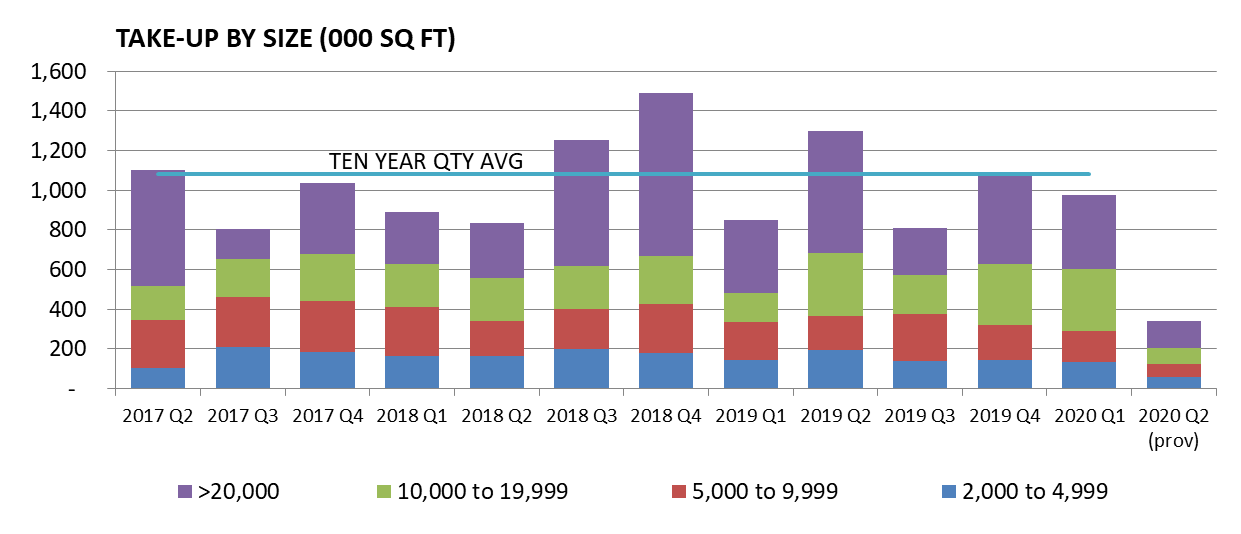 But activity did not grind to a complete halt. A flurry of key deals completed during the lockdown, demonstrating occupiers' willingness to see through the near-term challenges and stick to long-term plans. The pharmaceutical sector was notably active, with key deals including Eli Lilly in Bracknell (37,675 sq ft) and Amgen in Cambridge (35,000 sq ft).

The acid test for the market's resilience to the fallout from COVID-19 lies not in Q2, but later in the year. Positively, LSH's analysis of live requirement across the region on the eve of the lockdown shows that the many of deals are merely delayed, rather than dead altogether, which could result in anticipated Q2 take-up being offset into the second half of the year.

That said, the economic impact of the lockdown will put some businesses under financial strain. Arguably, the main risk over the next six to 12 months is the amount of grey space released into the market, as tenants seek to offload space in a bid to save costs and rethink their property needs post lockdown.

Crucially, the South East market enters this period in strong shape. At 13.6m sq ft, current supply is only marginally higher than the cycle-low from Q1 2019 and is 40% lower than it was during the global financial crisis in 2009. The development pipeline is also relatively thin, with speculative development standing at only 1.8m sq ft and largely focused in a handful of markets where supply is extremely tight, such as Cambridge and Watford.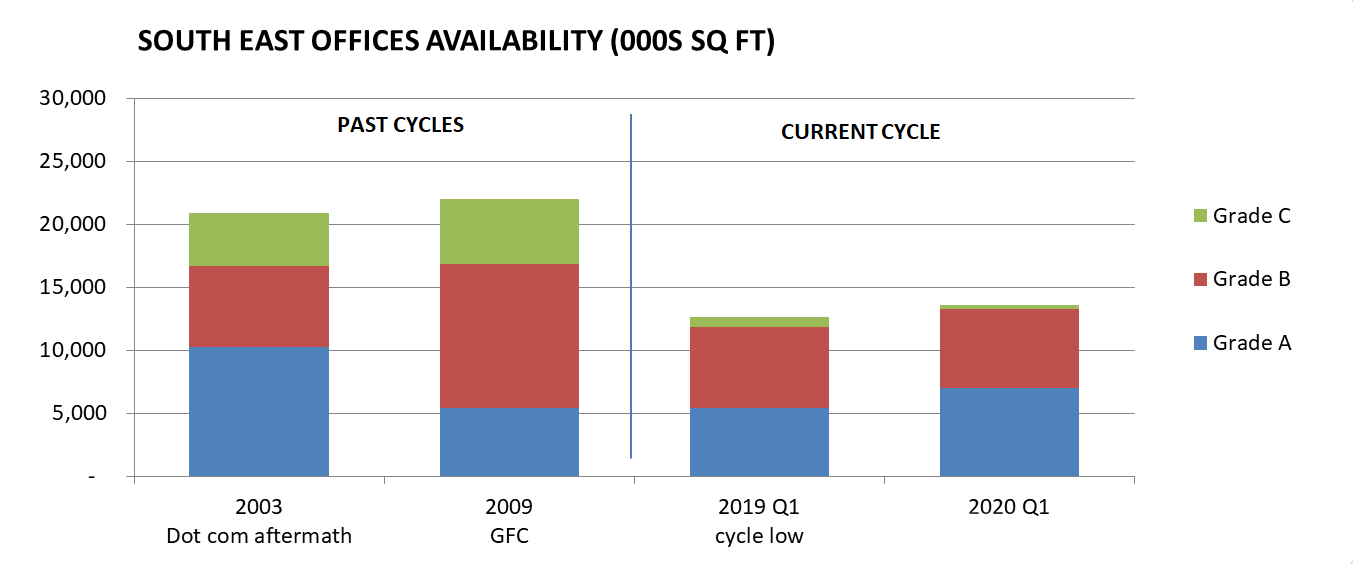 Turning to the investment market, the lockdown understandably curtailed volumes in the second quarter period. However, close to £400m of assets changed hands in Q2. While close to £250m worth of deals fell through in the wake of the crisis (since mid-March), circa £150m worth of potential deals remain under offer at time of writing.

A early sign of improving confidence in the South East market, albeit at a pricing revised level, is the exchange of contracts by Tristan in a JV with Alchemy on the acquisition of Reading International, which at c. £120m is the largest transaction in the quarter. Local authorities have also been key to activity during lockdown; Runneymede Council's £32.7m (5.37% NIY) purchase of Honeywell House, Arlington Park, Bracknell was one of three local authority deals in Q2.

Ryan Dean, Head of LSH Office Advisory commented;

"The market is undoubtedly entering a challenging period over the coming months. Right now, occupiers' immediate concern is getting their existing offices back into use while keeping a lid on costs amid a severe lockdown-induced contraction in the economy.

But despite the short-term trauma, I am excited by the accelerated change we expect to see. The trust employers will now have in greater agile working has propelled the market forward by five years. This will have important consequences for the layout, operation and feel of offices in the coming years.

There may be potential upsides for market demand. While the crisis will effectively put the brakes on immediate rental growth prospects, increased grey space may play into the hands of many occupiers seeking relatively flexible ready-fitted options, while the South East could benefit directly from less London-centric occupier strategies".

Charlie Lake, Capital Markets Director at LSH commented;

"The crisis is set to drive a widening pricing divergence between prime and secondary assets and between locations that are more or less exposed to occupier market risk. Pricing for the very best quality assets is expected to hold firm, with the extension of massive financial stimulus in the wake of the international lock-down fueling the global weight of money for a limited supply of long-income, secure product.

"While we can expect repricing in the secondary market, its extent depends on how a range of factors play out over the coming months. The removal of material uncertainty clauses in current valuations and improving comparable evidence will be important in boosting liquidity, as there remains a depth of capital seeking opportunistic acquisitions across the South East.

"A fast-forwarding of structural change in occupier demand is likely to accelerate obsolescence for poorer quality assets, particularly in locations with existing high supply levels. The challenge for investors is to embrace this change and provide product that is better suited to flexibility, such as multi-let and ready-fitted product. Such product is arguably carries lower void risk and is better equipped to capture income growth as it returns".
REGISTER FOR UPDATES
Get the latest insight, event invites and commercial properties by email