We advised Rotherham Council on a Town Centre Masterplan and Delivery Strategy. The Masterplan provides a long term vision for the town centre and identifies key development opportunities for investors and developers to help deliver this. Our involvement has since extended to the Council's Future High Street Fund (FHSF) and Town Fund bid in 2020 to secure over £45 million in total.
The Challenge
Rotherham Borough Council are ambitious to maximise the town's potential, and required a long-term vision for the future development and regeneration of the town centre, as well as the waterfront area.
The masterplan was intended to increase Rotherham's profile as a major leisure and visitor destination.
Bold but deliverable solutions for leisure, retail, recreation and town centre living were required to redefine the town and open up its potential.
Our Solutions
We undertook a comprehensive review of development opportunities within the town centre.
Based upon robust market analysis, stakeholder, developer and operator consultation we identified a series of key development opportunities for the town, including a major leisure development opportunity to include cinema, food and beverage outlets, a new hotel and multi-storey car park.
Viability analysis was undertaken for key sites and development options considered to determine the deliverability, potential residual site values for landowners and any potential funding requirements from the public sector.
The Results
The Rotherham Town Centre Masterplan provides a clear vision for the town centre and waterfront for use by the Council in promoting the town to investors and developers.
The Masterplan provides a clear delivery strategy for the Council and its partners to take forward deliverable developments on key sites.
The Masterplan was used to support the selection of a developer partner for the key transformational site, Forge Island, a major leisure development opportunity. In 2020, Muse Development secured outline planning permission.
The scheme will now deliver a new cinema, food and beverage outlets, a hotel, 100 apartments, and a pedestrian bridge spanning the River Don with construction to commence in 2021.
We are also working with Rotherham Council on the delivery of two prominent sites for residential apartment living in the town centre. The site will form part of the Town Fund submission.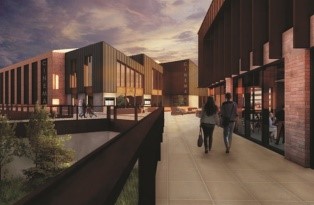 REGISTER FOR UPDATES
Get the latest insight, event invites and commercial properties by email