Approaching the raft of ESG building certification options can be daunting. There are many to choose from, each addressing different elements of a property and what it delivers for those who inhabit it.
However, when a business's objectives are really considered and the steps towards certification broken down effectively, the task becomes far more manageable. Our team not only helps businesses to get this right but has ingrained everything we have learned about ESG into how we manage properties and facilities. We have an in-house Fitwel Ambassador and SKA Rating Assessor, as well as the ability to work with clients across all ESG accreditations and benchmarks.
Which certification a business – developer, landlord or tenant – decides to approach depends on what they want to achieve. BREEAM is a rating that a developer might use to score a building for its environmental credentials during construction and when completed. NABERS certification, meanwhile, focuses on operational efficiency and energy consumption once it's in use. Fitwel is designed to assess and improve the health and productivity outcomes of workspaces.
Recently, we have received enquiries from businesses looking at the full range of certification options. Interest in SKA Rating stands out particularly, a scheme led by the Royal Institute of Chartered Surveyors that assesses the environmental impact of commercial fitouts. We are also advising a range of clients on how to reduce energy consumption – a very current topic, given the energy price rises as well as people's desire to reach net zero.
Approaching certification
The first step our team takes is to fully understand a business's objectives. Why is the business seeking certification or a particular rating? Are they looking to seek certification for environmental impact or staff wellbeing?
Our robust knowledge base means we can help a business to understand the best principles of each certification to adopt in each scenario. There are so many ways to improve a building, it is not management to implement them all. While common themes run throughout, such as the need for LED lighting and managing energy consumption, each certification has its own measures.
We then lay out the steps to reach certification, from setting out policies to making physical changes to a property and ongoing measurement. Achieving certification is generally not a one-off event. Apart from a BREEAM rating, where a rating is awarded once construction is completed, certifications generally require ongoing assessment. The expectation is that a property will maintain or improve its rating.
Our property managers focus on this expectation in all areas. ESG is embedded in every business division at LSH , as demonstrated in our ESG policy. Our ESG team works hand in hand with our property management teams to bring ESG into all aspects of building operations. For example, we achieved and maintain a three-star Fitwel rating at the Here + Now building in Thames Valley Park, a property we manage.
Our knowledge of the many certification schemes and deep experience managing property allows us to offer an advisory service that acts as the first step in achieving a certification. Going for certification can be a considerable cost; a business must invest in establishing the right policies, implement environmentally preferable products and materials, and operate in a certain way.
Fitwel
Fitwel is a certification that lends itself well to being broken into stages. Our Fitwel Ambassador takes clients through the entire process. The first stage is what we offer to all clients whether they want to work towards full Fitwel accreditation or not. We assess the property and help to write the policies a business needs to promote staff wellness.
The certification focuses on company policy and building design to help achieve healthier workplaces. It will assess elements such as the provision of outdoor spaces, air quality and the inclusion of shared spaces. Gaining Fitwel certification will not only ensure a business that staff are well looked after but that the right tools are in place to optimise employee wellbeing.
We recently worked with a fund to incorporate the principles of Fitwel within the design development stages of a major office refurbishment. This work helped them to deliver a building that actively promotes occupants' health and wellbeing, but also to market the building to prospective tenants off-plan.
Crucially, the fund engaged us in the early stages of the project. This allowed our team to incorporate the most salient principles of Fitwel certification to achieve maximum benefit, rather than trying to tweak and add 'easy win' retrofit opportunities after fitout completion.
SKA Rating
As a property management business, we benefit considerably from having an in-house SKA Rating Assessor. The scheme's aim is to improve fitout projects' environmental impact and to deliver cleaner, more comfortable and cost-efficient buildings.
Assessment has three stages. First, a business needs to establish what it wants to achieve with the fitout and build this into the building specification. Second, the build needs to be monitored to ensure the fitout conforms to has been designed. Finally, 12 months after completion, the property is assessed to see if the project achieves operationally what you set out to achieve.
Achieving a SKA Rating is a long process, but a building can be given an indicative rating after the build stage. This approach really ensures that projects are delivering what has been designed, rather than letting objectives fall by the wayside during construction.
No matter what stage a developer, landlord or tenant is in its understanding of ESG principles, looking at certifications and their methodologies is an excellent way to understand what good practice looks like. We are on hand to help all our clients in every stage of the process.
Get in touch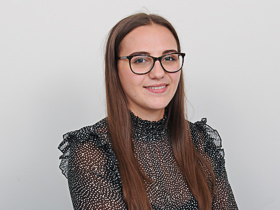 Amy Campbell
Sustainability Manager
Kara Boddy
Senior Surveyor - Building Consultancy
REGISTER FOR UPDATES
Get the latest insight, event invites and commercial properties by email