Rapid advances in technology are increasing automation, the use of artificial intelligence (AI) and robotics at a pace. The retail sector has already been shaped profoundly by technological change, from online fulfilment to warehouse robots and in-store automated technology. But where next, and what does this mean for retail employment, and what effects will it have on the high street?
The RICS Northern Ireland Commercial Market Survey for Q2 2019 indicated that results for the retail sector were in decline across the board – in terms of demand, investment enquiries and capital value expectations for its properties. It was suggested that changes in high-street shopper habits continue to contribute as such and it is now expected that the rise of technological advancements that are increasing automation and the use of artificial intelligence (AI) and robotics will further affect the sector. How exactly, is what remains to be seen.
While change and technological advancement is generally welcomed as a means of driving productivity, concerns exist about job losses as human work is replaced. However, reports of entire job roles and occupations being lost are arguably overstated. Firstly, not every task performed by humans can be readily automated, while secondly, higher productivity gained through technology and automation arguably frees up human resources to be invested elsewhere.
RETAIL IN THE FIRING LINE
The proportion of all jobs at high risk of automation in the UK and Ireland is approximately 30% (at the upper end of estimates). By comparison, wholesale and retail jobs at high risk of automation are considerably higher at around 40%.
HIGH RISK OF AUTOMATION
| | | |
| --- | --- | --- |
|   | ALL JOBS | RETAIL JOBS |
| UK | 10% - 30% | 42% |
| REPUBLIC OF IRELAND | 7% - 31% | 39% |
Source: OECD (2016), PwC (2018)

The British Retail Consortium (BRC) forecast that the number of UK retail jobs will decline by 900,000 by 2025, to approximately 2.1m. Of the jobs lost, BRC estimate that the largest proportion, 370,000 jobs, will be due to automation. The current decline in retail jobs will lead to a loss of a further 300,000 jobs, store closures to 140,000 jobs lost and productivity improvements to 200,000 jobs lost. BRC predict that only 100,000 new jobs will be created by 2025.

Characteristics of jobs and the labour force associated with higher risk of automation are over-represented amongst wholesale and retail jobs. Typical characteristics include part-time, female and younger workers (under 30), those without higher educational attainment and low skilled roles.
 
CHANGE IN KEY RETAIL OCCUPATIONS AND POTENTIAL FOR AUTOMATION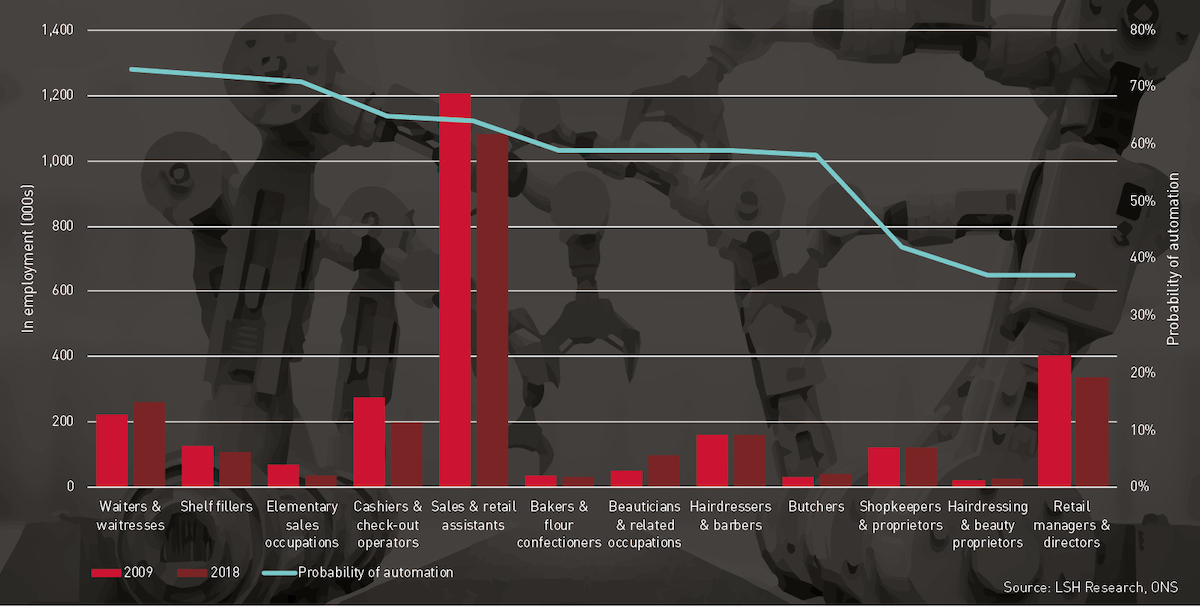 Waiters and waitresses, shelf fillers and elementary sales occupations were ranked by ONS as the occupations at highest probability of automation. These occupations were not only the highest ranking retail occupations, but the highest ranked of all occupations.

It is logical to expect employment levels to be in decline in occupations ranked as most likely to be automated, as automation is already occurring. Yet, there has been a 16% increase in waiters and waitresses over the past decade. This is despite the introduction of self-service kiosks in fast-food restaurants and the likes of Deliveroo and Just Eat acquiring market share from mid-market restaurants.

ALL CHANGE

There is no doubt that retail will be further impacted with increasing automation. Robots are becoming more commonplace in warehousing and distribution with Ocado and Amazon investing heavily in this area to increase productivity and reduce cost. In-store, retailers are investing in AI to provide a more individual customer experience and to increase both dwell time and spend.

In turn, the nature of many retail jobs will change. Not every task associated with a particular job can be easily automated, and therefore most jobs will not be completely eliminated and higher value roles which require a human touch will emerge.

This changing nature has already been demonstrated with checkout operator roles in supermarkets evolving to include management of the self-service checkout bays. However, the current format cannot completely operate without human intervention. Even, the checkout-free format of future grocery stores, such as Amazon Go, require human employees to address customer queries and fix tech issues.

EXAMPLES OF RETAIL AUTOMATION
| | |
| --- | --- |
| COMMON TODAY | THE FUTURE |
| Service kiosks | Drone and driverless delivery |
| Self-checkout | Checkout-less supermarkets |
| Scan as you shop | No server restaurants |
| Retail apps | In-store robot assistants |
| Automated warehouses | Facial recognition |
| Vending machines | Smart fitting rooms |
| Click and collect | Automated in-home fridges & cupboards |

RETAIL ROBOTS

The extent of automation and robots in retail will be heavily influenced by the specific setting and what we do and do not want a robot to do.

Societal acceptance for replacing low skilled human labour with robotics in the retail warehousing environment is high, presumably because the majority of consumers do not have to directly interact with this automation.

Future supermarkets may be staffed by both robots and humans. It is likely to be acceptable to most to interact with a robot to gain straightforward information such as where an item is located, but without any meaningful social interaction.

In a clothing store, particularly premium brands, however, quality experience and expert customer service from human interaction, will continue to be valued most highly. Automation and AI in this setting is more likely to take the form of smart fitting rooms and further harnessing of big data and analytics to target customers.

TECH VS HUMAN

Just because a job can be automated does not mean that the technology will be adopted, either quickly or at all. Even if a technological solution is feasible, the cost of technology may be higher compared with the cost of human labour and therefore limit implementation by business.

Due consideration must also be given to the legal, ethical, political and social implications of replacing humans with technology. UK trade unions have called for further protection of workers' rights when companies intend to introduce new technology, through a legal right to consultation before new technology is implemented.

One of the big plusses for humans over technology has been superior cognitive and social abilities. Governor of the Bank of England, Mark Carney, described this as technology replacing human hands, not heads. Future automation, however, will combine improved robotic dexterity and increased cognitive ability (through AI), increasing the likelihood of more cognitive tasks becoming automated.

While this may give some cause for concern, robots and technology lack emotional intelligence, high functioning social skills and the ability to demonstrate empathy. Mark Carney described this as 'heart' and we have already seen examples of where companies have removed levels of automation to ensure their services provide 'heart'.

For example, in 2015 Morrisons removed their self-checkouts because customers indicated they preferred the social interaction of a check-out operator. First Direct, an online only bank, makes a virtue of not using automated menus, and customers consistently tell them that human call answering is one of the things they love most about the bank.

THE FUTURE

Retail is primed for further automation and digitisation. The extent to which this is implemented will be setting dependant. We predict that automation will be significantly greater in retail warehousing than in customer facing stores, primarily this will be influenced by society's level of acceptability of robotic interaction and their preference for human interaction.

Jobs will be lost, but there will be gains in the areas where new technology boosts demand, jobs will change and broadly they will become more highly skilled and better paid.

Humans and technological advancement can be complementary rather than divisive. New technology can boost productivity and new roles can make better use of human interactions.
REGISTER FOR UPDATES
Get the latest insight, event invites and commercial properties by email