The report charts the major developments in the city centre in the past 20 years, including the construction of Victoria Square, the arrival of new global brands and the improved tourism offer and new attractions such as Titanic Belfast.
We explore the future drivers that could accelerate Belfast's development as a leading UK retail destination and what is needed if the city wants to become one of the UK's top 10 retail destinations.



Criona Collins, Director of Retail at Lambert Smith Hampton said: "This report shows how far Belfast has come in terms of its retail offering since 1998 but also acknowledges that there is still some way to go before the city will be lauded as a retail destination across Europe, with a reputation that helps attract tourists.


"We should celebrate the success that Belfast has had with an influx of new brands over the past 18 months – names like Skechers, Patisserie Valerie, Greggs, Søstrene Grene and Stradivarius. But there is a real and pressing need for a strategy if we are to maintain this progress in Belfast and we at LSH are pleased that this is now considered a priority by Belfast City Council."


Belfast was ranked 15th out of 20 in the most recent Trevor Woods survey of top UK shopping destinations. Lambert Smith Hampton said that, given the size of Belfast, it may not be realistic to think the city will rank in the top 10 in the short term. But, following the opening of Ulster University's Belfast Campus and the expected increase in the number of people living in the city centre over the next decade, the report says there is an opportunity to drive Belfast up the rankings.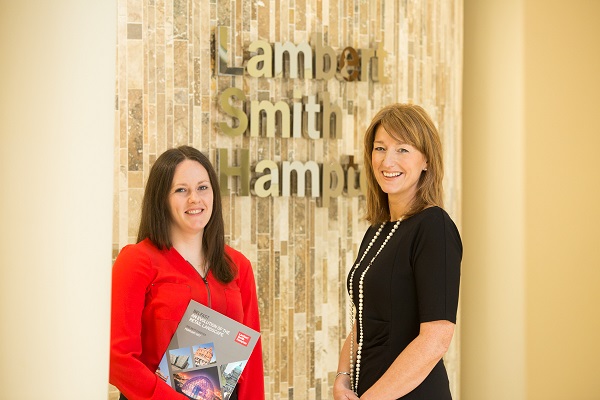 Pictured Claire Cole, Research Analyst - Ireland together with Criona Collins, Head of Retail Agency - Belfast
Claire Cole, Research Analyst at Lambert Smith Hampton said: "It is clear that retail in Belfast has wholly improved. It is easy to forget that at the time of the Good Friday Agreement there were very few international brands in Northern Ireland – the likes of Tesco and Sainsbury's were new arrivals - and key developments such as Victoria Square did not yet exist.


"We're not at the point where we're competing with Glasgow, Manchester and Birmingham. Belfast is much smaller and does not yet have the same number and quality of shops, restaurants and leisure attractions. But if there's a joined up focus on continually improving Belfast's retail and leisure offer then we are confident that Belfast can make up ground on those larger centres."


Click here to download the report
REGISTER FOR UPDATES
Get the latest insight, event invites and commercial properties by email