Commercial property investment volume in Q2 2019 was healthy at £61.7m, 10 percent above that of the same period in 2018, according to our new research published today.
Download the full report here.

The Investment Transactions Northern Ireland Bulletin showed that year to date investment volume stands at £104.6m, exceeding £100m in H1 for the first time since 2016 and standing only 7 percent below the five-year H1 average.

Volume was boosted by the largest single deal since Q3 2017, Citibank's purchase of their Belfast headquarters, the Gateway Office in the Titanic Quarter, for c.£34m (NIY 5.48%). Elsewhere, Antrim Business Park was purchased by a private Northern Irish investor for c.£12.5m (NIY 14.50%).

Office investments have continued to dominate, accounting for two-thirds of Q2 volume. In addition to the Citibank deal, Timber Quay in Londonderry was purchased by a local investor for £5.3m (NIY 11.50%) and 15-17 Chichester Street in Belfast was also purchased by a local investor for £1.4m (NIY 6.71%).

At £17.3m, investment in industrial assets in Q2 exceeded the annual totals in this sector for the last decade. In addition to the Antrim Business Park deal, CD Group, Mallusk was bought by Alterity Investments for £2.6m (NIY 7.23%) and Portview House, Belfast was bought by a private ROI investor for £1.3m (NIY 10.19%).

Martin McCloy, director of capital markets at Lambert Smith Hampton, said:

"While Q2 volume suggests strong performance for the Northern Irish investment market, activity was dominated by a single owner occupier deal. The lack of local assembly, the risk of a no-deal Brexit and the current contest for the next UK Prime Minister continues to deter both vendors and buyers.

"We expect to see more activity in the latter half of 2019 with a number of opportunities currently being offered off-market and deals already in legals expected to complete in Q3."

"With around £60m of deals currently agreed or in legals, we expect that the £170m mark will be exceeded during Q3 despite the usually quiet summer months. Activity this year indicates that Northern Ireland remains an attractive place to invest, although an enhanced supply of good quality assets is required to maintain this momentum."
Download the full report here.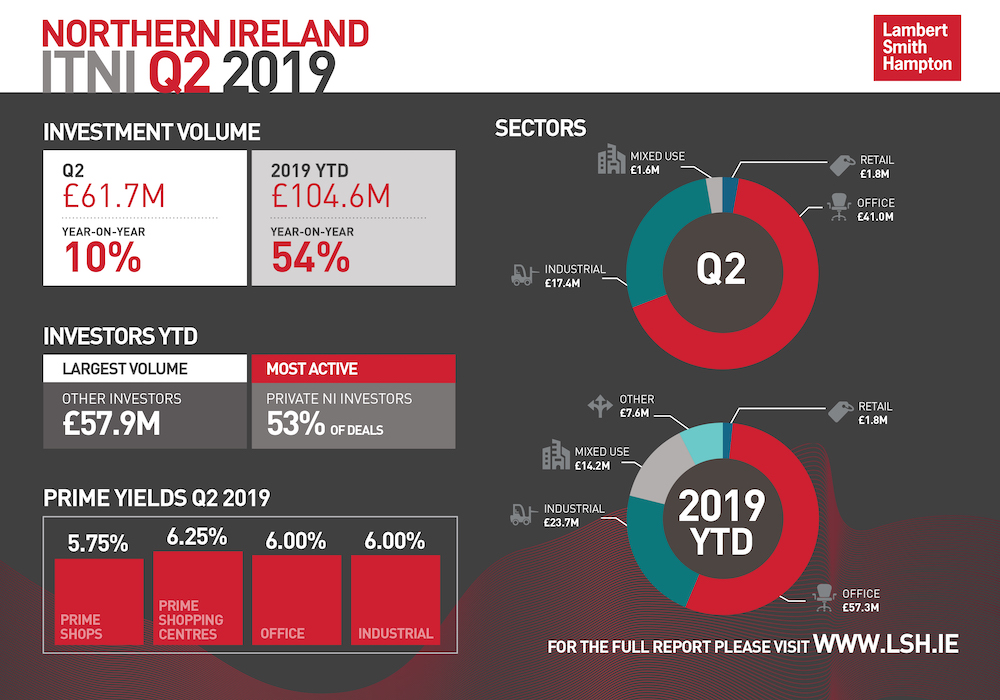 REGISTER FOR UPDATES
Get the latest insight, event invites and commercial properties by email