Healthy occupier demand for high quality office space has continued from a stellar 2018. However, in comparison to 2018 office take-up was subdued in the first half of this year. Standing at 181,970 sq ft take-up was 66 percent below the same period last year and 25 percent below the five-year H1 average.

With the previously announced Deloitte and Kainos deals still to be signed and counted, take-up is forecast to be boosted in the latter half of this year.

The three largest deals in H1 were at buildings undergoing major refurbishment. PwC leased a further 46,000 sq ft at Merchant Square, taking the remainder of the available space at their new headquarters (a total of 201,000 sq ft), an undisclosed serviced office/co-working business pre-let 31,969 sq ft at Eagle Star House and Neueda leased the West Tower at Lanyon Plaza (29,220 sq ft).

Availability increased by 15 percent since the end of 2018, although a significant amount of this space is not ready for immediate occupation. At 752,757 sq ft, current availability is tight, equivalent to 1.5 years of supply based on average take-up.
Refurbished space due to complete late this year or early next is available at East Tower, Lanyon Plaza (41,000 sq ft), Chichester House (45,998 sq ft) and 20 Adelaide Street (18,858 sq ft).

Greg Henry, associate director of agency, said:

"Current construction of new and refurbished offices has peaked at 1.3m sq ft, of which two-thirds is speculative. Supply has been boosted by the commencement of the currently under construction Mercantile (73,000 sq ft) on Donegall Square South and the high quality refurbishment of the 37,000 sq ft The Kelvin (Stokes House) on College Square East, both due for completion in mid-2020.

"The Ewart at Bedford Square (215,000 sq ft) scheduled to complete in 2021 is partially (100,000 sq ft) pre-let to Deloitte.

"In a joint venture between Titanic Quarter Ltd and Belfast Harbour, enabling works commenced on Olympic House (150,000 sq ft) in June 2019. Belfast Harbour also commenced City Quays 3 (180,000 sq ft) in May 2019. Both buildings are scheduled to complete in 2021."

Belfast's prime headline rent currently stands at £23.00 per sq ft. The delivery of new build and high quality refurbished space is set to continue to promote steady rental growth. The prime rent is forecast to reach £24.00 by the end of 2019.

Prime yields are holding steady at 6.00%. Citibank's purchase of their Belfast HQ, the Gateway Office in the Titanic Quarter, for c.£34m (NIY 5.48%) was the largest single deal since Q3 2017. Elsewhere, Timber Quay in Londonderry was purchased by a local investor for £5.3m (NIY 11.50%) and 15-17 Chichester Street in Belfast was also purchased by a local investor for £1.4m (NIY 6.71%).

Mr Henry added: "A raft of both new build and refurbishment developments are set to deliver good quality schemes to further replenish the market and drive the prime headline rent to a new high. However, with much of this stock scheduled to be delivered from 2020, take-up for 2019 is expected to be more in keeping with the five-year average trend."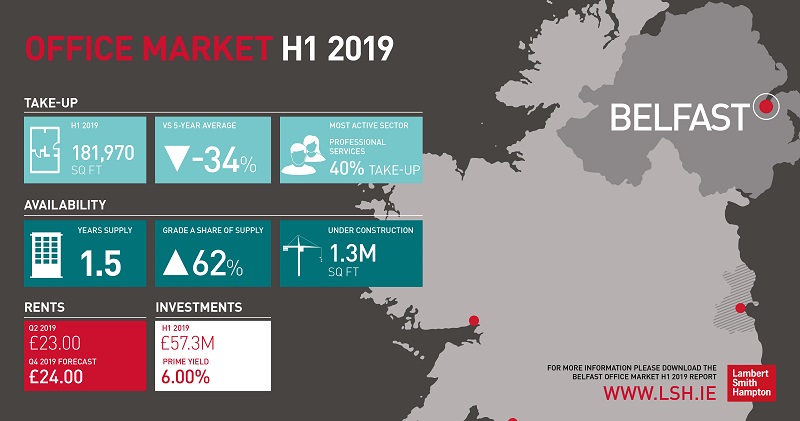 REGISTER FOR UPDATES
Get the latest insight, event invites and commercial properties by email