At €3.6bn, investment volume in 2018 stood 59% above 2017 and only 4% below the five-year average according to the Ireland Investment Market Report H2 2018.
2018's healthy investment volume clearly underlines the attractiveness of Ireland to a range of investors and an improvement in supply of high value assets. While Dublin continues to dominate, activity in Cork reached new highs, at €260m it stood 38% above 2017 and 84% above the city's five-year average.
Demand for office investments was unwavering in 2018, totalling €1.4bn and 39% of investment volume. Five Dublin city centre offices transacted for over €100m. The largest deals were an undisclosed Far Eastern investor's purchase of Eir Headquarters for €176m (NIY 4.87%), Triuva's purchase of No. 1 Dublin Landings for €164m (NIY 3.94%) and an undisclosed Dublin office portfolio sold for €160m.
Asian investors made their entrance to the Irish investment market in 2018, purchasing three €100m+ offices, which accounted for 10% of total investment activity.
Strong growth in specialist sectors continues to build, deals for multi-family/PRS properties amounting to over €1bn or almost a third of volume. While multi-family assets have been a mainstay of the Irish investment market for many years, their attractiveness to investors has increased with the development of BtR assets and the decline in retail investment.
Donall McCann, Head of UK Regional Capital Markets, commented:
"Investor appetite for Ireland has shown little effect from the uncertainty of Brexit negotiations during 2018. It is anticipated that demand will continue into 2019, with office investments dominating and both overseas investors and institutions looking to deploy capital in Dublin."
To read the latest report, click here.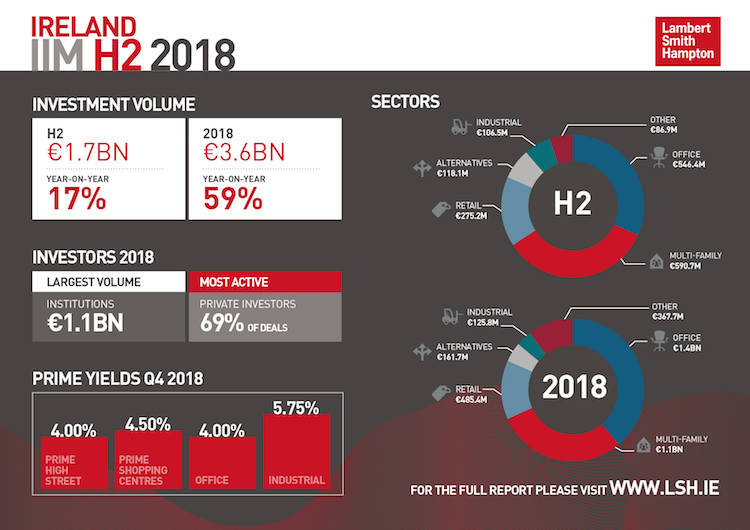 REGISTER FOR UPDATES
Get the latest insight, event invites and commercial properties by email