Strong Q3 figures continue to drive very positive results.
Strong Q3 figures continue to drive very positive results
City centre office take-up for Q3 2018 reached 479,637 sq ft across 64 transactions, a 7% increase on the same quarter in 2017. This brings the total for 2018 to 1.24m an impressive 32% greater than this point last year.
The uplift was largely due to the pre-let to Booking.com of 220,000 sq ft. The lack of available grade A space has affected take up, and this trend will continue into 2019.
In the out of town markets, take-up was high in both Salford Quays and Trafford with a combined take-up of 148,000 sq ft for Q3, bringing the 2018 total to 270,643 sq ft which is a 30% increase on the same period in 2017. The largest deal in Q3 was the sale of the Kelloggs HQ (86,000 sq ft) to Trafford Council for the UA92 University.
South Manchester also enjoyed a fruitful quarter, with 279,931 sq ft transacting, bringing the 2018 total to 658,196 sq ft, a 40% increase on the same period in 2017. The largest deal was the sale of Park House (140,000 sq ft) at Alderley Park Business Park to Royal London.
Warrington saw a Q3 total of 83,317 sq ft bringing the current total to 280,800 sq ft, an increase of 35% over the same period in 2017.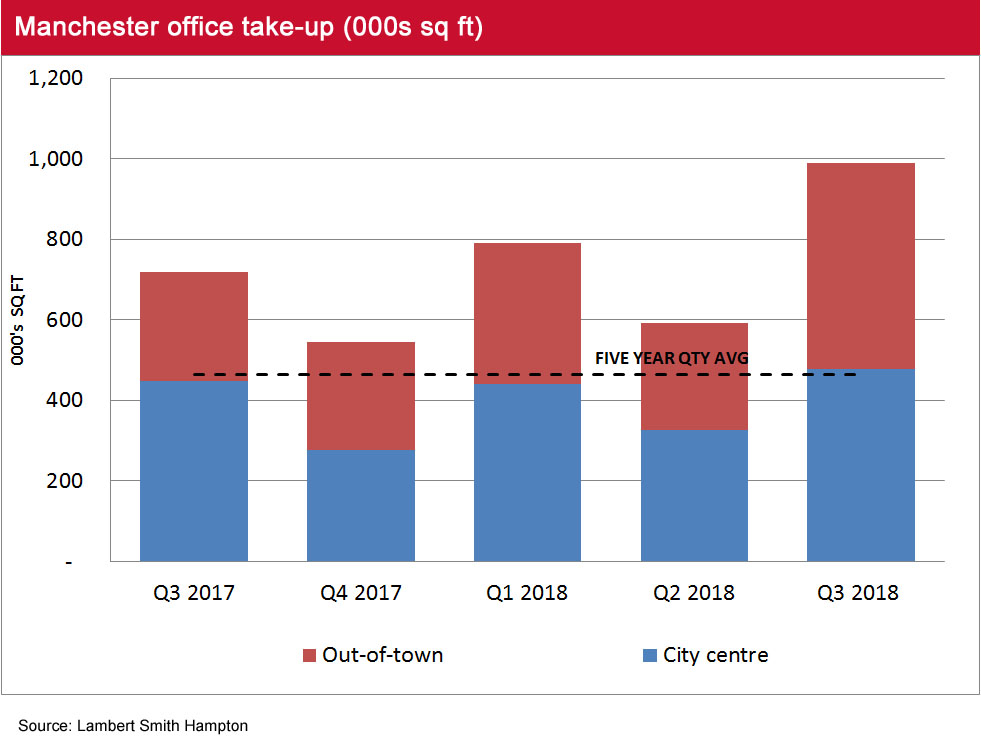 Occupier appetite has not diminished
Occupier appetite for both new build and refurbished grade A product has not diminished, with average rents moving towards £24.00 per sq ft and pre-let rents likely to be at £35.00 per sq ft in the near future.
Grade A new build supply continues to dwindle, with limited new development being delivered. A number of refurbished schemes will be going live this year and it is inevitable that pre-lets will be the order of the day in 2019.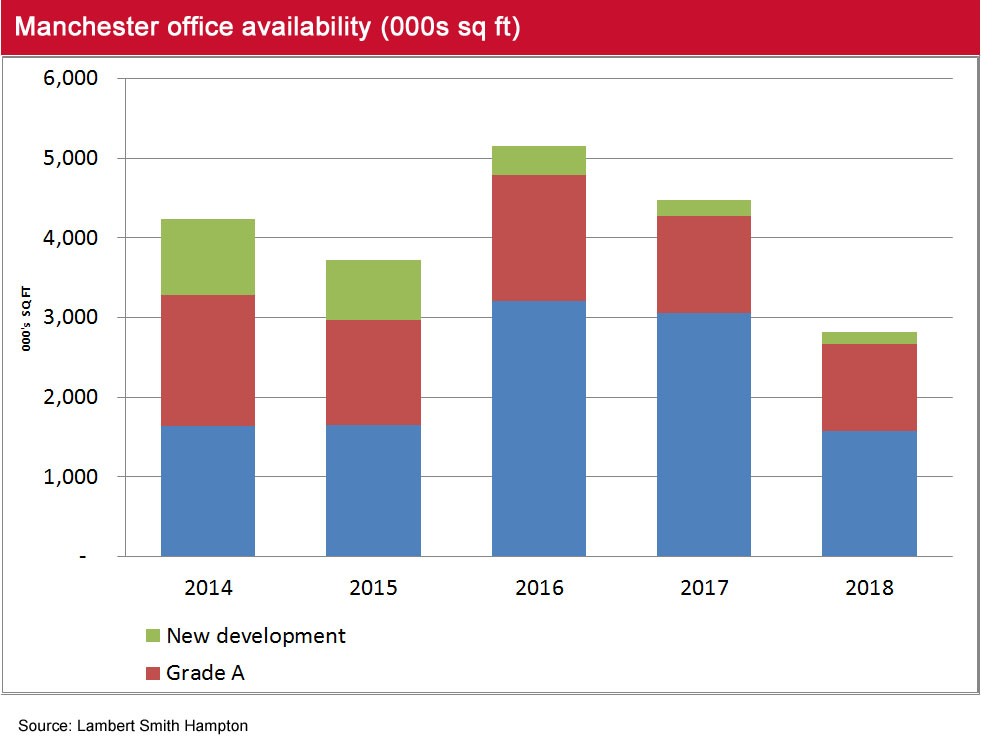 Key occupational transactions
| | | | |
| --- | --- | --- | --- |
| Property | Size (sq ft) | Landlord(s)/vendor | Tenant |
| Goods Yard, St Johns | 220,000 | Allied London | Booking.com |
| Alderley Park | 140,000 | Bruntwood | Royal London |
| 8 First Street | 26,000 | Patrizia | Odeon |
| Epsom House | 22,669 | Orbit | Pets At Home |
| ABC, Quay Street | 22,550 | Allied London | Farm Group |
Source: Lambert Smith Hampton
Upward pressures on prime secondary rents continues
The highest rent achieved within the city centre this quarter was at 3 Hardman Square at £32.50 per sq ft to 'In Touch Network' (over 22,032 sq ft).
At the grade A refurbished schemes, 82 King Street and 4 Hardman Square, £32.00 per sq ft was achieved.
Headline rents and secondary refurbished rents are expected to rise throughout next year as the new build grade A supply decreases and new refurbished product goes onto the market.
The highest out of town rent was again seen at the Orange Tower at MediaCityUK at £24.50 per sq ft, although rents of £25.00 per sq ft at Airport City have also been reported.
Due to the limited supply of grade A space, incentive packages remain low with an average package of 9-12 months rent-free being offered for a five-year term certain.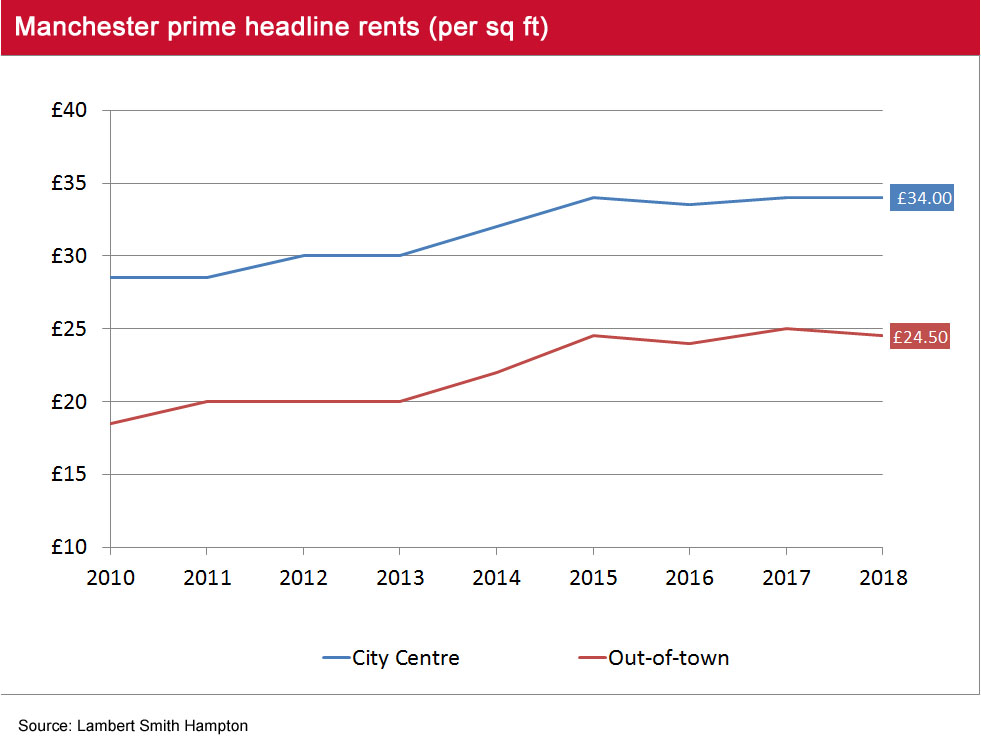 Investment activity
Greater Manchester office investment activity totalled £161m in Q3 2018.
The total, spread over 13 transactions, was up £52m on the previous quarter but down £158m year-on-year.
Total office investment in the Manchester city centre sub-market was £73m across six transactions, accounting for 45% of the total volume.
The most notable deal was the £54m purchase of Manchester Business Park by Dimah Capital from TPG Real Estate, reflecting a net initial yield of 6.13%.
Key office deals in the city centre included Harmsworth Pooled Property Unit Trust's purchase of 71 King Street for £18m and The Observatory which was purchased by Artmax Properties for £20m.
Despite strong investor demand for office assets in Greater Manchester, a lack of stock has resulted in a lower than average investment volume.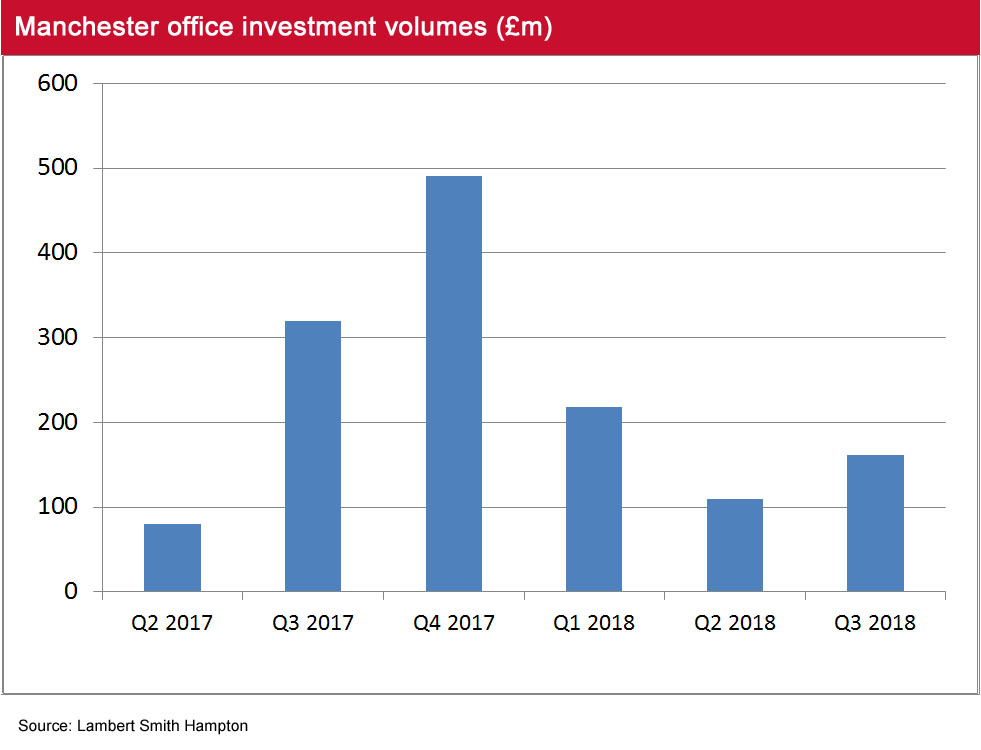 Key investment transactions
| | | | |
| --- | --- | --- | --- |
| Property | Value (£m) | Investor | Vendor |
| Manchester Business Park | 54 | Dimah Capital | TPG Real Estate |
| The Observatory | 20 | Artmax Properties | USS |
| 76 King Street | 18 | Harmsworth Pooled Property Unit Trust | Aprirose REI |
Source: Lambert Smith Hampton
REGISTER FOR UPDATES
Get the latest insight, event invites and commercial properties by email