A number of 'big ticket' deals have provided a strong Q2 performance which in turn has driven an impressive first half of the year in all Manchester markets both within the city centre and out of town.
Strong Q2 figures drive positive results
City centre office take-up for Q2 2018 reached 327,035 sq ft across 74 transactions, a 15.7% increase on the same quarter in 2017. This brings the total for H1 2018 to 769,118 sq ft, an impressive 56% greater than in H1 2017.
The uplift was largely due to a number of 'big ticket' requirements finally being satisfied in Q2. These included: WSP taking 53,839 sq ft at No.8 First Street, Handelsbanken's move to 101 Barbirolli (39,934 sq ft) and On the Beach taking 34,507 sq ft at Aeroworks.
In the out of town markets, take-up was high in both Salford Quays and Trafford with a combined take-up of 52,394 sq ft for Q2, bringing the 2018 H1 total to 121,475 sq ft which is a 30% increase on the same period in 2017. The largest deal in Q2 was at Centenary House in Salford with Regus taking 22,123 sq ft.
South Manchester also enjoyed a fruitful quarter, with 216,403 sq ft transacting and bringing the 2018 H1 total to 385,265 sq ft, a 16% increase on the same period in 2017. The largest deal was the sale of Lakeside 3400 at Cheadle Royal Business Park to Pure Offices.
Warrington saw a Q2 total of 126,635 sq ft bringing the H1 total to 197,315 sq ft in line with same period in 2017.
Significant demand for prime office continues
The occupier appetite for both new build and refurbished grade A product has not slowed down with 104,193 sq ft being taken up across three transactions.
With grade A new build supply continuing to dwindle, limited new development being delivered, and a number of refurb schemes going live this year it is inevitable that demand for grade A refurbished product will remain high.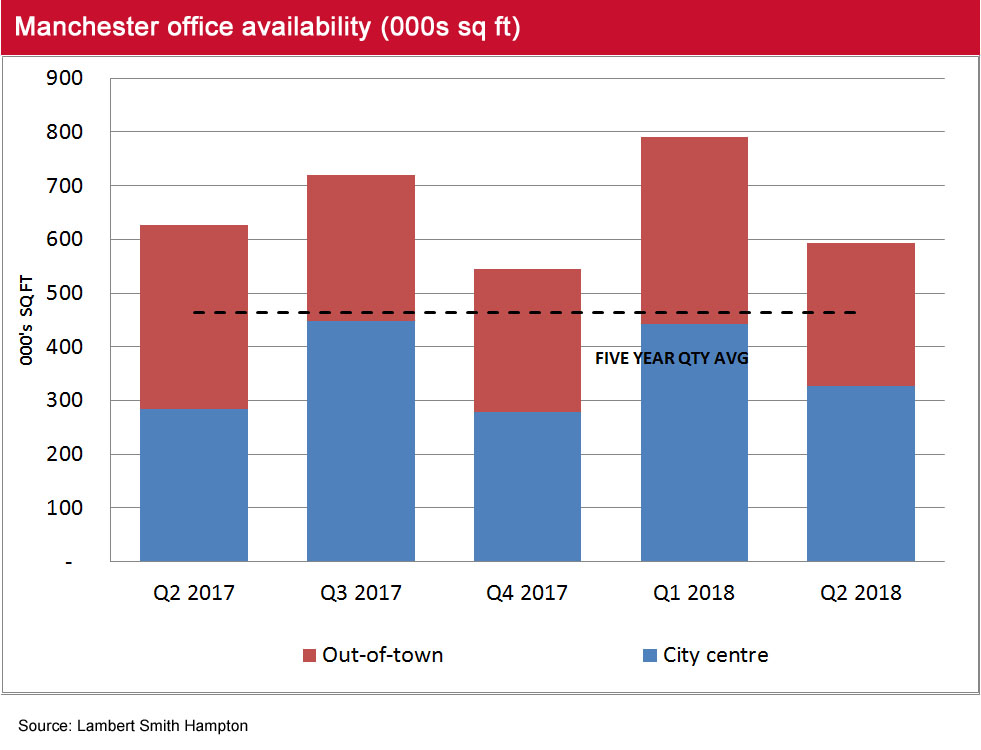 key occupational transactions
| | | | |
| --- | --- | --- | --- |
| Property | Size (sq ft) | Landlord(s)/Vendor | Tenant |
| No. 8 First Street | 53,839 | GMPVF | WSP |
| 101 Barbirolli | 39,934 | AEW | Handelsbanken |
| Lakeside 3400 | 36,400 | Target | Pure Office (purchaser) |
| Aeroworks | 34,507 | Epislon | On The Beach |
| Centenary House | 22,123 | Union Property Services | Regus |
Source: Lambert Smith Hampton
Upward pressure on prime secondary rents
The highest rent achieved within the city centre this quarter was at 80 Mosley Street at £32.50 per sq ft, albeit a relatively small deal of 2,100 sq ft.
At the grade A refurbished schemes, 101 Barbirolli and No.8 First Street, £30.00 per sq ft and £29.00 per sq ft was achieved.
Headline rents and secondary refurbished rents are expected to rise throughout the year as the new build grade A supply decreases and new refurbished product goes onto the market.
The highest out of town rent was again seen at the Orange Tower at MediaCityUK at £24.50.
Due to the limited supply of grade A space, incentive packages remain low with an average package of 9-12 months rent free being offered for a five-year term certain.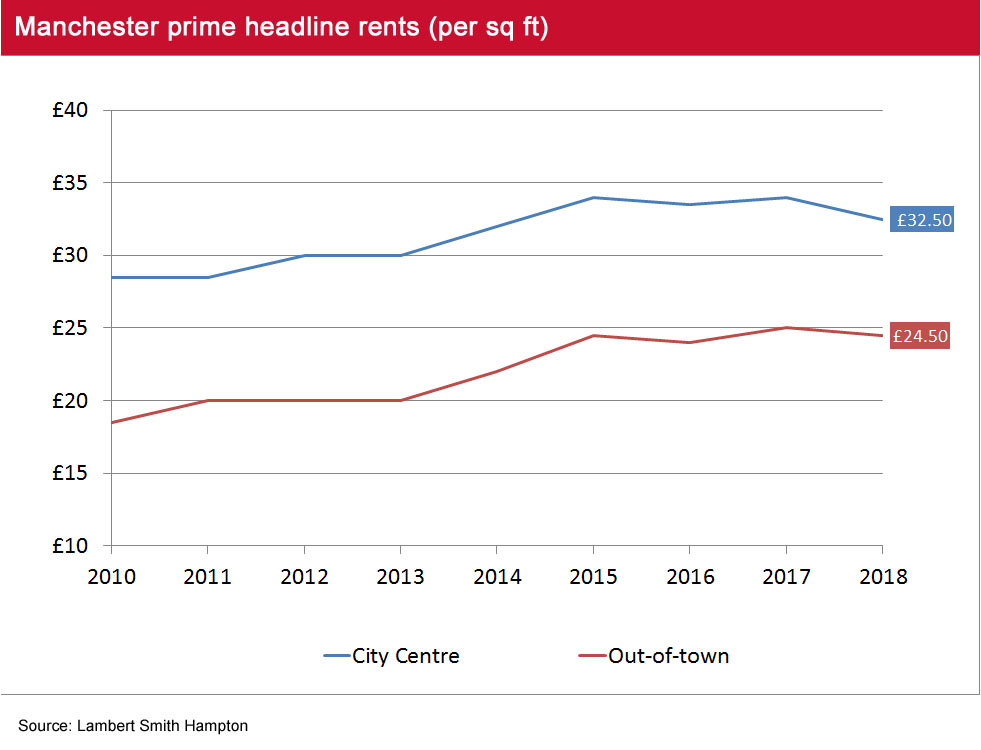 Investment activity
Greater Manchester office investment activity totalled £109m in Q2 2018 and accounted for 50% of the North West investment volume.
The total, spread over 12 transactions, was exactly half of the Q1 total but up £28.5m year-on-year.
Total office investment in the Manchester city centre sub-market was £86.5m across six transactions, accounting for 79% of the total volume.
Key deals in the city centre included: Bet365's purchase of the Zenith Building for £31.5m at 5.25%, and Queens House which was purchased by Portsmouth City Council for £8.89m at 4.75%.
Key deals in the South Manchester sub market included Cervidae's purchase of One Didsbury Point for £11m and the £20.5m purchase of Manchester Green by Squarestone.
These figures demonstrate the continued investor demand for office assets in Greater Manchester, due to its strong occupier market.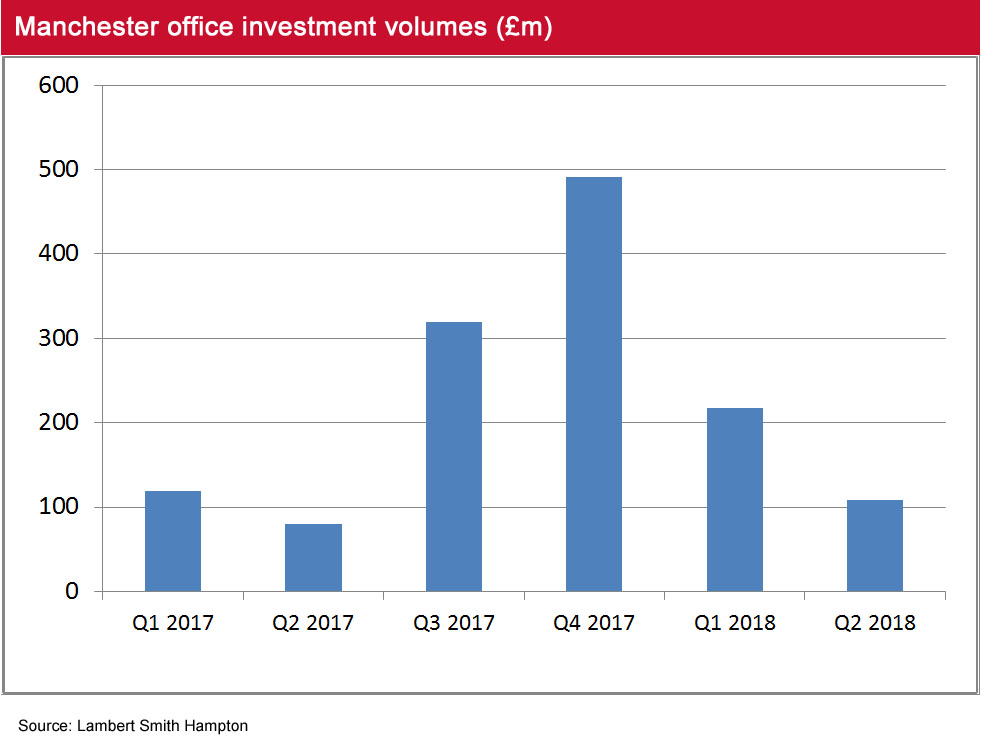 key investment transactions
| | | | |
| --- | --- | --- | --- |
| Property | Value (£m) | Investor | Vendor |
| Zenith Building, Manchester | 31.5 | Bet365 Group | AM Alpha |
| Manchester Green, Manchester Airport | 20.5 | Squarestone | Barwood Capital |
| 26 Cross Street | 11.5 | Private Investor | Catalyst Capital |
| One Didsbury Point, Didsbury | 11 | Carvidae | Titanium Real Estate |
Source: Lambert Smith Hampton
REGISTER FOR UPDATES
Get the latest insight, event invites and commercial properties by email