Following a good H1, the Greater Bristol market has seen steady levels of demand continue into the third quarter of 2018. Overall, we saw 283,458 sq ft of office space transacted in Q3 which is the highest quarterly demand for the year to date, and 23% ahead of the 5 year average for this period.
Enquiries up for smaller suites
There were 33 new office enquiries in Q3 2018
75% of new enquiries are for small suites of less than 10,000 sq ft
We saw an increase in demand for office suites in excess of 10,000 sq ft last quarter, and many of these deals have now crossed the line in Q3 with the largest being Parmenion Capital's acquisition of 31,233 sq ft of 3rd and 4th floor space at Cubex's recently completed Aurora.

Other major city centre deals include the letting of Unum House (28,732sq ft) to Desklodge; Maggs House (23,103sq ft) to Bristol University; and HM Revenue and Customs taking 13,817sq ft of additional space at The Crescent Centre.

Out of town also performed well with five lettings in excess of 10,000 sq ft. The largest of these was Edvance's acquisition of 30,670sq ft at the newly refurbished 800 Aztec West. Others include: IVC taking further space at The Chocolate Factory, Keynsham (16,931sq ft); Renishaw taking 1 - 3 Ashville Park (10,418sq ft); the NHS acquiring Park House (10,042sq ft); and BUPA taking Severn House (10,000sq ft).
Bristol city centre take-up ahead of 5 year average
The city centre market saw its highest take-up of the year so far with 166,829 sq ft of space being transacted, while the out of town market produced 116,629sq ft. These figures take both markets ahead of their 5 year average, with the city centre out transacting an additional 12% and the out of town an additional 17%.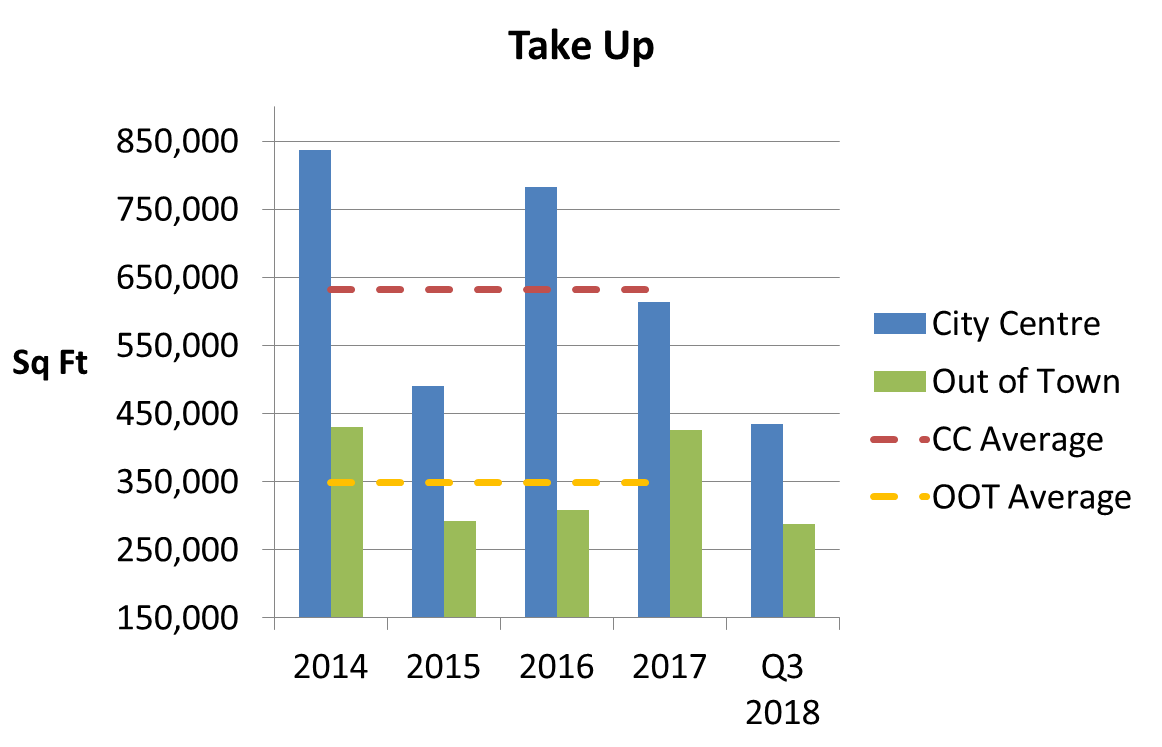 Rents keep rising and the number of large deals increases
Total of 9 occupiers signed up for space in excess of 10,000 sq ft
New record rent of £34.50 psf for the city centre market
Whilst the number of new enquiries across the market has continued to fall, there has been good take-up across the market across a variety of industry sectors. From a total of 28 deals in the city centre, the average deal size has returned to 5,958 sq ft which is in line with the 5 year average.

Of these 28 city centre deals, five were Grade A space lettings, with three deals done at Aurora to Parmenion Capital, Experis Ltd and Amdaris, as well as the Arts Council England's acquisition of 66 Queen Square and the new pent house suite that is going to be constructed at Eagle House for Immediate Media. The out of town market saw 18 deals cross the line with an average deal size of 6,479 sq ft which again is in line with the 5 year average.

Headline rents in the city centre have increased this quarter following Amdaris' acquisition of a self-contained ground floor suite totalling 3,194 sq ft at Cubex's recently completed Aurora. The scheme has been the only speculative development for over a year in the city centre and it has reaped the rewards of being brave as it is now 85% let with just one floor remaining of 15,522 sq ft.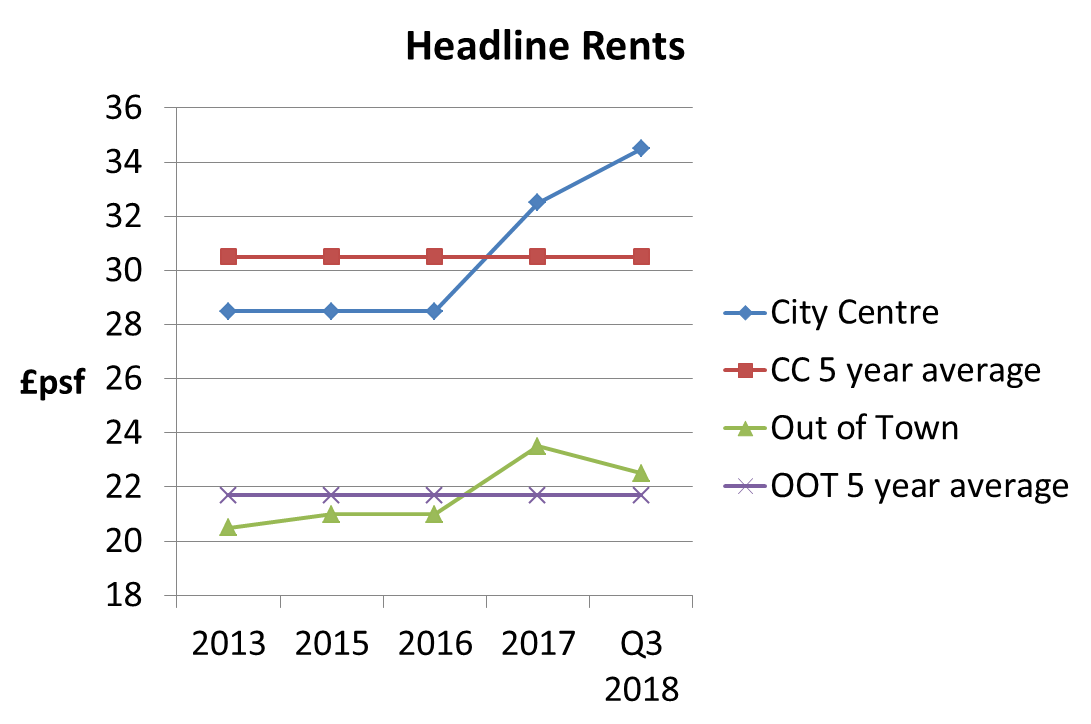 Significant occupational transactions
| | | | | | |
| --- | --- | --- | --- | --- | --- |
| Property | Size (sq ft) | Tenant | Landlord | Rent/Price | Lease (break) |
| 3rd and 4th Floors, Aurora | 31,233 | Parmenion Capital | Cubex | £33.75 | 10 years |
| Unum House | 28,732 | Desklodge Ltd | Kames Capital | £16.50 | 5 years (3 years) |
| 800 Aztec House | 30,670 | Edvance | Regional REIT | £21.00 | 10 years |
| 2nd Floor, The Chocolate Factory | 16,931 | IVC | St Monica's Trust | Confidential | Confidential |
Promise in the development pipeline
Availability remains low particularly for grade A space which has seen a further 46,235sq ft taken up in Q3, leaving supply levels at an all-time low.

However, there is promise in the pipeline. Royal London has started works at The Distillery this quarter, with the scheme to provide 92,000sq ft of office space over three tower buildings in suites of 4,000 – 8,000sq ft. Work has started and the scheme is scheduled for completion in Q1 2020.

Elsewhere, AXA / Bellhammer has made progress in clearing the site at Assembly ready for construction work of Building A to start on site by the end of the year. The building will total 200,000sq ft and as well as office space, it will also provide leisure and food and beverage uses on the ground floor. This building forms part of the wider Assembly site and is expected to complete late in 2020.
REGISTER FOR UPDATES
Get the latest insight, event invites and commercial properties by email