Office take-up for the Greater Bristol market remained strong for the final quarter of 2018. In total, we saw 210,311sq ft of office space transacted in Q4, which helped boost the annual take-up to 932,586sq ft, ahead of the 10 year average.
In the city centre, take-up was just 97,272 sq ft in Q4, which is the lowest quarter of the year – but this is in line with expectations due to low supply levels and BREXIT related uncertainty. While take-up for this quarter is below the 5 year average for this period, we can see that this has been skewed by the very strong final quarters of 2014 and 2016.
In contrast, the out of town market had a strong performance in the final quarter, with take-up levels of 113,039sq ft across 17 deals - above the 5 year average for this period. The annual total for this market now stands at 400,501sq ft, up on the 10 year average.
Strong demand suppressed by limited supply
There were 33 new office enquiries in Q4 2018
There is continued strong demand for suites of less than 5,000 sq ft with 18 new enquiries for offices of this size.

Strengthening demand for smaller sized units
Several deals in excess of 10,000 sq ft completed this quarter - three in the city centre and four out of town. They include the letting of 14,943 sq ft of ground floor space at Spectrum to MM Teleperformance for expansion of their existing space in the building, Epic Systems acquisition of 13,458 sq ft at Hartwell House and HP's move to 10,433 sq ft within One Redcliff.
Strengthening of demand in the smaller size range is evident with 20 of the 25 deals that transacted this quarter being less than 5,000 sq ft. A lot of this demand has continued to come from the technology, media and telecoms sector where new businesses are looking to expand from incubator space, such as the engine shed, into their own office accommodation. Bristol has performed very well with this sector in the past and we expect to see this sector continue to perform well, evidence of this has been seen over the past 12 months with serviced office providers such as Runway East and Desklodge acquiring space in the city centre to specifically target TMT occupiers.
The out of town market also saw several deals in excess of 10,000 sq ft with HM Governments acquisition of 32,007 sq ft at the recently refurbished 800 Aztec West, SCHQ's acquisition of 19,566 sq ft at Bristol North Baths and the 12,582 sq ft at Quays Office Park, Portishead to KWS. Demand in the out of town market comes from a wider variety of occupiers than the city centre, but has remained strong over the last 12 months with a total 60 deals completing in 2018.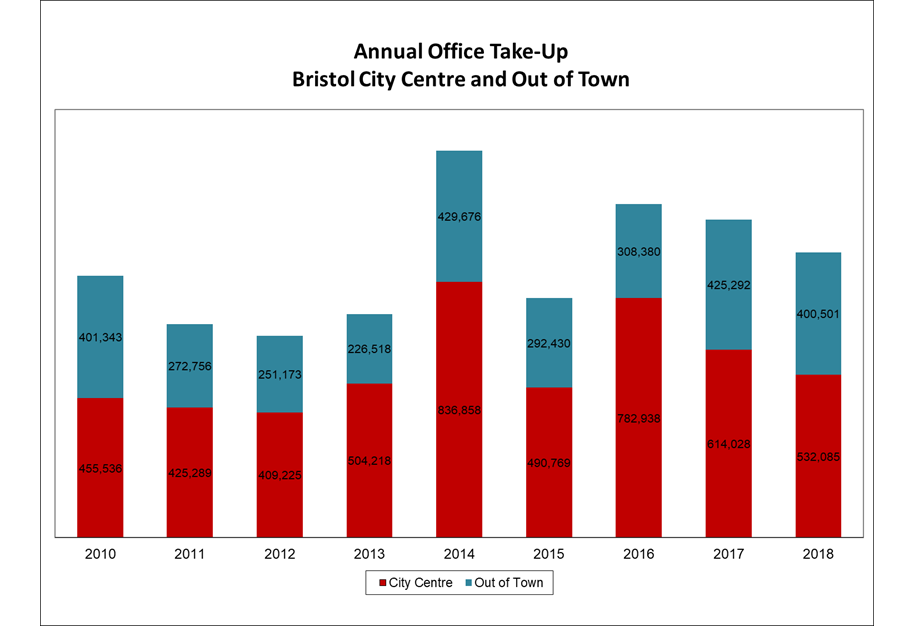 Record rents have been pushed further in 2018
Prime headline rents reached a new record during 2018 and secondary rents are close behind.
Out of town rents have remained steady with good quality stock performing well.
Whilst Q4 did not see rents pushed beyond the headline of £34.50 psf set in Q3, this is largely due to lack of supply rather than quiet demand.
Secondary rents for refurbished stock have performed very well throughout the year and several refurbished buildings are now achieving mid to high twenties where the location and building spec is able to meet modern occupiers' needs.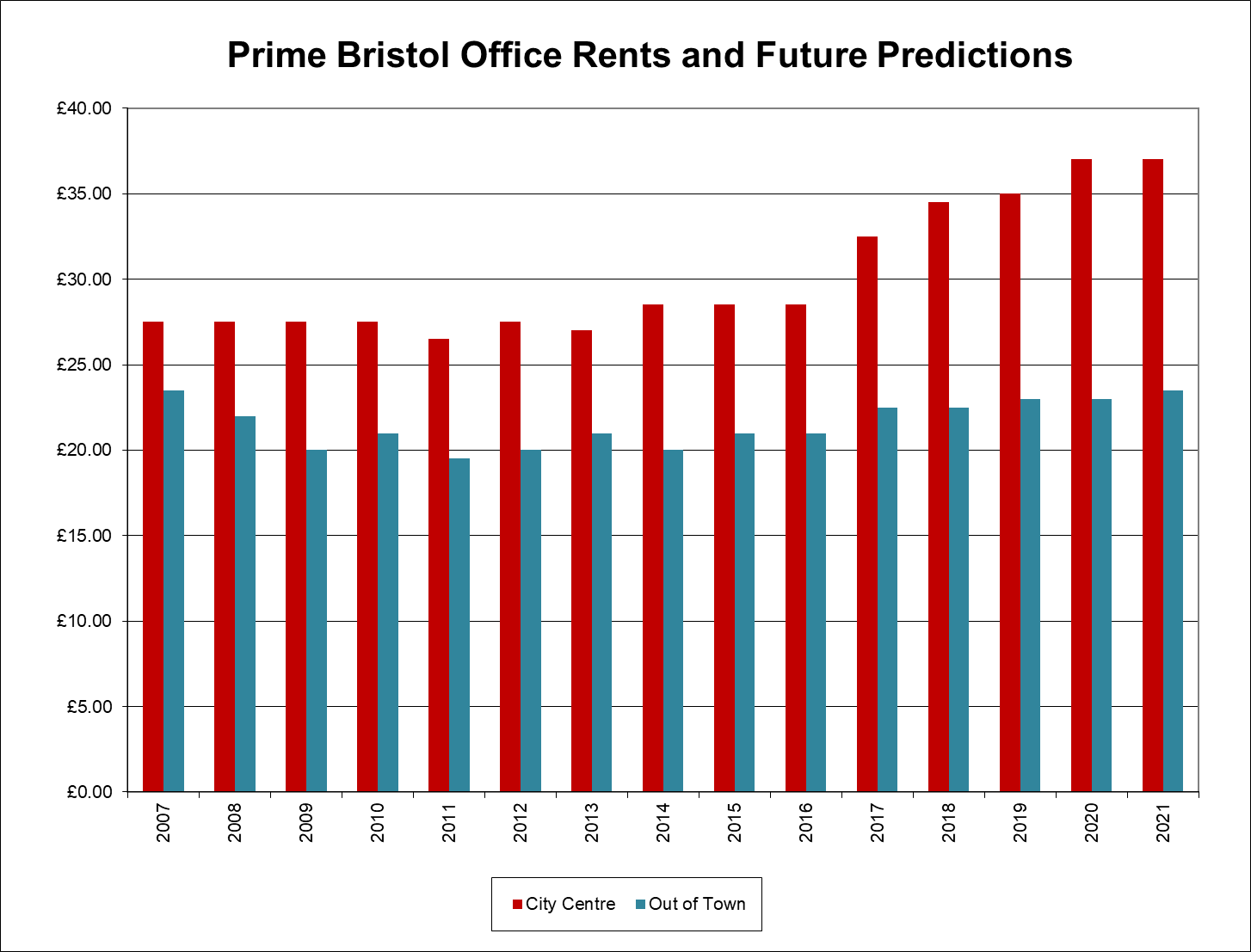 Significant Occupational Transactions
| | | | | | |
| --- | --- | --- | --- | --- | --- |
| Property | Size (sq ft) | Tenant | Landlord | Rent/Price | Lease (break) |
| Ground Floor, Spectrum | 14,943 | MM Teleperformance | V7 | £20.00 psf | 10 year lease |
| Third Floor, Hartwell House | 13,258 | Epic Systems | Longwell Properties Ltd | £31.50 psf | 10 year lease with 5 year break |
| Second Floor, One Redcliff | 10,433 | HP | Scottish Widows | £28.50 psf | 10 year lease with 5 year break |
| 800 Aztec West | 32,007 | MOD | London & Scottish | £20.50 psf | 10 year lease with 5 year break |
Return to speculative development 
Grade A take-up in Q4 was low in comparison with earlier quarters. As there is now less than 100,000sq ft of Grade A space currently available, this subdued take-up is arguably more to do with the supply pipeline rather than low demand.
However, a return to speculative development in the second half of 2018 has triggered hope for the city's longer term supply of grade A space.
Further to Royal London starting works to build 92,000sq ft at The Distillery in Q3, the final quarter of 2018 saw a second speculative development start on site with AXA starting works at Building A, Assembly. The building is expected to bring 200,000sq ft of Grade A space to the market in late 2020 and forms part of a wider scheme.
These developments will help with longer term requirements but with limited space immediately available, there is increased pressure on refurbished schemes to meet the needs of occupiers.
REGISTER FOR UPDATES
Get the latest insight, event invites and commercial properties by email