The Investment Transactions Northern Ireland Bulletin Q3 said that at £194.4m the volume of investment was twelve times higher than in the second quarter.
Retail transactions, valued at £172.8m, accounted for 89 per cent of activity in the quarter. While dominated by Wirefox's £123m purchase of CastleCourt Shopping Centre, a further £50m of retail transactions were also recorded. These included the £27.7m Tesco Extra in Newry, £11.1m Valley Retail Park in Newtownabbey and the £9.2m Great Northern Retail Park in Omagh.
Accounting for 8 per cent of total volume, the alternative sector – which includes hotels, car parks, leisure, care homes and medical facilities - recorded more activity in Q3 than the traditional core sectors of office, industrial and mixed-use. Mixed-use activity was attributed to a single deal, a portfolio of care homes in Armagh and Jordanstown purchased by LXi REIT for £14.9m.
While office investments represented only 3 per cent of the Q3 volume, at £5.3m, activity was improved compared with the previous 2017 quarters.
Neil McShane, director in the capital markets division at Lambert Smith Hampton, said: "In the first half of this year we did record a drop in activity levels, however in Q2 there were positive signs that a stronger result was in the pipeline. The outlook for the final quarter of 2017 is positive for the commercial property market.
"The main barrier to activity in the first half of 2017 was the mismatch between healthy investor demand and the scarcity of larger value assets available. The pick-up in Q3 and forecast for Q4 is the result of an increase in supply of good quality, larger value assets. These assets have helped to relieve investor frustrations, although they have been predominantly in the retail sector. A fluid supply of this asset type is required to maintain activity."
Investment volume for the year to date is £222.1m and it is expected to reach £350m by the end of the year. Compared with 2016, total investment activity will be approximately 25 per cent higher.
Neil McShane added: "During recent months, there has been a trend of competitive bidding for smaller lots with attractive tenants. For example, the Starbucks and Boojum properties on Botanic Avenue, the Caffè Nero in Newcastle and the Greggs properties in Bangor and Lisburn have attracted significant interest amongst local investors. In the coming months, a number of similar properties will come to market, and again we expect they will generate high levels of interest.
"It is positive to see that the health of the Northern Irish investment market is showing signs of continued resilience."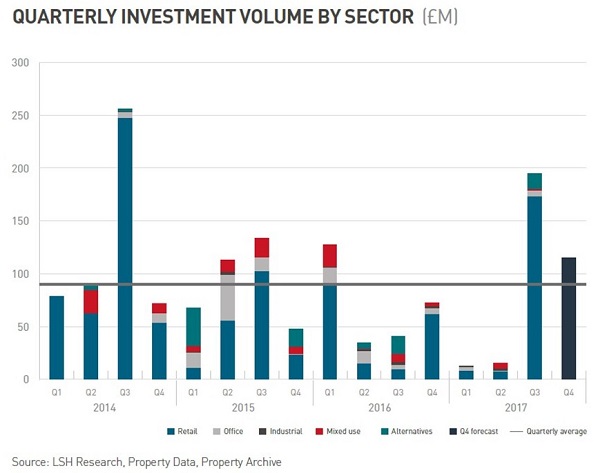 REGISTER FOR UPDATES
Get the latest insight, event invites and commercial properties by email