We have undertaken a wide-ranging survey to gauge the opinions of workers about the return to the office following the Covid-19 lockdown, and to assess changing attitudes towards working from home.
The survey received in excess of 500 responses, spanning all regions of the UK.
Key findings include:
Maintaining social distancing is a key worry for workers when they return to office, with 42% of survey respondents citing this as their main concern;
The most commonly cited advantage of homeworking was avoiding commuting (36%), while reduced social interaction was overwhelmingly seen as the main disadvantage (61%);
Most workers (67%) say that technology has enabled them to work as efficiently at home during the lockdown as they would normally work in the office;
Nonetheless, a majority of workers (59%) do not see virtual meetings as significantly impacting the need for face-to-face meetings once the situation returns to normal;
A large majority of workers (76%) believe that they will need to spend at least two days per week in the office, once normality returns.
People are most concerned around social distancing
In the next few weeks many offices will begin to reopen their doors to staff. Employers will face significant challenges in order to provide staff with safe working conditions. Asked about returning to the office, workers cited maintaining social distancing in the office as their chief concern, with this accounting for 42% of our survey responses.
Significant numbers of survey respondents also cited fears over the safety of commuting and cleanliness in the workplace. With the government due to unveil a 'roadmap' out of the lockdown on Sunday 10th May, the strength of these concerns underlines the need for a gradual and cautious approach to the easing of workplace restrictions. Homeworking is likely to continue to be encouraged where possible, while staggered shift times may need to be introduced where workers absolutely have to commute.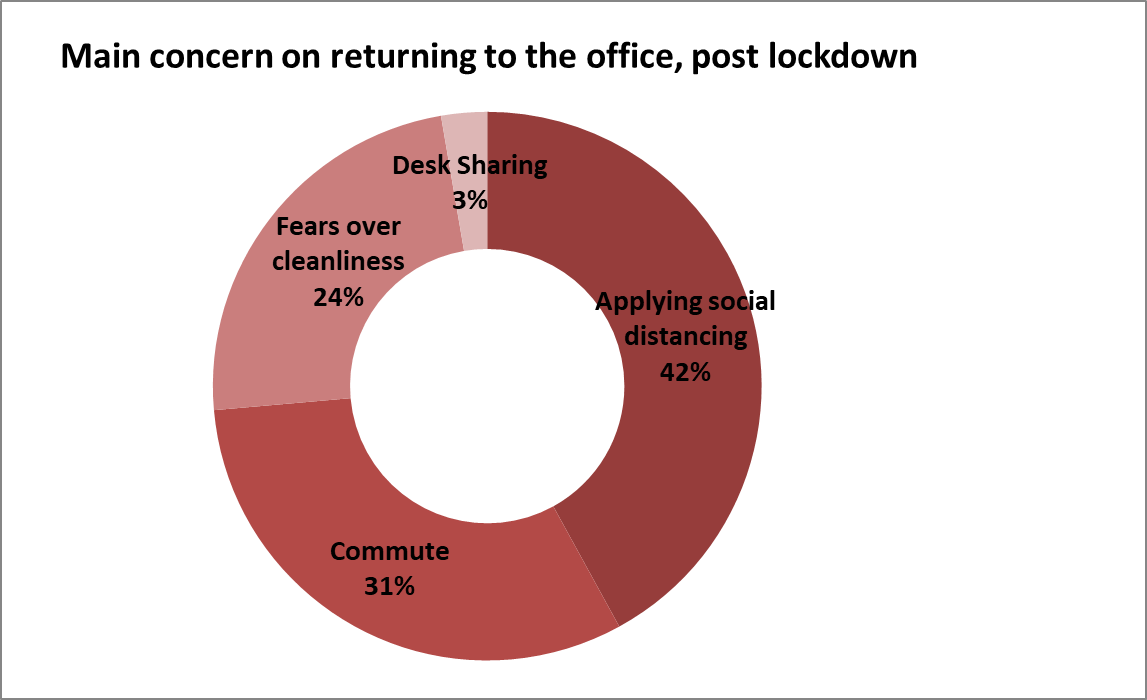 People need to interact, but also enjoy avoiding the commute
Respondents were asked about what they did and did not like about working from home. The results show just how important is the desire for real human interaction, underlining the continued need for offices.
Overwhelmingly, the lack of social interaction was cited as the main disadvantage of working from home, accounting for a substantial 61% of responses. Notably, frustrations around technology and lack of line manager support only accounted for a minority of the chief concerns around homeworking.

There are of course relative benefits to working from home, and respondents were asked to provide the greatest single benefit. The results were more mixed than the question around disadvantages, with the most commonly cited benefit being avoiding the stress and time of commuting (36%), followed by the ability to work without distraction (24%).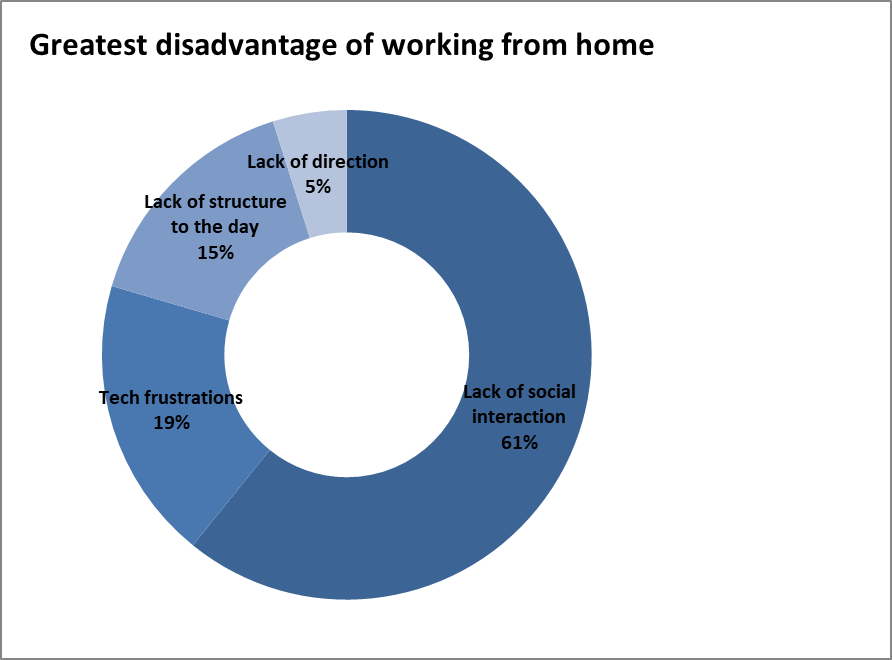 New technologies embraced by lockdown homeworkers
Encouragingly, only a minority of survey respondents (19%) cited technological frustrations as the main disadvantage of working from home. Indeed, 67% of workers agreed that the technology available at home enabled them to work as efficiently and seamlessly as they would in the office.
Video conferencing platforms such as Zoom have been embraced by many workers during the lockdown. However, it is a moot point whether these technologies have the potential to replace face-to-face meetings over the longer term. The majority of survey respondents (59%) do not see virtual meetings as having a significant impact on the need for face-to-face meetings once normality returns. This suggests that offices will retain an important role as workplaces.
Staff can WFH more than they did
As much as people have a need for the genuine social interaction that an office environment provides, respondents also demonstrated a greater openness to working from home than they had done previously. Prior to the lockdown, a substantial 61% or respondents either never or only very occasionally worked from home. However, the vast majority (88%) now believe that they could work at least two days a week at home without impacting on their work and mental wellbeing.
Nonetheless, survey respondents also recognise the need to spend some time each week in the office. Having experienced working from home for five weeks, factoring in all the benefits and challenges, 76% of respondents expect that they will still need to be in the office at least twice a week, when normality returns.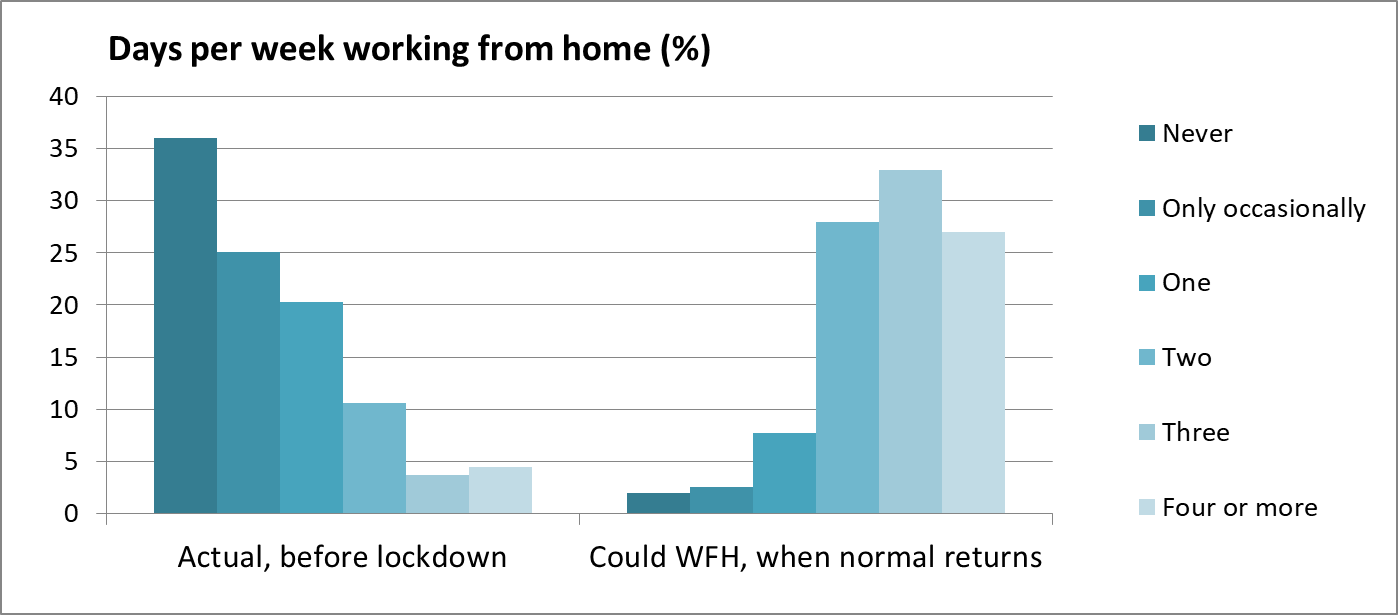 Oliver du Sautoy, Head of Research LSH said
"The survey results reaffirm the importance of the office environment, not just to undertake work, but to fulfil people's basic desire for social interaction. That said, while the office is far from dead, this enforced WFH experiment will far reaching consequences for long-term demand, influencing location, specification and sizes of requirements."
Ryan Dean, Head of Office Advisory at LSH commented
"While a huge number of occupiers are thinking hard about the practical challenges around re-opening, this is likely to be through the lens of keeping as many staff as possible at home until the government direction suggests otherwise. As well as safely managing the office space, difficulties around commuting and ensuring safe circulation around buildings mean a low percentage of staff can realistically be accommodated on any single day, many of our clients are suggesting 50% or fewer at any one time, for the rest of 2020.
"Many employees have had their eyes opened by this national home-working experiment, but not all have enjoyed it. At the same time employers' attitudes towards greater home-working will improve dramatically provided productivity has been unaffected. This will spur long-term change in office requirements, with the mantra of quality over quantity and a greater focus on the best specified buildings."
Get in touch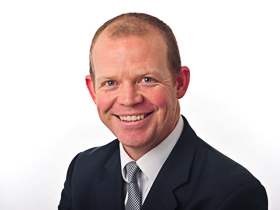 Ryan Dean
Executive Director - Head of Transactional Services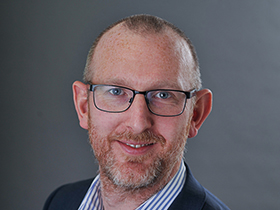 Oliver du Sautoy
Head of Research
REGISTER FOR UPDATES
Get the latest insight, event invites and commercial properties by email