The economic downturn was not kind to Downpatrick. As a native of the town, I witnessed first-hand the effects. The night-time economy deteriorated, residential developments stalled and small businesses closed. This was a recurring theme throughout the province, however in my experience Downpatrick suffered the effects of the downturn more than most comparable towns. I attribute this to two key reasons. Firstly, the local population was heavily reliant on the construction industry as the primary source of employment and secondly, in the twenty years leading up to 2007, the town was starved of public sector investment. The combination of significantly increased unemployment and poor local facilities and infrastructure meant that in the immediate aftermath of the downturn, Downpatrick was not a place where people wanted to live, work or play. Each week, local people were emigrating in pursuit of better opportunities elsewhere.
Ten years on I can confidently say that Downpatrick is a changed town and in many respects more vibrant than ever before. Whether it be accident or design, in the depths of the downturn, the foundations for a robust recovery were laid. It is estimated that between 2009 and 2014 over £150m of public sector investment was put into the town. Furthermore, at the date of writing, there are plans for a further £50m of investment. The significant capital that has been invested thus far, and is proposed going forward, has been wisely spent on key social infrastructural components of health, education, art and leisure and the town centre environment.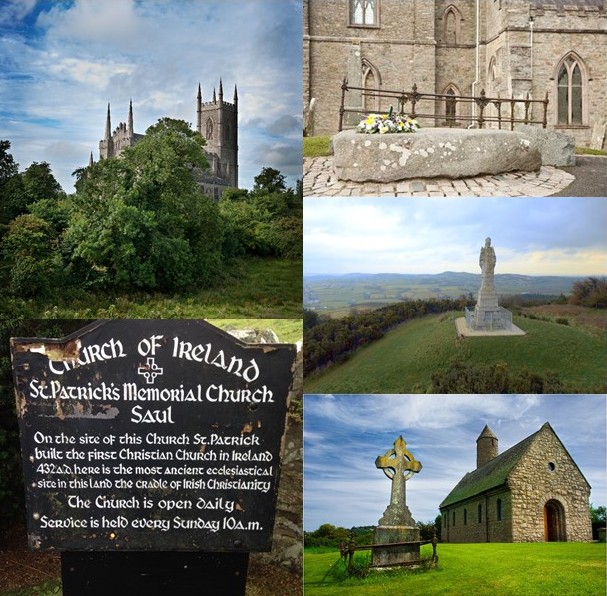 (L-R) Down Cathedral, St. Patrick's Grave, St. Patrick's statue on Slieve Patrick, sign outside St. Patrick's Memorial Church Saul, St. Patrick's Memorial Church Saul.
Public sector accommodation
The public sector is an important employer in the area and recently there has been public investment in accommodation for these agencies. The former Downshire Hospital site, which includes a grade B1 listed former psychiatric hospital built in 1883, has been re-developed as the Downshire Estate public sector campus.
Down District Council (DDC) moved to a redeveloped and extended section of the former Downshire Hospital in October 2012. This move was taken ahead of the review of public administration which merged DDC with Newry and Mourne Council in 2014 creating Newry, Mourne and Down District Council. Shortly after DDC took up residence, the local office of the Northern Ireland Housing Executive also moved on campus. Since then these agencies have been joined on the Downshire Estate by the Department of Agriculture and Rural Development (Fisheries Division), the Police Service of Northern Ireland and the Northern Ireland Fire and Rescue Service (NIFRS). To date the total public sector investment in the Downshire Estate is estimated at over £30m.
In addition the public sector are also investing in their town centre accommodation on Market Street. It was recently announced that Rathkeltair House is to benefit from a £3.36m refurbishment to provide a multi-purpose government facility that will include employment and benefit services. Construction is planned to commence imminently with completion due in early 2018.
Health / Well being
In June 2009 the £64m purpose built Downe Hospital on the Ardglass Road was opened replacing the former Downe Hospital which currently lies vacant. The new hospital includes a dedicated mental health and dementia suite, inpatient and day procedures units and maternity provision.
In 2011 the £4.2m Ballymote Sports and Wellbeing Centre on the Killough Road was officially opened. This high quality sports facility includes a dedicated centre for excellence for boxing, a four court badminton facility, championship netball court, state of the art fitness suite and youth facility.
Work commenced in 2016 on construction of a £15m replacement leisure centre on Market Street. The new centre will include a swimming pool, four court hall, squash court, fitness suite, and a multi-purpose spa and relaxation area. This new facility is due to open in the autumn of 2017.
Education
The town has benefited from substantial investment in its educational facilities in recent years. In November 2011 St Patrick's Grammar took possession of their new state of art £16m school, whilst just a few months earlier in June 2011 the South Eastern Regional College took possession of their new £24m campus on Market Street. Later this year construction of a new £20m school to replace the existing Down High is due to commence.
Art and leisure
In conjunction with the Arts Council of Northern Ireland and the Northern Ireland Tourist Board, DDC invested £1.4m in 2011 redeveloping the Down Arts Centre. This provided a multi-functional centre with art gallery, upgraded auditorium, bespoke workshop space, café and bar, retail space and a book zone to showcase local literature. It is estimated that the new centre has seen an increase in visitor numbers from 32,000 to 58,000 per annum.
In 2015 Down County Museum was extended at a cost of £500,000. The centrepiece of the new extension is the 1,100 year old Downpatrick High Cross which was moved to the museum from outside the east end of Down Cathedral. The extension project also encompasses a new gallery to display some of the key objects from the Museum's large collection of farming and maritime artefacts, a new gallery which focuses on the history of the Gaol of Down and a new tearoom boasting impressive panoramic views over The Quoile river and the county Down countryside.
Town centre environment
In an effort to assist retailers in capturing as much retail spend as possible, and prevent further retail leakage to the surrounding areas, the main retail core of the town centre has also received capital investment. In 2011 the Downpatrick Public Town Realm scheme was launched. This £3.2m regeneration project has created a high quality, modern urban landscape which centred on the redevelopment of the public square at the front of the St Patrick's Heritage Centre.
With the relocation of the PSNI to Downshire Estate, the iconic blast walls surrounding the former station at Irish Street have been removed and the road widened significantly, opening up what was once a bottle neck for traffic at peak periods. There are further proposals to widen Fountain Street and upgrade the junction at Collins Corner. These proposals will undoubtedly improve road safety and traffic flow, and ultimately improving accessibility to the town centre which can only be good news for local businesses, retailers and shoppers alike.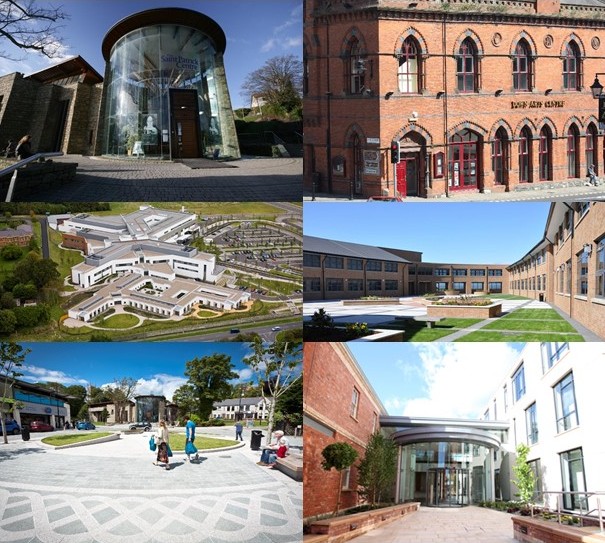 (L-R) St. Patrick's Heritage Centre, Down Arts Centre, Downe Hospital, St. Patrick's Grammar School, public realm works in Downpatrick town centre, Newry, Mourne and Down District Council building at Downshire Estate.
Response from the Private Sector
In response to the significant public sector investment, there has been a renewed shift in private sector confidence in the town, enhancing its competitive advantage over other locations. The retail provision in the town has improved with Specsavers, Costa Coffee, Poundland, Edinburgh Woollen Mill and Domino's Pizza all opening new stores in the town recently. Additionally, Boots the Chemist have just extended their lease for a further three years whilst Danske Bank have moved to new premises at Market House, signing a new ten year lease. Interestingly, despite all this activity, retail rents in the town are still off a relatively low base therefore offering an affordable proposition for more occupiers and importantly from an investor's perspective the potential for growth in the future.
In June 2016, one of the town's largest employers Finnebrogue Artisan opened a new 160,000 sq ft £25m meat processing facility after three years of development. It has been reported that the company now employ more than 330 staff in Downpatrick, a significant increase from around 30 employees in 2009. Other notable private sector investments in the town include the construction of a new £700,000 veterinary hospital in 2015.
With more employment, a greater sense of confidence and a resultant improved evening economy, the leisure offer in the town has improved immeasurably. Established local bars such as Murphy's, Turley's, Mullan's and Denvir's have all benefitted from significant refurbishment in recent years.
The residential market too has picked up pace. Previously stalled housing developments have commenced once more. Quoile Crescent, once an abandoned partially completed 'ghost estate' and the focus of many national news reports, has been redeveloped and all of the former derelict dwellings have been finished to a high specification. There is now just one of the original 29 units left to be sold. A former Greenfield site on the Saul Road which lay vacant since 2007 was bought by local developers, O'Connor Brothers Construction Limited in 2014. This development, Saul Meadows, comprises of 29 units and is now nearing completion. Other residential developments at Malone Way and The Paddock on Racecourse Road, have also proven successful.
Where are the new opportunities for the private sector?
Whilst there has been renewed private sector activity in Downpatrick, there are a number of strategically important but under-utilised sites and buildings in the town centre which could provide further opportunities. Viable end uses of these sites include hotels, nursing homes, residential and retail.
Hotels
It is widely acknowledged that opportunity exists for a new town centre hotel. As the burial spot of St. Patrick, the town is home to impressive tourist attractions that document St. Patrick's story. Furthermore, Game of Thrones is regularly filmed at the Quoile River and at Castleward on the outskirts of the town, and the town regularly features on the itinerary for Game of Thrones tours. Downpatrick is also proximal to Strangford Lough and some of Northern Ireland's finest golf courses including Royal County Down, Downpatrick and Ardglass.
Busloads of tourists regularly visit the town but because of a lack of good quality accommodation they typically leave in the evening and return to Belfast for the night. The findings of a 2015 Council commissioned study highlighted the need for a new hotel in Downpatrick with the Council now working to identify suitable sites. There are existing opportunities in the town centre which would be ideal locations for boutique hotels and restaurants including the former PSNI station on Irish Street and the prominent former Danske Bank building on the corner of Market Street and St Patricks Avenue.
Care homes
Downpatrick and the surrounding areas have a growing ageing population which will increase demand for nursing home accommodation in the future. The publicly funded St Johns Home closed approximately ten years ago leaving a significant void in the level of available care home facilities in the town. Currently, the only nursing home in Downpatrick is the 68 bed Lecale Lodge nursing home on the Strangford Road. Relative to other towns across the province, Downpatrick suffers from a significant undersupply of such accommodation.
Lambert Smith Hampton recently sold the former Downe Hospital site on Pound Lane. The existing building is listed and is to be retained. There are also opportunities for other developments in the lands surrounding and this would provide an excellent opportunity to develop a new town centre private nursing home.
Retail / Food and beverage
The improved economic conditions and significant improvements in the town's public realm makes Downpatrick a more attractive town in which retailers wish to trade and consumers want to shop. Downe Retail Park is at full capacity and trading very well. There are however a high volume of retail vacancies on the high street. This is not necessarily as a result of a low level of demand but because much of the available space is compromised by either its size or configuration.
It was announced recently that First Trust Bank intend to close their Downpatrick branch. This is a well located regular shaped unit of an attractive size. Although not a traditional retail unit, this building could be adapted or redeveloped to provide a high quality retail or food and beverage unit which would suit a national multiple.
Residential
There is existing demand for new build entry-level starter homes but supply is restricted. The new developments mentioned above have limited availability. There is also demand for people trading up and downsizing, with the Saul Meadows development providing evidence of same. Lack of new opportunities is however causing frustration for developers. The former Housing Executive offices on Irish Street were recently developed for social housing and other public sector sites are currently lying idle. For example, there is potential for new residential developments on the site of the former St. Patricks Primary School (who amalgamated with the Convent of Mercy) at St. Dillons Avenue and on surplus land surrounding the former Downe Hospital.
Unquestionably, the best residential development opportunity in the town is the site of the former DDC offices and the adjoining NIFRS offices on the Strangford Road. It is a 5.5 acre site in the most sought after part of the town, close to the Quoile River with its walkways and pontoons. This site has been used sparingly by the Council since their move to the Downshire Estate. It is not clear when The Council will make this available to the private sector.
Conclusion
A combination of improved macro-economic conditions and over £150m of public sector investment has helped Downpatrick rebound well from the downturn. This capital has been wisely spent on key town sites and social infrastructural components of health, education, art and leisure, and the town centre environment. This investment serves the community and enhances the quality, image and desirability of the town as well as its commercial value. It has helped to create a place where people want to live, work and play. The good news has spread and the economic emigrants are returning home in their droves.
This coming Friday 17th March, over 15,000 people will descend on Downpatrick for the annual St. Patricks day parade. The town centre along with its shops, pubs and restaurants will be full to capacity. The limited hotel bed spaces that exist will have been sold out months ago. The Down Arts Centre, Down County Museum, Down Cathedral and St. Patricks Heritage Centre will all experience their busiest day of the year. The visitors will see a town in transformation - a transformation that would make most other towns and cities green with envy.
REGISTER FOR UPDATES
Get the latest insight, event invites and commercial properties by email