By 2019, all of Northern Ireland's Higher Education institutions will have a campus concentrated within a three mile radius of Belfast City Centre. Most significantly, the expansion of the UU Belfast campus and forthcoming closure of the Jordanstown campus, will increase this campus's population by around 15,000.
The high ratio of students to PBSA bed spaces in Belfast (12:1) compared to other university cities in the UK (5:1 in Cardiff and 8:1 in Edinburgh) and the imminent increase in Belfast's student population has prompted a burst of activity in the PBSA sector.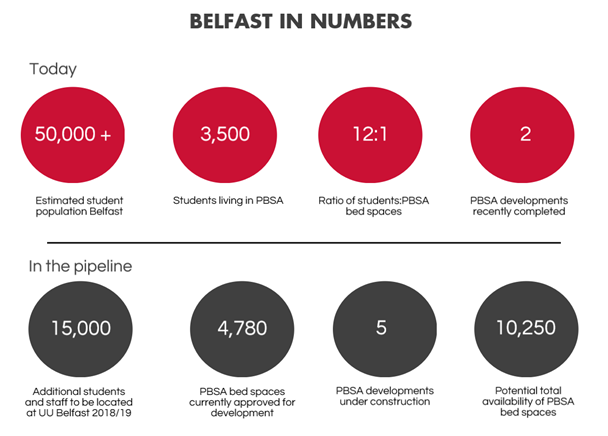 Two PBSA developments have recently completed, John Bell House and Mark Royal House, adding almost 500 beds to current availability. Whilst the PBSA market is largely untested in Belfast, recent activity in the sector would suggest that a seismic shift is on the cards with considerable development activity and land acquisitions occurring. We estimate that if all the current pipeline schemes are developed, this will go some way toward addressing the lack of supply but there will continue to be scope for further development.
In addition to the ten schemes already approved, there are five proposals currently at either the pre-application or appeal stage (2,012 beds). The total supply of PBSA in Belfast (including existing) could be as much as c. 10,250 in the years ahead. Previous research has indicated that the investment and development in PBSA slows when the students to PBSA bed spaces ratio reaches 4:1, with Belfast still a long way from this.
The lead time before completion of the UU campus is allowing purchasers of lands the opportunity for advance development. The price being paid for land with planning consent for student housing is significantly greater than the majority of alternative use values at present. Compared with other cities, PBSA in Belfast has significant scope before it reaches natural saturation, but the historic preference of students in Belfast for private rented accommodation makes it difficult to forecast performance.
Despite this, there is a level of confidence amongst developers and investors. For example, the recent sale of 41-49 Queen Street and 79-86 Dublin Road, Belfast. These proposed developments (currently at construction stage) were sold for a combined £40m. The schemes, developed jointly by Lacuna Developments and Watkins Jones, are being 'forward funded' by investors (including US funds) who will retain control of the buildings upon completion. The same joint venture has also recently purchased the former office block at 81-87 Academy Street; the development of which has the potential to add another 238 student rooms to Belfast's supply.
Recently Lambert Smith Hampton have advised clients on a number of proposed student housing schemes; in particular offering valuation and due diligence advice to lenders and developers. We have an in-depth knowledge of the current market conditions affecting the student housing sector in Belfast. If you require any guidance, we would be delighted to speak with you on an informal basis and can provide comprehensive formal valuations as required.
REGISTER FOR UPDATES
Get the latest insight, event invites and commercial properties by email