Sector focus: size flatters
Despite all the jitters around Brexit and the election, Q4 volume of £15.7bn was the strongest quarter of 2019 and above trend.
A YEAR OF TWO HALVES
2019 ended strongly. Q4 volume was 13% above Q3 and it was the only quarter of 2019 to stand above the five-year quarterly average. The strong finish to the year took the total volume for 2019 to a respectable £49.5bn, with volume in the second half of 2019 being 42% higher than the first half.
That said, Q4 was subdued from an activity perspective as major deals from overseas investors masked an otherwise quiet period for the market. Q4 volume comprised 561 recorded deals, the quietest quarter since the aftermath of the EU Referendum in Q3 2016.
LIVING IT UP
The living sectors (student accommodation, PRS, hotels and healthcare) saw the lion's share of volume for a second successive quarter in Q4. Investment was down slightly from Q3's near‑record volume but, with £4.7bn transacting, living accounted for almost a third of total Q4 volume.
For the first time, Q4's largest deal was in the healthcare sector. Medical Properties Trust purchased the BMI Healthcare Portfolio,consisting of 30 acute care hospitals for £1.5bn, the fifth largest deal ever recorded in the UK.
At £1.3bn, Q4 was a strong quarter for student accommodation. Volume was boosted by Singapore Press Holdings' £448m purchase of the Student Castle Portfolio consisting of 2,383 beds across seven sites.
INDUSTRIAL DELIVERS
Despite value being ever harder to find, strong demand for industrial continued unabated. Boosted by nine deals in excess of £50m, £2.1bn of industrial assets changed hands in Q4, the fourthstrongest quarter on record.
While the multi-let sub-sectors were below trend, distribution warehouses took centre stage in Q4, accounting for 60% of total industrial volume. Headline deals included Morgan Stanley's £241m purchase of the Tudor Portfolio (3.9% NIY), and Starwood Capital's £200m portfolio acquisition from Barings Real Estate.
LATE FLOURISH FOR OFFICES
Total office volume was £5.7bn in Q4, marginally above the five year quarterly average. After several quiet quarters, £4.1bn of central London offices changed hands in Q4, 55% above Q3 and 15% above trend. Overseas investors dominated in typical fashion, although notably M&G's £353m site acquisition at 40 Leadenhall Street was the largest domestic purchase in central London offices since 2006.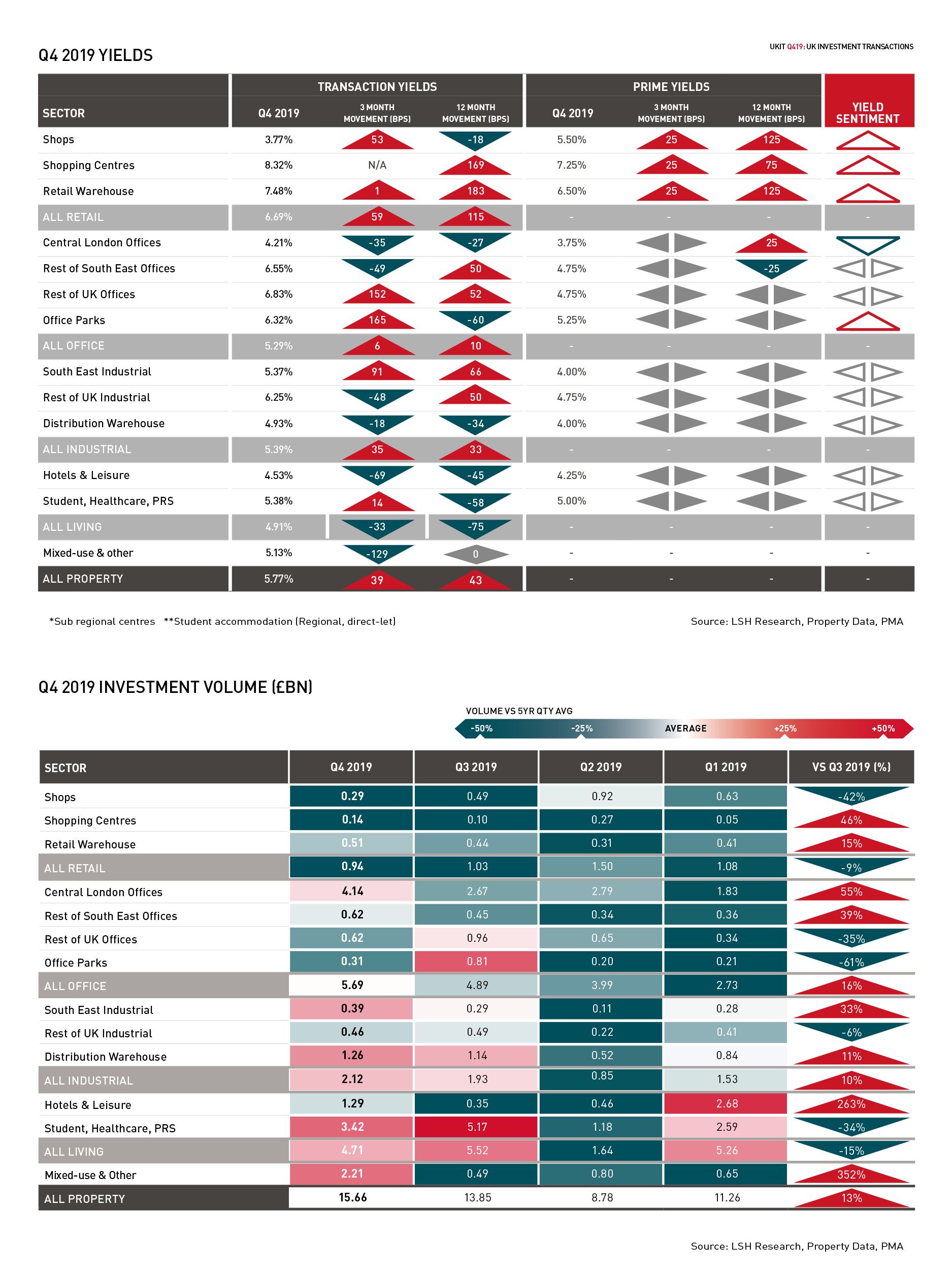 2019 ended strongly for South East offices, where a trio of large deals late in Q4 drove a 39% increase in volume from Q3. The largest was PSP Investments and Aviva's £250m acqusition of 50/60 and 30 Station Road, Cambridge. Elsewhere, regional market activity was relatively subdued and included only one major deal, L&G's £100m funding of Riverside Sunderland.
RETAIL WAREHOUSES BUCK TREND
A miserable year for the retail sector was rounded off with a new record low volume of £0.9bn in Q4. Shopping centre activity was moribund once again, with only five deals totalling £142m, three of which went to local authority buyers.
In contrast, with volume of just over £500m, retail warehouses performed relatively well against trend. However, change of use angles are driving investment interest, with Q4's largest deal being industrial investor Tritax's £190m purchase of a retail park portfolio (in Guildford, Crawley and Luton).
YIELDS OUT SHARPLY
The All Property average transaction yield moved out by 39 basis points in Q4 to 5.77%, the sharpest quarterly yield movement of the decade. This shift partly reflected the pricing readjustment in retail, with notional prime yields also softening by 25 basis points in each of the retail sub-sectors during Q4.
Living saw the greatest inward movement this quarter, with yields contracting by 69 basis points in the hotel and leisure sector to 4.53%, the lowest on record for this sector. In addition, central London office transaction yields moved in by 35 bps, their lowest level since Q4 2017.
Market insight
Download full report
Get the whole picture with our latest UK Investment Transactions report.
Download PDF