Regional focus: propped up by portfolios
Strong volume in portfolios, particularly in the living arena to overseas buyers, was key to Q4's respectable overall showing.
LONDON REBOUNDS
Greater London attracted £6.1bn of investment in Q4, the strongest quarter of 2019 and 3% above the five-year quarterly average. 69% of investment in Greater London was in the office sector, of which 45% of activity took place in the City.
In the city, Brookfield Asset Management was particularly active, purchasing a 50% stake in 1 and 2 London Wall Place for £350m (4.25% NIY), as well as buying Nexus Place on Farringdon Street for £170.5m (4.75% NIY).
The second largest deal of the quarter however, was a mixed-use scheme in Earls Court, where APG and Delancey completed the acquisition of Capital & Counties' stake in the scheme for £425m.
REGIONS ON TREND
Collectively, the UK regions outside London enjoyed a respectable Q4, with total single asset volume of £4.9bn on par with the five-year average. There were however significant contrasts between regions. Echoing a pattern throughout 2019, the East of England performed strongly again in Q4, boosted by two major deals, including Deka-Immobilien Investment's £145m purchase and lease back of a B&M Bargains warehouse. At the other end of the spectrum, the North West and Yorkshire and The Humber were subdued in Q4, with volumes 32% and 35% below their respective five-year averages.
PORTFOLIOS MAKE THEIR MARK
Portfolios represented almost a third of all investment during Q4, with £4.7bn transacting - a healthy 35% above the five-year quarterly average. Ten £100m-plus portfolios transacted during the quarter, while overseas investors accounted for 75% of portfolio volume.
The living sector drove portfolio activity once again in Q4, claiming the three largest transactions of the quarter. This included the aforementioned BMI Healthcare Portfolio (£1.5bn), the Student Castle Portfolio (£488m) and the Marathon Hotel Portfolio (£450m).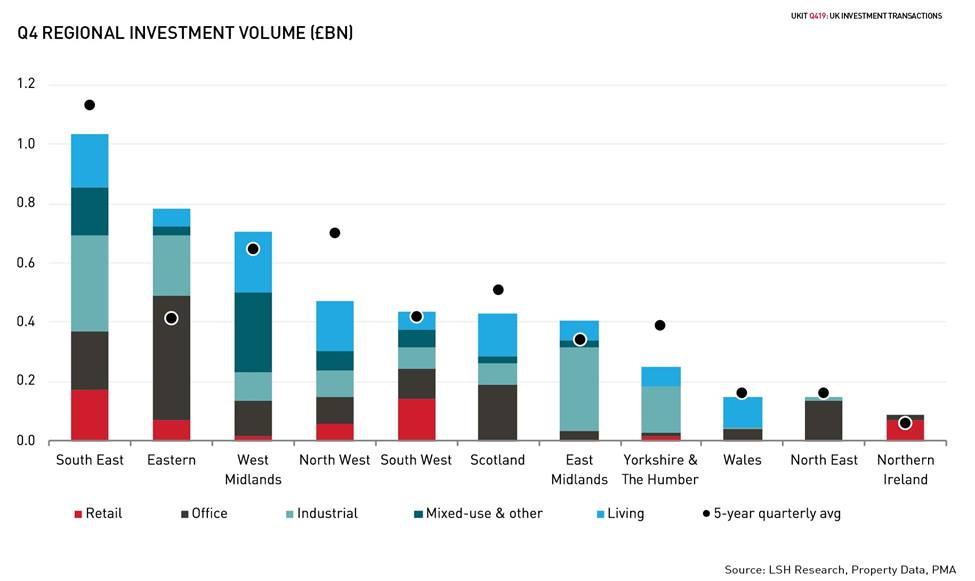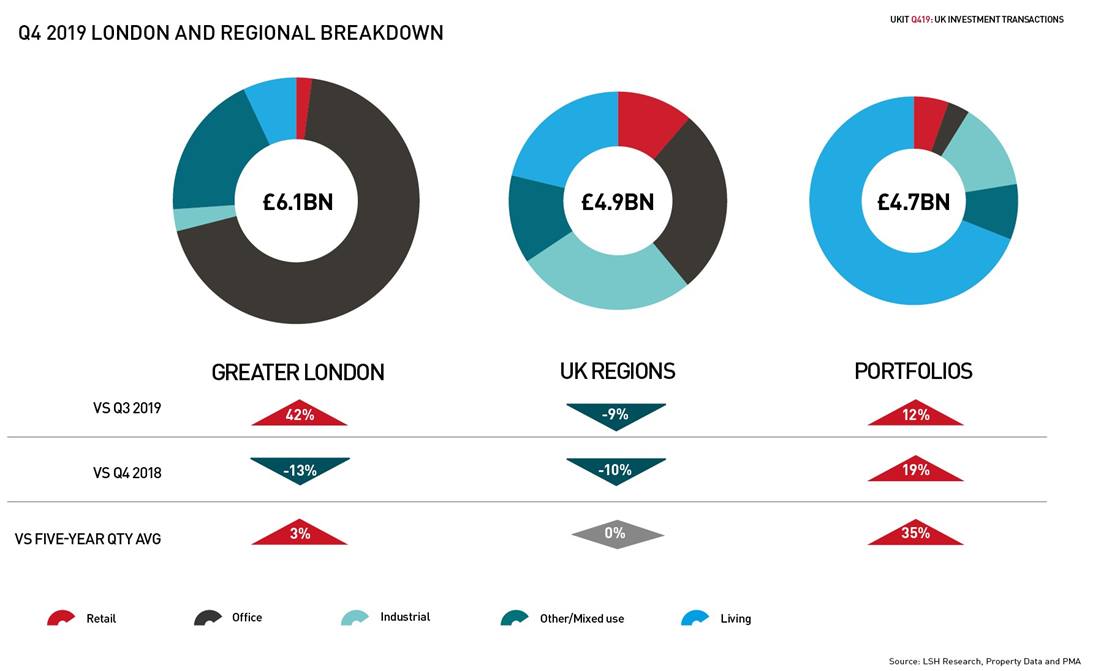 Market insight
Download full report
Get the whole picture with our latest UK Investment Transactions report.
Download PDF