Occupier market
The UK industrial & logistics occupier market continues to go from strength to strength, with take-up hitting a record high in H1 2021 and supply dropping to an all-time low.
RECORDS SMASHED
Following a phenomenal year for the UK industrial & logistics market in 2020, occupier activity continued at a relentless pace in H1 2021, with strong demand fuelled by accelerated structural changes triggered by the pandemic. UK-wide take-up reached 40.0m sq ft in H1, the strongest half-year total on record, and 21% up on the previous six months. Analysed by quarter, however, Q2 was the real standout period, with take-up of 23.0m sq ft smashing the previous record of 17.4m sq ft set in Q2 2020.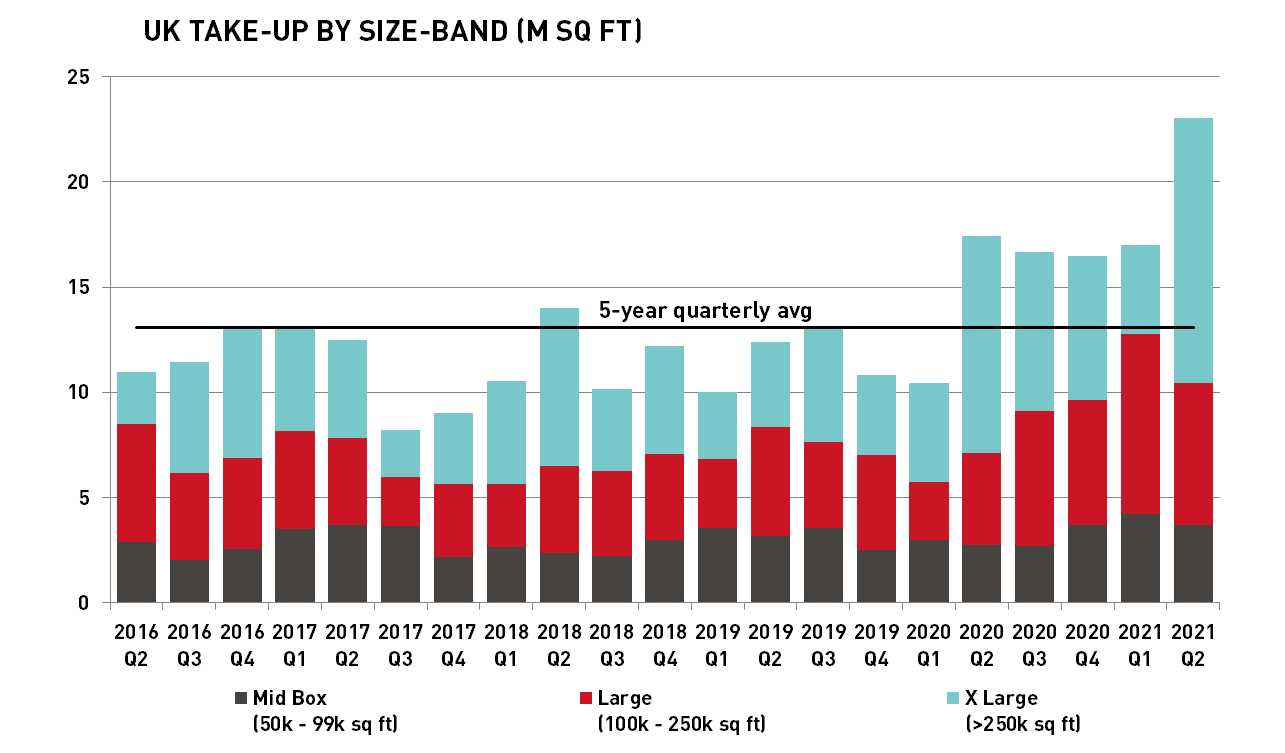 AMAZON'S PRIME
Retail and wholesale occupiers continued to be the most active in H1 2021, accounting for 39% of take-up. Amazon was as acquisitive as ever, behind 22 deals in H1, which represented almost a fifth of UK-wide take-up. These included a 2m sq ft pre-let at Wakefield Hub in West Yorkshire, the largest deal of the year to date. The massive consumer shift to ecommerce was also reflected elsewhere, with the likes of Boohoo and The Very Group taking space in the East Midlands.
Strong demand emanated from a variety of other sources, including 3PLs and manufacturing occupiers, which accounted for 21% and 19% of H1 take-up respectively. Among the 3PLs, XPO Logistics was the most acquisitive, committing to more than 1m sq ft of space across four units in H1. There was a healthy array of activity within the manufacturing sector, including Ball Packaging's acquisition of a 650,000 sq ft build-to-suit unit at Kettering Gateway and Oatly's 385,000 sq ft lease at Gateway 385, Gateway Peterborough.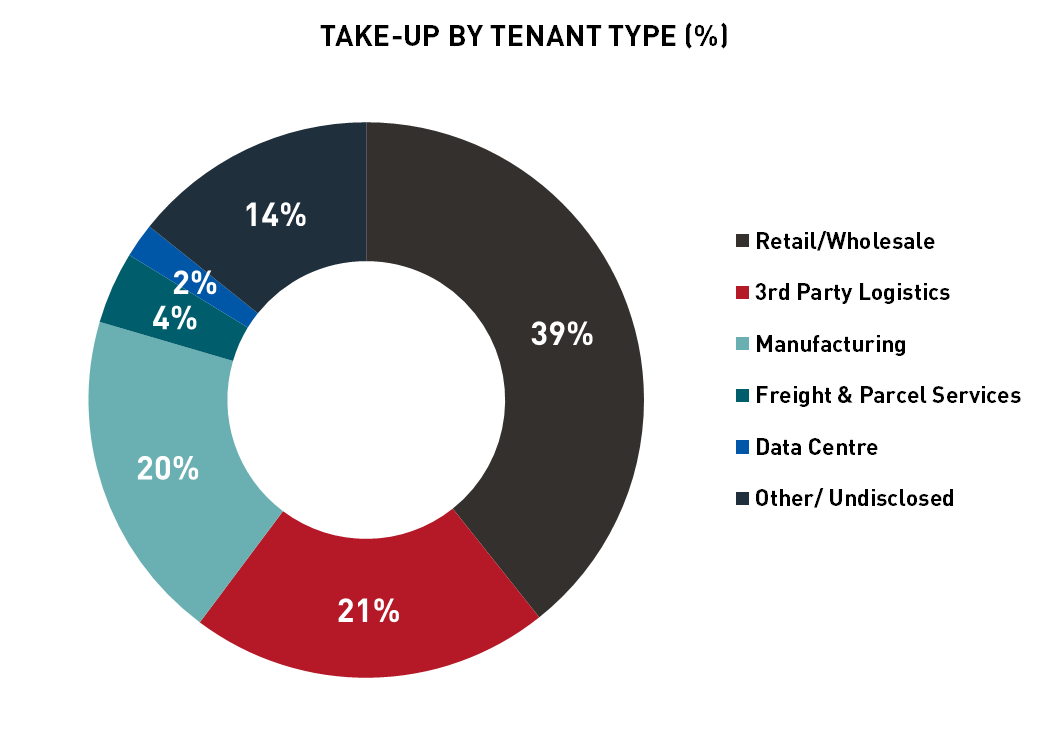 QUALITY IS KEY
Occupiers continued to show strong appetite for quality space, with investment into future-proofed supply chains a key priority. Grade A space accounted for 61% of take-up in H1, supported by a spike in the delivery of spec development.
All three size bands recorded strong activity in H1 2021, but the larger segments performed particularly well. Take-up in the large and XL segments was a staggering 67% and 53% above average respectively, while mid-box was also robust at 32% above average.
RECORDS IN THE REGIONS
Reflecting the strength and breadth of demand across the UK, six out of eleven regions saw above trend take-up in H1. Three of the six regions saw record take-up in H1, namely Yorkshire & the Humber, the North West and East Midlands. Yorkshire & the Humber was boosted by the aforementioned 2m sq ft Amazon deal in Wakefield, but also enjoyed strong activity across all size segments. As the UK's logistics heartland, the East Midlands continued to attract the largest share of demand, with 9.5m sq ft of take-up in H1, 74% above its average.
In contrast, Scotland and the North East were the UK's weakest performing regions in H1 with take-up 39% and 31% below trend. A lack of recent spec development has hindered activity in both of these regions. However, encouragingly, publishing firm HarperCollins submitted a planning application in July for a 500,000 sq ft built-to-suit unit at Nova Business Park in Glasgow, which will boost Scotland's take-up once approved.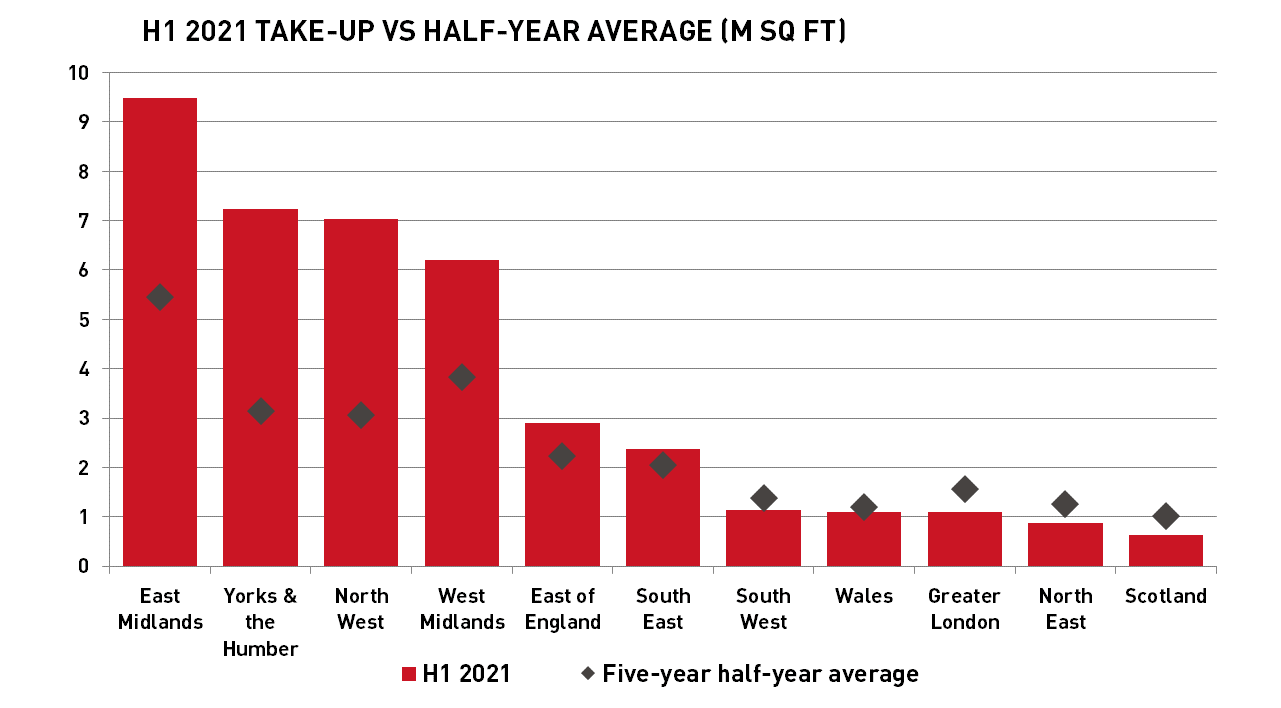 SUPPLY PLUMMETS
Despite a marked development response since the onset of the pandemic, UK-wide supply has continued to fall. Securing space has become a business-critical issue for many occupiers, but it remains challenging given the acute supply shortages in much of the country. Supply fell by 21% over the course of H1, moving to a record low of 55.5m sq ft at the mid-year point. Across all segments combined, current supply is equivalent to just over a year's worth of average annual take-up.
Each of the size segments recorded a fall in supply during H1 2021. The XL segment saw the sharpest reduction, with availability falling by 31% since the start of the year. The tightening of supply was also seen across both grades, with grade A and second-hand supply falling by 12% and 28% respectively.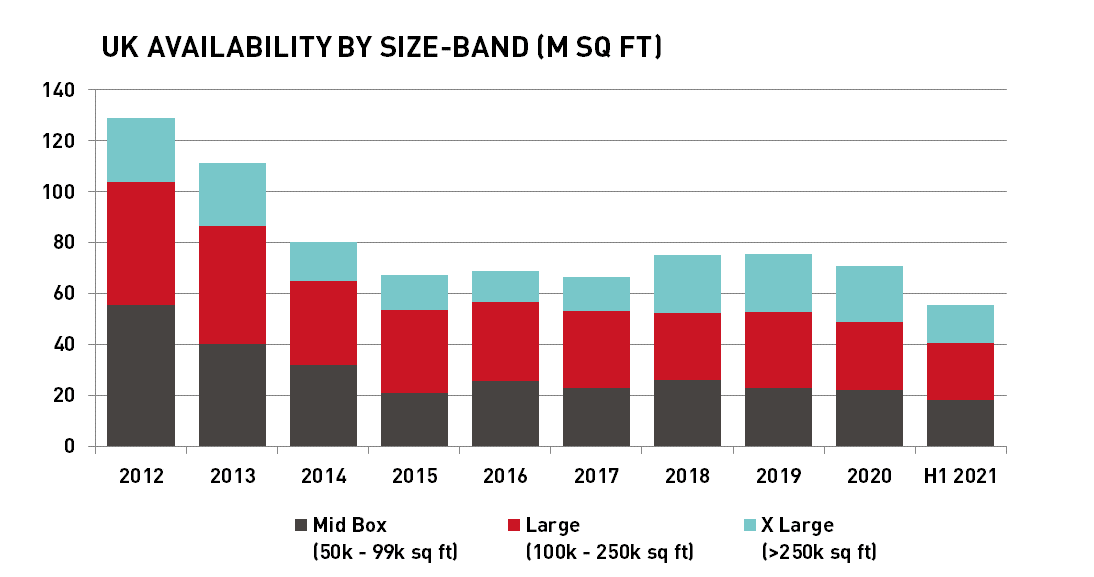 While supply levels vary between the regions, all have less than two years of supply relative to average take-up. The East Midlands is the most tightly supplied region relative to average take-up, with barely half a year of supply remaining following a dramatic 41% fall in availability during H1. In contrast, the South East and Greater London saw supply increase by 23% and 25% respectively during H1, following the delivery of much-needed new development.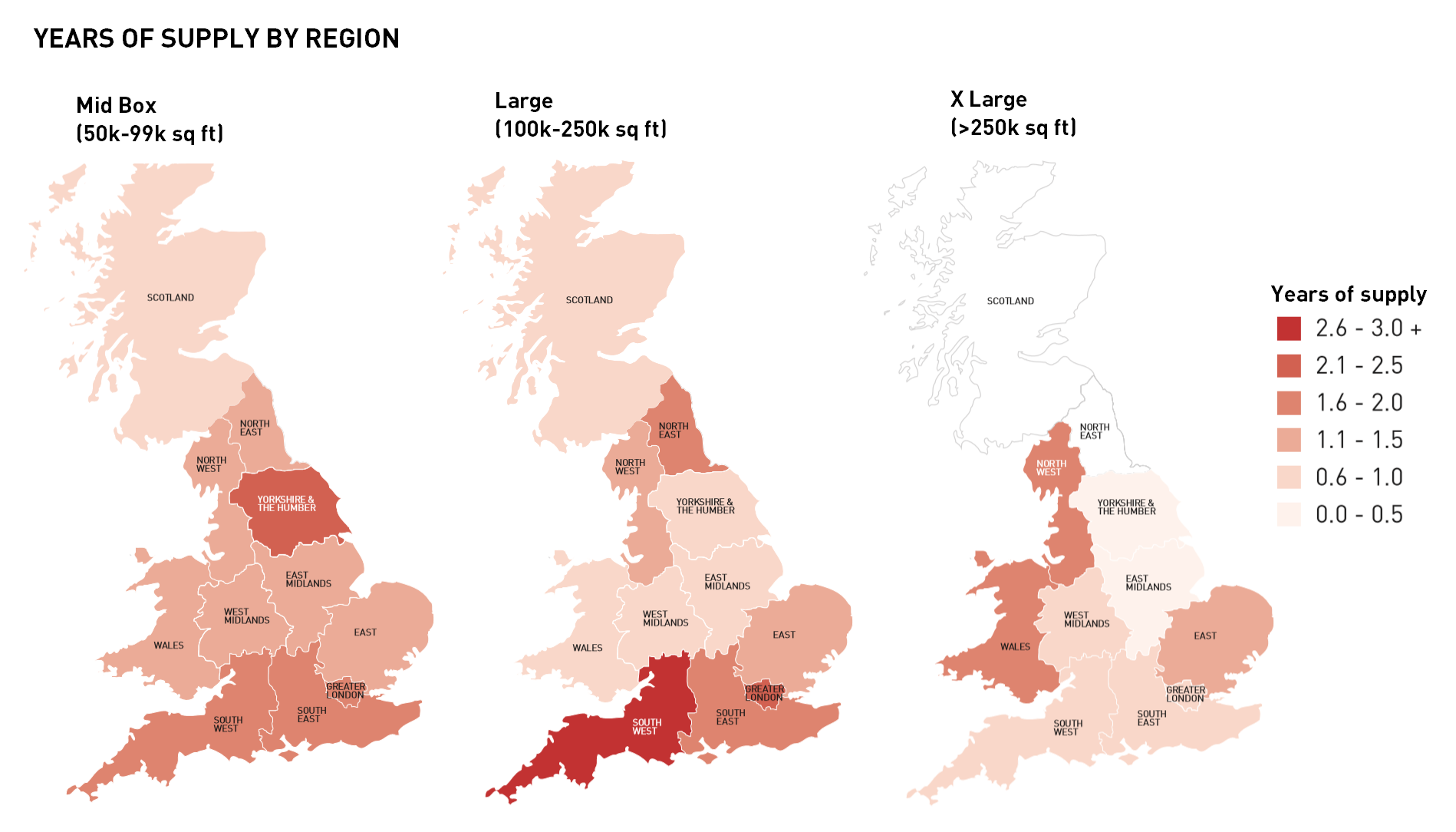 SPECTACULAR DEVELOPMENT
With strong occupier demand and capital pouring into the sector, developers have continued to build apace. The amount of spec development under construction hit a record 14.4m sq ft at the end of H1 2021, an increase of 25% since the start of the year. All size segments saw an uptick in activity in H1, but the most notable growth came in the XL segment where the volume of spec development increased by 54%.
Despite seeing the sharpest fall in supply in H1, the East Midlands was home to the largest volume of spec development with 2.9m sq ft under construction and yet to be taken-up. Following the success of Magna Park South, GLP is delivering 1m sq ft at Magna Park North Lutterworth across three units, due for completion in Q1 2022.
In the West Midlands, developers have responded to the record-low supply at the end of 2020, with the amount of spec development under construction increasing twelvefold during H1 to reach 1.9m sq ft. Notable starts included 147,300 sq ft at DC8 Prologis Park Ryton and 113,000 sq ft at Parallel 113, Walsall, while Panattoni has recently commenced the construction of 345,414 sq ft at Tamworth 345, due for completion in Q1 2022.
Looking ahead, LSH's analysis of anticipated spec development starts points to ongoing strong momentum, with almost 20m sq ft expected to come forward over the next 12 months. Yorkshire & the Humber is home to one of the largest units in the pipeline, namely Panattoni's biggest-ever spec development unit of 630,000 sq ft at Interchange Park, Rotherham, with construction set to commence in early 2022.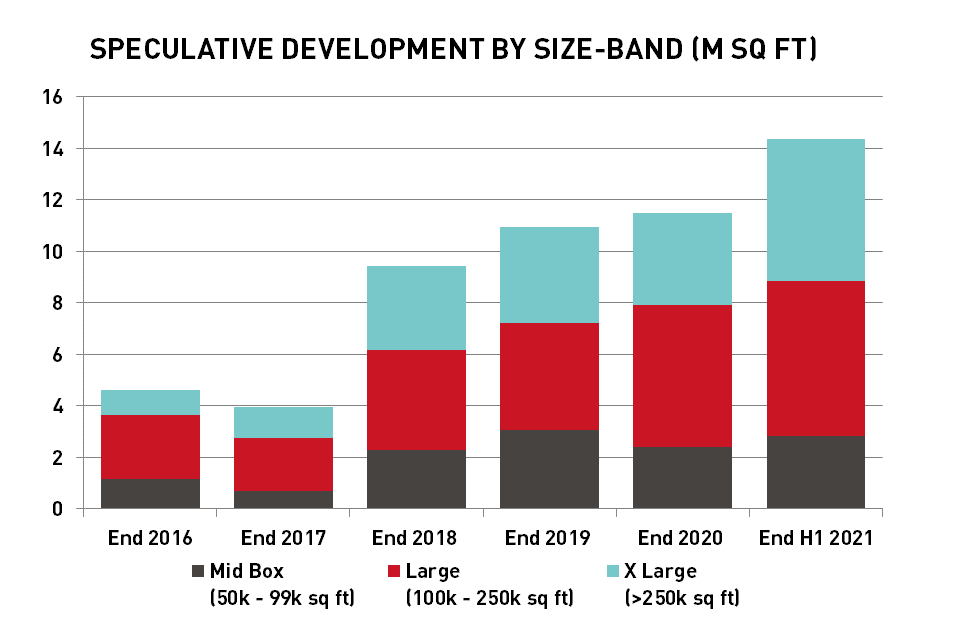 LAND VALUES KEEP CLIMBING
LSH's UK industrial land value index, which covers 33 key locations around the UK, revealed that prime indicative land values increased by an average of 15% during H1 2021, an impressive uplift given that 2020 saw a 17% increase across the whole year. The growth was wide-ranging, with 17 of the 33 key markets recording increases in indicative values during H1.
Yorkshire & the Humber was a key focus of growth, with South Yorkshire and Leeds seeing the strongest growth of any UK markets, as values rose by 38% and 33% to £900,000 per acre and £1m per acre respectively. Elsewhere, North London recorded the third strongest growth, increasing by 29% since the beginning of the year, closely followed by Coventry where values rose by 27%.
RISING RENTS
In contrast with other property sectors, the perfect storm of insatiable demand and record-low supply has driven upward pressure on rental levels. Prime rents for 50,000 sq ft units increased by an average of 3.3% during H1, while secondary rents increased by 3.8%. Of the 59 key locations that LSH tracks around the UK, a substantial 35 locations recorded increases in prime rents during H1.
Prime rental growth varied between locations, with Greater London, Yorkshire & the Humber and the East Midlands recording the strongest growth on average, all seeing in excess of 4% growth during the first half of 2021. By individual markets, Barking/Dagenham led with growth of 16%, followed by Park Royal and Sheffield, recording growth of 9% and 8% respectively.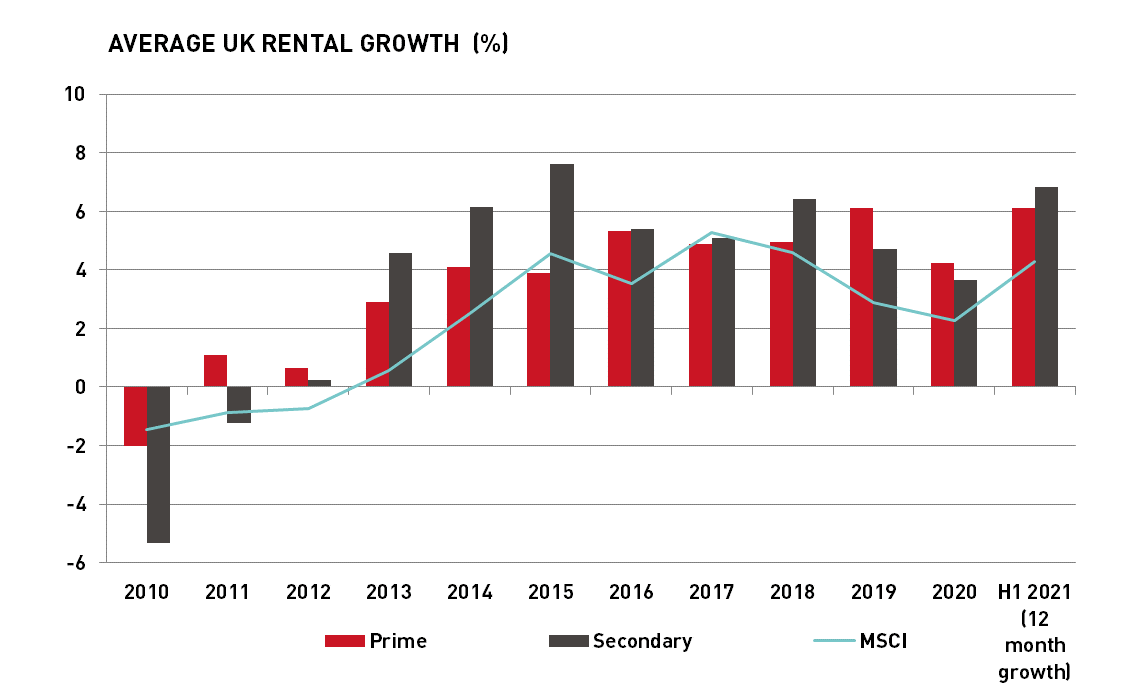 MARKET Insight
Industrial & Logistics Market 2021
Get the full version of our market leading report.
Download PDF