Occupier market
Despite increasing challenges in the wider economy, structural drivers of demand continued to be reflected in impressive take-up and unprecedented rates of rental growth in H1 2022.
STILL IMPRESSIVE
For units over 50,000 sq ft, total UK take-up hit 36.3m sq ft for the first half of the year, up 1% on H2 2021 and 26% above trend. Despite increasing nervousness around inflation and a deterioration in the wider UK economic outlook, take-up also improved during the period; Q2's take-up of 18.6m sq ft was 6% above Q1's level.
However, Q2's strong showing owed much to handful of exceptionally large deals, with Amazon, The Range, Top Hat, Peugeot and DHL among eleven 500,000 sq ft plus commitments in the quarter. Indeed, from a deals perspective, Q2 was a little quieter than of late, with the quarter's 95 deals down 17% on Q1 and the lowest since the pandemic impacted in Q2 2020.
An acute shortage of supply and a pressing need to secure quality space continued to be reflected in the nature of activity. New-build and refurbished spec units accounted for a substantial 42% of H1 take-up, much of which was taken prior to completion. By the same token, reflecting a lack of existing units, secondhand space accounted for only 26% of take-up in H1, the lowest proportion on record.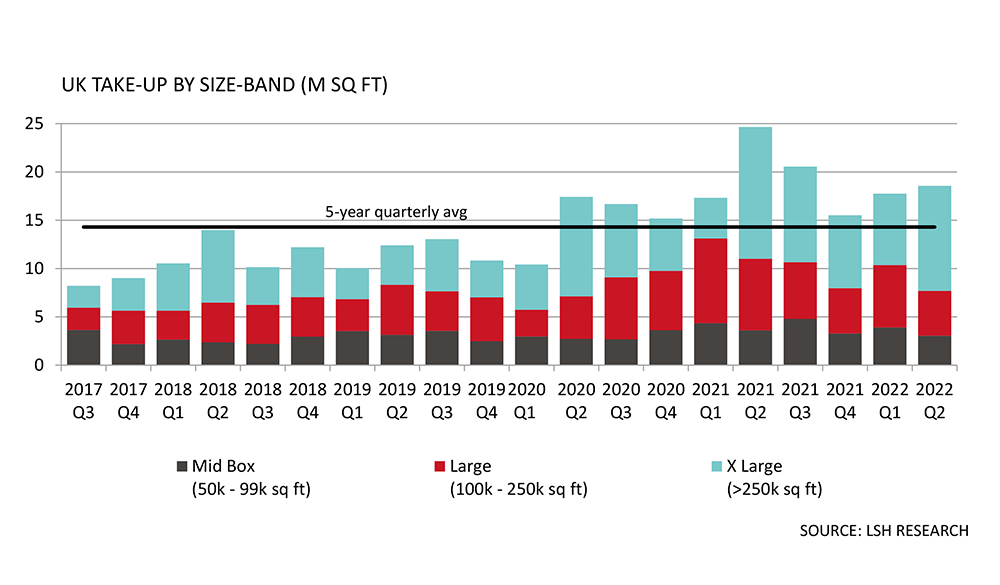 FILLING THE AMAZON BREACH
Amazon's decision to pull out of several key deals earlier in the year did not signal an end to the boom as some had feared. Moreover, reflecting the strong and varied depth of demand, several sites previously earmarked for Amazon were readily snapped up by other occupiers during H1, ranging from supermarket chains to third party logistics providers.
While the move was long-planned, Amazon was nonetheless behind the largest deal by far in H1, with its proposed 2.9m sq ft design and build commitment at Northampton Gateway securing planning consent. Despite growing consumer pressures, this deal amongst others saw the Retail and Wholesale sector command the leading share of activity in H1.
Elsewhere, strong demand continues to emanate from third-party logistics operators and emerging sectors. H1 saw activity from a variety of sources, with film & TV, data centre operators and off-site house builders all competing for space. Notably, recent months have also witnessed a discernible pick-up in requirements from manufacturers, reflecting a growing desire to 'onshore' production and supply chains in the wake of the pandemic.
H1 also demonstrated renewed confidence from Amazon with its announcement of a new logistics platform provider. The move has resulted in additional requirements around the UK and, while its impact on take-up remains to be seen, is testament to the strength of the sector amid an increasingly challenging economic environment.
EAST MIDLANDS BOSSES IT
Against a backdrop of impressive UK-wide take-up, fortunes at the regional level were relatively mixed in H1. The South East and the UK's logistics heartland of the East Midlands both saw record activity on the half-yearly measure, with take-up of 4.3m sq ft and 10.2m sq ft respectively in H1. Elsewhere, four other UK regions saw H1 take-up ahead of their respective averages, while the only clear underperformer was Yorkshire & the Humber, where take-up of 1.7m sq ft was barely half its trend level.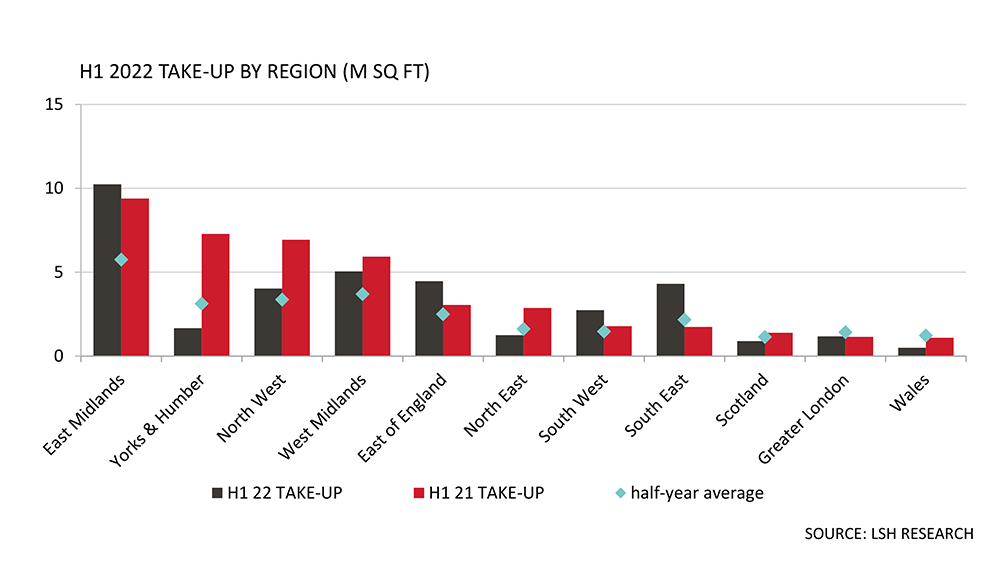 SUPPLY TICKS UP BUT REMAINS LOW
Overall UK supply picked up in H1 2022, the first half-yearly increase since H2 2018. Reflecting a wave of speculative development activity over the past 18 months, UK supply of units in excess of 50,000 sq ft increased by 9% from the record low seen at the end of 2021 to stand at 57.0m sq ft. Supply nevertheless remains very low in an historic context, equivalent to only 1.0 years of average annual take-up and an availability rate of just 3.3%.
The change in overall supply was largely fuelled by the larger end of the market. Total UK-wide XL unit supply picked up by a notable 32% in H1 to stand at 16.7m sq ft as a flurry of spec developments in this size bracket commenced construction in Q1. Meanwhile, Mid box supply continued to fall, ebbing by a further 5% in H1 to a new record low of 16.5m sq ft.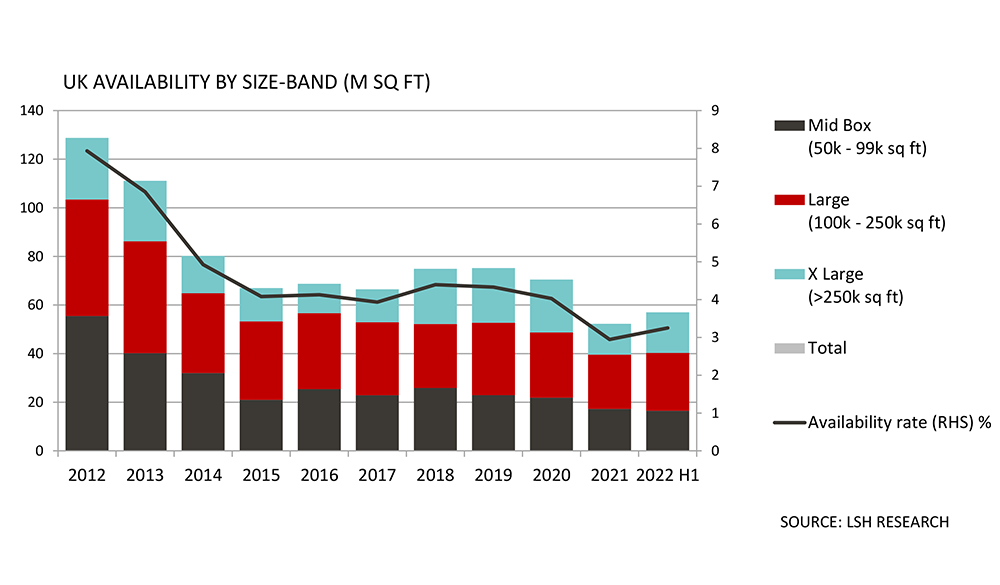 SPEC EASES OFF
Despite the positive occupier market fundamentals, evidence suggests that challenges around construction costs and the outward movement in yields observed in the investment market began to weigh on development appetite in Q2. Spec construction starts amounted to a relatively modest 3.1m sq ft in the quarter, less than half Q1's level. Consequently, while the overall quantum of speculative construction underway remains considerable, it fell 9% from the all-time high at the end of 2021 to stand at 18.7m sq ft at the mid-year point.
The East Midlands is home to the largest share of spec development currently underway in the UK, with 5.6m sq ft progressing at the end of H1. Given pressures on existing supply, schemes under construction make up a large proportion of availability in most of the UK regions, accounting for around half of total supply in the East Midlands, West Midlands and East of England.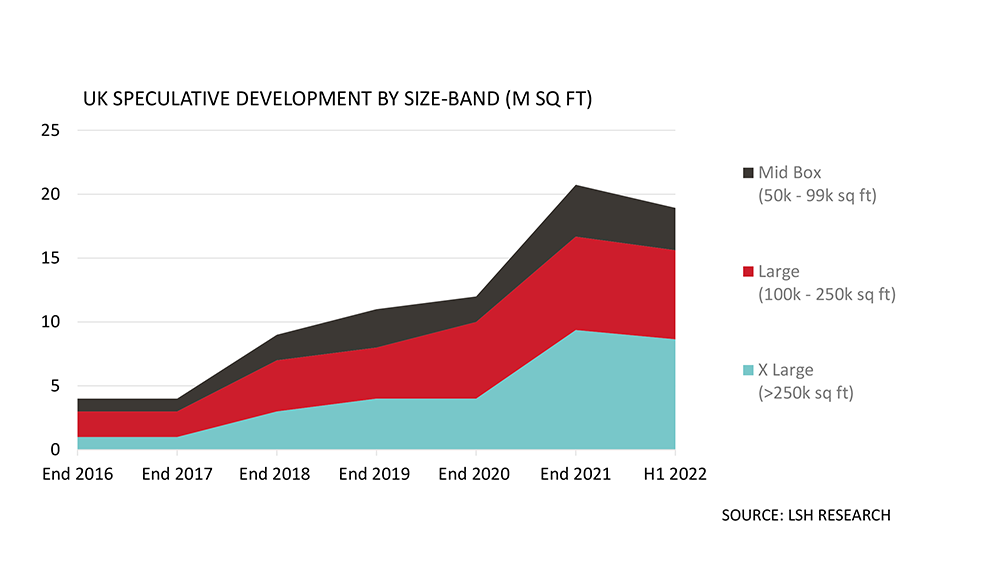 RAPID RENT RISES
A combination of strong demand and relative supply scarcity in H1 continued to drive unprecedented rates of rental growth around the UK. Across the UK's 60 key markets, average prime rents for 50,000 sq ft units increased by 21% over the 12 months to June 22, accelerating from an annual rate of 15% in 2021. However, rental growth has varied considerably, with Greater London and Wales recording the strongest annual growth on average, at 36% and 33% respectively.
Such rates of rental growth are likely to prove unsustainable over the medium term, as occupiers will increasingly have to grapple with sharp increases in both labour and running costs. However, given strong underlying demand for quality space in the market, growth rates are forecast to ease down into single-digit territory over the coming years, as opposed to falling in absolute terms.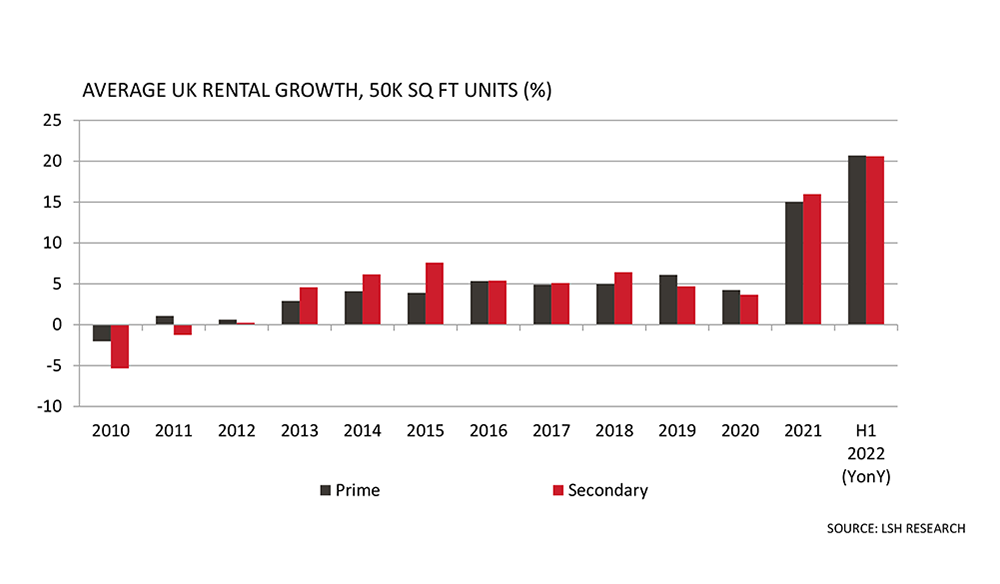 MARKET Insight
Industrial & Logistics Market 2022
Get the full version of our market leading report.
Download PDF