Uncertainty Weighs on Activity
Amid a challenging economic backdrop, UK industrial & logistics occupier demand slowed during the first half of 2023. However, a clear focus of demand on high quality space continues to drive rental growth.
ACTIVITY SETTLES BACK

The pandemic-driven clamour for space appears to have run its course. For units over 50,000 sq ft, total UK take-up hit 20.1m sq ft in the first half of 2023, down 23% on H2 2022 and 30% below the five-year half-yearly average. Activity is back into line with pre-pandemic levels, with H1 take-up only 3% below the half-yearly average seen prior to 2020.
That said, persistently high inflation and a steady stream of interest rate hikes over the first half of 2023 were reflected in a deterioration of activity during the period. Q2's take-up of 8.7m sq ft was 24% down on Q1's level. However, analysing by the number of deals, Q2's drop-off was not as sharp, with only one fewer deal than in Q1.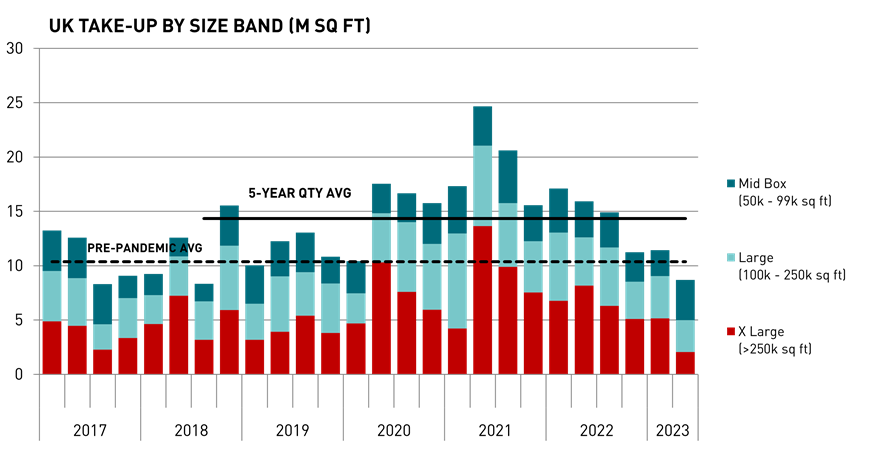 ABSENCE OF MEGA DEALS

While all size-segments recorded take-up below trend, subdued activity at the larger end of the market weighed most heavily take-up. There was a lack of 'mega deals' in H1 with a complete absence of transactions above 750,000 sq ft, compared with six during the previous six months of H2 2022.
Having been key to the boom in 2021, the retrenchment of retail-led activity has been the main drag on recent take-up. The retail and wholesale sector still just accounted for highest share of H1 take-up, at 29%, albeit volume was 45% below trend. More specifically, Amazon's changing role in market has been especially key – having acquired over 25m sq ft between 2020 and 2022, the online behemoth was behind less than 1m sq ft in H1 2023 and was instead actively disposing of 2m sq ft space.
That said, major commitments by retailers were seen in H1, including Sainsbury's' 661,348 sq ft letting of Rugby 661, formerly occupied by Gap, Tesco's 621,000 sq ft pre-let at Panattoni Park Aylesford and TK Maxx's 454,130 sq ft letting at Crewe 460.
3PLS KEEP FOOT ON THE PEDAL

Meanwhile, healthy demand from third-party logistics operators continued relatively unabated, with take-up from the sector in H1 only 5% below the five-year average and accounting for 29% of total take-up. A 3PL operator was also behind the largest deal of H1, namely Maersk's 685,000 sq ft commitment at Segro's East Midlands Gateway.
With retail's easing in demand since the pandemic-boom, the sectors now contribute much more evenly to demand. Following behind third-party logistics operators and retail and wholesale, manufacturing accounted for 25% of H1 take-up, a notable proportion for the sector. Significant deals included Hankoook Tyre's 357,221 sq ft pre-let at DC9 Prologis Apex Park, Daventry and Space4's 493,000 sq ft new factory in Loughborough.
QUALITY COUNTS

The strong focus on demand for quality space continued apace into 2023. Occupiers' increasingly discerning attitudes around quality, ESG credentials and energy efficiency was reflected in grade A space accounting for 73% if take-up in H1, above the five-year average of 66%. Meanwhile, only 5.1m sq ft of second-hand space transacted in H1, the lowest half-year total on record.
WEST MIDLANDS DEFIES TREND
H1 activity was subdued across most of the UK regions. However, the West Midlands defied the trend with take-up of 3.8m sq ft 5% above its five-year average. The South East was also relatively resilient with take-up of 2.4m sq ft in line with trend. In contrast, the North East was H1's weakest performing region against trend, with take-up 84% down on its average and home to only three transactions above 50,000 sq ft.
IMPROVING CHOICE FOR OCCUPIERS
UK-wide supply has continued its upward trajectory since hitting an all-time low at the end of 2021. UK supply of units above 50,000 sq ft increased by 14% in the first half of the year to stand at 72.5m sq ft, reflecting both high levels of speculative development and second-hand space coming back to the market. However, supply remains tight in its historic context, equivalent to only 1.3 years of average take-up.
While all size segments recorded an increase in supply in H1, the XL segment (units above 250,000 sq ft) was the biggest contributor to the uplift. Total UK-wide XL unit supply picked up by a notable 31% in H1 to stand at 25.9m sq ft, boosted by several spec developments commencing construction and occupiers disposing of excess space in this size bracket.
Meanwhile, the large segment showed the most limited movement in supply, increasing by 4% during H1 to stand at 27.5m sq ft. While mid box supply increased by 9% during H1, it is the only segment where current supply stands below its five-year average level.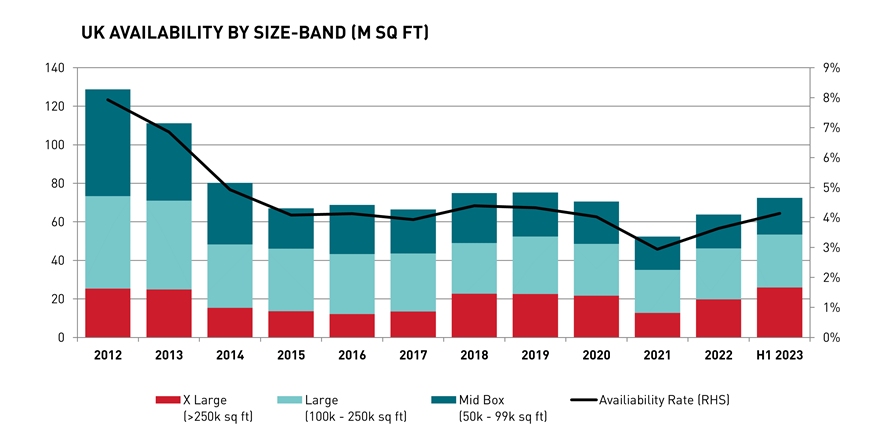 Supply varies significantly across the UK regions. Having been undersupplied prior to the pandemic, Greater London is now the most well-supplied UK region based on average take-up levels, equivalent to 1.9 years of average take-up. Meanwhile, the North East and East of England are the tightest regions, each with supply equivalent to less than one years' worth of average take-up.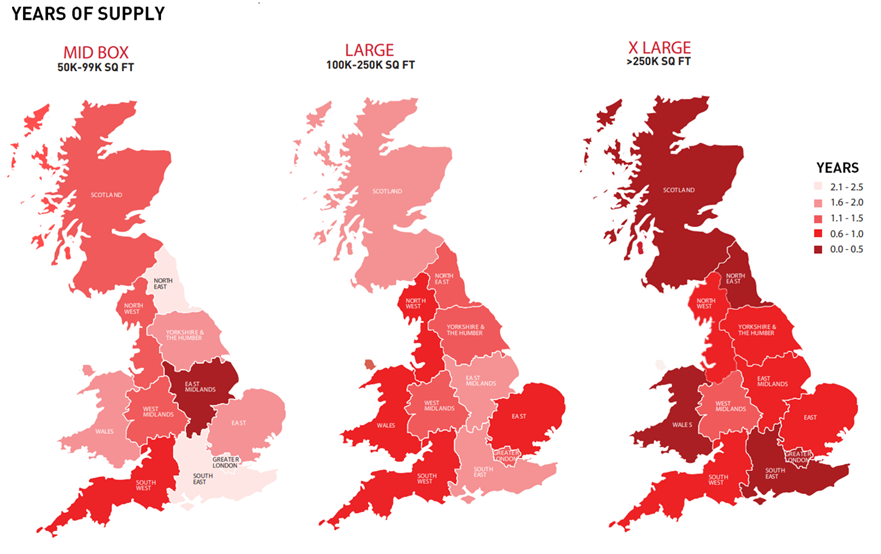 SPEC DEVELOPMENT EASES
Challenges surrounding cost of finance and construction along with the market dynamics are weighing heavily on development appetite. Speculative development under construction at the end of H1 totalled 21.4m sq ft, falling 9% from the all-time high at the end of 2022. The East of England saw the sharpest reduction, falling almost 60% to stand at just over 700,000 sq ft.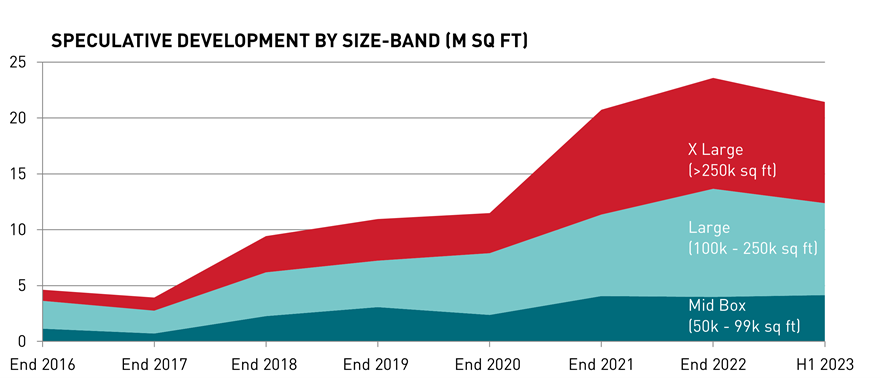 That said, over 4m sq ft of spec development commenced H1 2023, with several regions witnessing an increase in construction activity. Greater London saw spec development increase by 50% since end the of 2022, with 1.7m sq ft now under construction across 15 units.
Our analysis of anticipated spec development starts points to a continued easing in development, with 16m sq ft of spec deemed likely come forward over the next 12 months. However, given the continued rises in interest rates and dampened economic outlook, it is likely that many developers may delay putting spades in the ground without securing a pre-let, reducing the anticipated volume.
Positively, the slowing pipeline should assuage any fears of potential oversupply in the market, with supply expected to peak towards the end of 2023 then gradually contract during 2024 amid improving confidence in the occupier market.
LAND VALUES STABILISE
While the turbulence in the financial markets impacted heavily on land values in the second half of 2022, a degree of stability has returned in 2023. According LSH's UK industrial land value index, prevailing sentiment indicates that average values fell by 5% during H1 2023, compared to the sharp fall of 36% in H2 2022.
PRIME RENTAL GROWTH EASES
The pace of rental growth has been easing since the heights of 2021 but, unlike other property sectors, it remains firmly in positive territory. Across the UK's 60 key markets, average prime rents for 50,000 sq ft units increased by 8% over the 12 months to June 2023, down from 15% in 2021. Growth also eased through the period, increasing 3% in H1 2023, down from 4% in H2 2022. However, rental growth has varied considerably, with the key markets of the North West recording average growth of 13% over the last 12 months.
Given occupiers preference for quality space with strong ESG credentials, and a slowing in the development pipeline, growth rates are forecast to continue easing as opposed to falling in absolute terms, but nonetheless compare favourably with other property sectors in the current climate.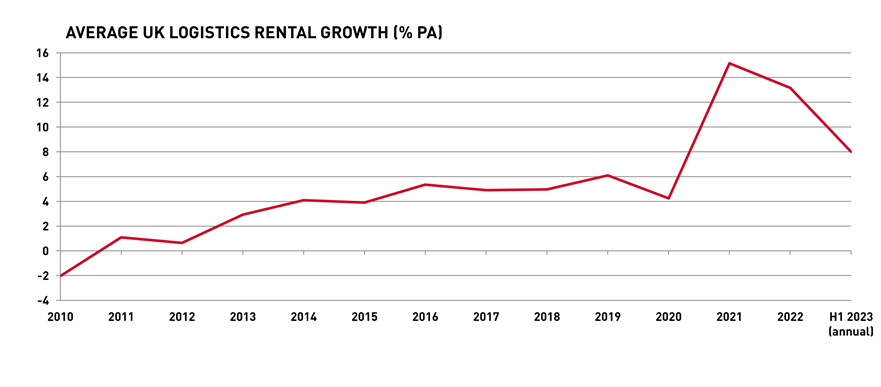 MARKET Insight
Industrial & Logistics Market 2023
Get the full version of our market leading report.
Download PDF