Occupier market
Against a challenging backdrop of a global pandemic and a dash of Brexit uncertainty, 2020 was a phenomenal year for UK industrial and logistics. The pandemic has played right into the hands of the sector, fuelling occupier demand and accelerating structural change.
RECORDS SMASHED
Looking across all the segments combined, UK-wide take-up was a stellar 59.7m sq ft in 2020, the highest annual total on record and surpassing 2016's previous high by a massive 23%. The result is all the more impressive given the tepid start to 2020, with Q1 activity partly constrained by the growing uncertainty surrounding the spread of COVID-19.
After Q1, however, activity surged to new unprecedented levels over the remainder of the year. Q2 take-up of 17.4m sq ft smashed the previous record for a single quarter, with activity continuing at full throttle into the second half of the year. The pandemic certainly had a role in stimulating demand; over 6m sq ft of take-up was directly linked to pandemic contingency measures, while the huge consumer switch to online galvanised many occupiers into pressing ahead with their plans.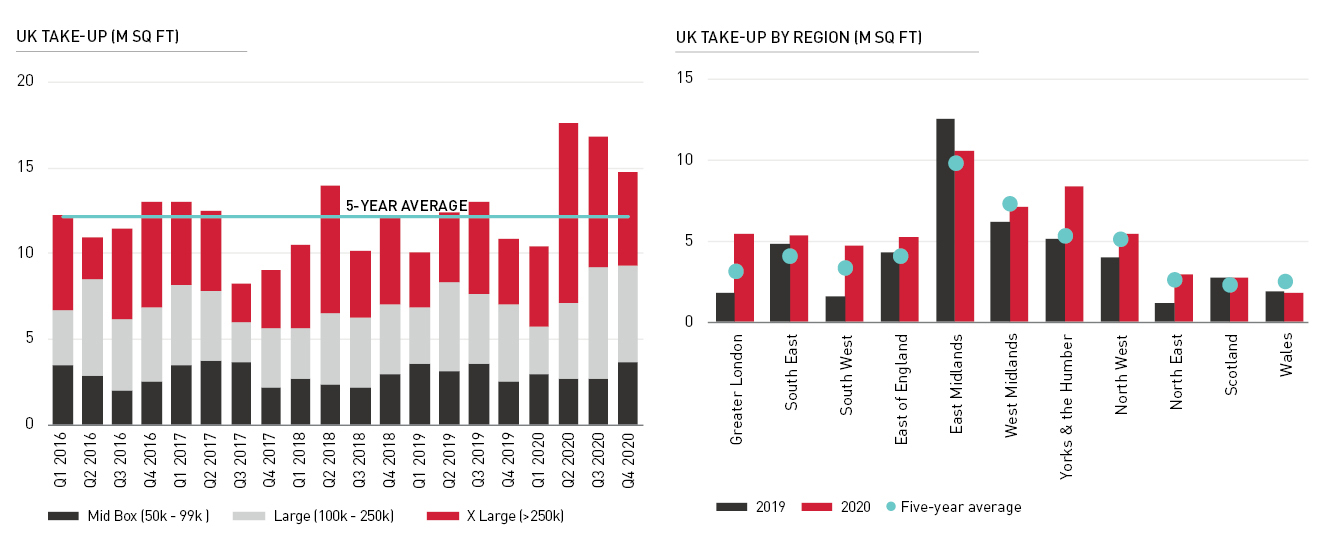 ALL ABOUT AMAZON?
Amazon has come to be synonymous with the sector in the public's imagination, and the same was abundantly true of 2020. By itself, the online retail giant accounted for a massive 20% of the entire market and was behind a flurry of colossal deals, three of which were in excess of 2m sq ft.
Yet, tellingly, even if Amazon's exploits are discounted, 2020 would still have been a record year of take-up. Strong demand emanated from a variety of sources, including the major supermarket chains, 3PLs and emerging players in the arena of ecommerce, such as Hello Fresh and Gousto. There was also real depth to the market in 2020, with 357 separate occupier transactions, 12% above the five-year annual average.
BIG FOCUS ON QUALITY
Occupiers continue to show strong appetite for quality space, with investment into future-proofed supply chains becoming a key priority. Across all segments, grade A space accounted for a record 69% share of UK-wide take-up in 2020, fuelled largely by a spike in the delivery of speculative development and design and build deals.
2020 saw contrasting fortunes between the three size-segments. Having been the star performer in 2019, mid box take-up slipped to 12.0m sq ft in 2020, down 7% year-on-year but nonetheless 2% ahead of the annual average.
Meanwhile, due in large part to Amazon, takeup in the XL bracket surged to a new annual record of 28.0m sq ft in 2020, smashing 2018's previous high and 40% above the annual average. The large segment also enjoyed a strong year in 2020, with take-up hitting a six year high of 19.7m sq ft, up 16% on both 2019 and the five-year average.
STRONG DEMAND ACROSS THE REGIONS
An impressive nine out of eleven regions saw above trend take-up in 2020, reflecting the strength and breadth of demand across the UK. The strongest performing regions relative to trend, namely Greater London, Yorkshire & the Humber and the South West, were all fuelled by especially large Amazon deals. While this certainly skewed performance for the latter two regions, Greater London enjoyed record activity across the segments.
In contrast, Wales was the UK's worst performing region in 2020 with take-up 26% below its annual average. While take-up in the West Midlands was also slightly below trend, it nonetheless rebounded 15% year-on year and performed strongly in the large and XL segments.
SUPPLY FALLS DESPITE RECORD DEVELOPMENT
Despite a marked development response over recent years, UK supply has fallen consistently over the past decade. At the end of 2020, supply amounted to 73.4m sq ft, edging down by 6% from 2019 and equivalent to less than half its peak level in 2010. Across all segments combined, current supply is equivalent to only 1.5 years of average annual take-up.
Each of the size-segments recorded a fall in supply during 2020. The large segment saw the the strongest reduction, falling by 10% year-on-year. It was a similar picture with regard to grades, with both grade A and second-hand supply falling, by 5% and 7% respectively.
In spite of the disruption caused by the pandemic, developers have continued to respond to strong occupier demand with speculative development. UK-wide spec development activity hit an all-time peak of 11.5m sq ft at the end of 2020, up 5% on 2019's previous peak.
While mid box has been the focus of speculative development activity in recent years, the large segment saw the strongest growth in 2020 and now accounts for almost 50% of development. Developers are also showing increasing confidence to commit to larger schemes, reflected in the average size of units under construction increasing 13% year-on-year to 153,000 sq ft.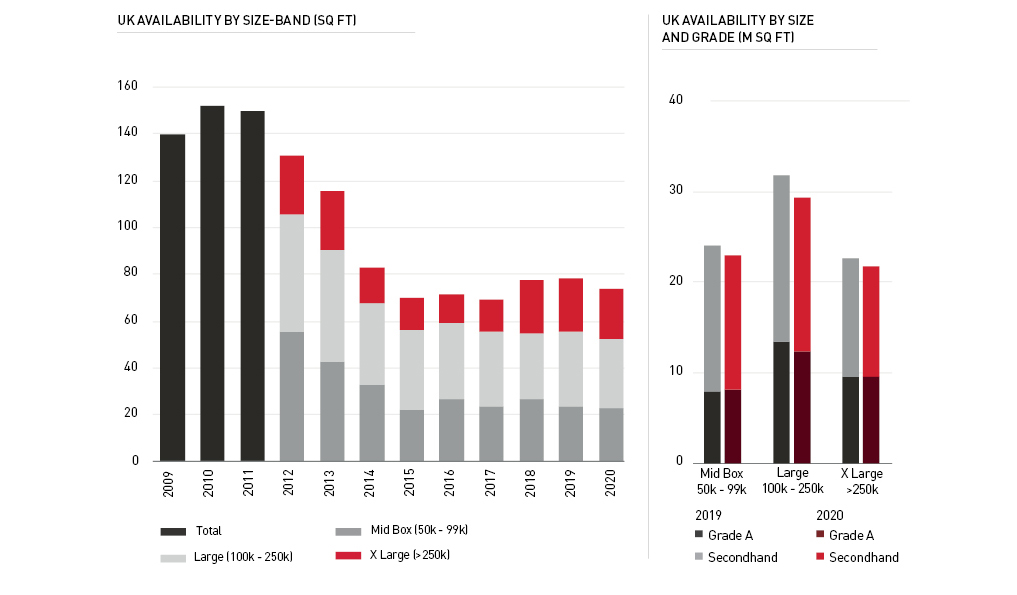 SOUTH EAST SEES SHARPEST FALL IN SUPPLY
Against a backdrop of falling overall supply, there were notable differences at the regional level. Supply actually picked up in five UK regions during 2020, most notably Greater London where supply recovered by 25% from its record low in 2019. Despite a rebound in take-up, the North West witnessed the strongest increase in supply, fuelled by a combination of second-hand units coming back to the market and a wave of speculative development.
Meanwhile, the South East saw the sharpest year-on-year percentage fall of any UK region, reflecting both impressive take-up and relatively limited speculative development. Likewise, the West Midlands saw supply ebb to a record low in 2020, albeit significant new spec supply is anticipated to come through in 2021.
RENTAL GROWTH MARCHES ON
In contrast with other property sectors, upward pressure on rental levels was sustained throughout much of the UK during 2020. However, the rate of growth eased from previous years, with the average prime rental growth reducing from a peak of 6.1% in 2019 to 4.2% in 2020 for 50,000 sq ft units. Prime rental growth outperformed secondary rents for a second successive year, with secondary rents increasing by 3.7% on average in 2020.
Prime rental growth varied considerably between locations, with Greater London, the North West and the East Midlands recording the strongest growth on average, all seeing in excess of 7% growth during 2020. By individual markets, Croydon led with growth of 29% in 2020, followed by Crewe and the Wellingborough/Kettering/Corby market, both recording growth of 13% respectively.
Notably, LSH's rental growth for both prime and secondary in 2020 has run ahead of MSCI's valuation-based measure of UK industrials, which stands at 2.3% on its quarterly measure. However, it mirrors the easing down of the rate of growth seen in LSH's trend, slowing from a rate of 2.9% in 2019.
MARKET Insight
Industrial & Logistics Market 2021
Get the full version of our market leading report.
Download PDF