Occupier market
While the pandemic-fuelled race for space ended during 2022, the year was nonetheless the second strongest on record for take-up. And, with the market moving to a better balance of supply and demand, rental growth is easing down from the unprecedented levels of the recent past.
QUALITY COUNTS
Considering the economic and financial travails of 2022, UK-wide take-up hit an impressive 60.5m sq ft for the year, just edging out 2020 to be the second strongest year on record behind 2021's colossal performance. However, as the year progressed, it became clear the pandemic-driven clamour for space had run its course, with take-up in the final quarter of 2022 sliding back into line with pre-2020 levels.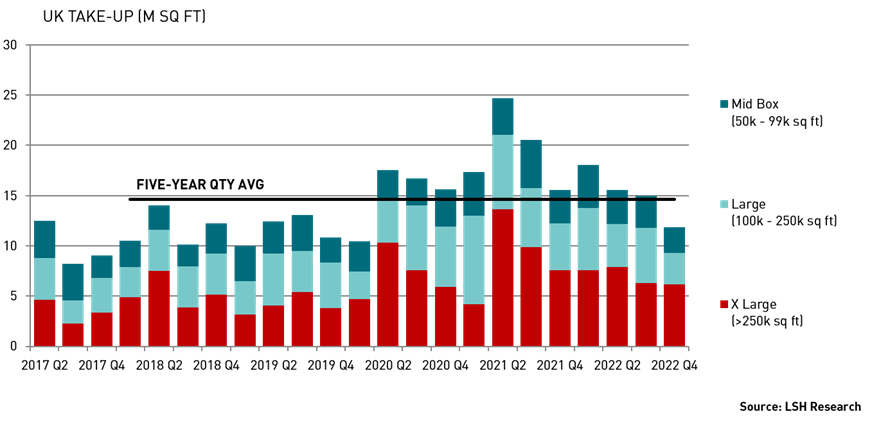 The scaling back of ecommerce activity was the main reason for the downward shift in take-up; Amazon was behind only 1.5m sq ft of transactions in 2022 compared with 13m sq ft in 2021. However, strong momentum was sustained in other sectors, with third party logistics keeping its foot on the pedal and low carbon-related industries behind some major manufacturing commitments.
While 2021 boasted almost every conceivable record, a key characteristic of 2022 was the focus of demand on quality space, a trend that is expected to continue over 2023. Underlining occupiers' increasingly discerning attitude around quality, ESG credentials and energy efficiency, a record 45% share of 2022's take-up involved new spec or refurbished units. The ready absorption of new build space has vindicated developer decisions to spec-build at such a grand scale over the past two years.
BACK TO EARTH
The expansion-driven frenzy spurred by the pandemic may be over but there are nonetheless grounds for optimism for the year ahead. The looming recession is now looking to be much shallower and less protracted than feared, while improving certainty should instill greater confidence among occupiers to make property decisions despite the increased costs.
While the growth of ecommerce will continue to underpin demand, the focus has shifted from raw expansion to optimisation of supply chains. Demand will reflect a growing emphasis on improving both supply chain efficiencies and resilience. Brexit and the experience of the pandemic are fuelling increasing moves towards nearshoring / onshoring of manufacturing and distribution hubs within the UK and this is expected to ramp up in 2023.
Active demand is admittedly thinner compared with the start of last year but stands at a healthy level when placed into a long-term context. After a relatively quiet Q1, activity is expected to build thereafter and culminate in circa 48m sq ft of take-up for 2023 as a whole. Although this does not come close with the levels of recent years, it is nonetheless appreciably higher than the pre-pandemic average.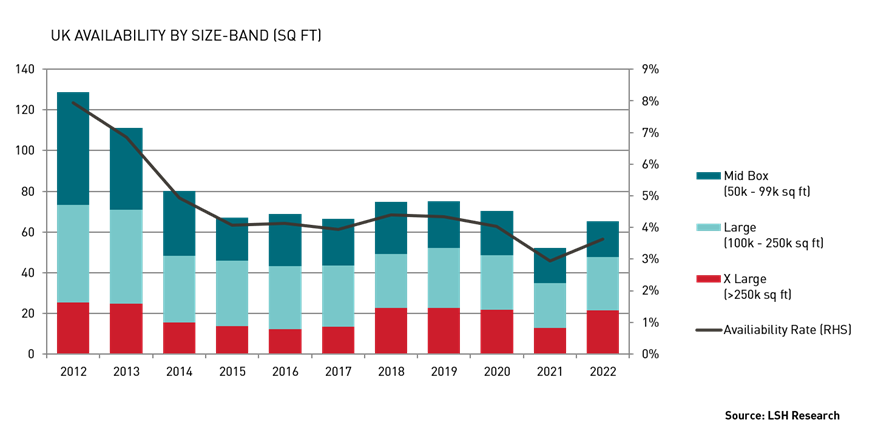 BACK INTO BALANCE
Despite the unravelling of financial market conditions last year, speculative development soared to a new high of 23.6m sq ft at the end of 2022. However, supply only partially recovered from 2021's low, with the UK availability rate standing at only 3.6% and equivalent to only 1.1 years of average annual take-up. However, supply varies considerably between size-segments and regions, with the large segment seeing a notable 58% uptick in grade A supply over the year.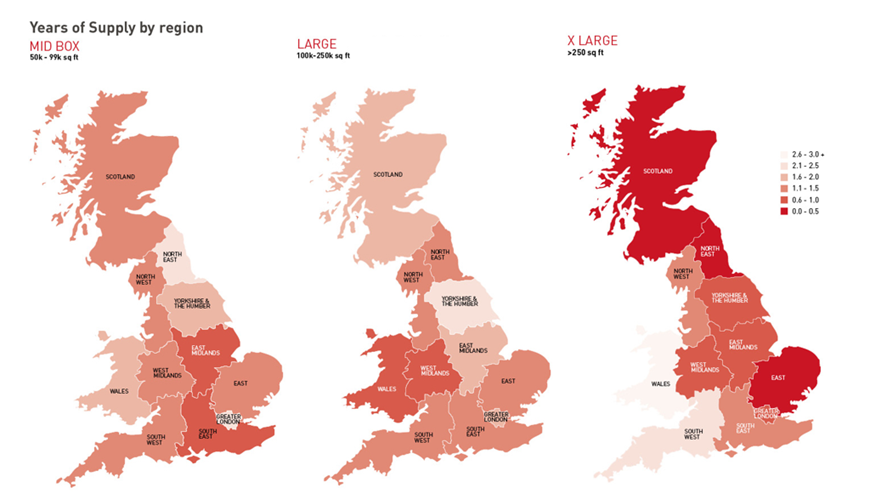 The market is expected to continue to move back into balance in 2023, but little more than that. While build costs appear to have stabilised, the severe outward movement in yields seen in the second half of 2023 has challenged scheme viability, particularly for developers that purchased land towards the top of the market. Consequently, speculative development has almost certainly now peaked, with an estimated 13m sq of new speculative development starts anticipated in 2023, half 2022's level.
Less certain is how much secondhand space will come onto the market in 2023, both from landlords and an number of occupiers that overextended themselves in the pandemic race for space. In today's less expansive market, occupiers' focus on upgrading to higher quality space may signal the beginnings of a steady rise in secondhand supply over the coming years. However, even allowing for this, the UK availability rate is forecast to only nudge up to circa 4% by the end of 2023, which is still very tight in its historic context.
MORE GROWTH BUT PATCHIER
Rental growth is now starting to ease down after two years of unprecedented expansion. While prime headline rents increased by 13% on average across the UK markets in 2022, growth was a relatively modest 4% in the second half of the year. This slowing is partly a function of more choice stemming from development and also, frankly, the declining ability for some occupiers to pay ever more for space without being forced to relocate or drive efficiencies elsewhere in the supply chain.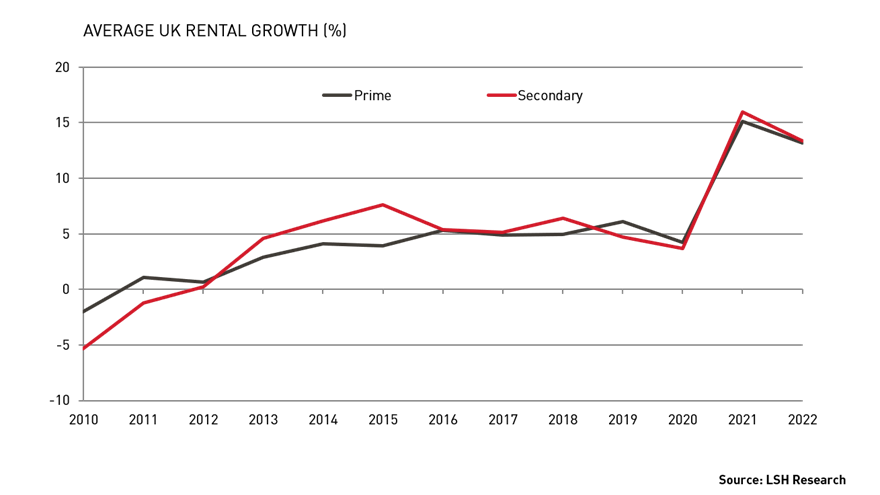 Nonetheless, despite a sharp rise to operating costs, economic headwinds and the prospect of significantly higher rates bills in parts of the UK, overall levels of supply remain broadly conducive for continuing rental growth into both 2023 and beyond. Across the UK, prime rental growth is forecast to run at circa 4% in 2023, a downwards step change from recent levels but nonetheless comparing well with other property sectors in the current climate.
However, there is likely to be significant variation between markets and size-bands. While rents appear to have topped out for now in some of the prime locations, there remain pockets of as yet untapped growth in many locations around the UK, some of which may be able to achieve growth in the double digits. Areas of potential include once secondary locations that now offer relative value and / or benefit from transport infrastructure improvements and the XL segment more generally.
MARKET Insight
Industrial & Logistics Market 2023
Get the full version of our market leading report.
Download PDF