how can we help?
Our experts act across the entire property and development lifecycle. Take a look at how we can help you achieve your business and property objectives.
Acquisition and tenant representation
Landlords and owners
Leaseholders and occupiers
Acquisition and tenant representation
We take the stress and uncertainty out of your office move and carry out negotiations with your landlord.
Office acquisition and tenant representation
We can manage the office acquisition process on your behalf. This reduces disruption to your business and allows us to deliver great value.
The stages where we add value include:
Identifying and agreeing your office requirements
Advising on appropriate size and grade of office property
Recommending a lease structure to suit your business needs
Conducting a search to identify potential options, on and off market
Agreeing Heads of Terms on your behalf and minimising or limiting liabilities
Negotiating a rent free period and/or incentive package
Liaising with solicitors to ensure the lease is reasonable
Managing the timescale and seeing the transaction through to completion
Agreeing the best terms for your business
The headline financial terms are important in any deal but we will also focus on agreeing a balanced package of terms. The following points are often poorly negotiated and can leave tenants exposed:
Repairing obligations
Alienation rights
Break option conditions
Liability for landlord fees
By acting on your behalf we can ensure the package of terms is appropriate to the circumstance and represents good value.
Landlords and owners
We can help you maximise the performance of your office property and generate more income.
We work with a range of clients in the office market, from owner occupiers to funds and public sector organisations, and have a proven track record of delivering results.
Generating income from your office property
We are the most active office agents in the UK, doing more deals than anyone else. This gives us a unique understanding of the markets we service.
To help you let or sell your office property we will:
Advise on market terms
Recommend a letting strategy
Design a bespoke marketing campaign
Liaise with potential tenants/purchasers and conduct viewings
Negotiate terms on your behalf, maximising the benefit to you and minimising voids
See the transaction through to completion
We will always aim to structure transactions to suit your specific needs, whether that involves establishing headline rents or generating immediate income.
Turning surplus office space into additional income
We can turn surplus office space into an additional income for your business.
We work with specialists from our lease advisory, development, planning and building consultancy teams to advise companies on how to maximise the potential of their office properties. This may involve:
Letting office space
Retaining tenants
Change of use
Redevelopment
Refurbishment
Improving energy efficiency
Leaseholders and occupiers
We can help you make the most of your leasehold office property.
Leasehold disposals of office property to minimise exposure and risk
If you have a lease that you no longer require, you have a range of options, including subletting, assignment and surrender.
We can help minimise your exposure and mitigate your liability. The strategies relevant to a leasehold disposal are varied and we are experts in providing the solution that's right for our clients.
Where appropriate, we will mount a focused marketing campaign that delivers results.
Due to our extensive coverage of the UK we are always close at hand to your property and know your market.
Read more about our legacy and surplus portfolio management service here
Using lease events to your advantage
Whether you are looking to renew or relocate, our expertise and market knowledge will help you find the right office space for your business.
By understanding your lease situation, and where your business is going, we can formulate a strategy to help achieve your business goals, whilst making your office occupation as cost effective as possible.
Lease events such as breaks and expiries provide companies with opportunities to review their office accommodation. Working with our Building Consultancy and Lease Advisory teams we advise occupiers on how to exploit these opportunities. Areas that we can directly assist with include:
Break options
Lease renewal/regears
Relocation
Occupational strategy
MARKET Insight
Total Office Cost Survey
Through the comparison of rents, business rates, service charges and other property costs in locations across the UK, TOCS can help organisations to benchmark their own costs against prevailing, real time levels.
Launch app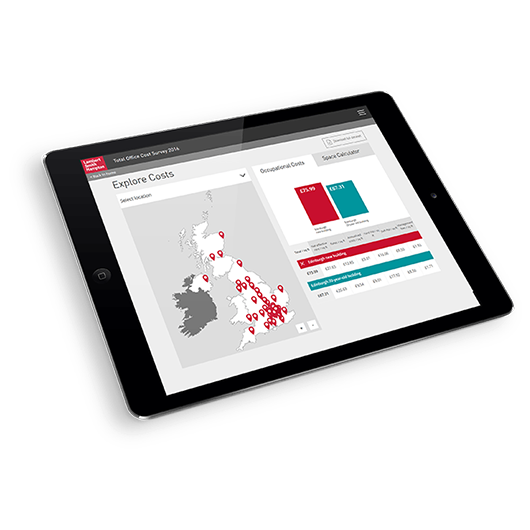 MARKET Insight
Office Market Pulse
Explore office market take-up, availability, rents, prime land values and key deals across the UK.
Launch app