REVALUATION TIME
All commercial properties in the United Kingdom are assessed for non-domestic rates based upon open market rental values. On 1 April 2023, all commercial properties across England & Wales will be reassessed for the purposes of non-domestic rates. The impact of the 2023 revaluation depends on how rental values have changed over the six years since the last valuation date in 2015. As we predicted last year, industrial properties are going to see significant increases in business rates over the next few years.
These increases come at a testing time for industrial and logistics occupiers, many of whom are already grappling with eyewatering increases in operating costs. The increased cost burden relates to both property-related costs, through strong rent rises and higher energy bills, and non-property costs, via increased costs of goods transport and labour.
Download our Industrial & Logistics Market 2023 report →
INDUSTRIAL FEELS THE IMPACT
Fuelled by structural change and accelerated by the effects of the pandemic, industrial and logistics has significantly outperformed the main commercial property sectors in recent years. A cocktail of record take-up and undersupply has driven unprecedented rates of rental growth, both in the run-up to the 2021 valuation date and beyond.
The growth in rents up to April 2021 and its effect on 2023 rateable values has recently been revealed by the VOA. Across England and Wales, industrial properties are set to see a 27% average increase in rateable values, considerably higher than the 7% average for all commercial properties. The retail sector is the clear beneficiary, with rateable values down by -10% on average.
LONDON AND THE SOUTH EAST HIT HARDEST
Due to geographical contrast in levels of rental growth, changes in rateable values are far from uniform. At the regional level, average growth in rateable values is, predictably, strongest in Greater London (up 33.1%) and the surrounding regions of the East (up 35.1%) and South East (up 33.5%). However, as the map illustrates, there is also wide variation within the regions of England and Wales themselves.
GROWTH IN INDUSTRIAL RATEABLE VALUES IN ENGLAND & WALES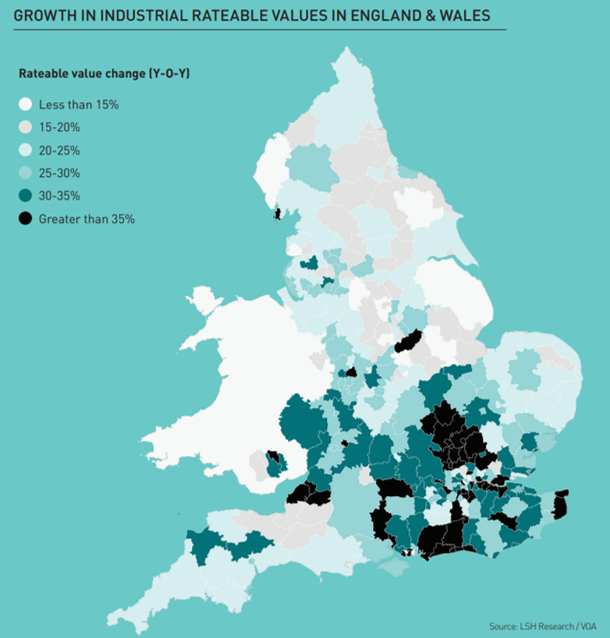 The size of the industrial premises also has a key bearing on the extent of the increase. Indeed, for many larger warehouses located in and around Greater London rateable values are set to more than double and, at the extreme end, some of the larger properties around particular London hotspots will see a near-trebling in their rateable value.
SMALL UNIT OCCUPIERS GET MORE PROTECTION
Although the 2023 rating revaluation will hit the industrial sector hardest, the government has rightly offered some shielding in areas with large increases in rateable value though its transitional relief scheme. This effectively caps year-on-year increases in the rates liability up to 2026, and is set in three different tranches according to the rateable value amount, as detailed below.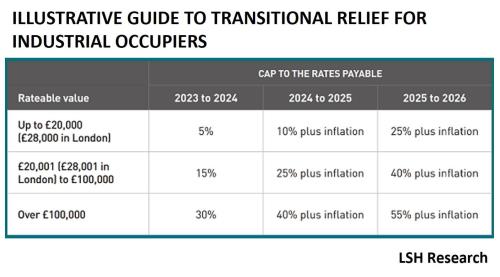 The program of transitional relief affords occupiers of smaller properties with a considerable amount of protection from large increases in rateable values. Meanwhile, however, even with the transitional scheme in place, larger properties with higher rateable values could potentially see substantial year on year increases in liability across all three years of the new rating list.
RATE RISES IN CONTEXT
For those properties that will see the largest increases in rateable value, the phasing in of substantially increased rates liabilities will feed into tangible increases to overall occupational costs.
Using a case study based on an actual property in East London - a very high growth area for rateable value change - the chart below places the rate rises into a wider context with overall occupational costs. As can be seen, due to less generous transitional relief arrangements associated with larger buildings, the rates payable are set to jump sharply from April 2023 and ratchet up further to 2025/26.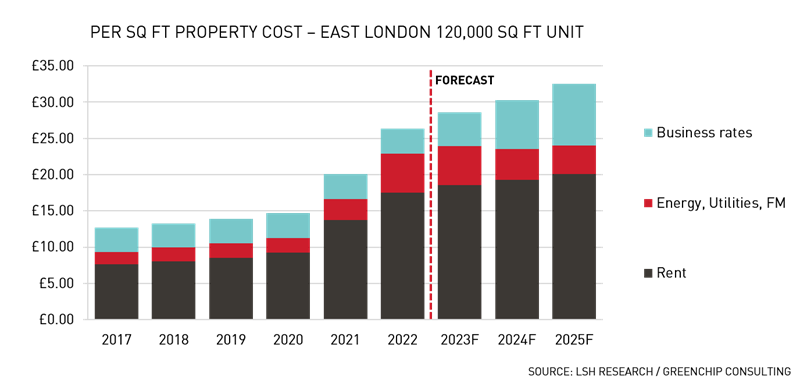 Furthermore, for many occupiers of larger properties, increases in business rates will provide the main component of growth in overall projected occupational costs between the end of 2022 and 2026. Indeed, with clear signs that the energy price shock of 2022 is increasingly behind us, the rise in business rates will more than offset the forecast reduction of energy costs by 2024.
MIXED IMPACTS
Quite how these elevated costs will impact upon occupiers depends on a host of variables and, ultimately, businesses' ability to pass costs onto consumers. In the logistics space, overall property costs, high as they now are, still represent a relatively small part of the overall cost base when considered alongside transport and labour costs (approximately 30%), which themselves have seen pronounced increases over the past 18 months.
However, with many businesses in the logistics landscape operating with tight margins, the prospect of sharp rises to business rates will be hard to stomach alongside everything else. While the Government is unlikely to reconsider the transitional relief for larger properties, as is always the case, occupiers will be able to appeal the increases if there is evidence to suggest that the 2023 rateable values are inadequately reasoned.
Download our Industrial & Logistics Market 2023 report →
HOW CAN WE HELP?
Lambert Smith Hampton's business rates experts are located throughout the UK and have access to unrivalled market knowledge through our national network of offices. Access to this market data coupled with our business rates expertise means we are ideally placed to provide advice to both occupiers and owners of industrial properties on the scope for challenging the new 2023 rateable values and other potential ways to mitigate business rates liabilities.
Get in touch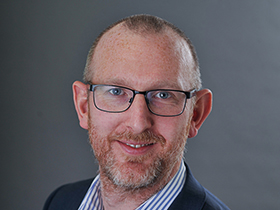 Oliver du Sautoy
Head of Research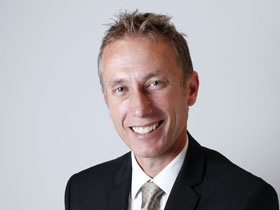 Paul Nash
Senior Director - National Head of Rating
REGISTER FOR UPDATES
Get the latest insight, event invites and commercial properties by email