After a tumultuous couple of years, the serviced office sector is on the rise again. It is both providing temporary solutions for occupiers still formulating post-COVID workplace strategies and offering products that will increasingly cater to businesses' longer term office needs.
Download the Regional Office Market Report 2022 here
THE RISE, FALL, AND RISE AGAIN
The serviced office sector has been on a rollercoaster ride over recent years. At its peak in 2019, it accounted for c. 10% of regional office take-up, and c. 20% in Central London. Activity in London, in particular, was fuelled by the rapid expansion of WeWork, but doubts over the sustainability of this firm's growth were already ringing alarm bells before the pandemic struck.
When the COVID lockdowns came, mass homeworking caused businesses' demand for serviced office space to temporarily collapse. This created enormous challenges for operators and their take-up of office space almost entirely dried up, accounting for only c. 1% of regional market activity in 2020.
However, serviced office operators have since found their feet again, as moves to more flexible working practices have driven demand for serviced space. The success of existing high quality schemes has led to a new raft of requirements from both traditional heavyweights and emerging brands.
While take-up remains well short of the peak pre-pandemic years, it has recovered from 2020's nadir, to represent c. 5% of regional office demand over the last two years.
BACK TO THE BIG SIX
Post-pandemic, serviced office acquisitions have primarily focused on the larger city centre markets, with Manchester seeing a particularly strong resurgence in demand. Orega (26,000 sq ft at 1 Balloon Street), and Huckletree (11,373 sq ft at Express Building) have both recently expanded their presences in the city, while Gilbanks has made its Manchester debut at 11 York Street (21,778 sq ft). Other serviced office highlights during 2022 have included deals to Wizu Workspace (24,350 sq ft) in Glasgow; Runway East (16,442 sq ft) in Bristol; and 2-Work (13,551 sq ft) in Leeds.
However, recent take-up volumes underplay the level of demand in the market. In Bristol alone, LSH is aware of c. 400,000 sq ft of unsatisfied live requirements from serviced office operators.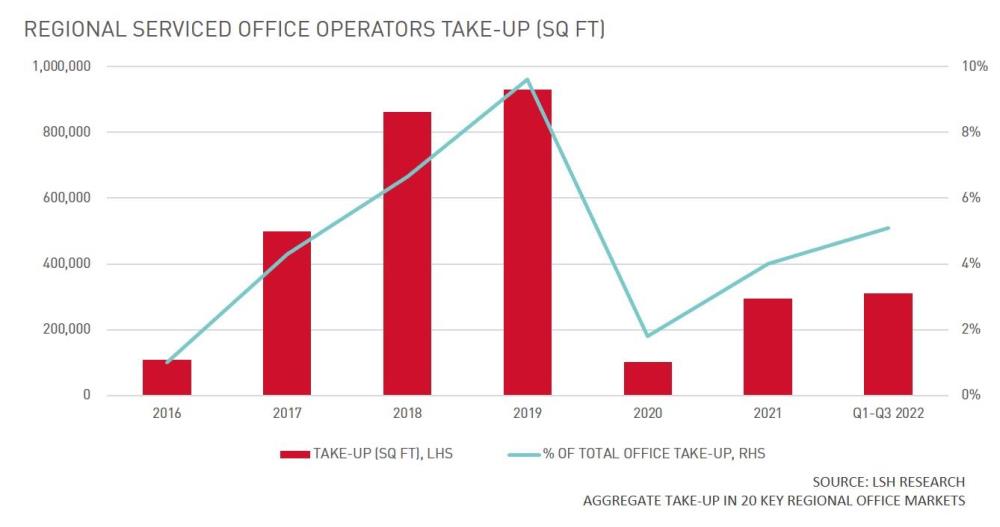 IMPROVING OCCUPANCY
The recovery in serviced office provider take-up reflects strong occupancy levels and growing appetites to expand. High profile operators are reporting that occupancy rates are now close to or above pre-pandemic levels. WeWork has said that its global occupancy was 71% in Q3 2022, up from a low of 46% in Q4 2020, and matching pre-COVID levels. IWG has reported that UK occupancy was 69.9% in H1 2022, which is higher than it was in 2019.
However, performance varies widely across the sector, with many higher quality new products having occupancy rates of 90%+. In contrast, there is a significant volume of older serviced office space where occupancy rates are much lower.
Many older serviced offices now appear dated or obsolete as they fail to meet modern occupiers' expectations for high quality amenities, wellbeing features and ESG credentials. Considerable capital expenditure would be needed to bring such offices up to contemporary standards. Serviced office operators with modern, amenity-rich products thus have a huge competitive advantage, and are well positioned to benefit from the current flight to quality among occupiers.
MEETING POST-PANDEMIC DEMAND
The agility that serviced offices provide to occupiers has been a key advantage in the post-pandemic period. In an uncertain environment, occupiers have valued flexibility above almost anything else. The ability to expand, contract or terminate leases at relatively short notice has been highly beneficial to companies still developing their workplace strategies, and firms have been willing to pay a premium for this flexibility.
This has helped serviced offices to absorb demand from occupiers seeking short term options while they await greater clarity around business conditions and workplace policies. However, the sector is now also increasingly providing more permanent solutions for businesses seeking to implement hybrid working models mixing home and office work.
In a major coup for the sector, Currys made a permanent switch to serviced offices earlier this year to support a hybrid working policy. It vacated its head office, deciding instead to provide its 1,400-strong corporate workforce with WeWork passes. Currys is thought to be the first UK company of its size to move almost all of its office space to a serviced office provider, but it is unlikely to be the last.
Other large companies have been increasingly prepared to explore serviced office solutions in regional UK cities. These include Goldman Sachs, which has occupied 14,600 sq ft at WeWork's 55 Colmore Row in Birmingham.
This is indicative of a shift in the sector's demand profile. Historically, serviced offices were mainly the preserve of small companies and start-ups, predominately from the tech sector, but they are now increasingly attracting demand from larger companies, and from a wider range of sectors.
CHANGING PRODUCTS
As the demand profile changes, the products offered by serviced office providers are also evolving. Managed serviced offices, where the occupier has a self-contained suite that is not shared with other businesses, and which can be fitted with a company's own branding, are a growing feature of the market. These have particular appeal to larger companies and those seeking space on a longer-term basis, with 2-5 year deals being typical.
The rise of hybrid working has also caused the key features demanded by occupiers of serviced offices to change. Extra passes and memberships for staff, to allow the same space to be used by multiple different employees across the working week, are a key requirement. Other sought-after features that aid hybrid working include collaborative workspaces and soundproofed booths providing private spaces for phone and video calls.
The growing focus on amenities that support employee wellbeing is also creating opportunities for serviced office operators. The best-in-class serviced products now include a range of amenities such as cafes, bars and recreation areas. These can help to create a community feeling within the serviced office, giving it particular appeal to younger workers and encouraging staff to spend more time in the office. The ability to share the cost of these amenities with other occupiers also adds to the attraction of serviced offices.
FUTURE GROWTH
After the interruption of the COVID-19 pandemic, the serviced office sector is now primed for growth. Mordor Intelligence forecasts that the UK market will grow by 8% a year during 2022-27, but growth rates are likely to vary between regional cities. The larger, more sophisticated office markets are best placed to expand, as they have the critical mass to support more varied ranges of serviced office products.
Manchester is arguably the most mature market outside of London, commanding the highest rental levels and being the only major city where serviced offices account for more than 5% of stock. However, all of the Big Six markets have significant growth potential and those that currently appear to be relatively undersupplied, such as Bristol and Glasgow, are known to have multiple major serviced operators currently looking for space.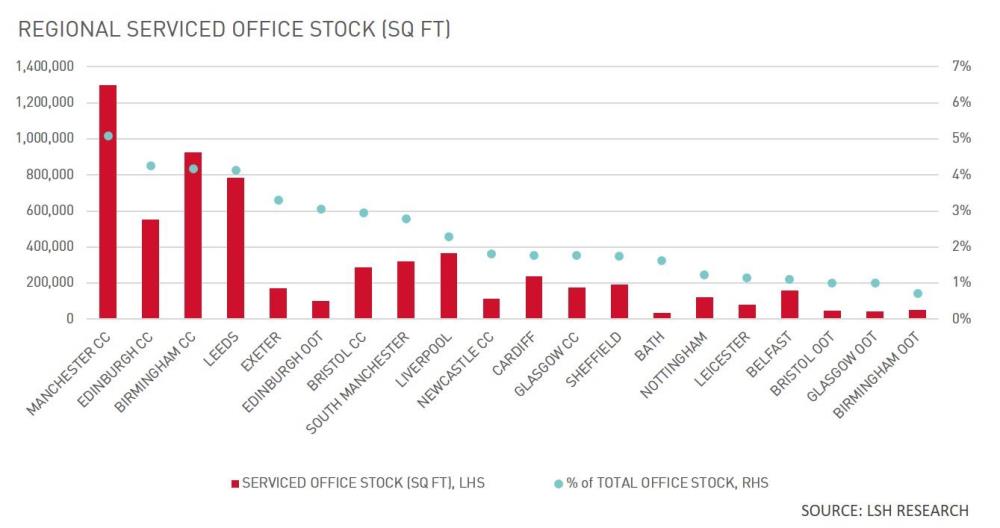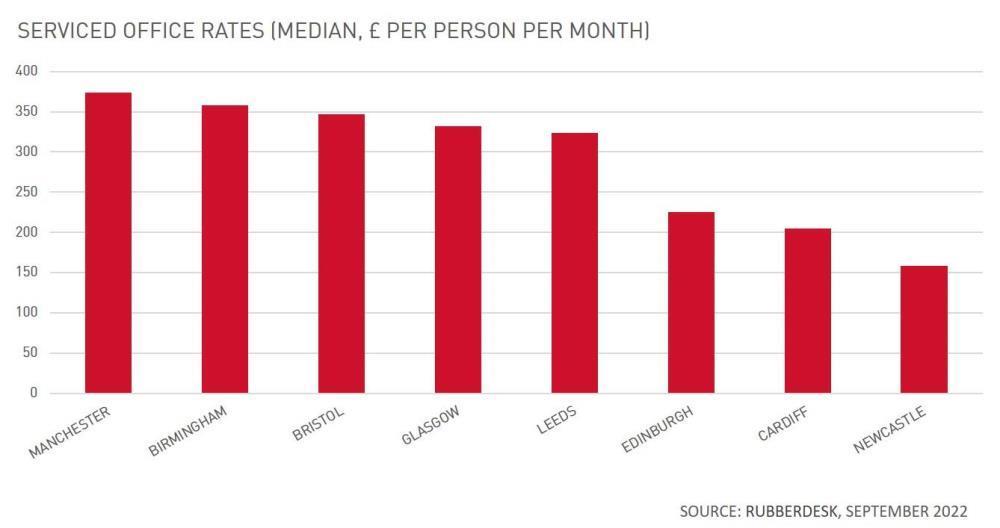 Within these cities, locations near to transport hubs will be the key hotspots. Contrary to expectations that suburban office markets might benefit most from the rise of hybrid working, anecdotal evidence suggests that serviced office operators are finding that the most sought-after locations are currently central areas where commuting times are minimised due to the proximity of major stations.
As new working models continue to evolve, occupiers are showing that they are prepared to pay more for high quality space that supports their changing requirements. Serviced offices can command additional premiums, as they remove from occupiers most of the capital expenditure and operating costs associated with conventional space.
Serviced offices thus have advantages for occupiers, operators and landlords alike, which may become increasingly clear as serviced products further align with hybrid and flexible working practices. As a result, an element of serviced or managed space may soon be seen as a key component of most large-scale office developments, providing high-value space that enhances the overall vitality of a building.
REGISTER FOR UPDATES
Get the latest insight, event invites and commercial properties by email