The hotel sector has weathered the impact of multiple lockdowns since the start of the pandemic. However, with hotels now reopened and government support set to be wound down, the next six months will be a crucial period for hotel businesses seeking to recover from more than a year of restricted operations.


Hotels Finally Re-Open

After being closed for leisure purposes since 4th January, hotels in England were able to reopen on 17th May. This followed earlier reopenings in Wales on 12th April and Scotland on 26th April; while hotels in Northern Ireland will reopen on 24th May.

Prior to reopening, hotels were only able to accommodate guests for essential, legally permitted reasons such as work and education purposes, or where a hotel was used as a main residence. As a consequence, hotel occupancy rates typically averaged 25-35% in most UK markets during the early months of 2021.


Staycations to Drive Demand


Hotel operators will look primarily to the staycation market to drive a recovery in occupancy over the coming months. A repeat of the trend seen in summer 2020 is likely, with markets focused on domestic tourism, such as Brighton, Bournemouth and the Lake District, seeing occupancy rates that are close to or above normal; while occupancy lags behind in larger city markets such as London, Manchester and Birmingham. For a second successive year, regional UK markets are set to outperform London.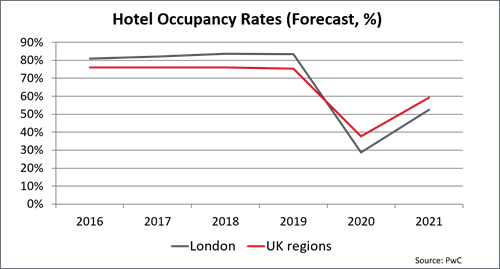 Another key source of bookings will be weddings that have been delayed or postponed as a result of lockdowns. Pent-up demand will be released when restrictions are fully removed in late June, and many hotel wedding venues report that they are now booked up well into 2022 and 2023.

The corporate market is also coming back with more strength than it did following the first lockdown of 2020. Unlike last year, hotels were able to provide accommodation for work purposes during the 2021 lockdown, and guests such as contractors and construction workers have remained a steady source of demand this year.

International demand will take longer to return strongly, but improvements should be seen as vaccination programmes are rolled out globally and governments ease restrictions on overseas travel. VisitBritain forecasts that inbound tourism to the UK in 2021 will be 11.7 million visits, up 10% on 2020 but still only 29% of the 2019 level.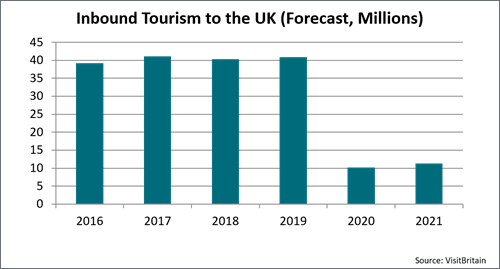 Businesses Down But Not Out

Hotel revenues have been severely impacted by restrictions on activity throughout the pandemic. UKHospitality estimates that the hospitality sector lost £80.8bn of sales in the 12 months to March 2021; while Whitbread, the UK's largest hotel group, reported that total accommodation sales were down by 70.4% in the 2020/21 financial year.

Nonetheless, government support has helped to cushion the blow of the pandemic and prevented a large wave of hotel business failures. Although some smaller chains and independent hotels have gone out of business citing COVID-related difficulties, registered company insolvencies in the accommodation and food services sector actually fell by 27% in 2020 compared with 2019, and dropped to a decade-low in Q1 2021.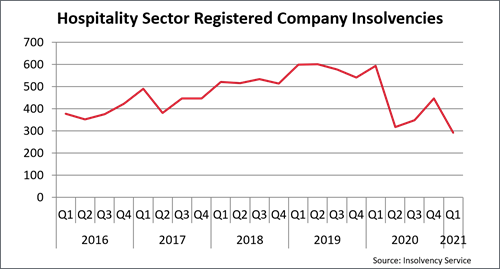 However, most government support measures are due to be wound down over the rest of the year. The commercial rent moratorium and business rates holiday, which have both been crucial in keeping hotel operations afloat, are scheduled to end on 30th June.

UKHospitality has warned that many hospitality businesses remain in jeopardy, facing rent debts and business rates bills after more than a year with little trading. It has urged the government to extend the moratorium until the end of the year, arguing that the removal of rent protections would result in a huge increase in enforcement activity, causing business failures and potentially hundreds of thousands of jobs losses.

The next six months will be a crunch period for many hotel operations. Further support will be required from government and lenders to ensure that measures taken throughout the pandemic have provided more than just a stay of execution for hospitality businesses.

The extension of the VAT cut for hospitality could be vital. The reduced 5% rate will remain in place until 30th September, before an interim rate of 12.5% applies until 31st March 2022. Hotel operators seeking to get back on their feet over the coming months will be keen to take full advantage of the potential boost to business provided by the VAT cut.

Jobs Crunch

Recruitment has also emerged as a key issue within hospitality, with employers reporting difficulties attracting staff ahead of reopening. According to ONS data, the number of people employed in accommodation and food services shrank by nearly 16% last year. Some moved to jobs in sectors less severely impacted by lockdowns; while a significant number of overseas workers, particularly from the EU, left the UK altogether.

The labour pool has also been limited by large numbers of hospitality workers remaining on furlough and deciding to stick with their current employer rather than seeking a new job where they would not be eligible for furlough if there were another lockdown.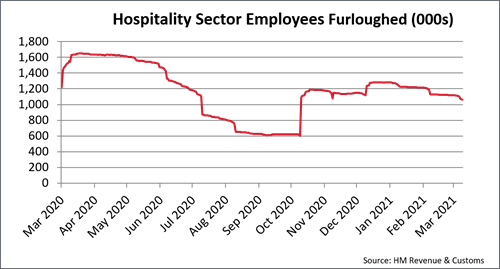 A longer term challenge facing recruiters in the sector may be overcoming the damage that the lockdowns have done to potential employees' perceptions of job security in the hospitality industry.

Significant business and labour market challenges remain ahead and the reopening on 17th May is only the first step towards a return to normality. The potential appointment of a Minister for Hospitality, which has been the topic of a high-profile industry campaign, could be key factor in ensuring that the voice of the sector is heard within government, and that the loss of businesses and employees is minimised.

Investors Ready to Act

Hotel investment has remained relatively subdued, although there have been signs of increased activity in 2021. A notable recent deal saw L&G acquire the YOTEL London Clerkenwell out of administration for £70m in April. This is the largest single-asset hotel since Q1 2020, and it demonstrated institutional demand for hotel property.

There is no shortage of opportunistic investors with cash reserves ready to take advantage of market distress caused by the pandemic. However, government support for hotel businesses has ensured that the flow of distressed assets coming to the market has been a trickle rather than a flood. Investment activity is currently split roughly 50/50 between distressed and consensual sales.

Opportunistic investors will continue to monitor the market for distress. It is likely that an increased volume of assets will start to come through as government support is wound down and banks, which have been broadly supportive throughout the pandemic, start to take a harder stance on lending to struggling businesses.

Other investors have been waiting to see the extent of repricing before deploying capital. Yields for regional budget hotels have moved out by 75 basis points since the start of the pandemic, but appear to be stabilising, which may encourage investors to see now as the time to act. Investors will have opportunities to acquire hotels with good long-term prospects at a discount, and demand is likely to be particularly strong in locations set to benefit from the increase in domestic tourism.

Distress in other sectors will also create opportunities in the hotel market. With high street retail on the decline, schemes to repurpose retail properties as hotels are a growing part of the development pipeline. The pandemic may accelerate a trend towards hybrid developments combining hotels with flexible offices, retail space and leisure facilities, providing multiple and diversified income streams.

Opportunities Ahead

The coming months will be a crucial period for hotels seeking to bounce back from the pandemic. Well-managed hotel businesses that are able to adapt quickly to changes in guest expectations and new patterns of demand will be in the strongest position to flourish.

The second half of 2021 may also be a window of opportunity for investors seeking value in the sector. A large volume of capital is ready to be deployed, and pent-up demand for hotel assets should be released as investors gain more confidence from the operating performance of reopened hotels.

Hugh Anderson, Director – Hotels & Leisure commented:

"This is a pivotal moment for the hotel sector, and ongoing support from government and banks is still needed. Nonetheless, we are optimistic that well-managed hotels will be able to return to normality relatively quickly. Those able to take advantage of areas where pent-up demand is strongest, such as staycations and weddings, have the potential to thrive."

Martin Davis, Director – Hotels & Leisure, added:

"While significant challenges are ahead, reopened hotels will have the opportunity to benefit from continued support measures such as the VAT cut for hospitality and the Coronavirus Job Retention Scheme. LSH's highly experienced Hotels & Leisure team is working closely with hotel operators to ensure that they fully understand the support available to them, and that they maximise the potential advantages to their businesses."
REGISTER FOR UPDATES
Get the latest insight, event invites and commercial properties by email