While trading conditions remain exceptionally challenging, the UK staycation boom provided some much-needed cheer for hotels over the summer.
THE YEAR OF THE STAYCATION
The hotel sector has been among the hardest hit parts of the economy throughout the COVID-19 crisis, having endured a three-and-a-half month lockdown during which hotels were closed to the general public. Since being allowed to re-open on 4th July, operators have had to adjust quickly to the 'new normal', and there have been wide variations in the performance of hotel markets across the country.
The main bright spot for the hotel sector has been the strength of the staycation market, driven by holidaymakers booking UK breaks due to restrictions and uncertainty around overseas travel. A survey conducted for the Cumberland Building Society found that 83% of respondents preferred to take holidays in the UK rather than travel abroad this year. Internet search data shows that searches related to staycations reached record highs over the summer, while Parkdean Resorts estimated that the booming staycation market would be worth over £8bn to the UK economy.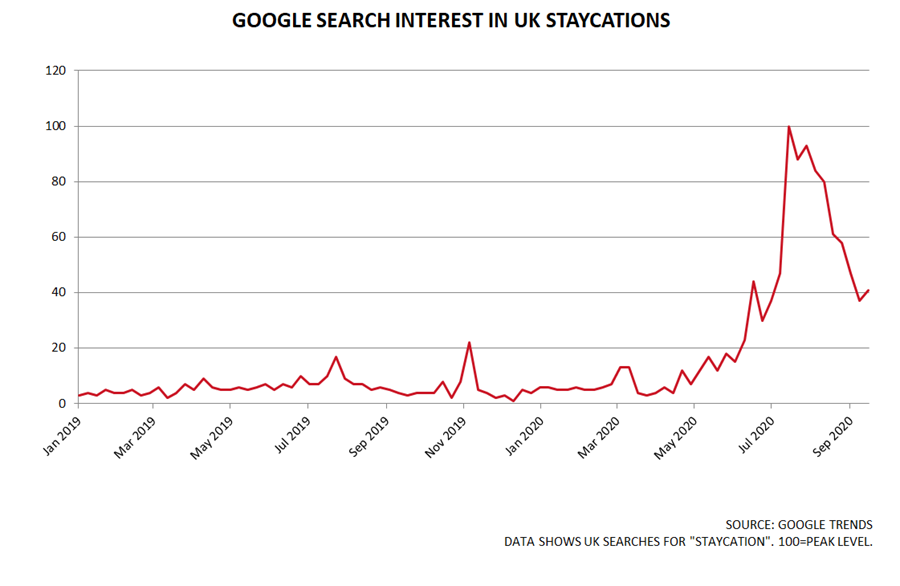 The focus on staycations led to a remarkable divergence in the performance of UK hotel markets over the summer, with destinations that draw most of their demand from domestic tourism comfortably outperforming other markets. According to STR data, leisure-driven markets such as Brighton, Bournemouth and Plymouth recorded occupancy rates above 80% in August, close to the levels seen in the same month of last year.
In contrast, occupancy rates remained historically low in many of the UK's largest cities, due to an absence of international and business travel. Local lockdowns in areas such as Greater Manchester and the West Midlands have also impacted occupancy in a number of major cities.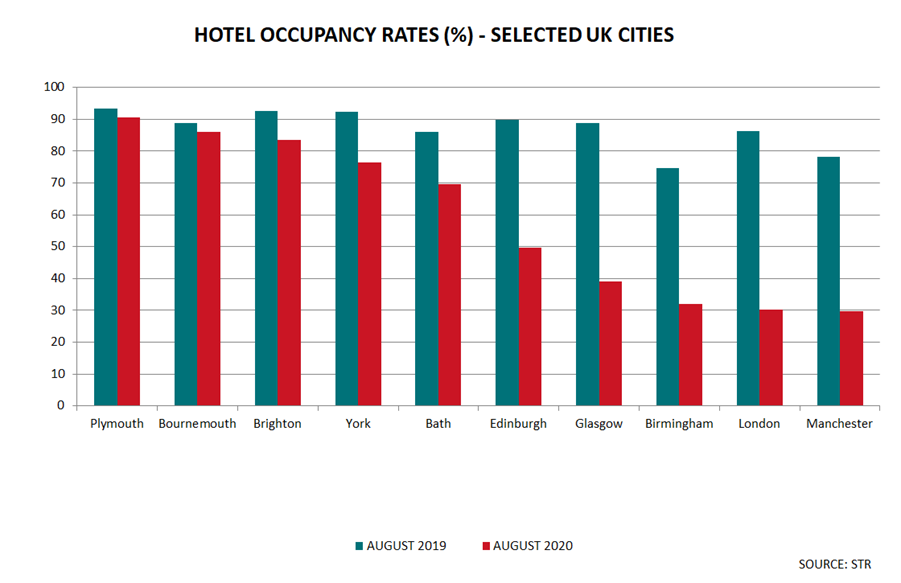 In London, Manchester and Birmingham, occupancy rates were close to just 30% in August. The decline in the fortunes of the London market is particularly dramatic, given that the city consistently commands the highest room rates in the UK and occupancy rates are usually well over 80%.
Domestic tourism will need to continue to be the main driver of the hotel market for some time, with international and business travel likely to remain subdued; at least until a COVID-19 vaccine is widely available. Demand for staycations is expected to be strong into next summer; the Cumberland survey found that nearly three-quarters of respondents plan to book a UK holiday in 2021.
GETTING BACK IN BUSINESS
Although the majority of hotels have now reopened, many are operating with lower staffing levels, keeping significant parts of their workforces on furlough. Hotels are operating with reduced capacities, particularly in restaurant areas, and some are taking a phased approach to the reopening of hotel amenities.
Reopened hotels have had to adjust quickly to post-lockdown demands by implementing social distancing practices and enhanced cleaning and hygiene protocols. Hotels have adopted a range of different strategies to bring back business; attempting to attract customers through room rate reductions, appealing to changes in demand and establishing new revenue streams. Some of the more novel ideas have included turning unused conference suites into virtual reality event spaces, or marketing rooms as hotel offices.
However, hotel revenues have been significantly impacted, even in markets that have been able to ride the staycation wave. Revenues are likely to be further affected by the recently announced 10pm curfew on hospitality businesses. To the dismay of many hotel operators, the curfew affects not just pubs and restaurants, but it also applies to hotel bars and dining areas.
The possibility of further trading restrictions, local lockdowns or even a full-blown second lockdown could all impact the hotel sector over the winter months.
SUPPORT FOR THE SECTOR
In recognition of the exceptionally difficult business environment, the government has extended its temporary VAT cut for hospitality and tourism businesses, with the 5% rate set to remain in place until 31st March 2021.
A new Jobs Support Scheme has also been announced, which will see the government subsidise the pay of employees who are working fewer than normal hours. This will replace the current furlough scheme, but it is considerably less generous and unlikely to prevent significant job losses in the hospitality sector. Redundancies are expected to accelerate as the furlough scheme is wound up at the end of October.
Whitbread, which owns the Premier Inn chain, has said that it will cut up to 6,000 jobs, with approximately 4,500 of these being in its hotels division. While the decision reflects the severe financial impact of lockdown, which caused Whitbread's revenues to drop by more than 75% in the six months to August, it has also been taken because the group expects demand to remain subdued over the short to medium term.
As the outlook remains perilous, industry bodies such as UKHospitality have called on the government to provide further financial support, without which they say nearly a quarter of hospitality businesses could be in danger of failing by the year-end.
INVESTMENT OPPORTUNITIES
With the operational market facing unprecedented challenges, it is unsurprising that the hotel investment market has also been subdued in 2020. Approximately £1.7bn of hotels were transacted in the first three quarters, about 36% down on the same period of 2019. However, all of the largest deals of the year were agreed pre-lockdown.
There has been an absence of large-scale deals since lockdown, but a growing number of smaller-scale transactions have been seen in UK regional markets, including some distressed asset sales. Increased investment activity is likely to be spurred by further distressed assets coming to the market over the next few months.
The staycation boom also appears to have piqued investor and developer interest in seaside locations. Development projects currently being brought forward include the new Maldron Hotel in Brighton and the expansion of the Hampton by Hilton in Blackpool.
Opportunities will emerge for investors and developers able to take a clear view of longer-term market fundamentals. Cash-rich investors, in particular, may be able to acquire hotel assets offering significant upside potential once trading conditions normalise.
DECISIONS AHEAD
There will undoubtedly be further pain across the hotel sector, but operators with well-located hotels that were profitable and well invested with low gearing pre-COVID will be best placed to emerge from the pandemic in good shape. A more difficult future is likely to face hoteliers that were already highly geared and whose assets were suffering from a lack of investment before the pandemic.
Sadly, there are many hotels across the UK that fall into the latter category and it is clear that some hotel owners will need to carefully consider future strategies for their assets. For many, a decision will need to be made on whether to make a fresh investment into an asset, business and its people, or if an alternative use for the property might provide a better long term outcome.
HOW CAN WE HELP?
Our experienced Hotels team is well placed to offer initial discrete advice and guidance on the various options available to hotel owners and operators. For more information visit our web page or get in touch.
Get in touch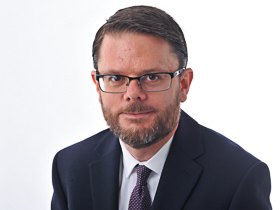 Matthew Colbourne
Associate Director - Research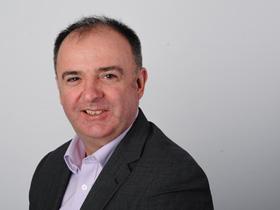 Kenneth Hogg
Director - Head of Alternatives Valuation
REGISTER FOR UPDATES
Get the latest insight, event invites and commercial properties by email