A sprint finish final quarter saw commercial property investment volume in Northern Ireland complete at £215.1m for 2019, 19 percent above 2018 and 4 percent below the ten-year average, according to our latest research published today.
The Investment Transactions Northern Ireland Bulletin Q4 2019 showed that despite an outstanding final quarter with volume of almost £91.0m, the uncertain local and national political climate continued to weigh on volume with 2019 annual volume the second lowest since 2013.

Retail retained its place as the dominant asset class in Northern Ireland, with £92.5m of transactions accounting for 43 percent of volume this year. This was, however, due to two large Q4 retail park transactions. Throughout the first three quarters of the year, the highest proportion of volume had been in the office sector with Belfast city centre office investments remaining the most in demand asset class.

Despite a challenging retail market, three retail parks transacted in the latter half of 2019. In the largest deal of the year, Sprucefield Retail Park, Lisburn was purchased by New River Retail for £40.0m (NIY 8.71 percent). Crescent Link Retail Park, Londonderry was purchased by David Samuel Properties for £30.0m (NIY 11.50 percent) and Clandeboye Retail Park by Harry Corry Pension Fund for £8.7m (NIY 13.50 percent).

Office transactions this year totalled £74.1m, the highest volume in the office sector on record, boosted by Citibank¹s purchase of their Belfast headquarters, the Gateway Office in the Titanic Quarter, for c.£34m (NIY 5.48 percent). Other notable office transactions included a local government department¹s £16.0m purchase of James House at the Gasworks and Vanrath Recruitment¹s £12.5m purchase of Victoria House.

2019 saw a number of office assets purchased by owner occupiers for a combined total of £62.8m, including the aforementioned Gateway Office, James House and Victoria House.

As usual, local investors were the most active investor type. By comparison to 2018, activity from this group was subdued with the number of transactions down 38 percent and volume down 23 percent. There were a number of higher value assets purchased by private investors including Antrim Business Park for c.£12.5m (NIY 14.50 percent) and Timber Quay in Londonderry for £5.3m (NIY 11.50 percent).

At £26.2m industrial volume was at its highest for the decade in 2019, with both propcos and private investors purchasing in this sector. In Armagh, 35 Moy Road was purchased by David Samuel Properties for £6.3m (NIY 7.28 percent) and CD Group, Mallusk by Alterity Investments for £2.6m (NIY 7.23 percent).

Martin McCloy, director of capital markets, said:

Q4 provided a strong finish to what was a difficult year for the investment market. The extension of the Brexit deadline, the lack of a Stormont executive and the prolonged uncertainty delayed investment decisions in 2019. That said demand remained constant with potential investors in Northern Ireland particularly seeking secure long-term income or high quality office investments. While retail was again the dominant asset class by volume, this was as a result of a small number of large transactions rather than a signal of renewed attractiveness in what is still a challenging sector. Core assets remain attractive but pricing is key.

Quality assets in the industrial and logistics sector also remain in high demand but investors remain cautious due to the potential impact of future customs arrangements with the EU on the occupational market. Elsewhere the living sectors (student accommodation, PRS, hotels, healthcare) are continuing to be sought after with only a lack of investment opportunities subduing what is establishing itself as a key asset class.

Key to the investment market in 2020 is the new Conservative majority in government and the passing of the EU withdrawal agreement leaving the UK on course to leave the EU by 31st January. Furthermore, renewed talks to re-establish the NI Assembly promotes further confidence in Northern Ireland. It is anticipated that the ending of political uncertainty and increased clarity on the Brexit process will boost investor confidence, translating into a substantial release of pent-up demand and a busier 2020.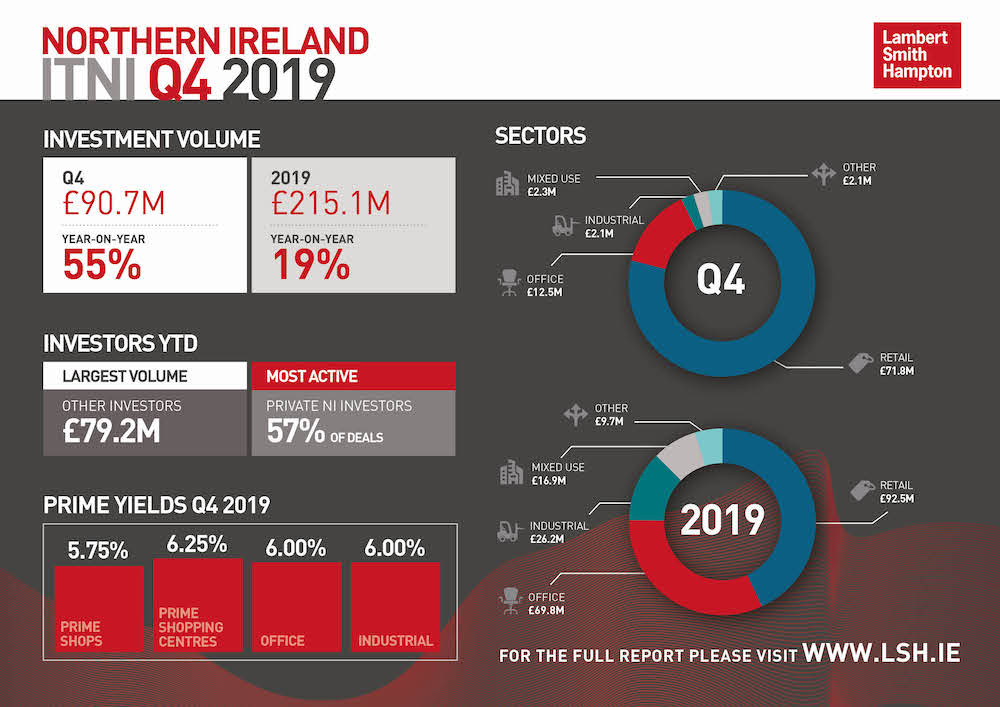 Get in touch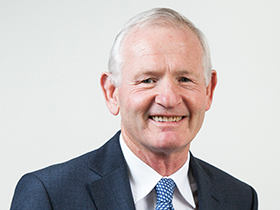 Keith Shiells
Executive Director - Ireland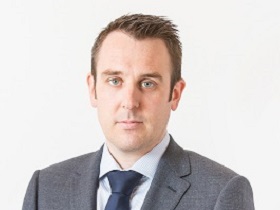 Darren Fitzsimons
Director - Head of Professional Services - Ireland
REGISTER FOR UPDATES
Get the latest insight, event invites and commercial properties by email