Take up in Q3 2018 increased by 257% when compared to Q2 2018, with more than 123,000 sq ft being transacted within this period compared to the 48,000 sq. ft. that was transacted within Q2 2018. However, enquiries within the same period were 56% less than the Q2 figures. This trend is consistent with enquires between Q2 and Q3 in 2017 that also saw a drop of over 50%.

Supply has continued the reoccurring trend of reduction to where it is currently sitting below 1,000,000 sq ft for the first time this year. Again, office conversions of mainly grade C stock to alternative uses being the key driver. The lack of new developments and increasing demand for higher grade office space results in prime rents remaining strong through Q3.
Enquiry levels fall in Q3
As expected during the summer period that Q3 falls in, enquiries (27) fell in comparison to Q2 (59), but remained consistent with the yearly trend we can see when compared to Q3 2017 (30).

The fall in enquires was across all sizes when compared to Q2, with the most notable reduction coming with enquiries between 30,001-50,000 sq ft (-100%) and a 47% reduction with enquiries between 2,500-5,000 sq ft.

Correlation can be drawn between the lack of enquiries and the increase in versatile and agile working conditions, with more emphasis on flexible working hours than a traditional 9-5 working week. Or, it could be due to the approach of Brexit and the increased uncertainty of how the market will react come March 2019. Occupiers may be waiting for a better understanding of how it will unfold, and the affects it will have before choosing to relocate their business due to the effect it may have on labour and trade.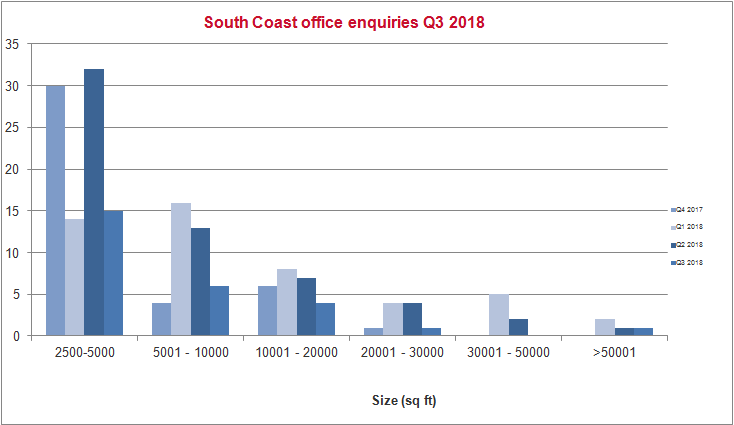 Total take-up increases
Total take-up in Q3 2018 was 123,557 sq ft; an increase of 257% from the 48,004 sq ft of take-up in the previous quarter, and a 57% increase from Q3 2017's total of 71,051 sq ft. Of the 123,557 sq ft, 65% of the deals were out of town totaling 80,312 sq ft. This is a similar comparison to the 60% of deals being out of town in Q2, but the total sq ft taken-up being considerably lower at 32,777 sq ft. Q3 2017 had only 40% of deals being out of town (35,709 sq ft). .
The three most active business sectors in Q3 2018 were Technology, Media & Telecoms (15%), Energy and Utilities (10%), and Finance, Banking and Insurance (10%) with seven transactions between the sectors. The largest transaction within these three sectors being 7,900 sq ft to Dustan Thomas at Building 3000, Lakeside. The largest single transaction for the Q3 period was also out of town at Solent Business Park (17,759 sq ft).
This shows a shift in trend towards out of town properties where larger floor plates are readily available, with generous parking ratios.
Significant occupational transactions
| | | | | | |
| --- | --- | --- | --- | --- | --- |
| Property | Size (sq ft) | Vendor/Landlord | Tenant/Purchaser | Rent (£/sq ft) | Term |
| Building 3000C, Solent Business Park, Whiteley | 17,759 | Zurich | Confidential | £14.29 | 4 |
| Building 3000C, Solent Business Park, Whiteley | 17,685 | Zurich | Confidential | £17 | 4 |
| 1st floor, Mountbatten House, Grosvenor Square, Southampton | 12,965 | Prowting Family Trust | Norwegian Cruise Lines | £19.25 | 10.9 |
| Grosvenor House, Grosvenor Square, Southampton | 5,413 | Ameriscot | Wessex Petroleum | £21 | 10 |
| 2nd Floor Sunley House, Winchester | 3,751 | Lewis Investments | Brewin Dolphin | £25 | 10 |
Supply falls 17%
Supply of South Coast office space for Q3 totals 964,698 sq ft, which is 117,646 (11%) lower than the previous quarter and a 17% fall from Q3 2017. Both grade A and C stock have seen the largest reduction in availability over the last quarter with 60,662 and 60,343 sq ft being removed from the market respectively.

When this is compared to Q2 in terms of a percentage reduction, we can see a 17% reduction in grade A space, and a 30% reduction in grade C space. We can attribute the reduction in availability for grade A space being led by tenant demand for a higher quality space, rather than refurbished lower grade stock. Reduction of grade C stock is the result of continuing redevelopment for alternative uses rather than the refurbishment and remarketing of the stock, which has become a common trend within the market.

Comparing Q3 2018 to Q3 of the previous year (2017), Grade A stock has increased 2% but grade C stock has fallen by 56% from 320,970 sq ft to 142,142 sq ft. Grade B has fallen slightly with a 4% reduction (22,164 sq ft). When put in comparison to each quarter from Q2 2017 up to Q3 2018, you can see that Grade A stock has remained quite steady with a slight peak in the last quarter. Grade B stock has also remained quite steady, but does seem to be following a negative trend. Grade C however does have a negative correlation with a 60% reduction in stock.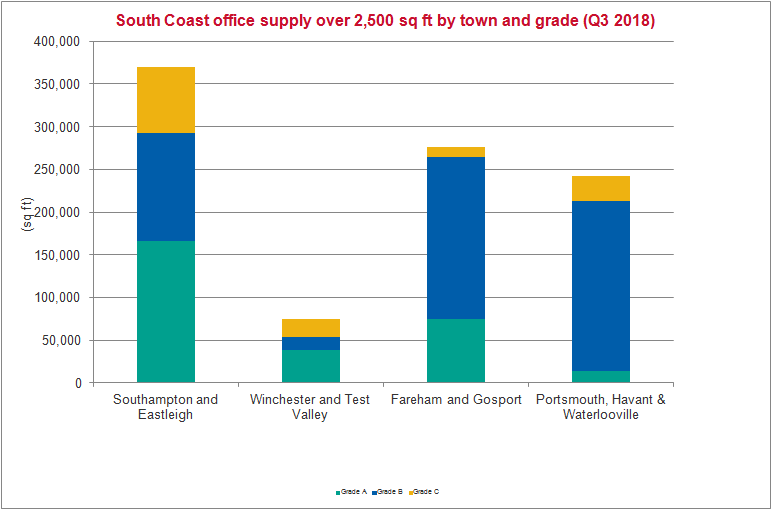 Rents remain stable
Prime rents remain stable at £22 per sq ft in Southampton city centre and £21.50 per sq ft in the Out-of-Town (M27 corridor) market. Winchester rents have remained strong, with £25 per sq ft being achieved at Sunley House, and some rents quoting £30 within Winchester City Centre for grade A space.
Investment into South Coast offices reaches c.£120m
Since the start of 2018, investment into South Coast offices has reached c.£120m as a number of major out of town opportunities successfully traded. Over the course of Q3, Merck House in Poole, comprising a multi-let office building of c.55,000 sq ft and generating a rent of c.£850,000 pa with an AWULT to break of 6 years, was sold by Titan to Trinova Real Estate for £11.83m reflecting a NIY of 6.73%.

With a severe shortage of quality stock coupled with notable yield compression in the other sectors such as Industrial, the office sector is well placed for robust performance over the course of 2018. Out of town offices continue to be viewed more cautiously with In Town opportunities witnessing robust interest with live requirements targeting key south coast locations.
REGISTER FOR UPDATES
Get the latest insight, event invites and commercial properties by email