A decade on from the worst recession of recent times, the retail market has undergone dramatic structural changes with many retailers pushed to the brink, principally due to the rise of online shopping and changing consumer behaviour. Weak consumer confidence, low wage growth, the fall in the value of sterling, the increasing business rates burden, and the implications of Brexit have all exacerbated the structural changes.
In comparison to administration, the CVA began as a process to assist struggling retailers. CVAs are considered more favourable to all involved – shareholders, management, suppliers, employees and landlords – because jobs are retained, monies owed will continue to be paid (albeit possibly at a reduced rate) and the company directors retain control of the restructuring process.

Big retail brands that have succumbed to the difficult retail market and sought a CVA include ToysRUs, House of Fraser and Carpetright. Fashion and food and beverage retailers, however, have been the most likely to seek a CVA in 2018. CVAs have been agreed for New Look, Select, Byron Burger, Jamie's Italian and Carluccio's.

To date, 12 companies have had a CVA approved (and a further 15 have entered into administration) in the UK. If the current pace of administrations/CVAs continues the 2018 total may surpass the peak of 2008, but with a notably significantly greater proportion of CVAs.

Despite CVA legislation passing in 1986, they were relatively uncommon amongst medium and large retailers. Retail administrations peaked during 2008; since then, retail has continued to face challenges but CVAs had broadly remained the exception for distressed companies until this year.

The challenging retail conditions of recent years have reached a head in the last 12 months and as a consequence we have seen a peak in the number of CVAs as retailers try to save their businesses.

FRIEND OR FOE?

The CVA is designed to support insolvent companies avoid administration, through a deal with creditors (unsecured, trade and tax) based on preserving the business. The CVA is particularly relevant for businesses with large lease liabilities that may be restructured to enhance profitability and liquidity.

The CVA is the dominant and most contentious issue in retailing today, with the occupier and landlord markets becoming increasingly out of kilter on the issue. While there are no hard and fast rules with CVAs regarding treatment of creditors, the CVA should seek to maximise the creditors' interests. Its increased use has come under criticism from creditors, and more specifically landlords, that it is open to, and being, abused.

The CVA facilitates sharp reductions in employment and overhead costs, not ordinarily available. Specifically, it has been suggested by creditors that some retailers are using CVAs opportunistically when not at significant risk of failure to offload loss making stores, cut costs through the forced rent reductions and create an advantage over competitors who have not entered into a CVA.

Advantages and disadvantages of CVAs:
| | |
| --- | --- |
| Advantages | Disadvantages |
| Assist companies in financial stress | Open to abuse |
| Protect jobs | Landlords shouldering financial burden |
| Company directors retain control | Rent is biggest liability, but landlords do not get preferential treatment in vote |
| Stakeholders vote on deal | Harm to company's credit rating |
| Minimises vacant retail units | |
| CVA should maximise creditors interests | |
ARE RETAILERS TAKING ADVANTAGE?

Countering this criticism, retailers typically entering into a CVA argue that such a drastic step poses an unwanted risk to their brand and reputation, but was unavoidable due to the challenging retail market of recent year. From their perspective, the CVA is a necessary process to avoid administration, protect jobs, maintain suppliers' businesses and prevent retail units from lying vacant.

A number of recent CVA documents highlight a well-known tenant grievance, specifically in certain premises retailers are paying rents higher than the current market rates. Retailers claim these rental levels hinder their ability to implement long-term or sustainable restructuring plans. In turn, landlords state that these leases were entered into by choice and CVA enforced reductions are not a fair replacement for renegotiation.

LANDLORDS LACK INFLUENCE

Landlords are becoming increasingly cynical towards the CVA process, with no distinction between landlords and other creditors for voting purposes and a general feeling that they are shouldering more of the financial burden compared with other creditors. When a CVA vote is passed landlords have no rights to immediately forfeit the lease or call legal proceedings against the company for recovery of rental losses.

Demonstrating their frustration, landlords are beginning to pushback against the CVA. In response to the House of Fraser CVA, a group of landlords joined together to make a legal challenge to the CVA basis of 'unfair prejudice' or 'material irregularity', the only grounds for a legal challenge after the CVA has been approved. One of the landlord's arguments for seeking review was that they felt they had been disproportionately affected compared with other creditors.

MAXIMISING CREDITORS' INTERESTS

In an effort to satisfy the criteria to maximise creditors' interests and provide a level of concession to landlords, contemporary CVAs include clauses that give landlords termination rights. While serving a termination notice on their tenant may not be an ideal scenario for the landlord, in addition to the potential re-letting difficulties, these clauses do reinstate an element of control over their property.

For example, in the proposed Homebase CVA landlords of the stores earmarked for rent reductions have termination rights for the two months after the CVA is approved and for a year after the CVA is proposed for the lower rent reduction category stores. Additional landlord break rights are provided for those stores in the largest rent reduction category (45% in this case). Although it has been stated by some landlords that the CVA break clauses are inconsistent and in many cases too short to find a new occupier.

It should also be noted that many CVAs also provide additional rights of termination for the tenant, although these tend to be less generous than the landlord rights.

GOING NOWHERE

There is much agreement that the CVA process is flawed but despite the criticisms levelled at CVAs, it seems that for the time being at least, they will remain a feature of the retail market. With forecasts for retail suggesting that the challenging conditions and structural changes will continue, it is safe to assume that more retailers will seek a CVA in the coming years.

In response, we can expect landlords to continue to voice their concerns and use legal opportunities to pushback against the process. While this may create reform in the process in the long-run, it will take time and will not solve the immediate burdens shouldered by landlords.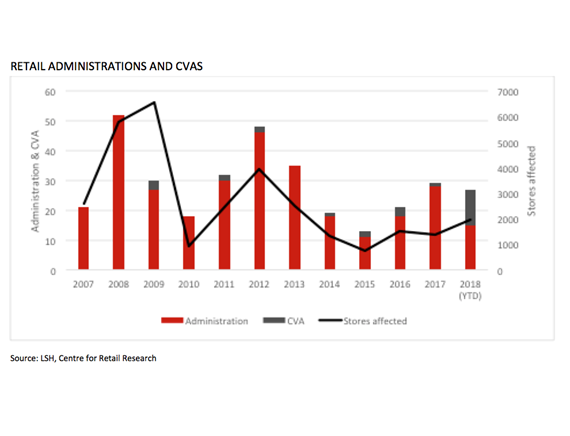 REGISTER FOR UPDATES
Get the latest insight, event invites and commercial properties by email