Office market activity in Belfast has had a stellar start to 2018, reaching the highest half year take-up level on record and surpassing the annual total for the last ten years.

At 538,646 sq ft, activity in the first half of 2018 was more than double the same period in 2017 and 49 per cent above the five-year H1 average.

Take-up was given a boost by the completion of Allstate's new 138,225 sq ft headquarters on the former Maysfield Leisure Centre site in Q1 and the Department of Finance's 150,000 sq ft lease of Nine Lanyon Place in Q2.

The lease of Nine Lanyon Place to a high quality government tenant is the single biggest letting in the past decade.

Occupier demand for high quality space continued with Grade A stock accounting for 78 percent of take-up.

Stuart Draffin, head of agency at Lambert Smith Hampton in Belfast, said:

"This has been a very exciting time for the office market and we were proud to play our part by leading the negotiations on Nine Lanyon Place, one of the largest office transactions ever completed in Northern Ireland.

"Demand this year has been primarily driven by public sector and technology, media and telecoms clients, together accounting for 75 percent of take-up. Over the last six months we've experienced a high level of interest from FDI investors and professional firms who are considering locating to Belfast or expanding their operations here, which provides a very positive picture for the future."

Greg Henry, associate director of office agency at Lambert Smith Hampton in Belfast, said:
"The first six months of the year have been so successful because we have seen a good balance of supply and demand, which has allowed a record level of take-up. A further 548,075 sq ft of Grade A re-developed and new build stock will be delivered during 2018 and early 2019.
"Recently, construction has commenced on the 212,000 sq ft refurbishment at Merchant Square and the 79,000 sq ft new build at 4-5 Donegall Square South is expected to commence on site in Q3 2018, providing potential occupiers with a range of modern options."
Click here to download the report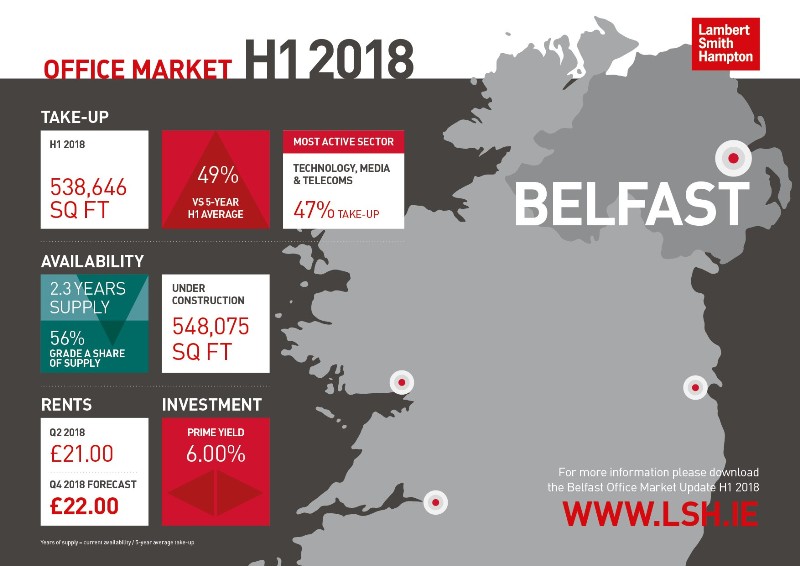 REGISTER FOR UPDATES
Get the latest insight, event invites and commercial properties by email