According to our latest Investment Transactions Northern Ireland (ITNI) Report, £30.1M worth of deals were made in Q2, down 77% on Q1 and 54% below the five-year quarterly average. Although the value of the deals was down significantly, the activity was on trend with ten transactions recorded.
Click here to download the report.
With the move to hybrid and flexible working, investment in offices took the biggest hit during the pandemic. However, in Q2 office deals accounted for the largest share of volume with the purchase of Bedford House by a local private investor for an undisclosed price noted as the largest transaction in the quarter, and the largest office deal since Merchant Square in March 2021.
Overall, £161.6m of deals took place in the first half of 2024, 20% above the five-year average, underpinned by the strong first quarter.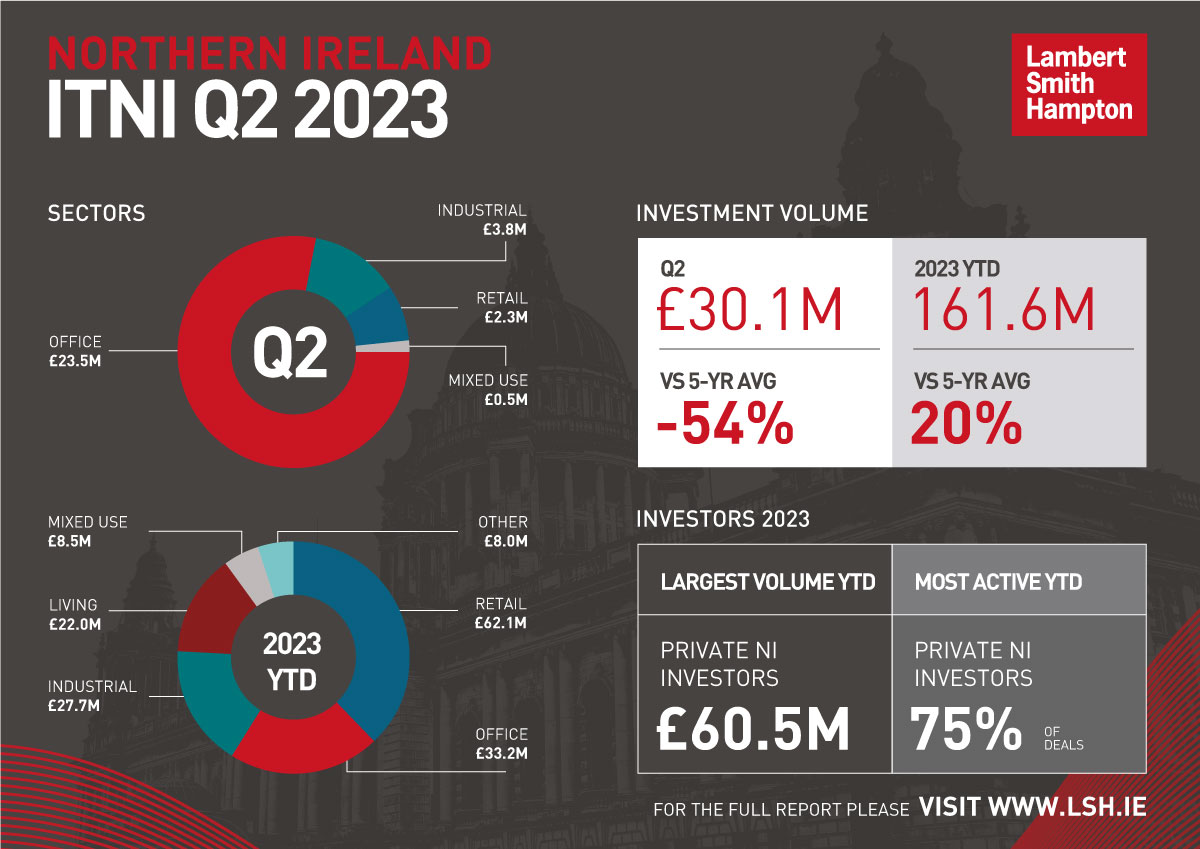 Our research also noted the significant slow in supply of assets in Northern Ireland. Although the volume of assets may appear healthy with 40 properties brought to market in the first half of 2023, at a total of £122.4M, Forestside and Foyleside Shopping Centres account for more than half of this value.
Excluding the two shopping centres from the analysis reduces the average property value from £3.3M to £1.5M in the first half of this year, the lowest value since 2018. In the short-term the smaller lot size will be attractive to the local private market, which continues to be active, until higher value stock emerges to appeal to a wider range of investors.
The research was conducted by our new Senior Research Analyst, Claire Shaw. With 20 years' experience in the commercial property sector, Claire was previously a research specialist before joining commercial property consultancy, INPRIO, which was headed up by LSH Ireland's Managing Director, Neil McShane.
Launching the report, Neil McShane, Managing Director, Lambert Smith Hampton Ireland said,
"LSH's new Investment Transactions Northern Ireland report will provide invaluable market insights for our client base and we're pleased that Claire has joined us again to take this forward.
Q2 2023 has seen a slowdown in the market due to the pressure of high inflation, successive interest rate rises and the cost of energy and services provoking caution in both investors and potential vendors.
However, we do anticipate investment volumes to bounce back in Q3 with high value assets completed or expected to complete, including Forestside and Foyleside Shopping Centres, and Belfast's Hilton Hotel. With the high levels of interest shown in these assets, particularly the shopping centres, it is clear that investors still have an appetite for good quality assets."

Claire Shaw, Senior Research Analyst, Lambert Smith Hampton, said:

"It's great to be back at LSH and I look forward to providing market analysis for such a wide range of clients across the commercial property sector. While economic conditions continue to be a challenge, the cooling of inflation may ease the caution that potential investors have been exercising. It is clear that there is still great value in the market, but to harness ongoing interest and activity we require new stock to emerge."
Get in touch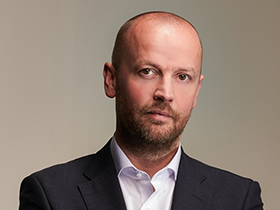 Neil McShane
Managing Director Ireland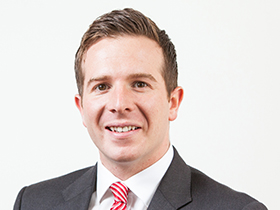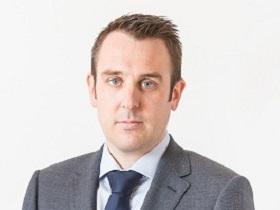 Darren Fitzsimons
Director - Head of Professional Services - Ireland
REGISTER FOR UPDATES
Get the latest insight, event invites and commercial properties by email