As the UK adjusts to life in COVID-19 lockdown, LSH assesses the latest occupier market impacts on each of the key commercial sectors.
Economy
Deep recession afoot – While there is a huge degree of uncertainty in any current economic forecasts, efforts to contain Covid-19 will trigger a steep recession, as businesses close and consumer spending falls dramatically due to lockdown restrictions. Pantheon Macroeconomics estimates that GDP fell by 1.5% in Q1, and forecasts a staggering contraction of 13.0% in Q2. This would dwarf the 2.1% contraction seen in the worst quarter of the global financial crisis in Q4 2008.
Hoping for a V shape – The shape of a subsequent recovery is uncertain, and it will depend of the effectiveness of measures to contain Covid-19 and the ability of businesses to survive a long period of depressed demand without shedding workers. Optimists hope of a 'V shaped' recession; a short, sharp shock in H1 followed by a strong recovery in the second half of the year. An economic recovery of some kind is likely to have begun by 2021.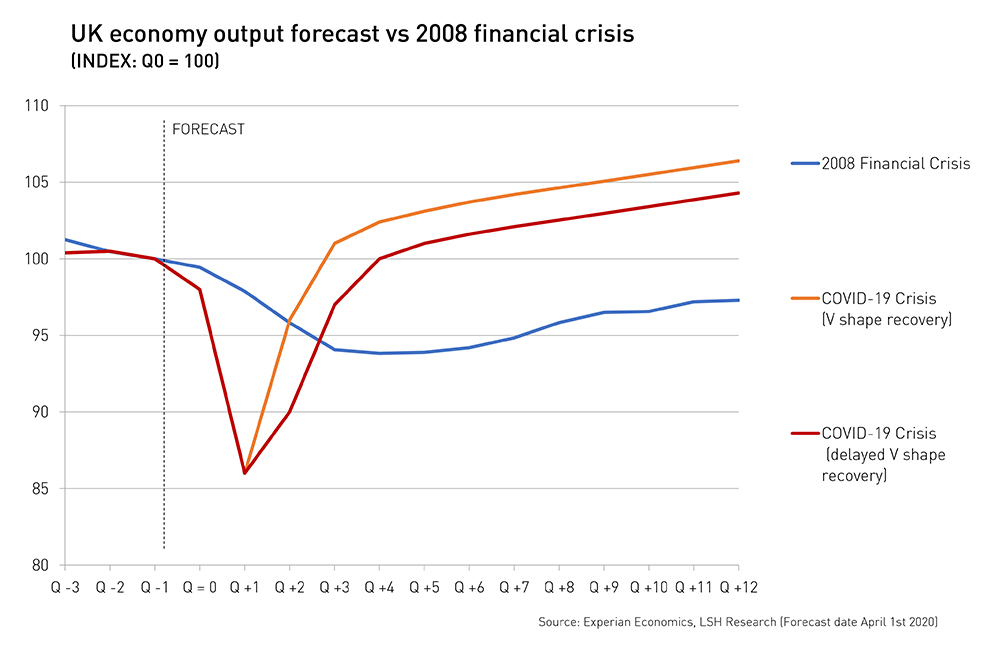 Labour market will be hit – The Covid-19 crisis will bring an end to a long period of labour market strength. UK employment reached a record 32.99 million people in the three months to January, but this will represent the high-water mark as there is already evidence that the pandemic is leading to significant job losses, with applications for Universal Credit soaring. Some economic forecasters expect the unemployment rate to double in Q2, from the near-record low of 3.9% recorded in January.
Bank of England response – The speed and scale of the policy response to Covid-19 has underlined the seriousness of its economic threat. The Bank of England has made two emergency interest rate cuts, taking the base rate from 0.75% to 0.1%. However, with the rate now at a record low, the Bank has more limited monetary policy 'firepower' available than during the last global recession.
Unprecedented Government response – To support businesses and protect jobs through the worst of the pandemic, government measures include an unprecedented £330bn package of state-backed business loans worth (equivalent to 15% of the economy) and a three month job retention scheme. A 12-month business rates holiday has also been granted for the retail, leisure and hospitality sectors, while all commercial tenants unable to pay rent because of the coronavirus will be protected from eviction for the next three months.
UK pound on a rollercoaster – The UK pound plummeted against the US dollar and the euro in the early days of the pandemic, with both of these currencies perceived as safer havens for investors. The GBP/USD exchange rate fell to a 35-year low of 1.15 on 19th March, although the pound has since rallied. The depreciation of the pound could create inflationary pressures once the economy starts to recover but, more immediately, job losses and weak consumer spending are likely to drag inflation down. CPI inflation, which stood at 1.8% in January, is expected to move below 1.0% in Q2 and Q3.
Get in touch: Oliver du Sautoy
Retail
Retail at the eye of the storm – Retail is arguably the commercial property sector that will be most impacted by measures to contain Covid-19. The forced closure of non-essential shops, pubs, restaurants and leisure facilities will put further pressure on a sector already battling to adapt to structural changes in consumer behaviour. The latest daily footfall figures for Tuesday 31st March show a colossal 80% fall year-on-year. For now, the tighter restrictions are to be enforced until 13th April, but the general consensus is that these restrictions will be necessary for a number of additional weeks.
Supermarket surge – Essential retailers, such as supermarkets and pharmacies, have experienced a surge in demand as consumers stockpile household items and food and drink. In the last four weeks, year-on-year supermarket sales grew by a record 20.6%, according to Kantar. In order to better manage demand and ensure more equitable distribution, major supermarkets are restricting the purchase of food items and other goods.
Online retailers stretched – Demand for supermarkets' online delivery services has vastly exceeded supply, with Tesco limiting online deliveries to 80 items. Food retailers, such as Iceland, are encouraging customers to shop in person where possible, to release delivery slots for the most vulnerable. While the wider labour market is under threat, one bright spot amid the chaos has been the thousands of extra jobs created at the major supermarkets to meet demand.
Some online retailers suspend operations – Next and River Island are among the retailers that have taken the unprecedented step to temporarily close their online operations amid concerns for staff welfare in warehouses. It is expected that other non-essential retailers will follow Next and temporarily halt online operations.
Support to retailers – To provide support to retailers and other businesses affected by the pandemic, the government has created a financial package that includes a business rates holiday and a guarantee to pay 80% of every employee's wages (up to £2,500 per month) whose company has to close due to the pandemic. These measures have been welcomed and have undoubtedly saved millions of retail jobs.
Landlords inundated – Landlords have been inundated with requests from tenants for rent concessions and revised payment terms, along with suspension of service charge payments. Some landlords have reported less than 30% rent collection on March quarter day, with some issuing warnings that they in turn will struggle to make forthcoming debt repayments.
Offices
Deals being done – Analysis of LSH's office transaction pipeline reveals that while many occupiers have put their relocation decisions on hold, the market remained active during the first week of the COVID-19 induced lockdown. Of just under 100 live transactions, 15% exchanged during the week, with a further 35% of deals seeing Heads of Terms agreed. While 42% of live transactions have been placed on hold, only 4% were abandoned. Assuming the situation improves by early summer, an extremely quiet April and May is expected, to be followed by a strong release of pent-up transactions in H2 2020.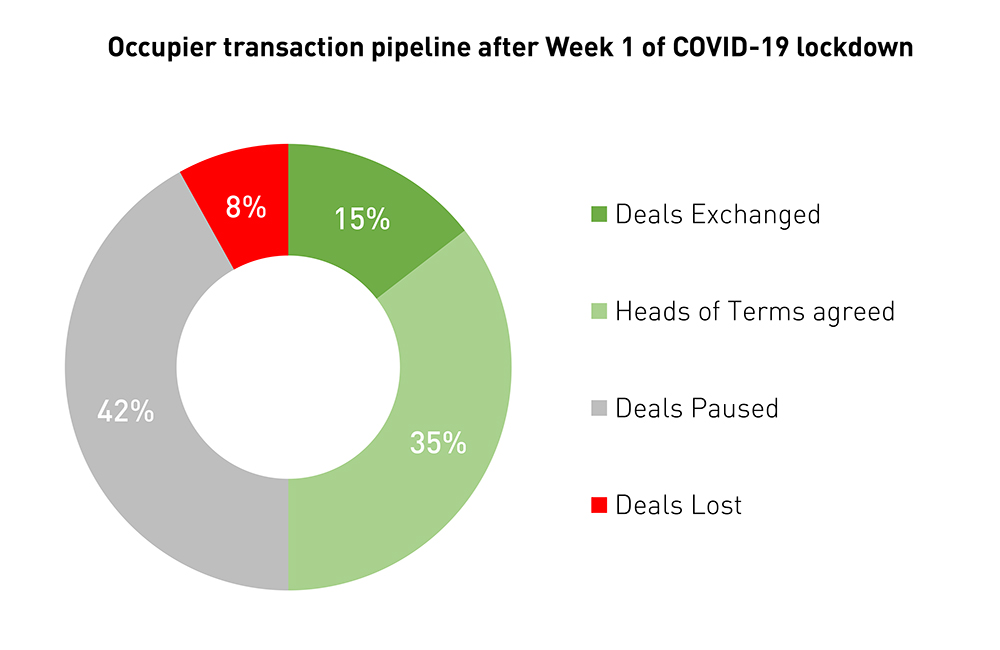 Some fresh requirements emerge – New requirements are substantially down on what would normally be expected at this time of year. However, given the 12 month timescales involved between requirement and completion, the crisis has not prompted a complete shutdown of fresh demand.
Landlords sense re-gear opportunity – Some occupiers that had until recently been relatively sure of pursuing a relocation will instead look to re-gear their existing leases. LSH is aware of several opportunities that have emerged as a direct consequence of occupiers postponing relocation plans indefinitely. To secure income, it is anticipated that many landlords will look to capitalise on the uncertainty and offer generous lease renewal packages.
Eight million go #WFH – Offices up and down the country have been closed or emptied for the last two weeks, with staff setting up at home wherever possible. Assuming 90% of office-based employees are now presently based at home, this amounts to roughly eight million people. Fortunately, the technological resources to enable remote working and colleague interaction are sufficiently advanced to allow the cogs to keep turning.
Serviced offices under pressure – The homeward retreat of the UK workforce has put serviced office operators under enormous pressure. Operators' revenues will be severely impacted by the cancellations of monthly memberships; UBS estimates that 25% of WeWork's business relies on rolling month to month contracts. To mitigate the impact on revenue, IWG has sought a three month rent freeze from its landlords, and we expect other operators to follow suit.
Accelerating change - Already we're asking what this nationwide enforced trial of homeworking could mean for future demand. After the crisis has passed, thousands of businesses may be reassured that high proportions of their employees can work remotely and productively. Far from signalling the 'end of the office', we might expect requirements to be guided even more by the quality of space (working environment and location) over quantity, with the office largely performing in a hub role for employee interaction and client-facing.
Industrial & logistics
Online retail demand surges – Online demand has surged in the early days of the coronavirus crisis as consumers stay at home, non-essential shops close and supermarkets experience stock shortages. Some online retailers such as Amazon have needed to rapidly adapt their warehouse operations to cope with a spike in demand for household goods. We expect online sales as a proportion of total retail sales to surge to a record high of over 35% when March's figures are released.
Online supermarkets at bursting point – Unprecedented online demand has stretched the UK's online supermarkets beyond capacity. Ocado, the UK's largest online supermarket, was forced to temporarily close services, and has introduced a queuing system upon reopening. Some other supermarkets do not have delivery slots available for several weeks.
New warehouse requirements – The surge in online activity is directly stimulating demand in the logistics market. LSH estimates that over five million sq ft of requirements will come into play in order to allow occupiers to respond to changing consumer behaviour. Several internet retailers and supermarkets are urgently seeking short-term space solutions to cope with current demand. Tesco, for example, has re-taken possession of a vacant 620,000 sq ft warehouse in Milton Keynes.
Temporary warehouse closures – While supermarkets' online businesses are working at full pelt, other major retailers have made decisions to temporarily suspended online operations in response to concerns about staff welfare. Next and River Island are among those that have stopped taking online orders and closed distribution warehouses. Other non-essential retailers will come under growing pressure to follow suit, to allow warehouse workers to stay at home. Laura Ashley is the first example of a retailer to enter administration while citing Covid-19 as a contributory factor. If other large retailers go bust as a result of the crisis, vacant warehouses could appear across the UK.
Global supply chain disruption – Beginning with factory closures in China, measures to contain Covid-19 have set off a wave of disruption to global supply chain s as lockdowns and travel restrictions ripple across the world. Over the longer term, firms may need to re-think their supply chains so that they are not over-dependent on suppliers from China, or any other individual country.
Factory closures – UK manufacturing output will take a significant hit as factories close to help control the spread of Covid-19. The embattled UK car industry may come further pressure; all major car plants in the UK are now closed and the Society of Motor Manufacturers & Traders forecasts that passenger car output will fall by 18% this year.
Get in touch: James Polson
Hotels
Hotels close – The government instructed hotels to close on 24th March, with a small number of exemptions such as rooms provided for homeless people or key workers. However, many hotels had already made decisions to close, with the sector hit hard by plummeting occupancy rates brought on by travel restrictions and social distancing due to Covid-19.
Business failures expected – With the hotel sector effectively shutting down and operators receiving no income, the focus will shift to managing cash resources until hotels can be re-opened. Some hotels will not survive this period; at least one smaller hotel has already decided to call in the administrators and close for good, with Covid-19 being the final straw for its business.
Rental reprieve - Hotel operators due to make quarterly rent payments on 25th March have been given some respite by the government's announcement of a rent moratorium, which will protect commercial property tenants from eviction if they miss payments due to the coronavirus for the next three months. Travelodge is among the hotel groups that have reportedly not made their quarterly rent payments, instead requesting that landlords temporarily suspend payments.
Extension to moratorium may be needed – The rent moratorium has bought hotels some time to stabilise their businesses and to work with landlords to come up with longer-term solutions. At present, the moratorium runs to 30th June, just after the next quarterly rent day of 24th June, but an extension may be needed to ensure that hotel businesses are able to get back on their feet in the second half of the year.
Grants and business rates support – The government has announced further measures that will provide some support to the hotels sector. Hospitality businesses will be given a 12-month business rates holiday, while grant funding will also be available. A one-off grant of £10,000 will be available to small businesses, while hospitality businesses with property with a rateable value between £15,000 and £51,000 will be eligible for grants of £25,000.
NHS support role – The UK hotel industry may have a role to play in easing the pressure on NHS hospitals, by providing beds for healthcare workers and quarantined patients recovering from Covid-19. Major UK hotel groups are reported to be in talks with the government to provide accommodation to NHS workers and patients, and this could provide them with some much-needed income until the crisis period is over.
Domestic-driven recovery – There is the potential for a market rebound in the second half of 2020, although people may be reluctant to make major travel plans even when Covid-19 has been contained. International travel may remain below-trend for some time and domestic travellers will be crucial in driving hotel demand during the initial recovery period. Once the worst of Covid-19 is over, holidaymakers may seek to arrange UK 'staycations' at short notice and shelve international travel plans until future years.
Get in touch: Hugh Anderson
REGISTER FOR UPDATES
Get the latest insight, event invites and commercial properties by email