Such is the scale of the growth that Leeds' TMT businesses have eclipsed activity from occupiers in the traditionally dominant legal, financial and professional services sector, which has almost halved over the past year.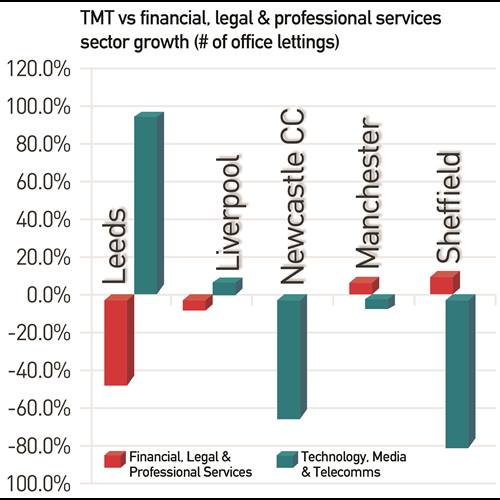 This change in fortunes could simply be a hangover of the global economic downturn, but the city's strong emerging TMT talent pool, proactivity and collaboration between the universities and Leeds City Council, affordable rents and relatively low living costs, as well as the impact of recent major developments such as Victoria Gate, First Direct Arena and Trinity Leeds, all serve to elevate its ranking and offer.
However, LSH has warned that landlords and developers must continue to adapt their strategies to suit the changing needs of these emerging businesses.
Adam Varley said: "Branded the largest financial services centre outside of London, Leeds is clearly outpacing its Northern Powerhouse partners when it comes to TMT start-ups and expansions and this exploding sector could be the foundation for major regional economic growth for years to come.
"Leeds has a strong emerging talent pool that matches the profile of the TMT sector and there is evidence of genuine proactivity and collaboration between the universities and the local authority, through initiatives such as the £38m Nexus innovation and enterprise centre and the launch of the Leeds Tech Hub Fund which has recently announce its commitment to a £2m Tech Hub, which will be based at Platform above Leeds railway station.
"To ensure Leeds maintains this momentum and stays at the forefront, the property community must remain vigilant of the ever-changing market and prepare itself to deliver the kind of spaces that allow Leeds to keep hold of businesses that are already thriving here and attract new talent from outside the city region.
"Occupiers in this sector typically prefer to cluster around other like-minded businesses and have a more agile working environment, such as Allied London's Leeds Dock or Boultbee Brooks' Concordia Work, while also opting for shorter-term, flexible leases that give them the freedom to upscale and downscale nimbly.
"While there is still a nervousness among some within the property industry to embrace the style of working environments this sector demands, there is evidence within the city that carefully designed, striped back, exposed services buildings can work and deliver a better performance than more 'traditional' office environments. The challenge for developers and landlords is to recognise these nuances of the sector and structure themselves accordingly, thereby enticing TMT businesses and entrepreneurs to stay here, move here and grow here."
REGISTER FOR UPDATES
Get the latest insight, event invites and commercial properties by email