Residential Sales Value Portal
Welcome to Lambert Smith Hampton's Residential Sales Values Portal (RSVP), your visual guide to the latest residential property market values across England and Wales. The map utilises a variety of statistics to illustrate key residential pricing indices at the local authority level. Simply click on map below to assess residential values, property prices and prevailing affordability levels across England and Wales.
Note: if map values are not being displayed, please delete cache from your browser
| | | | | |
| --- | --- | --- | --- | --- |
| VARIABLE | YEAR | MEASURE | LEVEL MEASURMENT | SOURCE |
| AVG PER SQ FT | 2020/21 | Average price per sq ft for property | Local Authority – England and Wales only | LSH Research, Property Data |
| AVG PER SQ FT LOCAL AUTHORITY RANGE | 2020/21 | Maximum and minimum average price per sq ft of postcode sectors within local authority | Local Authority – England and Wales only | LSH Research, Property Data |
| AVG PROPERTY | Q2 2021 | Average transaction price for property | Local Authority/Council | Land Registry, Ulster University |
| AVG PROPERTY PRICE 12 MONTH CHANGE | Q2 2021-Q2 2020 | 12 month % change in average transaction price for property | Local Authority/Council | LSH Research |
| INCOME PRICE RATIO | 2020/21 | Ratio of median house price (existing dwellings) to median gross annual (where available) residence-based earnings | Local Authority – England and Wales only | ONS |
How the pandemic shaped the housing market boom
How the pandemic shaped the housing market boom
The pandemic sparked a tumultuous period for the UK property market, impacting significantly on values in contrasting ways, both regionally and across the key sectors.
Alongside our interactive map on current residential values, here we provide additional context on the latest trends, with regard to regional variations, growth and the relative position of residential values vis-à-vis the core commercial property sectors.
Rocket-fuelled residential
In the wake of the pandemic, the Government's temporary holiday on stamp duty and sustained low interest rates drove a burst of pricing growth and activity in the residential market. Activity has also been influenced by shifting preferences related to the pandemic, with greater home-working prompting some UK households to exchange proximity to work for additional living space in lower value areas.
This is arguably reflected in the regional variance in average house price growth. According to Land Registry figures, UK average house prices increased by 13.2% in the year to June 2021, the fastest rate of growth since November 2004. While most regions recorded double-digit price growth over the period, led by the North West (18.6%), Greater London was the clear exception, where price growth was 6.3% over the period.
At a more local level, some of the most significant price increases are apparent within relatively rural and in some cases remote parts of the UK. The Orkney Islands of Scotland was the strongest performer among the UK's 378 districts, recording annual price growth of 25%, followed by Carmarthenshire, Wales, where average prices increased by 23%. Notably, at the other end of the scale, London's most expensive districts performed comparatively poorly over the year, led by Westminster, where prices contracted by 7.9%.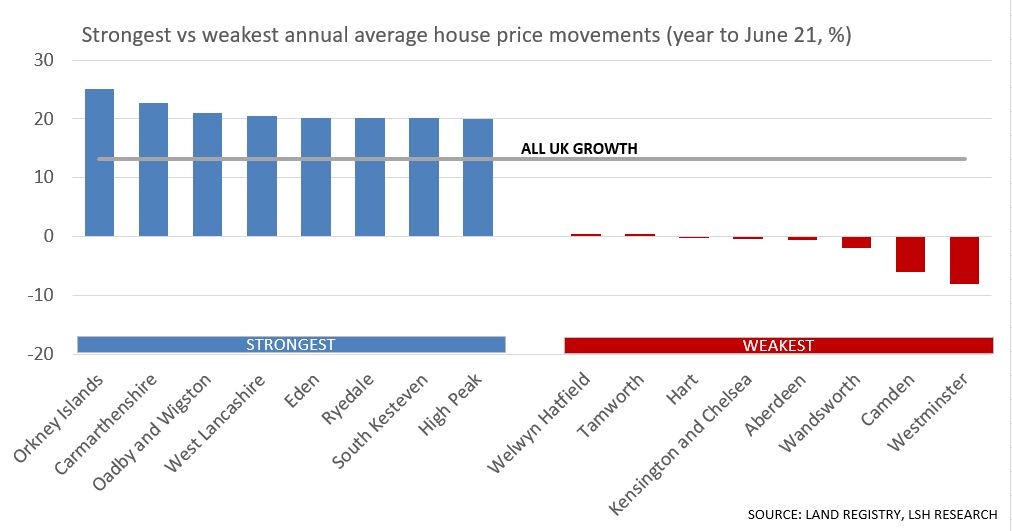 But London's pricing hegemony is undiminished
While average price growth in the capital has lagged other regions over the year to June 2021, as ever, Greater London remains by far the most expensive part of the UK. Average values in the capital equate to £643 per sq ft, 73% higher than the average for the South East, the second most expensive region of the UK. Moreover, even London's cheapest local authority area, Barking and Dagenham (where values average £388 per sq ft) runs ahead of the average for the South East.
That said, average pricing in Greater London is skewed by the eye-watering costs associated with its central districts, with the prime areas of Kensington & Chelsea and Westminster boasting average values of £1,426 per sq ft and £1,348 per sq ft respectively, despite notable pricing falls recently observed in the latter. Outside of London's central districts, average pricing more typically ranges from £500 per sq ft to £600 per sq ft, still well ahead of much of the South East.
Beyond Greater London and the UK's southernmost regions, average pricing is relatively uniform across the other regions of the UK. The North East is home to the lowest average prices, reflecting £153 per sq ft, while average prices for Wales, Yorkshire & the Humber, the North West, East Midlands and West Midlands all fall within a 'ball park' of £180 per sq ft to £220 per sq ft.
Varying levels of variance
Arguably more notable is the extent of intra-regional variance at the district level. While the North East region is cheapest overall, the district range of £114 per sq ft to £184 per sq ft is relatively tight compared with elsewhere. However, while Wales is ahead of the North East in terms of average pricing, it is home to the cheapest district of anywhere in the UK, with prices in Blaenau Gwent reflecting £99 per sq ft.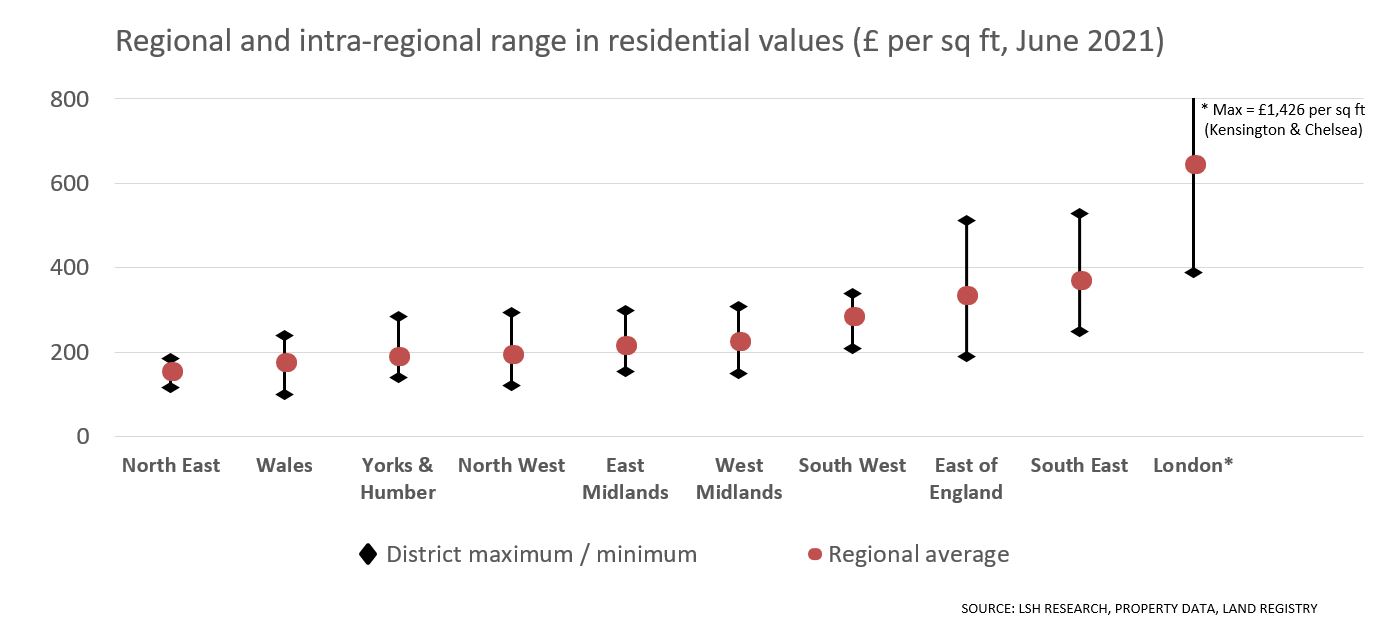 Outside of Greater London, the East region is home to the most significant degree of intra-regional pricing variance, a result which no doubt reflects wide contrasts in the level of connectivity with the capital between its constituent districts. Average pricing across the East region's districts varies by 76% from the average, far higher than the variance seen across the other regions outside London, where it ranges from 33% to 55%.
A comparison with commercial
Residential is not the only UK property sector to have seen its performance shaped by recent events and interventions. The experience of several lockdowns and a lengthy period of restrictions have also had a significant influence on values in other parts of the UK property market, accelerating structural changes that were already in train prior to the pandemic.
Industrial strength
Of the key commercial sectors, industrial (i.e. warehousing) value growth has notably outperformed residential at the UK wide level, both over the recent past and over the past decade as a whole. Despite remarkable growth in average UK residential prices over the past year, this was surpassed by industrial, which, according to the MSCI valuation benchmark, saw values increase by 18.2% over the year to June 2021.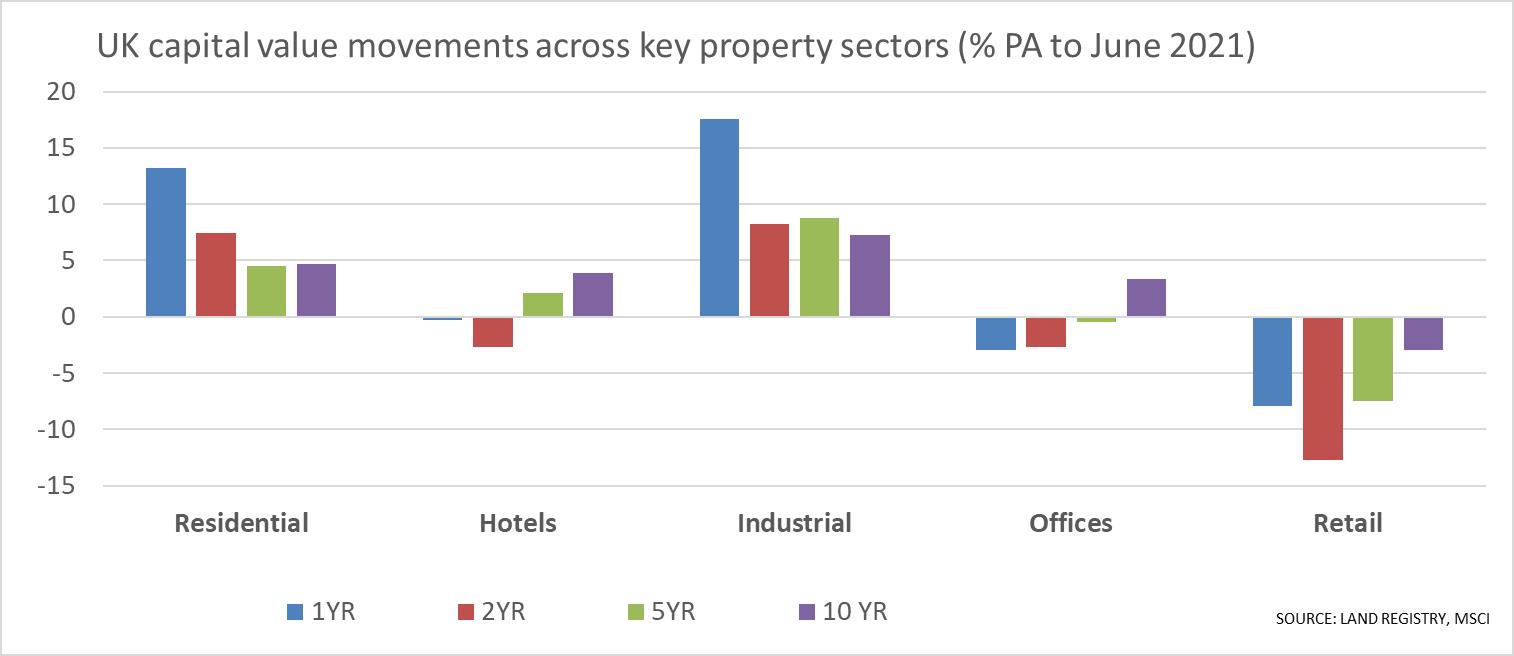 The UK industrial sector has been at the fulcrum of structural changes in shopping patterns over recent years, with an ever increasing share of consumer activity moving online. This has stimulated huge growth in warehousing demand, driving up rents and land values to levels unthinkable a decade ago. The closure of essential retail amid the worst of the pandemic hastened the shift to online, and the sector is now the defensive asset class of choice among global investors.
Retail's woes laid bare
On the flipslide, UK retail property is enduring the fallout from structural change in shopping patterns and is, by a distance, the poorest performing UK property sector over the past decade. This has been reflected in a sustained period of falling values, amounting to a 24% contraction over the two years to June 2021, a period characterised by a sharp rise in store closures amid the pandemic, increased vacancy rates and falling rents.
That said, some parts of the retail property market are showing signs of recovery. Of retail's main sub-sectors, retail warehousing has started to buck the trend, with average capital values holding firm over the past year, while a growing number of investors have identified opportunities to add value on these sites through asset management and higher density development.
Comparing values between sectors
Significant contrasts in value movements between the sectors, if sustained, have the power to reshape investor decision-making, particularly with regard to the composition of larger, mixed-use schemes. What may have worked well in the past may be less relevant nowadays, with structural change offering up more viable alternatives.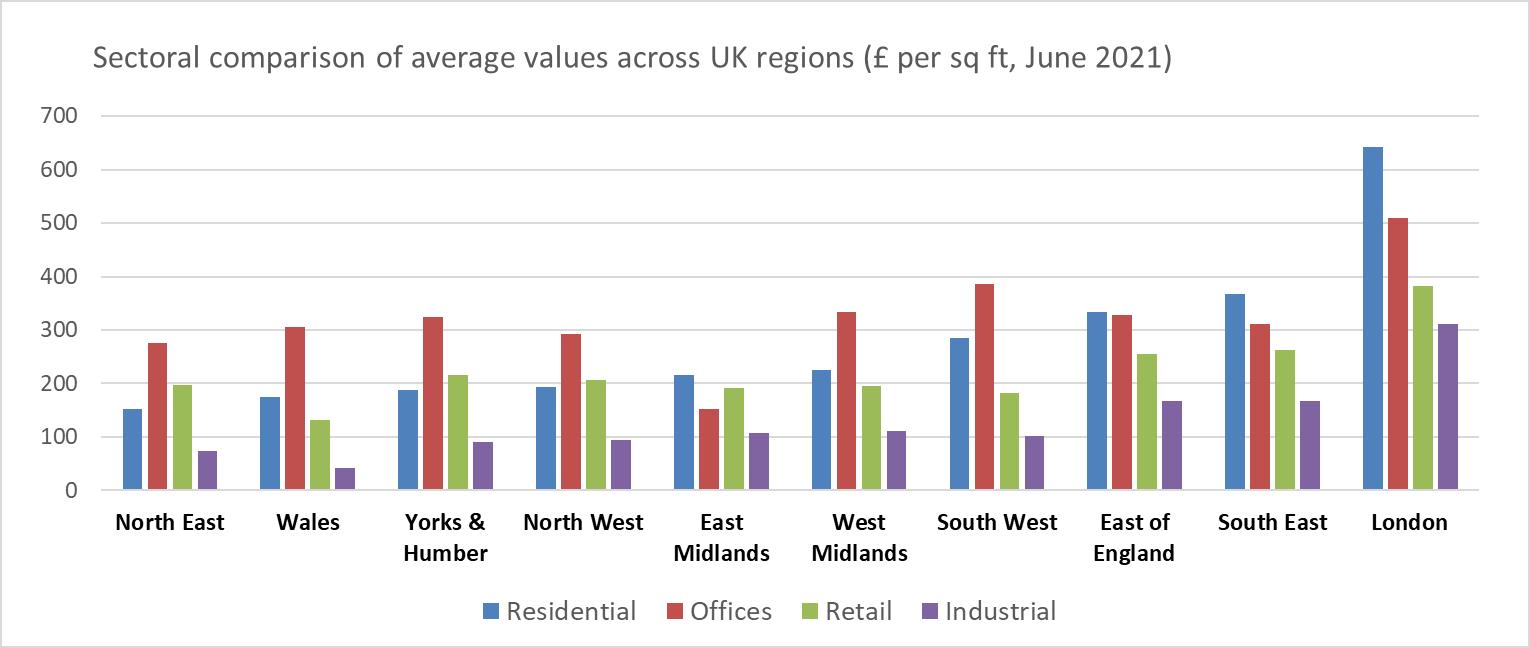 The relative ordering of average values between the sectors differs between regions. Over the past decade, consistently strong residential price growth in London and the South East has seen average residential values move ahead of offices. Unsurprisingly, the 2013 government decision to relax permitted development rights to allow change of use from offices to residential was utilised far more significantly in London and the wider South East compared with other parts of the UK.
The ordering of values between sectors is more conventional in other regions of the UK, with office values in England's northern and West Midlands regions continuing to command a notable premium over average residential values. This also applies to the more local level within these regions, with average pricing for offices in the key markets of Manchester, Birmingham and Leeds also commanding a premium over residential.
Rethinking mixed-use composition
Accelerated by the pandemic, structural change is prompting a rethinking away from conventional models of mixed-use development, which have typically emphasised retail within residential-led schemes over other possible uses, such as retirement housing, flexible workspace and community uses.
Light industrial is one such area. While industrial continues to possess the lowest values relative to other key uses across all regions of the UK, the value differential has narrowed considerably in the East and South East regions over recent years, reflecting strong demand for access to UK consumers and limited land supply. In some areas, the demand for urban logistics space is such that developers are increasingly considering light industrial uses to complement residential-led schemes instead of retail.
Thus, a sound understanding of recent and contrasting movements in values between the various property sectors will be a vital consideration for developers and investors, especially when conceptualising larger, mixed-use schemes.
Our expertise
Utilising our expert knowledge and our understanding of current planning policy and legislation combined with our commercially driven approach we can reassess current assets and the potential to change the existing use for a potentially more financially viable alternative. LSH has a proven track record of maximising the commercial value of sites and assets in various sectors with our ability to approach, appraise, plan and deliver complex mixed-use and regeneration projects through our multi-disciplinary teams across the business and throughout the country. Find out more here.
Related service
Dig deeper with Bespoke reports
Using a combination of unique proprietary and open data sources, we are able to analyse local market activity and its influences across all price points and residential sectors.
Find out more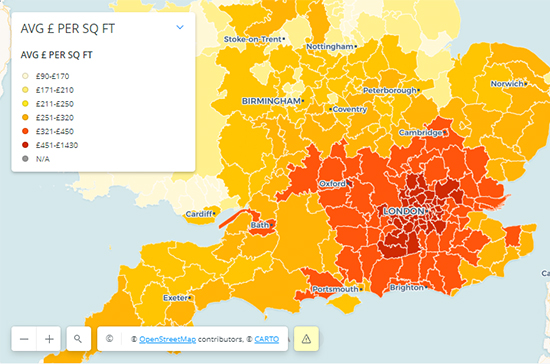 Housing solutions
We are uniquely placed to provide clients with a complete solution to help identify, unlock and realise a long term pipeline of residential development.
National Land Network
Our National Land Network operates extensively across the UK and offers expert advice on a variety of sites with potential for residential development.