Residential Sales Value Portal
Welcome to Lambert Smith Hampton's Residential Sales Values Portal (RSVP), your visual guide to residential per sq ft values across the UK. The map utilises a variety of statistics to illustrate key residential pricing indices at the local authority level. Simply click on map below to assess residential values, property prices and prevailing affordability levels across the UK.
Notes: Right click to zoom in. If map values are not being displayed, please delete cache from your browser
| | | | | |
| --- | --- | --- | --- | --- |
| VARIABLE | YEAR | MEASURE | LEVEL MEASURMENT | SOURCE |
| AVG PER SQ FT | 2021/22 | Average price per sq ft for property | Local Authority | LSH Research, Property Data |
| AVG PER SQ FT LOCAL AUTHORITY RANGE | 2021/22 | Maximum and minimum average price per sq ft of postcode sectors within local authority | Local Authority | LSH Research, Property Data |
| AVG PROPERTY | Q2 2022 | Average transaction price for property | Local Authority/Council | Land Registry, Ulster University |
| AVG PROPERTY PRICE 12 MONTH CHANGE | Q2 2022-Q2 2021 | 12 month % change in average transaction price for property | Local Authority/Council | LSH Research |
| INCOME PRICE RATIO | 2021/22 | Ratio of median house price (existing dwellings) to median gross annual (where available) residence-based earnings | Local Authority | ONS |
Cooling down: rising interest rates signal an end to strong price growth
Cooling down: rising interest rates signal an end to strong price growth
While the pandemic continues to leave its mark on the property market, rising interest rates signal a clear break from the conditions of previous years.
Alongside our latest interactive map on per sq ft residential values, here we provide additional context on the latest trends, with regard to regional variations, growth and the relative position of residential values vis-à-vis the core commercial property sectors.
Residential prices rise amid changing economic climate
Despite the emergence of increasing economic headwinds during the first half of 2022, including rising inflation and increasing borrowing costs, the rate of average house price growth in H1 accelerated upon the latter part of 2021. According to ONS figures, average UK house prices increased by 6.0% in H1 2022, rising from 1.7% growth in H2 2021.
However, developments over the following summer months point to a cooling in house price growth over the second half of 2022 and into 2023. September was an especially mixed month for the residential market - just three days after interest rates were hiked to a 14-year high of 2.25%, the Government's 'mini-budget' included a doubling of the Stamp Duty threshold to £250,000 alongside a substantially revised threshold of £425,000 for first time buyers.
Helpful though it is, the government's package of support is unlikely to offset the impact of rising interest rates on the housing market. With an increasing number of forecasters expecting interest rates to reach at least 4% next year, high borrowing costs and possibly economic recession will, at best, curtail price growth. According to Hampton's latest research, average UK house prices will ease down sharply in the second half of 2022 and end up flat for 2023 as a whole.

The pandemic continues to leave a mark
While UK average house price growth was strong over the first half of 2022, there was considerable variation at the more local level. Housing market activity and price movements continue to be influenced by shifting preferences related to the pandemic. Many UK households have sought to take advantage of increased remote working by exchanging proximity to work with cheaper locations that offer more space and a quieter life.
Of the UK's 378 districts, several of London's more central and characteristically expensive districts have been hit hardest. The London Borough of Camden was the UK's weakest performing location in the first half of 2022, with average prices contracting by 9.3% over the period. Notably, and in sharp contrast, relatively rural and reputedly idyllic locations are amongst the strongest risers in H1 2022. Eden in the Lake District was the strongest performer overall, with average prices increasing by a staggering 15.6% in the first half of the year.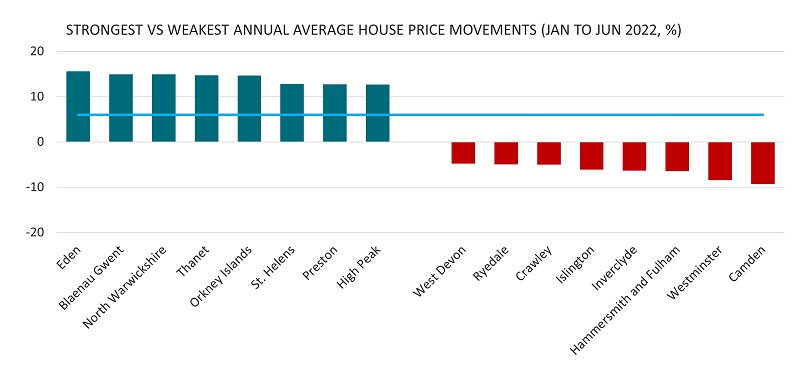 But London's pricing hegemony is undiminished
While average price growth in the capital has lagged elsewhere since the pandemic, as ever, Greater London remains by far the most expensive area of the UK. At the mid-point of 2022, average values in the capital equated to £699 per sq ft, 83% higher than the average for the South East, the second most expensive region of the UK.
That said, average per sq ft pricing in Greater London is skewed by its prime central districts, with Kensington & Chelsea boasting average values of £1,412 per sq ft. Outside of London's central districts, average pricing more typically ranges from £500 per sq ft to £600 per sq ft, still well ahead of much of the South East region.
Beyond Greater London and the UK's southernmost regions, average pricing is relatively uniform between other regions of the UK. The North East is home to the lowest average values, equating to £156 per sq ft, while average values for Wales, Yorkshire & the Humber, the North West, East Midlands and West Midlands all fall within a 'ball park' of £180 per sq ft to £235 per sq ft.
Intra-regional pricing variance

The spread of average values between districts differs significantly across the UK regions. While the North East region is cheapest overall, the district range of £126 per sq ft (Hartlepool) to £186 per sq ft (Newcastle) is also relatively tight compared with elsewhere.
Wales is marginally ahead of the North East region with regard to average prices, although it is home to the cheapest district of anywhere in the UK, with average prices in Blaenau Gwent reflecting £110 per sq ft. Notably, this location saw average house price growth of 15% in H1 2022, making it the UK's second strongest riser.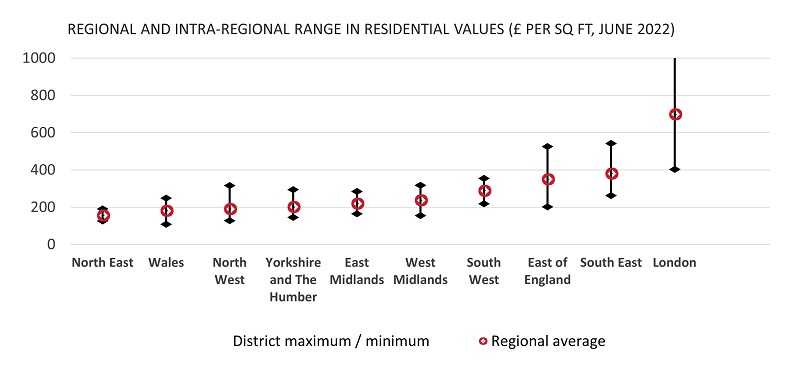 Beyond the extreme contrasts of Greater London, the East of England region also demonstrates a significant pricing variance between its constituent local authorities, standing at 55% in mid-2022. This reflects wide contrasts in levels of connectivity to London, with pricing in the well-known commuter towns of St Albans, Watford and Hertsmere averaging around £500 per sq ft, while more rural locations such as Fenland, Breckland and Kings Lynn averaged well under £250 per sq ft.
A COMPARISON WITH COMMERCIAL
Residential is not the only UK property sector to have seen its performance shaped by recent events. The experience of the pandemic has also had a significant influence on values in other parts of the UK property market, accelerating structural changes that were already in train.
Industrial strength
Of the key commercial sectors, industrial (i.e. logistics / warehousing) value growth has notably outstripped residential at the UK wide level, both over the recent past and over the past decade as a whole. According to MSCI, industrial value growth hit a colossal 32% over the 12 months to June 2022. This sector has been at the fulcrum of structural changes in shopping patterns, with an ever increasing share of consumer activity moving online stimulating considerable growth in warehousing demand.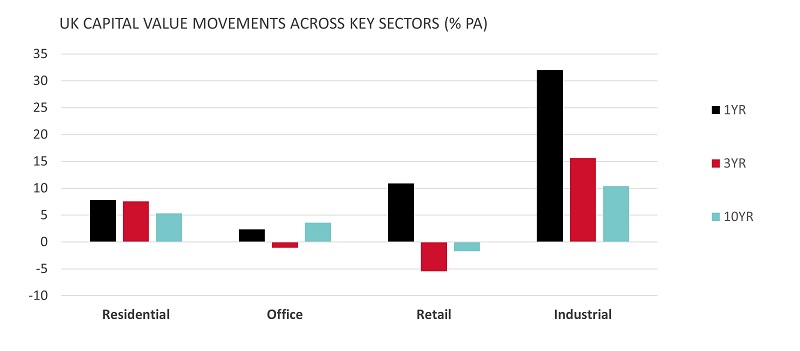 However, while industrial occupier demand and rental growth continues to be underpinned by structural change, the UK's changing financial climate initiated a correction in pricing over the summer of 2022. The extremely low yields that had come to characterise the sector have reacted to a sharp rise in both borrowing costs and construction costs, with much of the growth in values witnessed in the first half of 2022 likely to be reversed in the second half of the year.
Retail values finally begin to recover


On the flipslide, UK retail property has endured the fallout from structural change in shopping patterns, characterised by a sharp rise in store closures, increased vacancy rates and falling rents in the wake of the pandemic. As a result, retail is, by a distance, the poorest performing UK property sector over the past decade.


That said, there are encouraging signs that the worst is now behind the sector, and some stability is returning to the market. Fuelled by strong growth in retail warehousing values over the past year, UK retail values as a whole increased by 11% over the year to June 2022. Investor interest is returning to UK retail, with a view to either repurpose assets to different / mixed uses or invest in them as high yielding opportunities in their own right.


Comparing values between sectors
Significant contrasts in value movements between the sectors, if sustained, have the power to reshape investor decision-making, particularly with regard to the composition of larger, mixed-use schemes. What may have worked well in the past may be less relevant nowadays, with structural change offering up more viable approaches.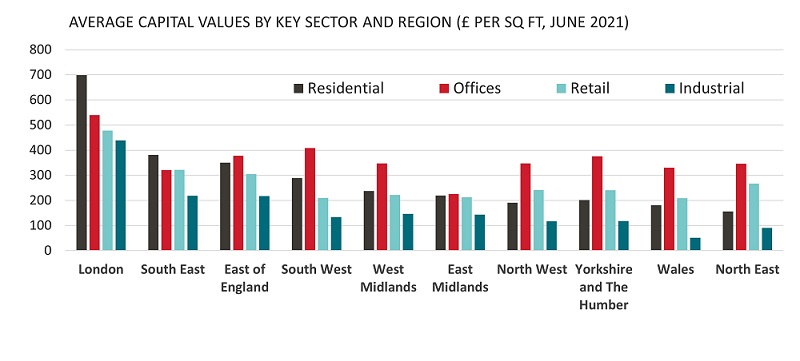 The relative ordering of average sector values differs between regions. Over the past decade, consistently strong residential price growth in London and the South East has seen average residential values move ahead of outer London offices.
The ordering of values between sectors is more conventional in other regions of the UK, with office values in England's northern and West Midlands regions continuing to command a notable premium over average residential values. This also applies to the more local level within these regions, with average pricing for offices in the key markets of Manchester, Birmingham and Leeds also commanding a premium over residential.

Rethinking mixed-use composition
Accelerated by the pandemic, structural change is prompting a rethinking away from conventional models of mixed-use development, which typically emphasised retail within residential-led schemes over other possible uses, such as retirement housing, flexible workspace and community uses. Light industrial is one such area. While industrial continues to possess the lowest per sq ft values relative to other key uses across all regions of the UK, the value differential has narrowed considerably in the East and South East regions over recent years, reflecting strong demand for access to UK consumers and limited land supply. In some areas, the demand for urban logistics space is such that developers are considering light industrial uses to complement residential-led schemes instead of retail. Thus, a sound understanding of recent and contrasting movements in values between the various property sectors will be a vital consideration for developers and investors, and this is especially pertinent for larger, mixed-use schemes.
Related service
Dig deeper with Bespoke reports
Using a combination of unique proprietary and open data sources, we are able to analyse local market activity and its influences across all price points and residential sectors.
Find out more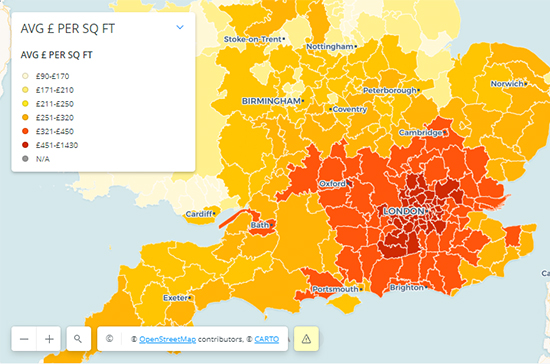 Housing solutions
We are uniquely placed to provide clients with a complete solution to help identify, unlock and realise a long term pipeline of residential development.
National Land Network
Our National Land Network operates extensively across the UK and offers expert advice on a variety of sites with potential for residential development.
Get in touch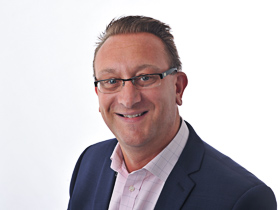 Keith Hughes
Director - Finance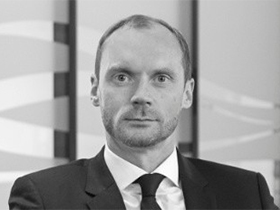 Charles McLean
National Land Director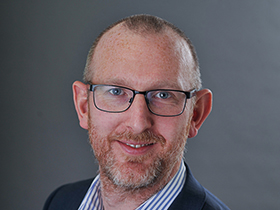 Oliver du Sautoy
Head of Research