Residential Sales Value Portal
Welcome to Lambert Smith Hampton's Residential Sales Values Portal (RSVP), your visual guide to the latest residential property market values across England and Wales. The map utilises a variety of statistics to illustrate key residential pricing indices at the local authority level. Simply click on map below to assess residential values, property prices and prevailing affordability levels across England and Wales.
Notes: Right click to zoom in. If map values are not being displayed, please delete cache from your browser
| | | | | |
| --- | --- | --- | --- | --- |
| VARIABLE | YEAR | MEASURE | LEVEL MEASURMENT | SOURCE |
| AVG PER SQ FT | 2020/21 | Average price per sq ft for property | Local Authority – England and Wales only | LSH Research, Property Data |
| AVG PER SQ FT LOCAL AUTHORITY RANGE | 2020/21 | Maximum and minimum average price per sq ft of postcode sectors within local authority | Local Authority – England and Wales only | LSH Research, Property Data |
| AVG PROPERTY | Q2 2021 | Average transaction price for property | Local Authority/Council | Land Registry, Ulster University |
| AVG PROPERTY PRICE 12 MONTH CHANGE | Q2 2021-Q2 2020 | 12 month % change in average transaction price for property | Local Authority/Council | LSH Research |
| INCOME PRICE RATIO | 2020/21 | Ratio of median house price (existing dwellings) to median gross annual (where available) residence-based earnings | Local Authority – England and Wales only | ONS |
Shifting Values: how the pandemic has shaped the property market
Shifting Values: how the pandemic has shaped the property market
While normality has largely returned to daily life two years on from the pandemic, its impact has left a lasting legacy on the UK property markets, both residential and commercial.
Alongside our interactive map on current residential values, here we provide additional context on the latest trends, with regard to regional variations, growth and the relative position of residential values vis-à-vis the core commercial property sectors.
Price rises easing down
In the wake of the pandemic, the Government's temporary holiday on stamp duty drove a burst of pricing growth and activity in the UK residential market. According to the Land Registry, UK average house price growth peaked at 13.5% in the year to June 2021, its fastest rate in almost 20 years, before easing down to 10.8% in the year to December 2021.
Evidently, however, the closure of the stamp duty holiday last October, the prospect of rising interest rates in 2022 and prevailing high inflation has prompted an easing down in average price growth over recent months. Indeed, the final quarter of 2021 saw UK price growth ease down to 1.4% and this is likely to be a precursor to more moderate growth in 2022.
The pandemic and the race for space
Housing market activity has also been strongly influenced by shifting preferences related to the pandemic. The so-called 'race for space' has seen many UK households look to take advantage of increased remote working by exchanging proximity to work with cheaper locations that offer more space and a quieter life.
This is reflected at both the regional and local level. While most regions recorded double-digit growth in average prices in 2021, led by the South West (13.6%), Greater London was the clear exception, where average price growth was 5.5% for the year. That said, London itself saw marked contrasts in price movements, with relatively robust growth returning to the outer boroughs offset by weak or falling growth within the primer inner London areas.
Indeed, of the UK's 378 districts, the London Borough of Tower Hamlets was the UK's weakest performing location in 2021, with average prices contracting by 4.8% over the year. Notably, and in sharp contrast, idyllic North Devon was the strongest performer in 2021, with average prices increasing by a staggering 26.2% over the year.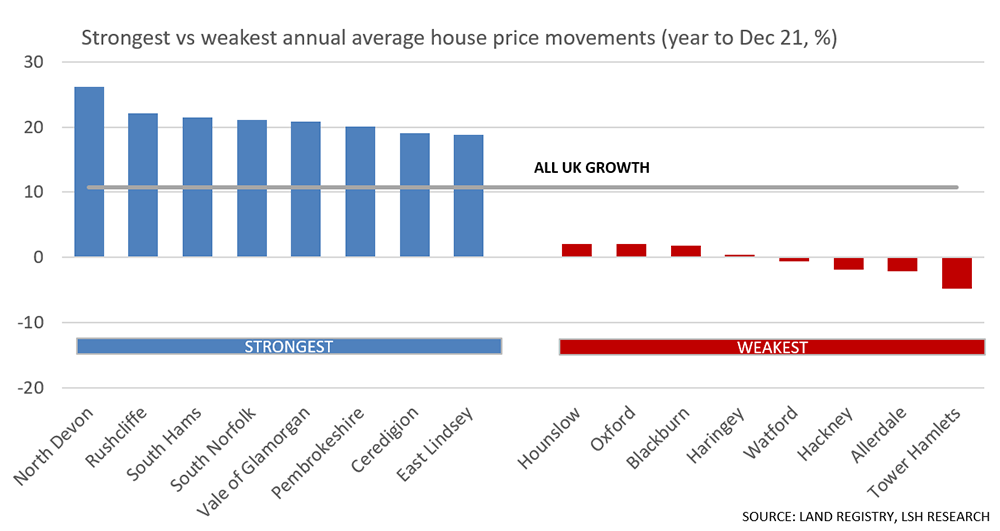 But London's pricing hegemony is undiminished
While average price growth in the capital has lagged other regions in 2021, as ever, Greater London remains by far the most expensive part of the UK. Average values in the capital equate to £654 per sq ft, 74% higher than the average for the South East, the second most expensive region of the UK.
That said, average pricing in Greater London is skewed by its prime central districts, with Kensington & Chelsea boasting average values of £1,400 per sq ft. That said, outside of London's central districts, average pricing more typically ranges from £500 per sq ft to £600 per sq ft, still well ahead of much of the South East region.
Beyond Greater London and the UK's southernmost regions, average pricing is relatively uniform between other regions of the UK. The North East is home to the lowest average values, reflecting £152 per sq ft, while average values for Wales, Yorkshire & the Humber, the North West, East Midlands and West Midlands all fall within a 'ball park' of £170 per sq ft to £230 per sq ft.
Intra-regional pricing variance
The spread of average values between districts differs significantly across the UK regions. While the North East region is cheapest overall, the district range of £123 per sq ft (Hartlepool) to £184 per sq ft (Newcastle) is also relatively tight compared with elsewhere. Wales is marginally ahead of the North East in terms of average prices, although it is home to the cheapest district of anywhere in the UK, with average prices in Blaenau Gwent reflecting £103 per sq ft.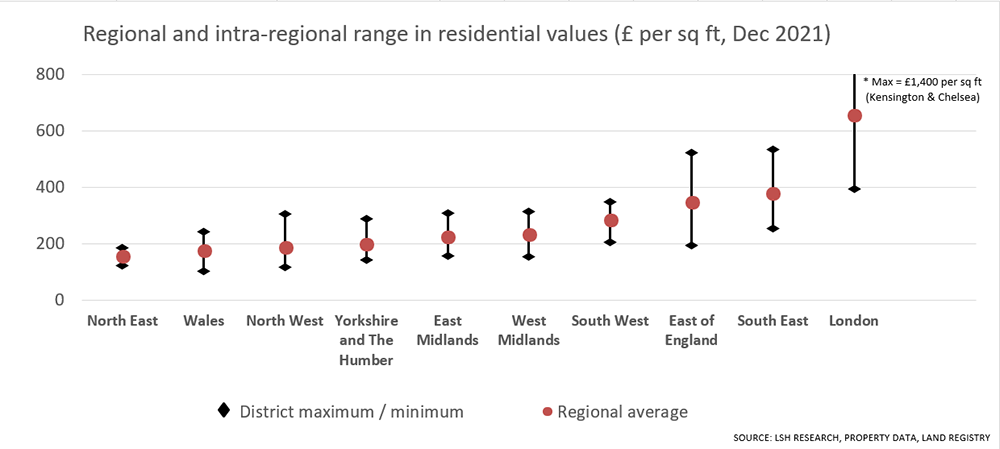 Outside Greater London, the East of England shows the most significant degree of pricing variance between its constituent local authorities. This likely reflects wide contrasts in the levels of connectivity to London, with the well-known commuter towns of St Albans, Watford and Hertsmere averaging over £500 per sq ft.
A comparison with commercial
Residential is not the only UK property sector to have seen its recent performance shaped by recent events. The experience of several lockdowns in the wake of the pandemic and a have also had a significant influence on values in other parts of the UK property market, accelerating structural changes that were already in train.
Industrial strength
Of the key commercial sectors, industrial (i.e. warehousing) value growth has notably outstripped residential at the UK wide level, both over the recent past and over the past decade as a whole. Despite strong growth in average UK residential values, according to MSCI, industrial values have grown significantly faster, hitting a colossal 31% in 2021.



The UK industrial sector has been at the fulcrum of structural changes in shopping patterns over recent years, with an ever increasing share of consumer activity moving online. This has stimulated huge growth in warehousing demand, driving up rents and land values to levels unthinkable a decade ago. The closure of essential retail amid the worst of the pandemic hastened the shift to online, and the sector is now the defensive asset class of choice among global investors.
Retail's woes laid bare
On the flipslide, UK retail property has endured the fallout from structural change in shopping patterns, characterised by a sharp rise in store closures, increased vacancy rates and falling rents. As a result, retail is, by a distance, the poorest performing UK property sector over the past five years.
That said, there are encouraging signs that the worst is now behind the sector, and some stability is returning in the occupier markets. Indeed, strong growth in retail warehousing values over the past year supported positive value growth for UK retail as whole in 2021, with values increasing by 4.4% for the year. Investor interest is returning to UK retail, with a view to either repurpose assets to different / mixed uses or invest in them as high yielding opportunities in their own right.
Comparing values between sectors
Significant contrasts in value movements between the sectors, if sustained, have the power to reshape investor decision-making, particularly with regard to the composition of larger, mixed-use schemes. What may have worked well in the past may be less relevant nowadays, with structural change offering up more viable approaches.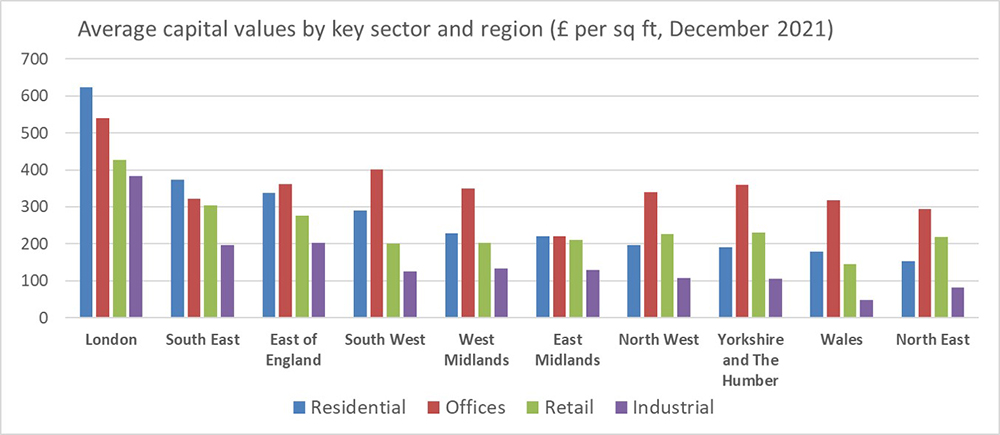 The relative ordering of average values between the sectors differs between regions. Over the past decade, consistently strong residential price growth in London and the South East has seen average residential values move ahead of offices. Unsurprisingly, the 2013 government decision to relax permitted development rights to allow change of use from offices to residential was utilised far more significantly in London and the wider South East compared with other parts of the UK.
The ordering of values between sectors is more conventional in other regions of the UK, with office values in England's northern and West Midlands regions continuing to command a notable premium over average residential values. This also applies to the more local level within these regions, with average pricing for offices in the key markets of Manchester, Birmingham and Leeds also commanding a premium over residential.
Rethinking mixed-use composition
Accelerated by the pandemic, structural change is prompting a rethinking away from conventional models of mixed-use development, which typically emphasised retail within residential-led schemes over other possible uses, such as retirement housing, flexible workspace and community uses.
Light industrial is one such area. While industrial continues to possess the lowest values relative to other key uses across all regions of the UK, the value differential has narrowed considerably in the East and South East regions over recent years, reflecting strong demand for access to UK consumers and limited land supply. In some areas, the demand for urban logistics space is such that developers are increasingly considering light industrial uses to complement residential-led schemes instead of retail.
Thus, a sound understanding of recent and contrasting movements in values between the various property sectors will be a vital consideration for developers and investors, and this is especially pertinent for larger, mixed-use schemes.
Our expertise
Utilising our expert knowledge and our understanding of current planning policy and legislation combined with our commercially driven approach we can reassess current assets and the potential to change the existing use for a potentially more financially viable alternative. LSH has a proven track record of maximising the commercial value of sites and assets in various sectors with our ability to approach, appraise, plan and deliver complex mixed-use and regeneration projects through our multi-disciplinary teams across the business and throughout the country. Find out more here.
Related service
Dig deeper with Bespoke reports
Using a combination of unique proprietary and open data sources, we are able to analyse local market activity and its influences across all price points and residential sectors.
Find out more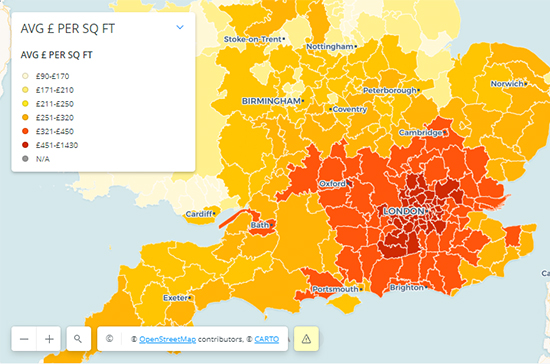 Housing solutions
We are uniquely placed to provide clients with a complete solution to help identify, unlock and realise a long term pipeline of residential development.
National Land Network
Our National Land Network operates extensively across the UK and offers expert advice on a variety of sites with potential for residential development.
Get in touch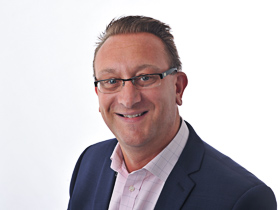 Keith Hughes
Director - Finance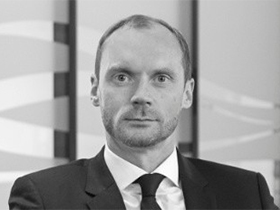 Charles McLean
Land Network Director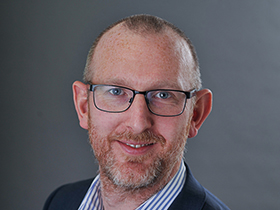 Oliver du Sautoy
Head of Research