Investment market
Voracious appetite for UK industrials from overseas buyers fuelled record volumes and further price rises in in H1 2021.
RECORD H1 VOLUME
Q2 2021 delivered a third successive quarter of colossal UK industrial & logistics volume at £3.5bn, pushing the total for H1 to £7.0bn and smashing the record for a half-year period. Distribution warehouses continued to dominate, with H1 volume of £4.8bn accounting for more than two thirds of the industrial total. This was boosted by BentallGreenOak's £303m (5.50% NIY) seven asset portfolio purchase from Morgan Stanley in Q1 and Blackstone's £283m (5.95% NIY) acquisition of the Albion Portfolio in Q2.
H1 also saw a marked improvement in activity for industrial multi-lets which, in contrast to distribution warehouses, saw annual volume slip to an eight-year low in 2020. Driven by greater investor confidence and improving stock levels, H1 multi-let volume of £2.1bn was the strongest half-year since H2 2018.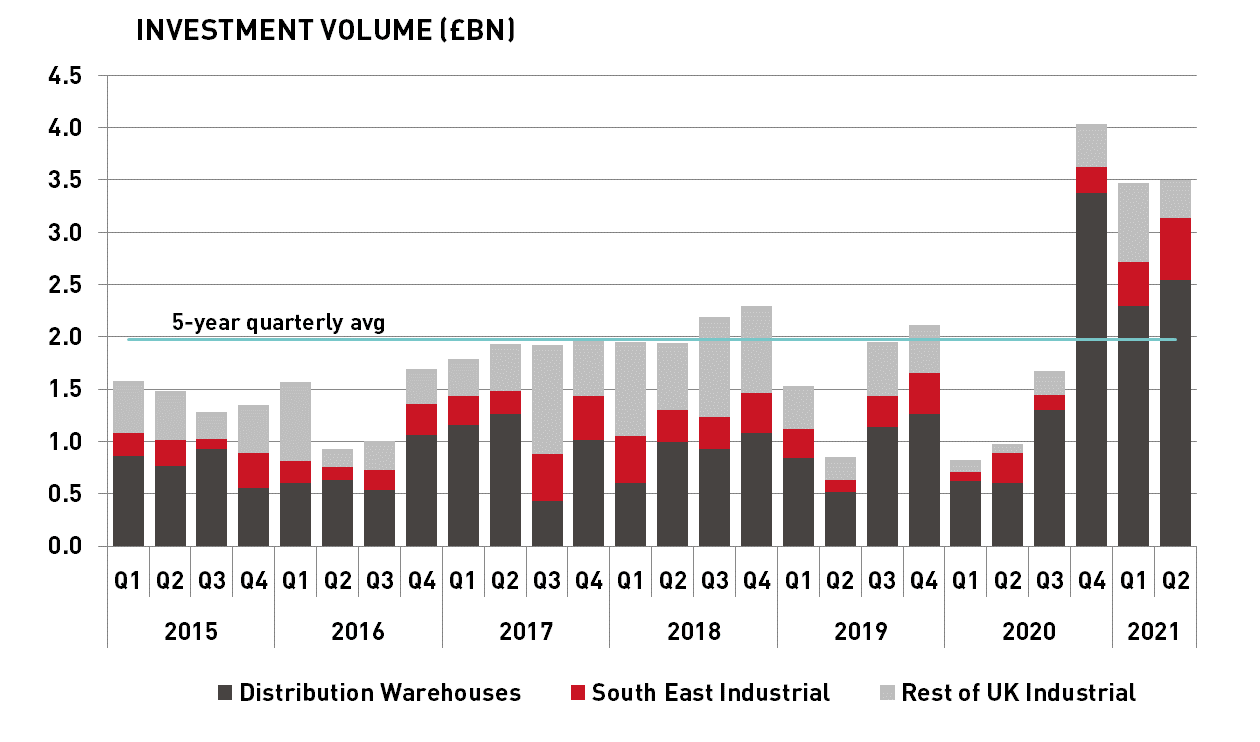 INSATIABLE OVERSEAS DEMAND
Overseas investment climbed to a new high of £3.6bn in H1, 25% above the previous record in H2 2020 and equated to more than 50% of total industrial volume. Once again, overseas buyers dominated at the larger end of the market, behind eight of H1's ten largest deals.
Overseas investment was itself dominated by North American buyers, accounting for 77% of the overseas total. Blackstone was prolific, deploying £696bn across 9 separate purchases, with other major purchases from BentallGreenOak, Goldman Sachs and TPG also fuelling the record figure.
INSTITUTIONS BACK IN FOR INDUSTRIAL
After five successive calendar years of industrial net-selling, institutions came back with a vengeance in Q2. Following another quarter of net selling in Q1, Institutions ploughed a record £898m into the sector in Q2 and were net buyers to the tune of £365m. Aberdeen Standard was central to this, however, by itself investing £427m in the quarter. Its purchases ranged from £12m to £153m, one of which was the £115m (3.50% NIY) forward funding and sale & leaseback at South Elmsall.
Meanwhile, quoted propcos were net buyers in H1 at £549m, a new record half-year for net purchases. LondonMetric and Urban Logistics REIT were particularly acquisitive while, in a telling sign of the times, renowned retail investor British Land made its debut purchase in the sector during Q2 with the acquisition of the Waitrose and Crown Records in Enfield for £87m (2.17% NIY).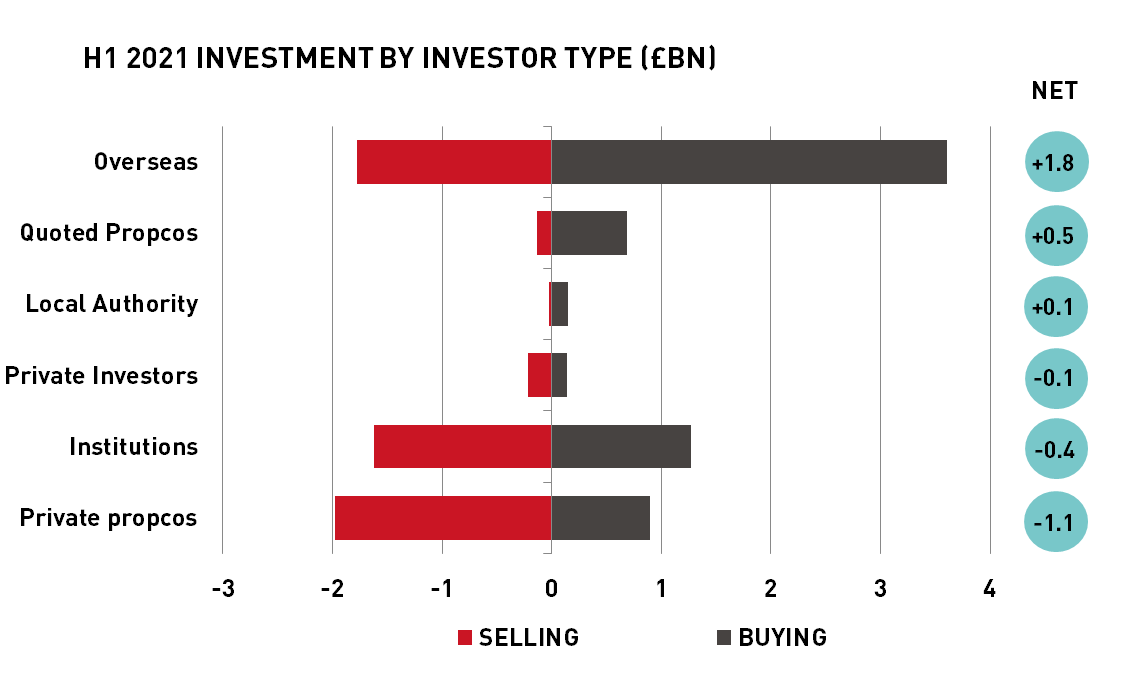 YIELDS SHARPEN FURTHER
The average industrial transaction yield moved in by 69bps during H1 to an all-time low of 4.56%. Pricing for prime assets continued to harden, particularly for urban units located in and around London and distribution warehouses. In early Q3, Mowlem Trading Estate, Tottenham, a 213,000 sq ft modern multi-let estate, went under offer to a well-known developer at a price reflecting 2.50% NIY and over £575 per sq ft.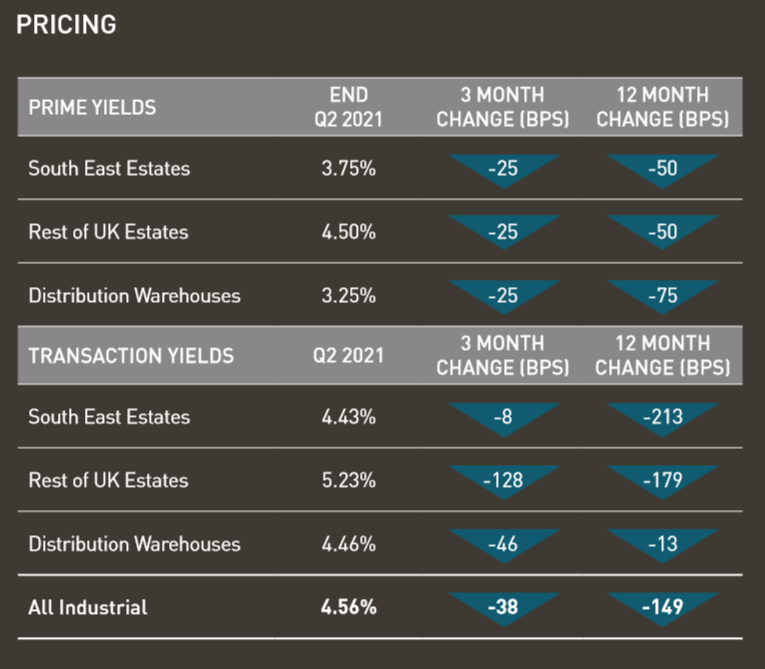 This is taken from the Q2 2021 industrial capital markets mailer.
PHENOMENAL OUTPERFORMANCE
While performance was hit during the height of the pandemic, in contrast with other sectors, industrial rebounded emphatically by the end of 2020 and has continued strongly into 2021. According to MSCI, UK industrial returns hit 7.5% in Q2 2021, the strongest quarterly outturn since Q4 2009 and significantly outperforming all other sectors of the market. This took UK industrial's annual total return to a phenomenal 22.7% at end of Q2, compared to 1.6% for UK offices and -2.5% for UK retail.
While distribution warehouses has dominated from a volumes perspective, performance has been much more evenly balanced between the sub-sectors, with annual returns of 23.7% for distribution warehouses and 22.6% for South East industrials.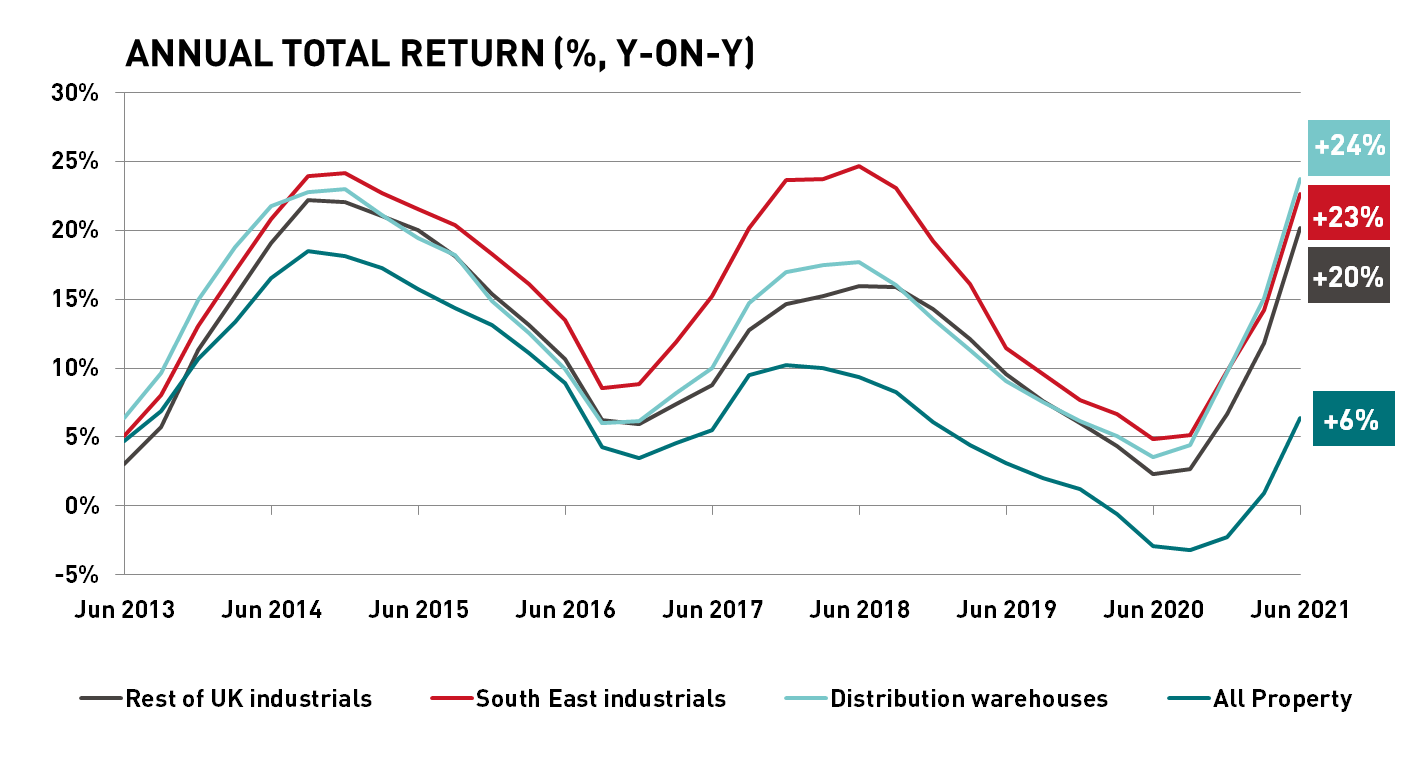 Looking ahead, latest forecasts point to industrial continuing to outperform the wider market over the rest of 2021 and into 2022, albeit to a more modest extent than in 2020. Latest independent forecasts reveal average annual industrial returns of 9.0% per annum over the period to 2025, compared with 6.7% per annum for All Property, led by London estates and distribution warehouses, each with returns of 9.7% per annum.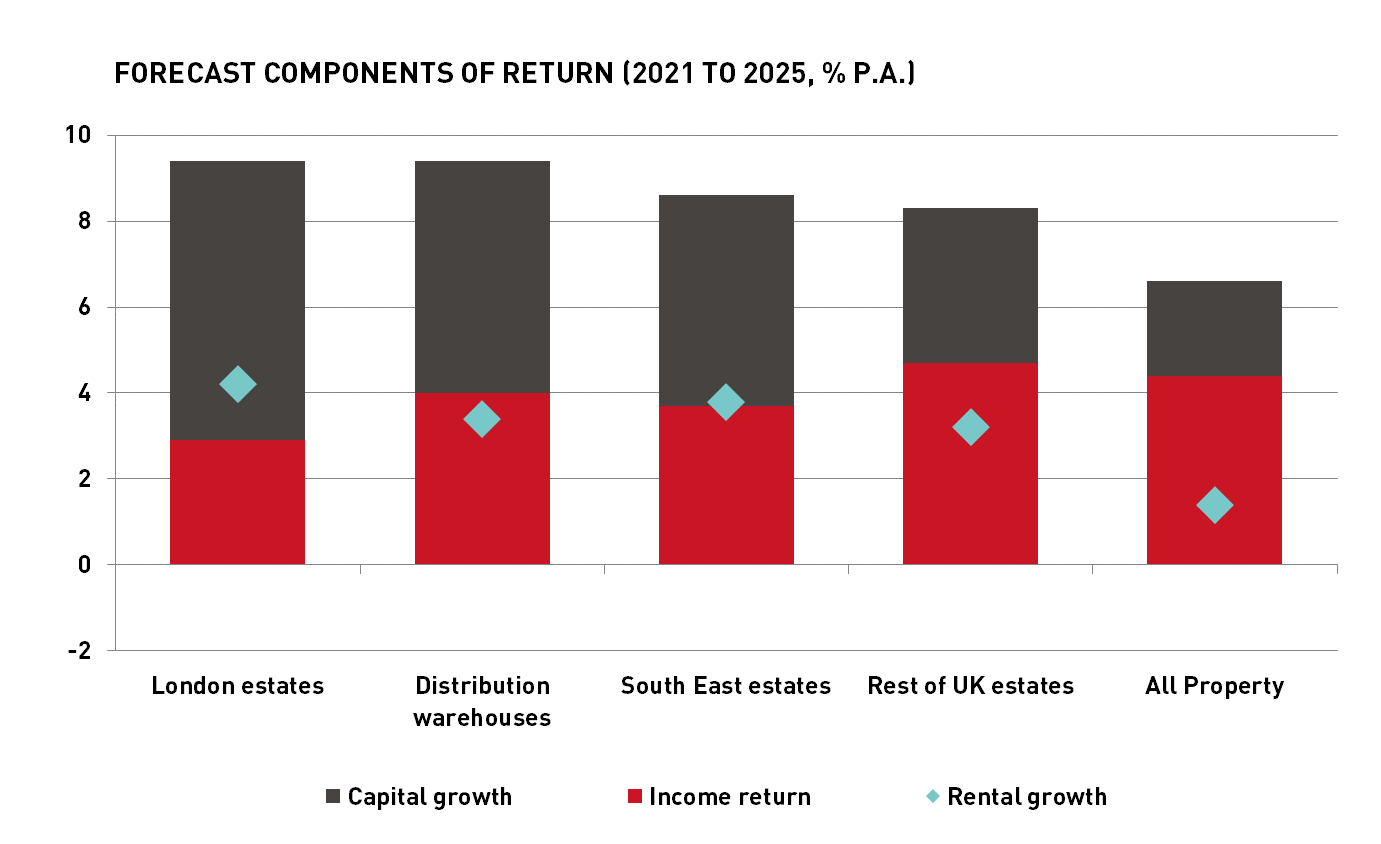 MARKET Insight
Industrial & Logistics Market 2021
Get the full version of our market leading report.
Download PDF