Investment market
FULL THROTTLE
While the phenomenal performance of the UK industrial sector in 2021 is unlikely to be repeated anytime soon, the strength of demand and pace of structural change shaping the occupier market will continue to attract a wall of money into the sector over the next 12 months and beyond.
While there is increasing nervousness in financial markets around the grave situation in Ukraine, the investment market for UK industrial shows no sign of pausing for breath into 2022. Q1 looks set to deliver another bumper quarter of volume alongside new records to boast, this time in the form of Arrow Capital Partners' £223m purchase of Amazon's new 2m sq ft facility at Wakefield Hub, the highest price ever paid for a singlelet warehouse.
There are however reasons to indicate that volume in 2022 will struggle to quite match last year's exceptional level. Despite ongoing strong demand and new overseas buyers entering the market, availability of stock is likely to provide the main limiting factor. Furthermore, while some investors will be tempted to cash in on the recent burst of yield compression, many other investors will hold on to their assets, especially given that the sector is tipped to continue to outperform the wider property market over the medium term.
With existing stock being increasingly difficult to source, investors will increasingly turn to creating it themselves. 2021 saw a notable jump in both forward-fundings and speculative fundings and this is set to ramp up in 2022, especially as supply levels have failed to keep pace with insatiable occupier demand. Yet, even here, investors face increasing difficulty to realise their aspirations, given ongoing pressures in the construction industry and across supply chains.
Meanwhile, pricing has hit levels once unthinkable for the sector, understandably prompting some to question the risk of overheating. While it is now true that industrial yields no longer look as appealing vis-à-vis lower risk assets, such as government bonds, tight supply and structurally fuelled demand confirms industrial as the defensive property asset class of choice. Moreover, yields in the UK continue to compare relatively well with other prime overseas logistics markets, implying no let-up in global demand.
Yield compression is not expected to be feature in anything like the way it has previously, save perhaps for secure index-linked product where high inflation is fuelling intense competition for limited opportunities. In 2022, performance will instead rest upon ongoing expectations of strong rental growth, with assets being sought out for their reversionary potential and in many cases refurbished to better meet the needs of occupiers.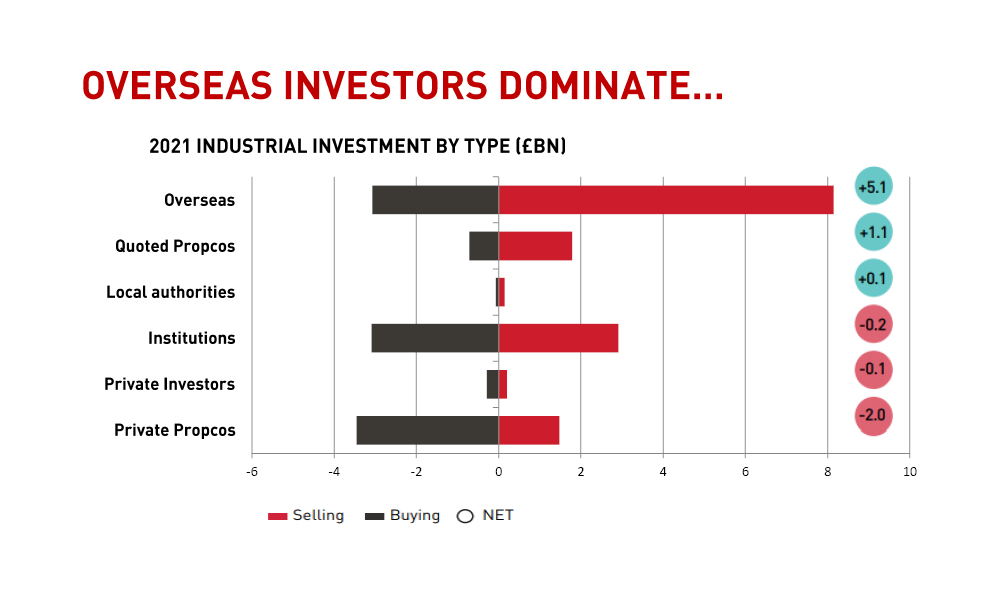 ACTIVITY
The strength of global appetite for UK industrial and logistics was clearly reflected in the investment market in 2021. Total volume hit a massive new high of £15.2bn for the year, approaching double the previous record from 2018. Moreover, despite the fluctuation of COVID-19 restrictions, 2021 started strongly and grew steadily stronger through the year, culminating in record quarterly volume of £4.3bn in Q4 2021.
While 2021 was a year of recovery for the investment market more generally, industrial remained the clear stand-out performer with regard to activity. Industrial accounted for a massive 27% of all investment into UK real estate in 2021, rising from an 18% share in 2020 and compared with a long-run average of circa 13%. 2021 was also exceptionally busy from a deals done perspective, with 766 recorded industrial deals compared with 438 in 2020.
2021's industrial volume was underpinned by a colossal £10.5bn of investment into distribution warehouses, either as singlelet assets or within portfolios. While the experience of the pandemic has driven uncertainty around other sectors, such as offices, it served to underline the defensive attributes of logistics, prompting nothing short of a feeding frenzy for the sector.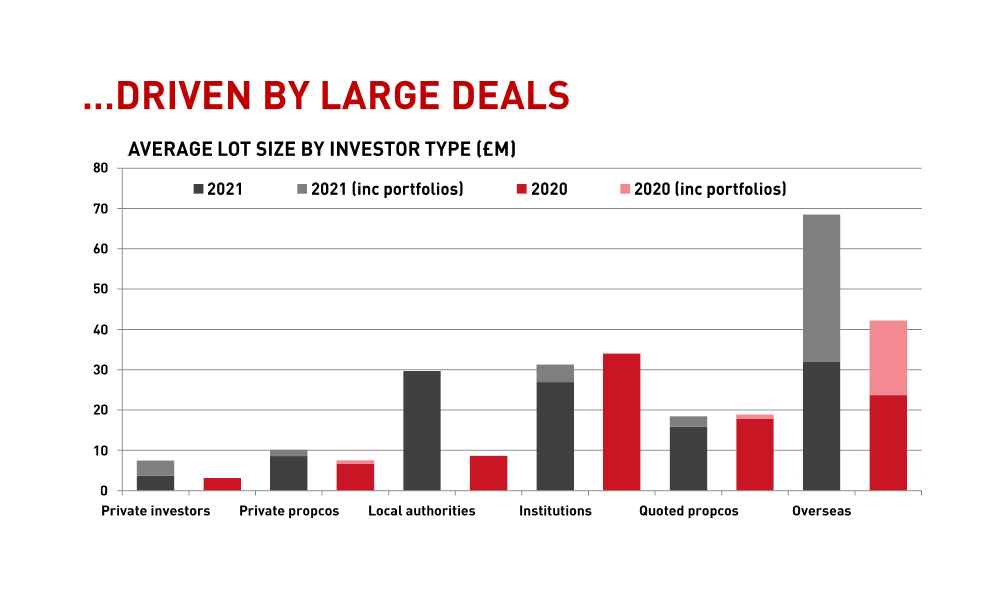 2021 volume was also boosted by the largest deal in the industrial sector by a country mile, and indeed one of the UK's largest ever property deals. Blackstone's mammoth £1.7bn (4.0% NIY) sale and leaseback acquisition of the Asda portfolio, comprising 25 distribution units, propelled total industrial portfolio volume in 2021 to a record £6.8bn.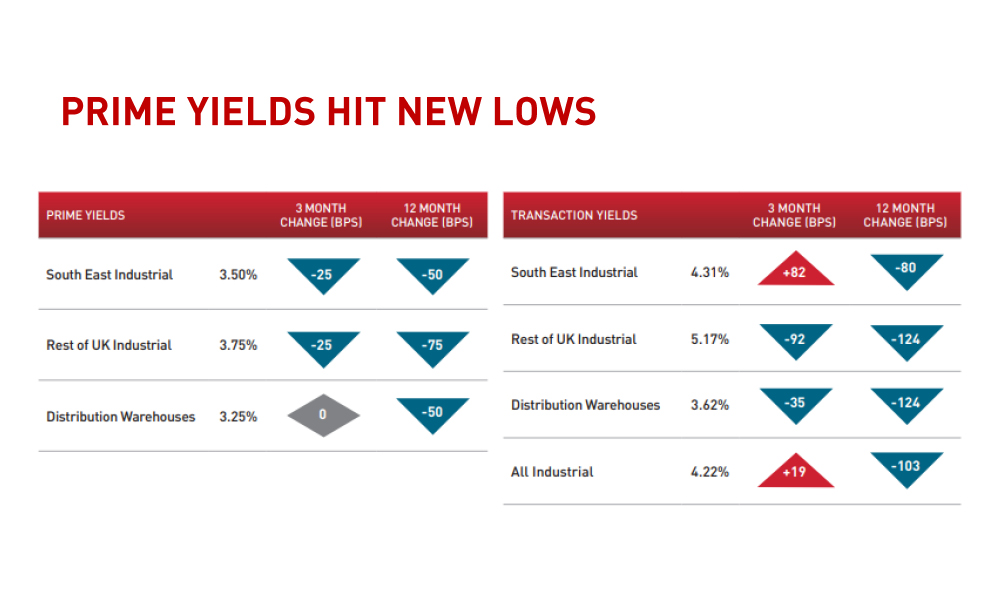 That said, distribution was slightly less dominant in 2021, with its share of the total industrial volume falling from 79% in 2020 to 69% in 2021. This reflected a resurgence in appetite for multi-let assets across the whole risk spectrum. Total multi-let volume, including regional and South East industrials combined, hit £4.7bn in 2021, a threefold increase from 2020's record low and the highest level since 2018.
The turnaround in fortunes for UK multi-lets is arguably as impressive as the soaring volumes for distribution warehouses. The more diverse sectoral make-up of the multi-let occupier market was, evidently, a source of investor caution during the worst of the pandemic in 2020, but this has since given way to a picture of resilience in the market, supported by evidence of strong rental growth across much of the country.
However, the impressive rebound seen for multi-lets during 2021 differed in extent between its two sub-sectors. Fuelled by unprecedented levels of rental growth, the resurgence in multi-let volume in 2021 was most apparent for South East industrials, where total volume hit a record £2.0bn and was 55% above the annual trend. While Rest of UK industrials saw volume hit a 14-year high of £2.7bn in 2021, it was 23% above trend.
BUYERS AND SELLERS
Overseas investors have become synonymous with the UK industrial sector in recent years. Overseas volume soared to £7.9bn in 2021, well over double the previous record from 2020 and more than seven times the annual average from the last 20 years. Evidently, the perceived downside risks around Brexit have receded and been more than offset by the sector's extremely positive fundamentals.
In typical fashion, overseas buyers dominated at the larger end of the market, behind eight of 2021's ten largest deals. Remarkably, overseas investment was itself dominated by a single North American buyer. On the heels of buying of £1.3bn in 2020, Blackstone deployed a massive £3.1bn across 16 separate purchases in 2021, including the aforementioned Asda Portfolio (£1.7bn), the Defender Portfolio (£400m) and the Albion Portfolio (£283m).
Dominant as Blackstone was, the sheer depth and range of overseas demand was equally as impressive. Overseas buyers were behind 118 purchases in 2021, rising from 81 in 2020 and compared with a long run annual average of circa 30. The year also saw 61 unique overseas buyers, rising from 40 in 2020, and spanning the whole spectrum of lot-sizes.
While 2020's industrial volume was propped up by overseas buyers, 2021's record high was also characterised by a resurgence of domestic buying. Domestic investment in 2021 was almost double 2020's eight-year low, fuelled by record volume from institutional buyers (£2.9bn) and quoted property companies (£1.8bn).
Institutional activity was diverse in 2021, comprising close to 50 unique buyers albeit dominated by a number of the traditional players. Abrdn undoubtedly was the busiest buyer of 2021, behind 16 separate purchases worth a combined £637m, while other buyers of multiple assets in the year included CBRE GI, L&G and NFU. 2021's largest institutional buy was Schroder IM's £205m (NIY 3.40%) purchase of a portfolio comprising six distribution assets.
Despite a rebound in domestic buying, most of the domestic buyer types were actually net sellers of industrial assets to some degree in 2021. Given the buying power and appetite amongst overseas investors, hefty price increases understandably provided a tempting opportunity to sell and, in many cases, crystallise substantial gains. Private propcos were by far the largest net sellers in 2021, with net disposals of £2.0bn worth of industrial assets.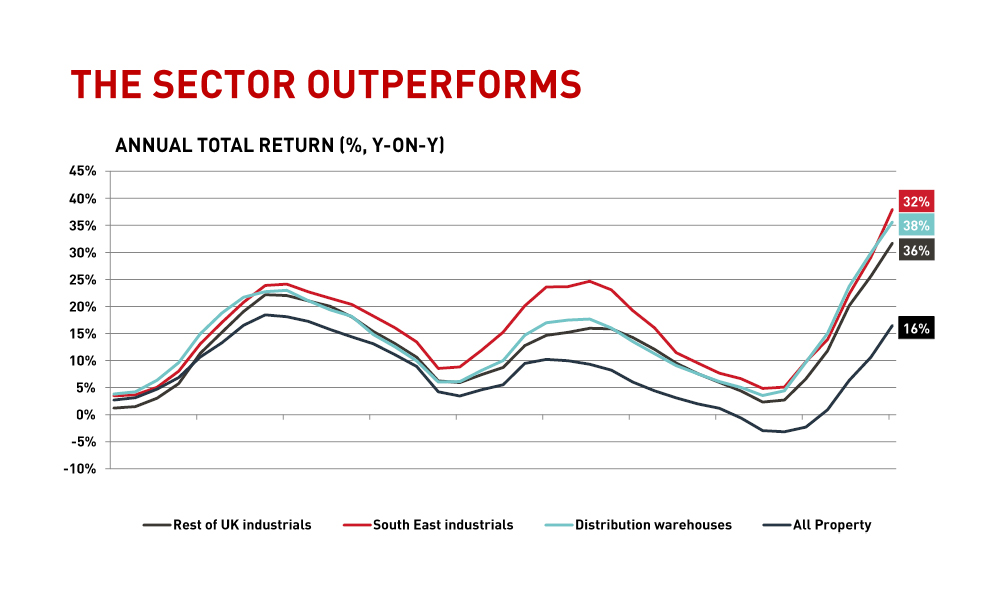 Quoted propcos were the sole major net buyers of industrial property in 2021, totalling £1.1bn for the year. LondonMetric was comfortably the most active in 2021, buying 23 of the year's 70 REIT purchases. However, SEGRO was the largest REIT buyer in 2021 from a volume perspective, and was behind the largest REIT purchase of 2021, namely the acquisition of Matrix Park, Park Royal for £140m (NIY 2.80%).
PRICING AND PERFORMANCE
The performance of UK industrial & logistics was frankly sensational in 2021, confounding expectations of a more modest performance at the start of the year. According to MSCI, UK industrial returns amounted to a stellar 36.4% in 2021, a result propelled by record-breaking quarterly returns of 12.4% in Q4 2021.
Performance was largely driven by a renewed bout of yield compression, alongside strong rates of rental growth in many parts of the UK. The incredible late flourish to 2021 rubberstamped industrial as the UK's top performing UK asset class for a sixth successive year, while the only other property sector to perform anywhere near to industrial was retail warehouses, with returns of 21.9%.
While distribution warehouses dominated 2020 from a volumes perspective, performance was relatively balanced between the sub-sectors. On the back of step-change rises in rental levels, South East multi-lets led the sector with returns of 38.4%, closely followed by distribution warehouses with returns of 35.6%.
The operational resilience of industrial has effectively added a new premium on the relative security of income the sector offers. This is especially true for distribution warehousing, where rent collection was barely impacted amid lockdowns and restrictions, while supply scarcity in the face of insatiable occupier demand is playing firmly into the hands of landlords.
Notional yields across the whole spectrum of the industrial market compressed to new all-time lows during 2021. Yields for long indexedleased distribution warehouses hardened by 50bps to circa 3.25%, while strong rental growth drove yields for prime South East multi-let estates down to circa 3.75%. While yields sharpened across the board, yields for prime regional multi-lets continue to offer the most value, at circa 4.50%.
The rapid escalation in pricing levels was also clear to see from investment market activity. In Q4 2021, the average industrial transaction yield stood at 4.22%, over 100 basis points lower than its position 12 months previously. Structural change has turned the traditional pricing landscape on its head, with average industrial yields standing well over 200bps lower than for retail.
Latest independent forecasts point to industrial continuing to outperform the wider market over the medium term. However, with limited headroom for further yield compression, performance will moderate on 2021's exceptional level. Latest forecasts from RealFor predict average annual industrial returns of 7.7% per annum over the period to 2026, compared with 6.5% per annum for All Property, led by London estates, with returns of 9.0% per annum.
Industrial's relatively modest level of projected outperformance, certainly compared with the recent past, is largely based on ongoing rental growth, which is projected to run at a rate of 4.2% per annum up to 2026. However, these independent forecasts are by nature relatively conservative, with evidence suggesting 2022 will deliver double-digit growth across many markets up and down the UK.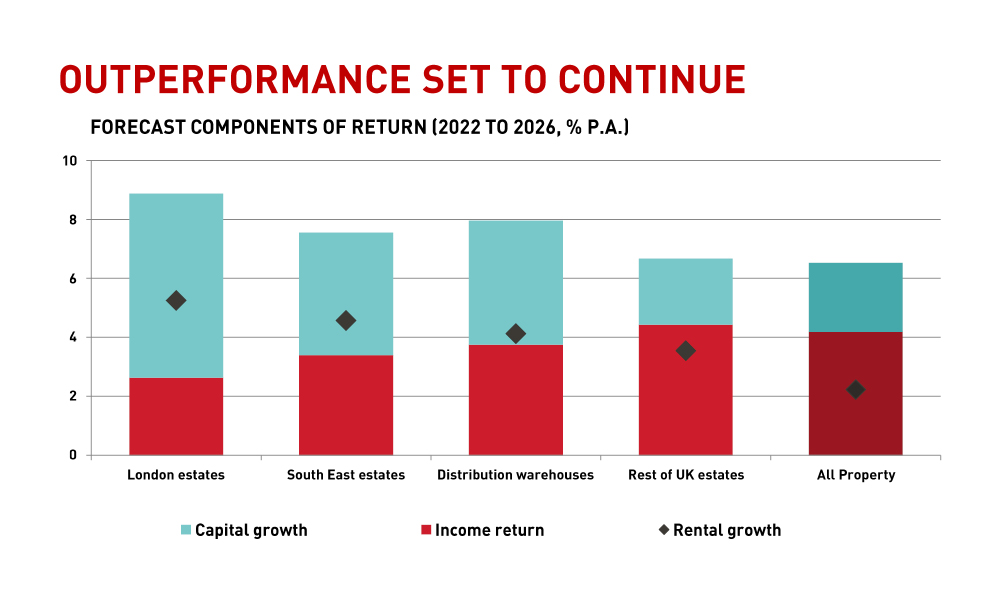 MARKET Insight
Industrial & Logistics Market 2022
Get the full version of our market leading report.
Download PDF