Sector focus: back to life
Subdued as it was, Q3 saw a tangible improvement in volumes from Q2's low, largely led by activity in the regions.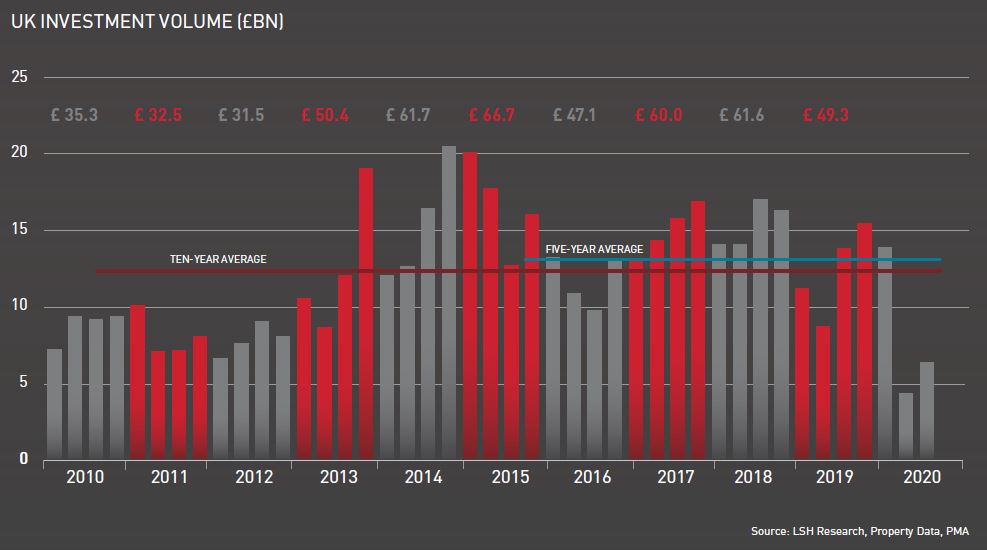 LATE SUMMER PICK-UP
Total UK investment volume recovered to £6.4bn in Q3, up 45% on Q2's low but nonetheless 51% below the five-year quarterly average.
While the return of major £100m+ deals was key, the £50m to £100m lot-size range was the most resilient, with volume 35% below trend.
The return to normality towards the end of the quarter was accompanied by an acceleration of activity. September's volume of £2.7bn was the strongest monthly outturn since prior to the pandemic in early 2020, while the number of deals was the highest since February.
PARK LIFE
Of the core sectors, offices saw the strongest rebound in Q3, with volume of £2.0bn up 71% on Q2's all-time low. Of the sub-sectors, office parks performed best against trend, with volume 23% above the five-year average. The largest office park deal was Hyundai AM and Roebuck AM's £133m joint purchase of 1-3 Lochside Crescent, Edinburgh Park from M&G Real Estate.
Central London office volume improved on Q2 but was still very subdued, slipping below £1bn for only the third quarter on record in Q3.
Much of this was also accounted for by Q3's largest deal, Hong Kong-based Link REIT's £380m (NIY 4.50%) purchase of 25 Cabot Square, Canary Wharf from Hines Global REIT.
AMAZON'S PRIME
In contrast, the ongoing depth of appetite for industrial was reflected in a robust quarter, with volume of £1.3bn only 19% below the five-year average. Tellingly, given their pivotal role in keeping consumers supplied throughout lockdown, distribution warehouses dominated, with volume of £946m being 13% above the five-year quarterly average.
Q3's largest industrial deal was L&G's £202m (NIY 4.30%) build to suit purchase of an Amazon warehouse in Swindon from Panattoni.
Another three Amazon fulfilment centres transacted during Q3, a clear reflection of Amazon's highly sought-after covenant owing to current circumstances.
SUPERMARKET SWEEP
Reflecting entrenched structural challenges, retail volume was again extremely subdued in Q3, falling below £1bn for a fourth successive quarter. Volume was underpinned by RDI REIT's distressed sale of two portfolios; comprising six retail parks to M7 Real Estate for £157m (NIY 7.50%) and three shopping centres to an Israeli investor for £80m (NIY 11.00%).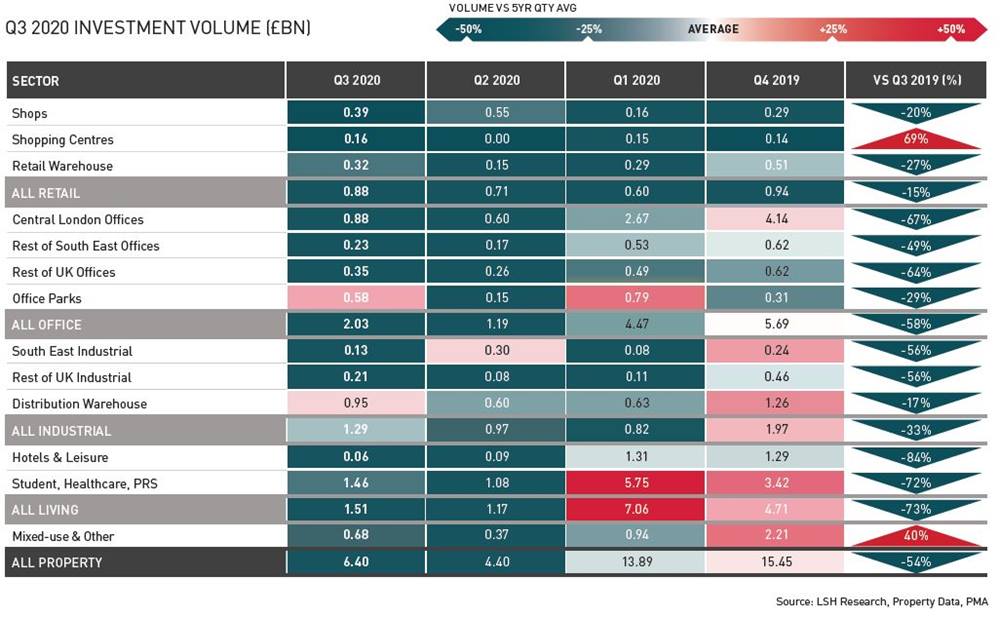 While down on Q2, supermarkets continued to attract investors in Q3 with volume of £302m. Supermarket Income REIT continued its buying spree, purchasing £189m of supermarkets, including a portfolio of five Waitrose assets on sale and leaseback terms for £54.8m.
BTR MAKES A DECENT LIVING
Total volume across the living sector (student accommodation, PRS, hotels and healthcare) was only £1.5bn in Q3, 55% below average and a huge fall from Q1 2020's record £7.1bn. Much of the living arena has been hit hard by the pandemic, not least the hotels sector where Q3 volume was 90% below trend.
However, investment in Build to Rent (BtR) remained strong in Q3, accounting for half of living volume and a record 19% share of total volume. Major deals included Get Living's £252m forward funding of a 649-unit mixed-use scheme in Lewisham; and Mitsubishi's £250m forward funding of Morello II, a 338-unit BtR scheme in East Croydon.
AVERAGE YIELDS SNAP BACK
The All Property average transaction yield moved out by 46bps in Q3 to stand at 5.71%, completely reversing Q2's sharp inward movement. This was driven by activity in the retail sector, where the average yield moved out by a considerable 159bps to 6.90%.
Average yields for office and industrial both returned to their pre-pandemic levels in Q3, moving in by 15bps and 103bps respectively.
However, pricing sentiment around prime yields has turned negative across the majority of property sectors, the only clear exceptions being industrial and supermarkets.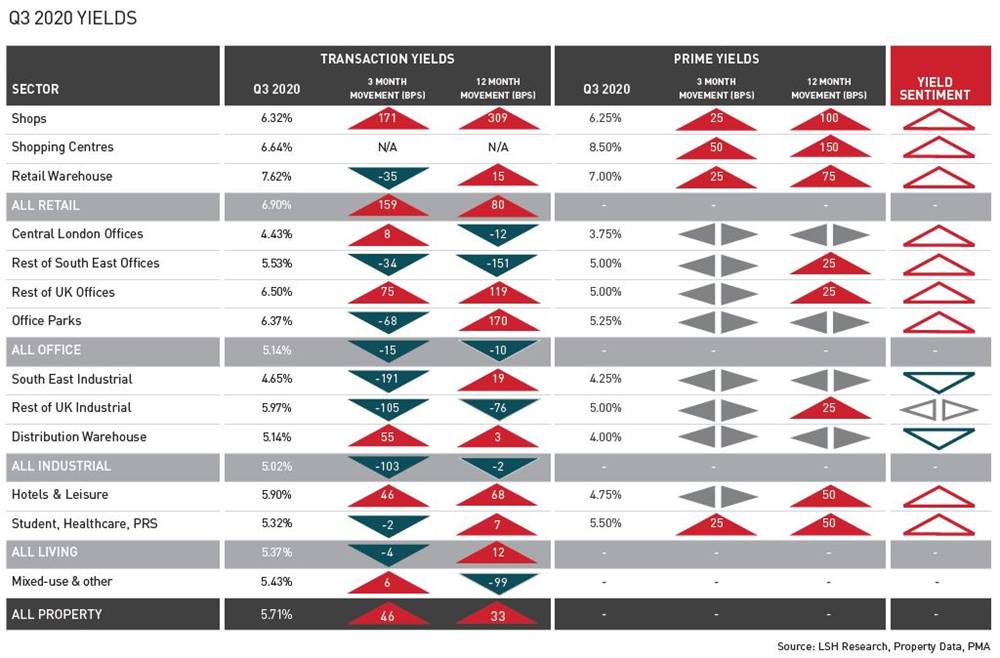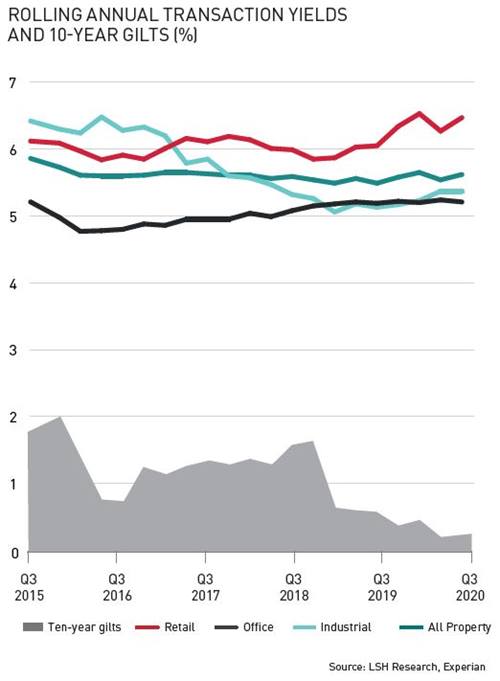 Market insight
Download full report
Get the whole picture with our latest UK Investment Transactions report.
Download PDF