Regional focus: nowhere's immune
No part of the UK was immune from the consequences of the lockdown, although two major deals gave volume a semblance of respectability in Yorkshire & the Humber.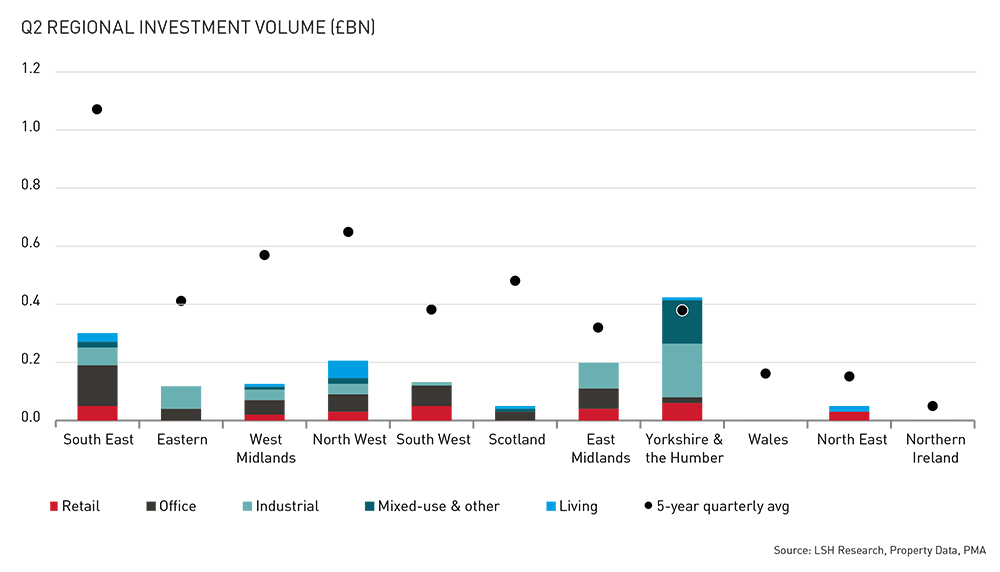 LONDON LOSSES
At £1.4bn, volume in Greater London slumped to its lowest level since Q2 2000 and was 74% below the five-year average. The lack of major office deals in Central London weighed heavily on activity in the capital, with only two office deals in excess of £100m, compared with ten on average.
Volume across the living sectors in the capital also fell to a new low of £268m, with PRS investments accounting for over 90% of the total. This included Canada Pension Plan Investment's 50% stake in Lendlease's Elephant Park scheme for £85m and L&G's £62m purchase of two schemes from Quintain.
YORKSHIRE BUCKS THE TREND
At £1.6bn, total single asset volume across the UK regions was 65% below the five-year quarterly average and the lowest level since Q4 2008.
Activity was significantly below par for all the UK regions outside of London, the sole exception being Yorkshire & the Humber, where volume of £420m was 10% above the five-year quarterly average. This was underpinned by L&G's £150m forward funding of the West Bar Square mixed-use development in Sheffield and Next's aforementioned £119m sale and leaseback at South Elmsall.
PORTFOLIOS PLUNGE
At £613m, portfolio volume was 81% below the five-year quarterly average and slumped to its third lowest level
on record. Over a quarter of activity was accounted for by two supermarket portfolios, namely Supermarket Income REIT's £102m purchase of a 25.5% stake in 26 Sainsbury's supermarkets; and LondonMetric's £62m purchase of five Waitrose stores.
Student housing also drove portfolio activity in Q2 with two transactions totalling £112m. A Far Eastern investor purchased two luxury schemes in Sheffield and Leeds for £90m; and Rasameel Investment Company purchased two schemes in Edinburgh and Leicester for £22m.
Market insight
Download full report
Get the whole picture with our latest UK Investment Transactions report.
Download PDF