Buyers & sellers: buyers retreat
The lockdown saw the majority of buyers retreat to the sidelines in Q2, with what little purchasing there was coming later in the quarter and characterised by aversion to risk.
COVID CAUTION
With the exception of quoted propcos, all buyer types recorded their lowest level of purchasing on record. In typical fashion, overseas investors were still the largest buyers of UK real estate in Q2, albeit volume of £1.5bn was 77% below the
five-year average.
At £347m, Far Eastern investors accounted for the leading share of overseas volume, although this largely comprised two City office deals totalling £214m. Total volume from North American buyers trailed closely behind, with volume of £342m including Blackstone's purchase of six assets totalling £62m.
FUNDS IN LOCKDOWN
With many of the UK funds 'gated' amid the crisis, institutional volume slumped to a record low of £805m in Q2. L&G's £150m forward funding of West Bar Square, a major mixed-use scheme in Sheffield was the largest institutional purchase in Q2 and provided the key boost to volume in the Yorkshire & the Humber region.
Institutional investment was focused on the industrial and living sectors in Q2. Aviva Lime Property Fund's purchase of the Next warehouses underpinned industrial volume, whereas investment in living was largely dominated by build-to-rent deals in London. This included Aberdeen Standard's forward funding of two schemes in Barking (£50m) and Stratford (£36m).
REITS' BLUSHES SPARED
Appearing to buck the trend, quoted property companies were the only buyer type not to see record low volume in Q2. However, this was largely thanks to one deal. SEGRO's belated £203m purchase of Perivale Park in Greenford, London, alone accounted for 45% of quoted property company volume and, without this, volume would have been amongst the lowest levels on record.
Recent months have been a traumatic period for many UK REITS, especially those with a focus on retail assets, whose share prices have collapsed.
PRIVATE PROPCOS DISPOSE
After a strong Q1, private property company volume fell to a record low of £162m in Q2, standing 90% below the five-year average. Notably, private propcos were the largest net sellers in Q2 with net sales of just under £1bn, including London and Scottish Student's disposal of a portfolio of student accommodation for £90m.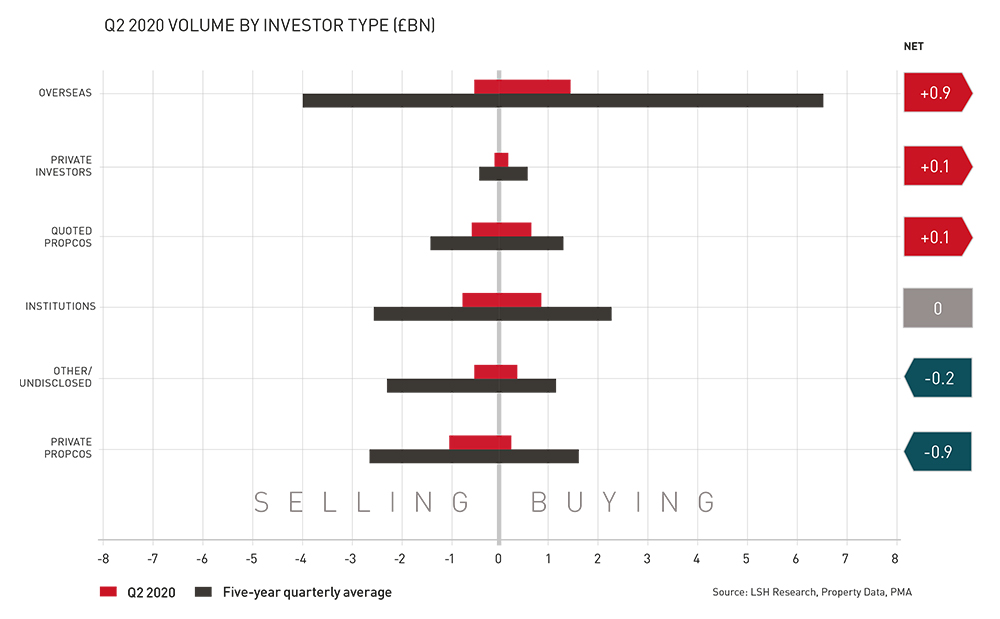 Market insight
Download full report
Get the whole picture with our latest UK Investment Transactions report.
Download PDF