Sector focus: curtailed by COVID-19
Just as momentum in the market was starting to rebuild in the wake of December's election result, drastic efforts to contain COVID-19 in March put investors onto the back foot.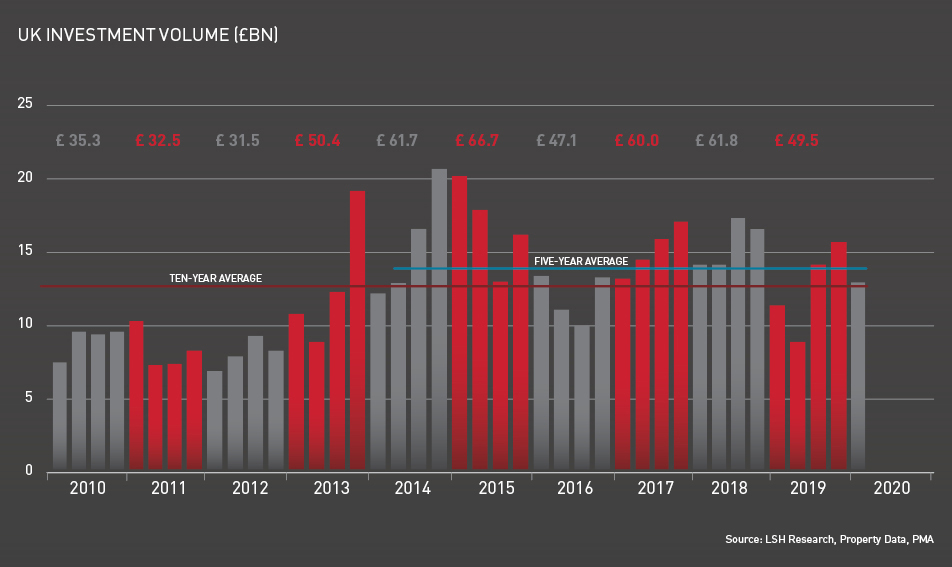 Total UK investment volume in Q1 came in at a respectable £12.9bn, down 7% on the five-year quarterly average but 14% above the same quarter in 2019.
A BIG DEAL
However, volume was underpinned by the UK's largest single property deal on record, Blackstone's £4.66bn acquisition of the iQ student accommodation portfolio from Goldman Sachs and Wellcome Trust. Taken alone, it accounted for 36% of total volume and, if discounted, Q1 volume was at its lowest since Q4 2012.
The total number of recorded deals in Q1 was 20% down from Q4 2019 and 25% below the five-year quarterly average. Notably, reflecting the stymieing effect of COVID-19 containment measures on closing deals, the number of deals in March fell to its lowest total for that month since 2012.
LIVING TO THE MAX
For a third successive quarter, the living sectors (student accommodation, PRS, hotels and healthcare) took a leading share of Q1 volume. Dominated by the iQ deal, living volume surged to a record high of £6.6bn and was almost twice the five‑year average.
Q1 was a strong quarter for hotels. Over £1.0bn of London hotels transacted across three deals, the largest of which was a private Qatari investor's £700m acquisition of The Ritz on Piccadilly.
OFFICES ARE BEST OF THE REST
Activity was subdued across each of three core sectors in Q1, although offices performed best against trend, with volume of £3.9bn standing 28% below the quarterly average and 43% above the same quarter in 2019. Q1's largest office deal was Stanhope's £312m (NIY 5.30%) acquisition of Building 7, Chiswick Park from Blackstone Real Estate, and drove office park volume to its strongest level since Q3 2017.
At £2.1bn, central London office volume was 39% below trend and around half of the previous quarter's volume. The largest was L&G's £300m (NIY 3.80%) purchase of the Secretary of State occupied Sanctuary Building on Great Smith Street from Hana Financial Group, marking another step in its strategy to purchase government-backed investments.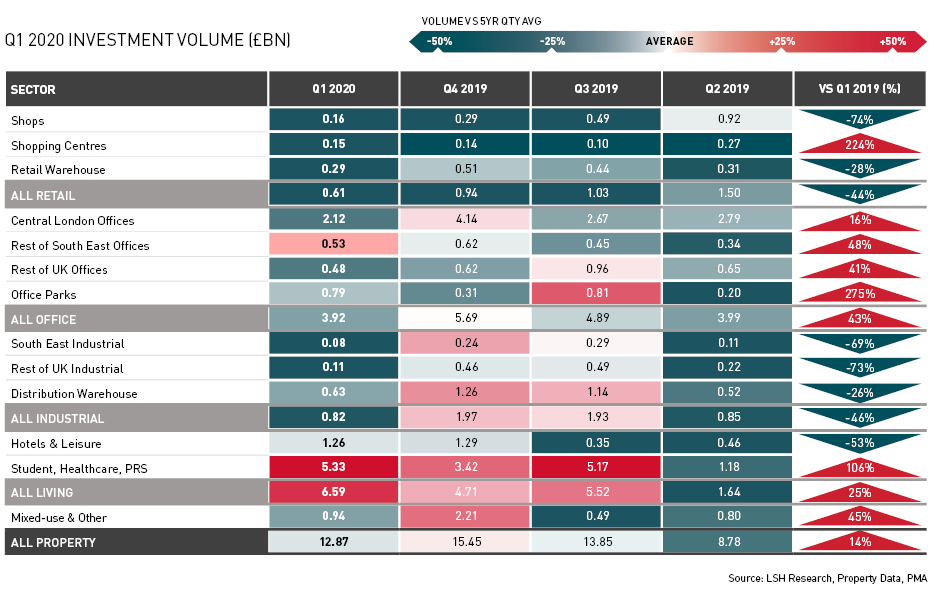 INDUSTRIAL SLUMP
Investment into industrial, a strong focus of demand in recent years, slipped to a six-year low of £821m in Q1, down 58% on Q4 2019 and only half its average level.
A lack of larger deals weighed on the sector, with only two deals over £50m. These included B&M's £154m sale and leaseback of their Bedford distribution warehouse to DEKA Immobilien and Blackstone Real Estate's £120m acquisition of the 22 asset Cara Portfolio from Clearbell Capital.
RETAIL IN DIRE STRAITS
Retail endured another dire quarter, with Q1 volume slipping to a new all-time low of £605m and down 35% from the previous record low set in the last quarter. Shops and shopping centres were worst hit with volume 82% and 69% below the five-year trend respectively.
Q1's most notable retail deal was Ingka Centres' £138m acquisition of Kings Mall, Hammersmith from Schroder UK Real Estate Fund. Ingka Centres plan to redevelop the centre into an IKEA anchored, urban mixed-use destination.
YIELDS EDGE INWARDS
Following a sharp rise to a four-year high in Q4 2019, the All Property average transaction yield edged down by 3bps during Q1 to 5.74%.
There were, however, notable contrasting movements between the sectors. Retail yields moved out to 6.98% during Q1, the highest since Q2 2012. Industrial yields moved in by 37 bps returning to the Q3 2019 level, while office yields moved in by 16 bps returning to the Q2 2019 level.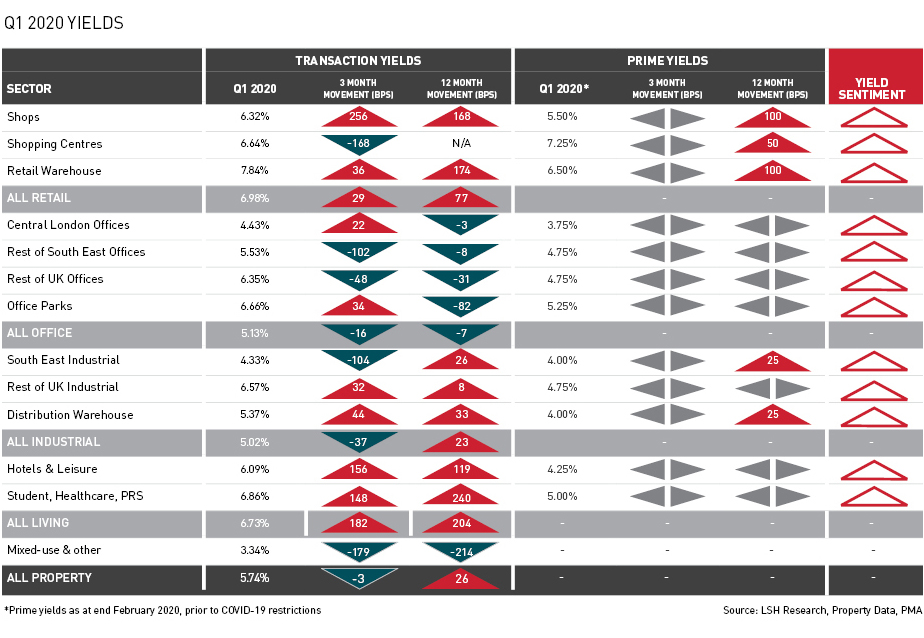 Market insight
Download full report
Get the whole picture with our latest UK Investment Transactions report.
Download PDF