Regional focus: retreat of the regions
Strong portfolio volume was flattered by the largest deal on record, masking the actual sharp drop off in deals.
REGIONAL VOLUME PLUMMETS
Volume for single assets across the UK regions combined was £2.3bn, 51% below the five-year quarterly average and the lowest since Q1 2013. While all regions were subdued, the West Midlands was the hardest hit part of the UK, with volume of £124m 79% below trend and the lowest since Q4 2008.
The South East and East of England regions performed best against trend, each seeing Q1 volume 24% below the quarterly average. At £827m, the South East was boosted by Invesco Real Estate's £74m forward funding of a purpose-built BtR scheme in Milton Keynes for Packaged Living.
LIVING LIFTS LONDON
Greater London fared rather better in Q1, with volume of £5.1bn standing only 10% below trend and 18% above the same quarter in 2019.
Only half of investment in Greater London was in the office sector, with key deals including King Street Real Estate and Arax Properties' £296m acquisition of Alban Gate from Blackstone Group; and Unilmmo's purchase of a 50% stake in Angel Lane for £250m from Oxford Properties.
Greater London saw a notable £1.4bn of investment into living, with hotel sales accounting for 84% of the total. This included the £700m sale of The Ritz, alongside Vivion Capital Partners' purchase of two five-star hotels from a Qatari family for £255m.
IQ DEAL DOMINATES PORTFOLIOS
Portfolios appeared to buck the trend in Q1, with volume of £5.4bn standing 58% above the five-year quarterly average. However, the iQ student accommodation deal accounted for 86% of portfolio volume and, if discounted, portfolio volume was its lowest since Q1 2012.
Only four £100m-plus portfolios transacted during Q1 compared with ten in the previous quarter. After the iQ deal, the second largest portfolio deal in Q1 was Harrison Street and Trinity Investment Management's £250m purchase of life science lab and office space across five properties from Angelo Gordon.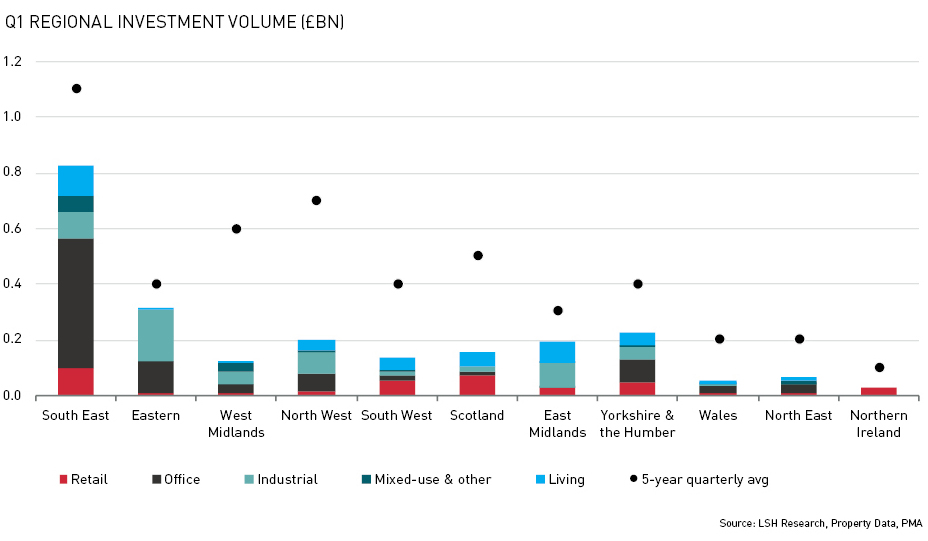 Market insight
Download full report
Get the whole picture with our latest UK Investment Transactions report.
Download PDF