Speculative development
JUST CAN'T GET ENOUGH
Despite rising costs, a veritable tsunami of speculative development is sweeping across the UK. And, with supply struggling to keep up with demand, there is plenty more to come.
PERFECT STORM
Insatiable levels of occupier demand, tight levels of existing built supply and a huge global weight of money targeting UK logistics have driven unprecedented levels of speculative development. For units over 50,000 sq ft, UKwide spec development under construction hit 20.7m sq ft at the end of 2021, up a staggering 80% year-on-year. Remarkably, this spec development accounts for 40% of total UK supply.
While 2020's surge in development volume was driven by increased unit size, 2021's soaring level better reflects the sheer number of units coming forward. 133 units were under construction at the end of 2021, rising from 76 units 12 months prior. The average size of units under construction was relatively stable compared with 2020, up 2% to 155,925 sq ft.
BUILDING BIG
Many developers have acquired an appetite for building units once considered only appropriate for build to suit. Spec development in the XL segment increased by 161% year-on-year to 9.4m sq ft at the end of 2021, accounting for 45% of the total under construction. XL spec development comprises 25 units, a threefold increase from 12 months prior.
The East Midlands and the North West are hotspots for XL unit development, between them home to 60% of the UK's total volume. Northampton is a particular focus, with four units coming forward across two separate schemes, while Firethorn Trust's 654,225 sq ft unit at Link 655 Link Logistics Park, Ellesmere Port is the UK's largest spec unit underway.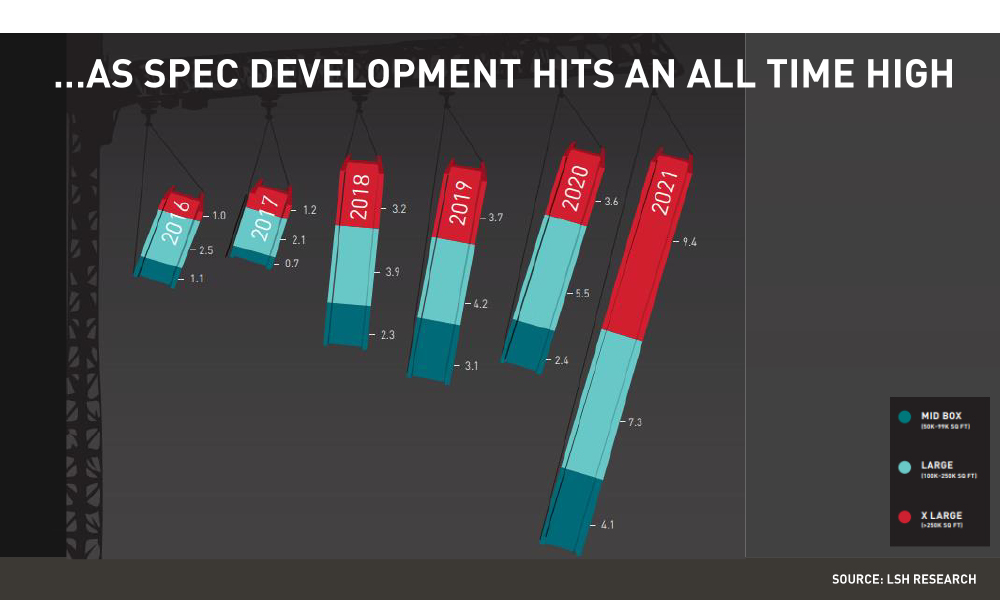 MID BOX MANIA
As the key focus of development in 2020, the large segment saw the least dramatic increase in spec development in 2021, albeit still rising by an impressive 32%. However, at the smaller end of the market, UK mid box development increased by 70% year-on-year to stand at a record 4.1m sq ft.
The West Midlands and South East are mid box development hotspots, accounting for 19% and 18% of the UK's development respectively. With minimal activity a year ago, the West Midlands is now home to 780,783 sq ft of mid box spec development across 11 units. In the South East, Crawley is a notable focus, with three separate schemes underway totalling 209,318 sq ft.
WEST MIDLANDS SEES STRONGEST INCREASE
Across all the segments, the East Midlands accounts for 25% of the UK's total spec development, the highest of any region. However, the West Midlands recorded the strongest increase in spec development in 2021, rising from just one of 120,000 sq ft under construction at the end of 2020 to 4.2m sq ft a year later.
SPEC WAVE REACHES SCOTLAND AND NORTH EAST
Notably, having long-suffered from an aversion to speculative development, improving latent demand and rental growth have finally spurred development in Scotland. Knight Property Group commenced construction of Belgrave Logistics Park in Glasgow, the first large format speculative development in Scotland for 14 years, comprising five-units including one unit 125,665 sq ft. Likewise, for the first time in over a decade, spec development is underway at scale in the North East, with five units under construction across two separate schemes, totalling 338,000 sq ft.
NO SIGN OF SLOWING DOWN
The fact that speculative development has climbed to such an unprecedented level is all the more remarkable for the sharp rise in build costs that developers have had to take into account over the past 18 months. Positively, with increasing signs that build cost inflation is moving towards more stable territory, low yields and rental growth will justify a continuation of strong development appetite into 2022.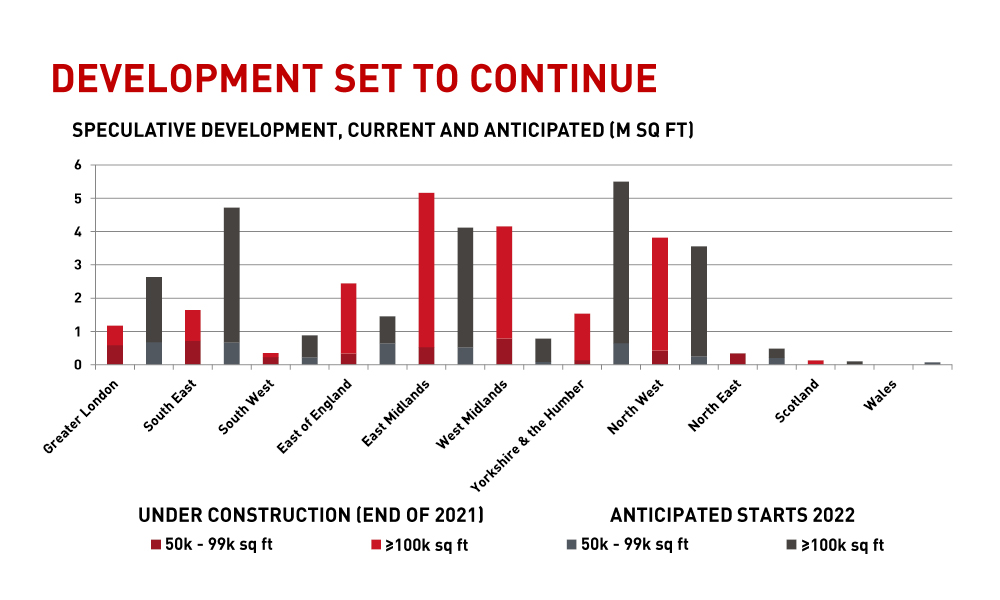 Our analysis of anticipated spec development starts points to ongoing strong momentum in 2022, with at least 24.3m sq ft deemed likely come forward within the year. Yorkshire & the Humber is forecast to see the highest volume of spec starts during 2022, including ten XL units. Notably, having seen minimal development activity, Wales is set to see a return of meaningful development in 2022, with schemes coming forward in Cardiff and Newport.
LAND VALUES
The boom in the UK industrial and logistics market has been reflected by emphatic growth in land values. LSH's UK industrial land value index, which covers 32 key locations around the UK, revealed that prime indicative land values increased by a massive 53% on average during 2021, accelerating from the already considerable 17% growth recorded in 2020.
Land value growth was also wide-ranging, with 27 of the 32 UK key markets recording an increase in indicative values during 2021, 26 of which saw double-digit percentage increases. Also, nine markets saw their values surpass the once unthinkable £1m per acre mark, including Leicester, Leeds and Portsmouth.
Some markets also saw a doubling of land values over the year. In the West Midlands, land values in Birmingham and Coventry both rose by a substantial 127% year-on-year to £2.5m per acre. Elsewhere, Manchester recorded the strongest growth of any market, increasing 144% year-on-year, while the southern M1 corridor markets of Luton and Milton Keynes also experienced very strong growth of 112% and 88% respectively.
The outlook for land values is more difficult to predict, especially considering the sheer magnitude of growth seen in many markets over the past year. While land value growth is not expected to match 2021's average, ongoing upward pressure is likely to remain in many core and emerging logistics locations, particularly where evidence suggests there is more headroom for prime rents to continue to push forwards.
MARKET Insight
Industrial & Logistics Market 2023
Get the full version of our market leading report.
Download PDF